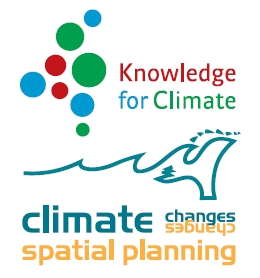 programme

theme

project

publication type

publication year

author

language

keyword
Check title to add to
marked list
Combining water infrastructures [Presentation]

Deltas in Practice Theme 3: Developing multipurpose infrastructure for climate resiliency (continued), Session DP 3.1: Combining water infrastructures, Rosalie Franssen, Deltares, the Netherlands (2014). Presented at the international conference Delt ...

Flexibele peilen in het IJsselmeer last of zegen? [Presentation]

Het peilbeheer van IJsselmeer: op weg naar dynamisch waterbeheer: "de komende weken wordt het droog, zet de peilen maar vast omhoog, nu het nog kan." Hoe kan je een gebied zo inrichten, dat je een kleine verandering in peil makkelijk op kan vangen, E ...

Afspraken maken over de realisatie van klimaatadaptatie maatregelen [Fact sheet]

De hoofdvraag van dit project: "Kunnen overheden de implementatie van klimaatadaptatie maatregelen faciliteren met flexibele arrangementen, die geborgd worden met reflexieve monitoring?"

De implementatie van adaptatie : barrières en mogelijkheden voor flexibele governance-arrangementen [Monograph]

Met dit project heeft een consortium samen met partijen uit de beleidspraktijk handvatten ontwikkeld met betrekking tot de vraag op welke manier adaptatie-strategieën flexibel geïmplementeerd kunnen worden en welke rol reflexieve monitoring daarbij k ...

Climate Change and Global water resources [Presentation]

Fulco Ludwig (2009). Climate Change and Global Water Resources, presented at the Holland Climate House on December 11, COP15, Copenhagen (Wageningen University). How will climate change affect global water resources?
Check title to add to
marked list