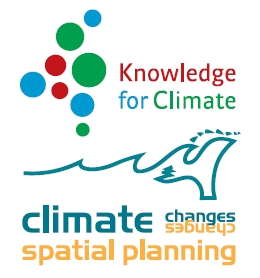 programme

theme

project

publication type

publication year

author

language

keyword
Current refinement(s):
Check title to add to
marked list
Met oog op de toekomst : Regionale klimaat Adaptatie Strategie Haaglanden [Monograph]

Haaglanden heeft de ambitie om in 2050 een klimaatbestendige internationale topregio te zijn (Regionaal Structuurplan 2020). Om deze ambitie te realiseren is het van belang om rekening te houden met veranderingen in de toekomst en om nu al de kansen ...

Scientific aspects [Fact sheet]

Factsheet about the scientific research for Knowledge for Climate Theme 3: Climate Adaptation for Rural arEas (CARE), with the central aim to assess the effects of climate change and adaptive strategies (i.e. sets of concrete adaptation measures) on ...

Projecten eerste tranche mei 2010 [Brochure]

Kennis voor Klimaat (KvK) is een onderzoeksprogramma waarin kennis wordt ontwikkeld voor een klimaatbestendige inrichting van Nederland. Dit betekent Nederland dusdanig inrichten dat het de gevolgen van klimaatverandering het hoofd kan bieden. Wageni ...
Check title to add to
marked list