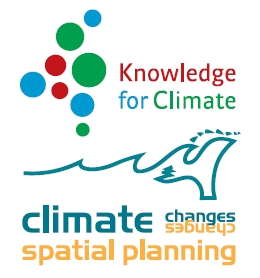 programme

theme

project

publication type

publication year

author

language

keyword
Check title to add to
marked list
Kennis voor Klimaat 2008-2014 : verantwoording en resultaten [Monograph]

Dit is het eindrapport van het nationaal onderzoeksprogramma Kennis voor Klimaat (KvK). Het programma is in 2007 opgezet om de gevolgen van klimaatverandering voor Nederland inzichtelijk en hanteerbaar te maken. Daartoe is een onafhankelijke stichtin ...

Knowledge for Climate 2008-2014 [Monograph]

This is the final report (eindrapport) of the national Knowledge for Climate (KfC) research program. The program was set up in 2007 to explore the consequences of climate change for the Netherlands and how they should be managed. To that end, an inde ...

Met oog op de toekomst : Regionale klimaat Adaptatie Strategie Haaglanden [Monograph]

Haaglanden heeft de ambitie om in 2050 een klimaatbestendige internationale topregio te zijn (Regionaal Structuurplan 2020). Om deze ambitie te realiseren is het van belang om rekening te houden met veranderingen in de toekomst en om nu al de kansen ...

Kennis voor Klimaat 3e tranche : eindrapport 3Di [Monograph]

Het onderzoeks- en innovatietraject 3Di Waterbeheer streeft naar overstromings- en wateroverlastberekeningen veel sneller en veel gedetailleerder uit te voeren en de resultaten in aansprekende (3D) beelden te visualiseren voor burgers, bestuurders, r ...

Are flood models used? : a method for assessing the use of flood models in the operational phase of flood calamity management [Student report]

The objective of this research is to develop a method to assess the use of flood models in the operational phase of flood calamity management by establishing a set of specific and measureable indicators which together can be used to assess this.

Meer bytes, minder beton : 3Di Waterbeheer [thema innovatie] \ Het waterschap : veertiendaags tijdschrift voor waterschapsbestuur en waterschapsbeheer [Article]

De waterschappen moeten bezuinigen, maar niet ten koste van veiligheid en de kwaliteit. Dat lijkt een onmogelijke opgave. Wie méér wil, met minder geld, moet inventief zijn. Hollands Noorderkwartier en Delfland investeren in nieuwe technologie die de ...

Hotspot Haaglanden [Monograph]

Presented at the Midterm Assessment, 4 October, Amsterdam, the Netherlands.

Quadtree flood simulations with sub-grid digital elevation models \ Proceedings of the Institution of Civil Engineers. Water Management [Scientific article]

Flooding is an increasing hazard to society and good governance now implies careful water management in terms of design, planning and control of urban and rural areas. This requires that rainstorms, extreme water levels and so on are taken into accou ...

Mid term report Knowledge for Climate: Hotspot Haaglanden Region [Monograph]

The high degree of urbanisation and high economic value of the region make Haaglanden a unique area, both nationally and internationally. And yet this region is also vulnerable to the consequences of climate change. For instance, the expectation is t ...

3Di waterbeheer [Newsletter]

In april loopt het onderzoeksprogramma 3Di Waterbeheer twee jaar. Binnen 3Di werken verschillende partijen aan een nieuwe generatie simulatiemodellen die tenminste 1000 keer sneller rekenen en vele malen nauwkeuriger zijn dan de huidige generatie. Hi ...
Check title to add to
marked list