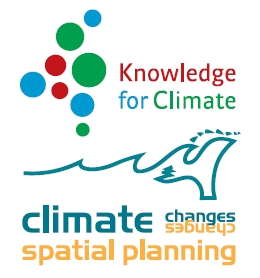 programme

theme

project

publication type

publication year

author

language

keyword
Check title to add to
marked list
Knowledge for Climate 2008-2014 [Monograph]

This is the final report (eindrapport) of the national Knowledge for Climate (KfC) research program. The program was set up in 2007 to explore the consequences of climate change for the Netherlands and how they should be managed. To that end, an inde ...

Kennis voor Klimaat 2008-2014 : verantwoording en resultaten [Monograph]

Dit is het eindrapport van het nationaal onderzoeksprogramma Kennis voor Klimaat (KvK). Het programma is in 2007 opgezet om de gevolgen van klimaatverandering voor Nederland inzichtelijk en hanteerbaar te maken. Daartoe is een onafhankelijke stichtin ...

Klimaatbestendig Schiphol : syntheserapport HSMS02 [Monograph]

In dit syntheserapport worden opzet, verloop, resultaten en conclusies van het 'Kennis voor Klimaat' project HSMS02 "Klimatologie en klimaatscenario's voor Mainport Schiphol" gepresenteerd en aanbevelingen gedaan voor verder onderzoek.

Hotspot Mainport Schiphol : midterm review report [Monograph]

The focus of Knowledge for Climate (KfC) research in Hotspot Schiphol Mainport is to optimize the contribution of meteorological services to a sustainable operation and reliable operation of Schiphol airport. Three research projects have been carried ...

Hotspot Mainport Schiphol (HSMS) [Presentation]

Why Schiphol participates in Knowledge for Climate project

Quantifying trends in surface roughness and the effect on surface wind speed observations \ Journal of geophysical research. D, Atmospheres [Scientific article]

Many studies analyzing surface wind speed observations find a decrease in wind speed over the last 30 to 50 years. A cause sometimes proposed is increasing surface roughness, although to date the evidence that this is the primary factor is still inco ...

Temperature climatology for Schiphol (the Netherlands), for present-day and climate scenarios in 2050 [Monograph]

In this report, a climatology of temperature is presented for Schiphol Airport (hereafter denoted as Schiphol), derived from observations in the period 1981-2010. This is done for the present-day as well as projected into the future. This future clim ...

Snow at Schiphol [Monograph]

In the kick-off meeting on the 14th of November 2011, KNMI presented the meteorological aspects of snow at the airport, varying from climatology to seasonal forecasting. This article describes the main points of this presentation.

Climatology of temperatures below -70°C near tropopause on Atlantic-tracks [Monograph]

On request of the Dutch Safety Board (Onderzoeksraad voor Veiligheid, OVV) the climatological occurrence of temperatures below -70oC on flight tracks on the Northern Atlantic routes has been assessed, to develop more knowledge concerning the risk of ...

Upper air climatology of Amsterdam : using ERA-Interim 1989-2008 [Monograph]

This report presents upper-air climatology below 150 hPa (Flight level 430) for the Flight Information Region of the Netherlands (Amsterdam FIR). Climatology of the planetary boundary layer below 850 hPa is (in more detail) presented in part 2. The c ...

Scientific aspects of the research proposal [Fact sheet]

Despite all international, national and local initiatives to mitigate climate change, a certain degree of climate change is unavoidable. Urban environments in particular seem vulnerable to its consequences: increased risk of flooding, droughts and he ...

Socio-economic effects of climate change on mainports and on urban infrastructure networks [Fact sheet]

What are the socio-economic effects of climate change via changes in the reliability and usability of transport and electricity infrastructures and via the physical infrastructure in the hotspot regions and what are potential flexibility oriented ada ...

KNMI and aviation services [Presentation]

Presentation held for European Aviation Safety Agency, on September 8th, 2010

Klimatologie en klimaatscenario's Mainport Schiphol [Fact sheet]

In dit project worden klimaatveranderingen die invloed hebben op luchthavenactiviteiten waar mogelijk gekwantificeerd. Dit is noodzakelijk voor de operationele langetermijnplanning door Amsterdam Airport Schiphol en de Luchtverkeersleiding Nederland.

Temperature- and cloud-distribution during daytime for aircraft cooling capacity at Schiphol, climatology 1990-2009 [Monograph]

Bij warmte van de buitenlucht kunnen vliegtuigen die enige tijd aan de grond staan sterk opwarmen. Vooral wanneer de zon op de romp van het toestel schijnt kan dit veel vergen van de koelcapaciteit. Een vliegtuigmaatschappij op Schiphol was daarom ge ...

Projecten eerste tranche mei 2010 [Brochure]

Kennis voor Klimaat (KvK) is een onderzoeksprogramma waarin kennis wordt ontwikkeld voor een klimaatbestendige inrichting van Nederland. Dit betekent Nederland dusdanig inrichten dat het de gevolgen van klimaatverandering het hoofd kan bieden. Wageni ...

Beleidsrelevantie van de onderzoeksprogramma's klimaat voor ruimte kennis voor klimaat [Monograph]

Onderzoekvoorstellen worden getoetst op wetenschappelijke kwaliteit én maatschappelijke kwaliteit door onafhankelijke deskundigen. De onderzoekprogramma's hebben voor de Deltacommissie informatie aangedragen over de mogelijk te verwachten zeespiegels ...

Wind chill equivalent temperature (WCET) : climatology and scenarios for Schiphol Airport [Monograph]

This report presents the background, climatology and scenarios of the windchill equivalent temperature (WCET) for Schiphol Airport. The WCET-information is recommended during cold winter events for working conditions outside. KNMI will start using a ...

Rapportage voorbereiding uitvoering nationaal onderzoeksprogramma Kennis voor Klimaat [Monograph]

Op basis van de inbreng van zowel onderzoekers, nationale en lokale overheden als stakeholders in hotspots zijn onderzoeksthema"s en kennisvragen geïdentificeerd die essentieel zijn voor de ontwikkeling van een lokale en nationale adaptatiestrategie. ...
Check title to add to
marked list