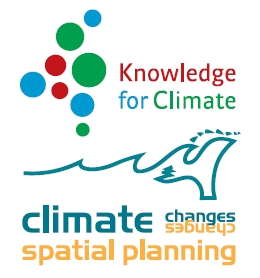 programme

theme

project

publication type

publication year

author

language

keyword
Check title to add to
marked list
Knowledge for Climate 2008-2014 [Monograph]

This is the final report (eindrapport) of the national Knowledge for Climate (KfC) research program. The program was set up in 2007 to explore the consequences of climate change for the Netherlands and how they should be managed. To that end, an inde ...

Kennis voor Klimaat 2008-2014 : verantwoording en resultaten [Monograph]

Dit is het eindrapport van het nationaal onderzoeksprogramma Kennis voor Klimaat (KvK). Het programma is in 2007 opgezet om de gevolgen van klimaatverandering voor Nederland inzichtelijk en hanteerbaar te maken. Daartoe is een onafhankelijke stichtin ...

Bouwstenen voor adaptatiestrategieën in de Regio Rotterdam [Monograph]

Dit rapport heeft als ambitie een eerste aanzet te geven op de vraag: "Hoe kan de regio Rotterdam ook in de toekomst veilig, leefbaar en aantrekkelijk blijven, voor bewoners, bedrijven en (internationale) investeerders? Wat zijn de risico's voor de r ...

Bedenk, ontwikkel en gebruik : Kennis voor Klimaat in de praktijk [Monograph]

Het onderzoeksprogramma Kennis voor Klimaat heeft een belangrijke en urgente taak: kennis ontwikkelen voor het klimaatbestendig maken van Nederland. Kennis voor Klimaat brengt wetenschappers en praktijkmensen samen in zogenaamde hotspots, real life l ...

Definition study of Smart Waterways [Monograph]

This report contains a definition study and an outline for the functional design of an advanced navigability monitoring and forecasting system, based on the echosounders that are normally mounted on the ships plying the river, a data acquisition and ...

Climate change and inland waterway transport: impacts on the sector, the Port of Rotterdam and potential solutions [Monograph]

Deze studie spitst zich toe op de effecten van klimaatverandering op het binnenvaarttransport op de Rijn tussen de haven van Rotterdam en het Duitse achterland tot aan Koblenz. In de studie is voor klimaatverandering het W+ scenario van het KNMI en v ...

River engineering measures to improve navigability [Monograph]

Navigability can be improved by technical measures in the main channel, such as dredging and the construction or modification of groynes, fixed bed layers, bottom vanes, bendway weirs and longitudinal dams. This report presents technical measures for ...

Scientific aspects [Fact sheet]

Infrastructures are the backbones of our society. Citizens, companies and government have come to rely on and expect uninterrupted availability of electricity, water and ICT networks. Road, railroad and shipping infrastructure represent the vital lin ...

Consequense for climate change for inland shipping : midterm results by consortium Water and Transprot [Poster]

A strong selling point of the Port of Rotterdam is the good hinterland connections by the rivers Rhine and Meuse. Although much attention is given to the consequences of climate change with respect to sea level rise and adequate storm defence systems ...

Economic analysis of adaptation measures to climate change for inland waterway transport [Monograph]

During the last decade discussions on climate change and transport were mainly focused on mitigation strategies. The central question was: in which ways can the greenhouse gas emissions of the transport sector be reduced? More recently another elemen ...

Logistic solutions for dealing with the consequences of climate change for inland shipping [Monograph]

Climate change can affect the transport of passengers and goods in various ways. This study specifically focuses on the impact of climate change on the competitive position of inland waterway transport for the transport of goods (Van Meijeren and Gro ...

De effecten van klimaatverandering op de binnenvaart via de Rotterdamse regio [Fact sheet]

Door klimaatverandering zullen perioden van laagwater op de Rijn en extreme rivierafvoeren in de winter vaker voorkomen. Binnenvaartschepen kunnen dan minder vracht vervoeren en bij extreme droogte helemaal niet. Hogere waterstanden zullen zorgen voo ...

River morphology [Monograph]

The bed topography of a river results from processes of erosion and sedimentation. Hydrological changes, such as those owing to climatic change, as well as engineering interventions, such as damming, river training, bend cutoffs and re-landscaping of ...

Impact of climate change on the competitive position of inland waterway transport [Monograph]

Goal of this study is to analyze the impact of climate change on inland waterways, identify the problems and their magnitude and to elaborate the most effective solutions for these problems. Given the climate change scenarios for a future situation u ...

Cost estimation for a canalized river Rhine (Waal) [Monograph]

A possible solution for keeping the River Rhine (including its main Dutch branch the Waal) navigable up to the main industrial area in Germany, during periods of (very) low discharges and so very little water depth, is the construction of a few weirs ...

Projecten eerste tranche mei 2010 [Brochure]

Kennis voor Klimaat (KvK) is een onderzoeksprogramma waarin kennis wordt ontwikkeld voor een klimaatbestendige inrichting van Nederland. Dit betekent Nederland dusdanig inrichten dat het de gevolgen van klimaatverandering het hoofd kan bieden. Wageni ...

Beleidsrelevantie van de onderzoeksprogramma's klimaat voor ruimte kennis voor klimaat [Monograph]

Onderzoekvoorstellen worden getoetst op wetenschappelijke kwaliteit én maatschappelijke kwaliteit door onafhankelijke deskundigen. De onderzoekprogramma's hebben voor de Deltacommissie informatie aangedragen over de mogelijk te verwachten zeespiegels ...

Generation of river flow scenarios [Monograph]

An unobstructed inland navigation is essential for the Rotterdam Harbour. Decreasing discharges in the Rhine and Meuse branches may lead to longer periods with low water levels. This may hamper the navigation. In this memo, estimates are made for cha ...

Knowledge for Climate : workshop report 7th of April 2010 [Monograph]

This report contains the results of the discussion during the workshop Water and Transport (Knowledge for Climate) on April 7th 2010. This workshop was organized by the members of the consortium in close cooperation with LEF Future Centre of Rijkswat ...

Impacts of low and high water levels on inland waterway transport : literature review for 'Kennis voor Klimaat' [Monograph]

Climate change is likely to affect many sectors in the economy. This study addresses the impact of climate change on one specific type of transport in the total transport sector: inland waterway transport. The aim of this study is to make an inventor ...
Check title to add to
marked list