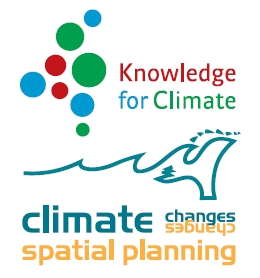 programme

theme

project

publication type

publication year

author

language

keyword
Check title to add to
marked list
Kennis voor Klimaat 2008-2014 : verantwoording en resultaten [Monograph]

Dit is het eindrapport van het nationaal onderzoeksprogramma Kennis voor Klimaat (KvK). Het programma is in 2007 opgezet om de gevolgen van klimaatverandering voor Nederland inzichtelijk en hanteerbaar te maken. Daartoe is een onafhankelijke stichtin ...

Knowledge for Climate 2008-2014 [Monograph]

This is the final report (eindrapport) of the national Knowledge for Climate (KfC) research program. The program was set up in 2007 to explore the consequences of climate change for the Netherlands and how they should be managed. To that end, an inde ...

De Natuurlijke Alliantie als methode voor klimaatateliers : verankering van klimaatverandering op provinciaal, regionaal en lokaal schaalniveau in de provincie Gelderland [Monograph]

Dit rapport beschrijft hoe de samenwerking tussen Kennis voor Klimaat, waterschap, provincie, gemeenten en regio's en de kennispartners heeft geresulteerd in verankering van klimaatadaptatie op verschillende schaalniveaus. De in dit project ontwikkel ...

Self assessments of the Knowledge for Climate research consortia [Monograph]

This Scientific Progress Report is compiled based on the final reporting of the eight research consortia of Knowledge for Climate. The consortia have been asked to perform a self assessment on their scientific approach, implementation of the research ...

Klimaatadaptie in het waterbeheer : creatieve oplossingen, flexibele arragementen? [Monograph]

Doel van dit project was om op basis van een negental casestudies te achterhalen in welke mate en in welke vorm er gekozen werd voor flexibele arrangementen bij de implementatie van adaptatiemaatregelen, welke rol monitoring daarbij speelde en in wel ...

Participatory monitoring as a tool for climate adaptation policy [Presentation]

The need for Participatory Monitoring. Presentation on European Climate Change Adaptation Conference 2013.

Embedding adaptive management into the legal framework: examples from the Netherlands [Presentation]

Adaptive management; four Dutch cases: Noordwijk, Overdiepse polder, Waterhouderij, Essche Stroom. Presentation on European Climate Change Adaptation Conference 2013.

The governance of adaptation to climate change : a collaborative action research programme to develop and test legitimate, effective and resilient governance arrangements for climate adaptation : midterm review [Monograph]

The Knowledge for Climate, Governance of Adaptation programme aims to integrate existing knowledge from the fields of public administration, economics, political science, spatial planning, law, environmental studies and psychology. Through close coop ...

Afspraken maken over de realisatie van klimaatadaptatie maatregelen [Fact sheet]

De hoofdvraag van dit project: "Kunnen overheden de implementatie van klimaatadaptatie maatregelen faciliteren met flexibele arrangementen, die geborgd worden met reflexieve monitoring?"

Hotspot dry rural areas [Monograph]

Research in the Knowledge for Climate programme has reached its halfway point. During the first half of the programme, stakeholders from the Hotspot Dry Rural Areas together with the research consortia developed projects. In designing and implementin ...

Bedenk, ontwikkel en gebruik : Kennis voor Klimaat in de praktijk [Monograph]

Het onderzoeksprogramma Kennis voor Klimaat heeft een belangrijke en urgente taak: kennis ontwikkelen voor het klimaatbestendig maken van Nederland. Kennis voor Klimaat brengt wetenschappers en praktijkmensen samen in zogenaamde hotspots, real life l ...

De implementatie van adaptatie : barrières en mogelijkheden voor flexibele governance-arrangementen [Monograph]

Met dit project heeft een consortium samen met partijen uit de beleidspraktijk handvatten ontwikkeld met betrekking tot de vraag op welke manier adaptatie-strategieën flexibel geïmplementeerd kunnen worden en welke rol reflexieve monitoring daarbij k ...

Klimaatadaptatie droge rurale zandgronden - Gelderland [Monograph]

Het doel van dit project is een beeld te krijgen van de gevolgen van klimaatveranderingen voor de droge zandgronden van de provincie Gelderland, om de gevolgen van klimaatverandering in gebiedsontwikkelingsprocessen in te bouwen in de gebieden 'Baaks ...

Climate scenario development: mechanisms of climate change in the Netherlands [Fact sheet]

In recent years, it is becoming increasingly clear that there are local mechanisms that could influence the local (future) climate significantly. For example, the influence of sea surface temperature changes could strongly affect coastal precipitatio ...

Climate services [Fact sheet]

Aim: To improve data and information exchange in the chain of climate research, to impact/adaptation research, to policy making through a web portal. Many long term decisions on infrastructure, spatial planning, economy etc. are based on information ...

Dealing with controversies [Fact sheet]

WP4 essentially deals with the diversity of frames in the climate debate, the controversies they induce, and the way their advocates deal with them. The central research question is: How to deal with uncertainties, stakeholders' frames and contested ...

Klimaatverandering op de hoge zandgronden: effecten en adaptatie : betekenis van klimaatverandering voor het landelijk gebied in de provincie Gelderland : een uitwerking voor de gebiedsontwikkeling in Baakse Beek en Blauwe Bron [Brochure]

Doel van het project: kennis uitwisselen over klimaatverandering en functies in het landelijk gebied. Tussen wetenschap en de praktijk van gebiedsontwikkeling. Daarnaast: vanuit de gebiedsontwikkeling onderzoeksvragen formuleren voor vervolgonderzoek ...

Organising connectivity [Fact sheet]

In this work package we take our starting point in the fragmented world of governance. The central question of this work package is: How to realize connectivity within a highly fragmented governance system? Realizing connectivity has to do with a var ...

Projecten eerste tranche mei 2010 [Brochure]

Kennis voor Klimaat (KvK) is een onderzoeksprogramma waarin kennis wordt ontwikkeld voor een klimaatbestendige inrichting van Nederland. Dit betekent Nederland dusdanig inrichten dat het de gevolgen van klimaatverandering het hoofd kan bieden. Wageni ...

Rapportage voorbereiding uitvoering nationaal onderzoeksprogramma Kennis voor Klimaat [Monograph]

Op basis van de inbreng van zowel onderzoekers, nationale en lokale overheden als stakeholders in hotspots zijn onderzoeksthema"s en kennisvragen geïdentificeerd die essentieel zijn voor de ontwikkeling van een lokale en nationale adaptatiestrategie. ...
Check title to add to
marked list