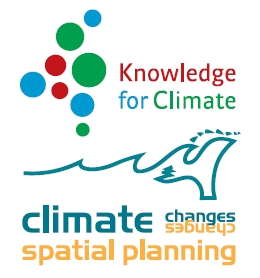 programme

theme

project

publication type

publication year

author

language

keyword
Check title to add to
marked list
Knowledge for Climate 2008-2014 [Monograph]

This is the final report (eindrapport) of the national Knowledge for Climate (KfC) research program. The program was set up in 2007 to explore the consequences of climate change for the Netherlands and how they should be managed. To that end, an inde ...

Kennis voor Klimaat 2008-2014 : verantwoording en resultaten [Monograph]

Dit is het eindrapport van het nationaal onderzoeksprogramma Kennis voor Klimaat (KvK). Het programma is in 2007 opgezet om de gevolgen van klimaatverandering voor Nederland inzichtelijk en hanteerbaar te maken. Daartoe is een onafhankelijke stichtin ...

Evaluating the effect of flood damage-reducing measures: a case study of the unembanked area of Rotterdam, the Netherlands \ Regional environmental change [Scientific article]

Empirical evidence of increasing flood damages and the prospect of climatic change has initiated discussions in the flood management community on how to effectively manage flood risks. In the Netherlands, the framework of multi-layer safety (MLS) has ...

Regiospecifieke klimaatinformatie voor Haaglanden en Regio Rotterdam : syntheserapport [Monograph]

Haaglanden en Regio Rotterdam zijn beide sterk verstedelijkte gebieden met een hoge economische activiteit in de Zuidvleugel van de Randstad. Door de sterke verstedelijking en de hoge economische activiteit is het gebied gevoeliger voor weersextremen ...

Bouwstenen voor adaptatiestrategieën in de Regio Rotterdam [Monograph]

Dit rapport heeft als ambitie een eerste aanzet te geven op de vraag: "Hoe kan de regio Rotterdam ook in de toekomst veilig, leefbaar en aantrekkelijk blijven, voor bewoners, bedrijven en (internationale) investeerders? Wat zijn de risico's voor de r ...

Governance van lokale adaptatiestrategieën, de casus Feijenoord [Monograph]

De studie heeft als doel om kennis te ontwikkelen over alternatieve samenwerkingsvormen en arrangementen (juridisch, financieel en organisatorisch) die een geïntegreerde, gebiedsgerichte waterveiligheidsstrategie kunnen faciliteren. Het buitendijks g ...

Bedenk, ontwikkel en gebruik : Kennis voor Klimaat in de praktijk [Monograph]

Het onderzoeksprogramma Kennis voor Klimaat heeft een belangrijke en urgente taak: kennis ontwikkelen voor het klimaatbestendig maken van Nederland. Kennis voor Klimaat brengt wetenschappers en praktijkmensen samen in zogenaamde hotspots, real life l ...

Methode voor het genereren van uurneerslagreeksen in een toekomstig klimaat [Monograph]

Het stedelijk en landelijk watersysteem in Zuid-Holland reageert snel op neerslag door het grote percentage verhard oppervlak. Om de gevolgen van hevige neerslag goed te kunnen inschatten heeft men daarom neerslaggegevens per uur nodig. In Zuid-Holla ...

Rotterdam region climate proof : connecting limate adaptation with opportunities [Presentation]

Hotspot Rotterdam. Presented at the Midterm Assessment, 4 October, Amsterdam,

The governance of adaptation to climate change : a collaborative action research programme to develop and test legitimate, effective and resilient governance arrangements for climate adaptation : midterm review [Monograph]

The Knowledge for Climate, Governance of Adaptation programme aims to integrate existing knowledge from the fields of public administration, economics, political science, spatial planning, law, environmental studies and psychology. Through close coop ...

Effect van droogte op stedelijk gebied : kennisinventarisatie [Monograph]

Deze kennisinventarisatie beschrijft de resultaten van een literatuurstudie naar de beschikbare kennis over de kwetsbaarheid van stedelijk gebieden voor droogte en de relevante processen, die optreden bij droogte in de stad. Hiernaast zijn voor deze ...

Exploring the urban heat island intensity of Dutch cities : assessment based on a literature review, recent meteorological observation and datasets provide by hobby meteorologists [Monograph]

In the present study, an up-to-date assessment of the current Urbana Heat Island (UHI)-intensity in urban areas in the Netherlands has been made. The underlying question is whether or not thermal comfort will be a critical issue considering urbanizat ...

Invloed stedelijk oppervlaktewater op omgevingstemperatuur [Monograph]

In dit onderzoek is het effect van oppervlaktewater op de omgevingstemperatuur onderzocht op basis van metingen, ondersteund met modelberekeningen.

Building the Netherlands climate proof: urban areas [Monograph]

Klimaatverandering heeft tot gevolg dat de weersomstandigheden veranderen, en dientengevolge ook de geofysische omstandigheden en de kwaliteit en veiligheid van onze woon- en werkomgeving. Klimaatverandering kan dus het vestigingsklimaat voor mensen ...

Hittestress in Rotterdam : eindrapport [Monograph]

Rotterdam heeft de ambitie in 2025 100% klimaatbestendig te zijn. Daarom is in het kader van het Kennis voor Klimaat onderzoeksprogramma (1e tranche) het project "Hittestress in Rotterdam" uitgevoerd. Ten gevolge van klimaatverandering kan Nederland ...

Onderzoeksresultaten klimaatscenario's, mitigatie, adaptatie, integratie, communicatie [Monograph]

Niemand kan in de toekomst kijken. Toch willen we Nederland nu aanpassen aan toekomstige veranderingen in het klimaat. Klimaatscenario's verbeelden een mogelijk, toekomstig klimaat en helpen zo om verstandige besluiten te nemen over de inrichting van ...

Afsluitbaar Open Rijnmond - een eerste integrale verkenning: effecten op natuur en milieu [Monograph]

Als de waterstanden in Nederland door klimaatverandering stijgen, loopt een groot deel van het buitendijkse gebied in de regio Rijnmond kans om te overstromen. Uit verkennend onderzoek van het RIVM blijkt dat hierdoor risico's voor het milieu kunnen ...

Socio-economic effects of climate change on mainports and on urban infrastructure networks [Fact sheet]

What are the socio-economic effects of climate change via changes in the reliability and usability of transport and electricity infrastructures and via the physical infrastructure in the hotspot regions and what are potential flexibility oriented ada ...

Waterslot in het Spui : 'hoogwaterkeringen onder architectuur' [Presentation]

Multifunctionele dijken en beweegbare hoogwaterkeringen: architectonische mogelijkheden.

Scientific aspects [Fact sheet]

Description of the research involved in adapting flood risk management policy to climate change.
Check title to add to
marked list