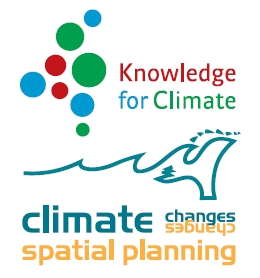 programme

theme

project

publication type

publication year

author

language

keyword
Current refinement(s):
Check title to add to
marked list
Evaluating the effect of flood damage-reducing measures: a case study of the unembanked area of Rotterdam, the Netherlands \ Regional environmental change [Scientific article]

Empirical evidence of increasing flood damages and the prospect of climatic change has initiated discussions in the flood management community on how to effectively manage flood risks. In the Netherlands, the framework of multi-layer safety (MLS) has ...

Regiospecifieke klimaatinformatie voor Haaglanden en Regio Rotterdam : syntheserapport [Monograph]

Haaglanden en Regio Rotterdam zijn beide sterk verstedelijkte gebieden met een hoge economische activiteit in de Zuidvleugel van de Randstad. Door de sterke verstedelijking en de hoge economische activiteit is het gebied gevoeliger voor weersextremen ...

Bouwstenen voor adaptatiestrategieën in de Regio Rotterdam [Monograph]

Dit rapport heeft als ambitie een eerste aanzet te geven op de vraag: "Hoe kan de regio Rotterdam ook in de toekomst veilig, leefbaar en aantrekkelijk blijven, voor bewoners, bedrijven en (internationale) investeerders? Wat zijn de risico's voor de r ...

Governance van lokale adaptatiestrategieën, de casus Feijenoord [Monograph]

De studie heeft als doel om kennis te ontwikkelen over alternatieve samenwerkingsvormen en arrangementen (juridisch, financieel en organisatorisch) die een geïntegreerde, gebiedsgerichte waterveiligheidsstrategie kunnen faciliteren. Het buitendijks g ...

Rotterdam region climate proof : connecting limate adaptation with opportunities [Presentation]

Hotspot Rotterdam. Presented at the Midterm Assessment, 4 October, Amsterdam,

Exploring the urban heat island intensity of Dutch cities : assessment based on a literature review, recent meteorological observation and datasets provide by hobby meteorologists [Monograph]

In the present study, an up-to-date assessment of the current Urbana Heat Island (UHI)-intensity in urban areas in the Netherlands has been made. The underlying question is whether or not thermal comfort will be a critical issue considering urbanizat ...

Hittestress in Rotterdam : eindrapport [Monograph]

Rotterdam heeft de ambitie in 2025 100% klimaatbestendig te zijn. Daarom is in het kader van het Kennis voor Klimaat onderzoeksprogramma (1e tranche) het project "Hittestress in Rotterdam" uitgevoerd. Ten gevolge van klimaatverandering kan Nederland ...

Invloed stedelijk oppervlaktewater op omgevingstemperatuur [Monograph]

In dit onderzoek is het effect van oppervlaktewater op de omgevingstemperatuur onderzocht op basis van metingen, ondersteund met modelberekeningen.

Woningmarktonderzoek waterwonen rivierengebied en Stadshavens Rotterdam [Monograph]

Rotterdam, Dordrecht en grote delen van het rivierengebied staan de komende tien jaar voor grote ruimtelijke en industriële investeringen. Een verkenning is nu gemaakt, die antwoord geeft op de vragen: Welke rivierlocaties zijn in potentie commerciee ...

Veilige en goed ingepaste waterkeringen in Rotterdam [Monograph]

Midden in het stedelijk gebied van Rotterdam liggen de primaire waterkeringen die een groot deel van de Randstad en het zuidelijke deel van de regio beschermen. Bekende straten zijn onder andere de Brede Hilledijk en de Schiedamsedijk. Door de verder ...

Flood risk in unembanked areas - Part D: Vulnerability of port infrastructure [Monograph]

Large parts of the port of Rotterdam are located outside the primary flood defence system. In order to reduce the frequency of flooding, port facilities and infrastructure are constructed at elevated terrains. The expected sea level rise associated w ...

Klaar voor hoog water : verkennend onderzoek naar adaptieve strategieën in het buitendijks gebied in de hotspot Rotterdam [Monograph]

De regio Rotterdam heeft een aanzienlijk areaal buitendijks gebied. De regio heeft de ambitie om de buitendijks gelegen gebieden de komende jaren te transformeren naar intensief gebruikt woon- en werkgebied. Deze gebieden krijgen naar verwachting te ...

Exploring adaptation pathways [Monograph]

A flood risk management strategy encompasses measures which reduce the flood risk to an acceptable level. The problem though, is that the future flood risk can never be determined without some degree of uncertainty. Decision makers therefore struggle ...

Flood risk in unembanked areas - Part A: Flooding characteristics: flood depth and extent [Monograph]

This flooding characteristics project in the Knowledge for Climate framework addressed the development of flood extent and flood depth maps for various return periods in present and future in the Rotterdam/Rijnmond region. The following products were ...

Helderheid voor Rotterdamse waterfronts : afsluitbaar open Rijnmond \ Waterwonen [Article]

Havenstad Rotterdam mag de komende decennia veilig zijn, de zuidkant van de Rijnmond kan zich wel beter wapenen tegen buitendijkse waterproblemen. Bovendien komen de klimaatverandering en strengere veiligheidsnormen op ons af, en dat heeft vandaag al ...
Check title to add to
marked list