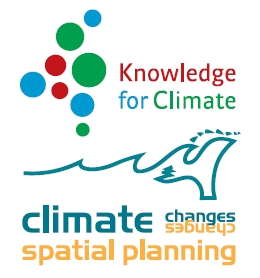 programme

theme

project

publication type

publication year

author

language

keyword
Current refinement(s):
Check title to add to
marked list
The governance of adaptation to climate change : a collaborative action research programme to develop and test legitimate, effective and resilient governance arrangements for climate adaptation : midterm review [Monograph]

The Knowledge for Climate, Governance of Adaptation programme aims to integrate existing knowledge from the fields of public administration, economics, political science, spatial planning, law, environmental studies and psychology. Through close coop ...

Effect van droogte op stedelijk gebied : kennisinventarisatie [Monograph]

Deze kennisinventarisatie beschrijft de resultaten van een literatuurstudie naar de beschikbare kennis over de kwetsbaarheid van stedelijk gebieden voor droogte en de relevante processen, die optreden bij droogte in de stad. Hiernaast zijn voor deze ...

Rotterdam region climate proof : connecting limate adaptation with opportunities [Presentation]

Hotspot Rotterdam. Presented at the Midterm Assessment, 4 October, Amsterdam,

Bedenk, ontwikkel en gebruik : Kennis voor Klimaat in de praktijk [Monograph]

Het onderzoeksprogramma Kennis voor Klimaat heeft een belangrijke en urgente taak: kennis ontwikkelen voor het klimaatbestendig maken van Nederland. Kennis voor Klimaat brengt wetenschappers en praktijkmensen samen in zogenaamde hotspots, real life l ...

Methode voor het genereren van uurneerslagreeksen in een toekomstig klimaat [Monograph]

Het stedelijk en landelijk watersysteem in Zuid-Holland reageert snel op neerslag door het grote percentage verhard oppervlak. Om de gevolgen van hevige neerslag goed te kunnen inschatten heeft men daarom neerslaggegevens per uur nodig. In Zuid-Holla ...
Check title to add to
marked list