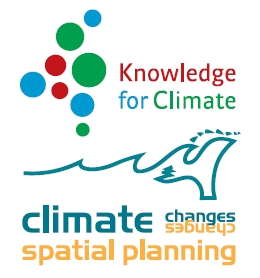 programme

theme

project

publication type

publication year

author

language

keyword
Current refinement(s):
Check title to add to
marked list
Knowledge for Climate 2008-2014 [Monograph]

This is the final report (eindrapport) of the national Knowledge for Climate (KfC) research program. The program was set up in 2007 to explore the consequences of climate change for the Netherlands and how they should be managed. To that end, an inde ...

Evaluating the effect of flood damage-reducing measures: a case study of the unembanked area of Rotterdam, the Netherlands \ Regional environmental change [Scientific article]

Empirical evidence of increasing flood damages and the prospect of climatic change has initiated discussions in the flood management community on how to effectively manage flood risks. In the Netherlands, the framework of multi-layer safety (MLS) has ...

The governance of adaptation to climate change : a collaborative action research programme to develop and test legitimate, effective and resilient governance arrangements for climate adaptation : midterm review [Monograph]

The Knowledge for Climate, Governance of Adaptation programme aims to integrate existing knowledge from the fields of public administration, economics, political science, spatial planning, law, environmental studies and psychology. Through close coop ...

Rotterdam region climate proof : connecting limate adaptation with opportunities [Presentation]

Hotspot Rotterdam. Presented at the Midterm Assessment, 4 October, Amsterdam,

Exploring the urban heat island intensity of Dutch cities : assessment based on a literature review, recent meteorological observation and datasets provide by hobby meteorologists [Monograph]

In the present study, an up-to-date assessment of the current Urbana Heat Island (UHI)-intensity in urban areas in the Netherlands has been made. The underlying question is whether or not thermal comfort will be a critical issue considering urbanizat ...

Building the Netherlands climate proof: urban areas [Monograph]

Klimaatverandering heeft tot gevolg dat de weersomstandigheden veranderen, en dientengevolge ook de geofysische omstandigheden en de kwaliteit en veiligheid van onze woon- en werkomgeving. Klimaatverandering kan dus het vestigingsklimaat voor mensen ...

Socio-economic effects of climate change on mainports and on urban infrastructure networks [Fact sheet]

What are the socio-economic effects of climate change via changes in the reliability and usability of transport and electricity infrastructures and via the physical infrastructure in the hotspot regions and what are potential flexibility oriented ada ...

Scientific aspects [Fact sheet]

Description of the research involved in adapting flood risk management policy to climate change.

Zooming in on urban flood damage assessment: a low level approach [Presentation]

Deltas in Depth Theme 4: Climate change and climate proofing urban areas, Session PDD 4.2: Flood Risks and Water management in the urban environment. Zooming in on urban flood damage assessment: a low level approach, William Veerbeek, Unesco-IHE, the ...

River morphology [Monograph]

The bed topography of a river results from processes of erosion and sedimentation. Hydrological changes, such as those owing to climatic change, as well as engineering interventions, such as damming, river training, bend cutoffs and re-landscaping of ...

Flood risk in unembanked areas - Part D: Vulnerability of port infrastructure [Monograph]

Large parts of the port of Rotterdam are located outside the primary flood defence system. In order to reduce the frequency of flooding, port facilities and infrastructure are constructed at elevated terrains. The expected sea level rise associated w ...

Flood risk in unembanked areas - Part B: Flooding characteristics: flow velocities in the downstream reaches of the river Rhine and Meuse [Monograph]

Waterdieptekaarten zijn ontwikkeld voor de buitendijks gelegen gebieden in het benedenrivierengebied. Omdat geen informatie over stroomsnelheden in de buitendijkse gebieden nabij Rotterdam beschikbaar was, is besloten een schatting te maken op basis ...

Exploring adaptation pathways [Monograph]

A flood risk management strategy encompasses measures which reduce the flood risk to an acceptable level. The problem though, is that the future flood risk can never be determined without some degree of uncertainty. Decision makers therefore struggle ...

Flood risk in unembanked areas - Part A: Flooding characteristics: flood depth and extent [Monograph]

This flooding characteristics project in the Knowledge for Climate framework addressed the development of flood extent and flood depth maps for various return periods in present and future in the Rotterdam/Rijnmond region. The following products were ...

Climate research Netherlands : research highlights [Monograph]

In the Netherlands the temperature has risen, on average, by 1.6°C since 1900. Regional climate scenarios for the 21st century developed by the Dutch Royal Meteorological Institute [1] show that temperature in the Netherlands will continue to rise an ...
Check title to add to
marked list