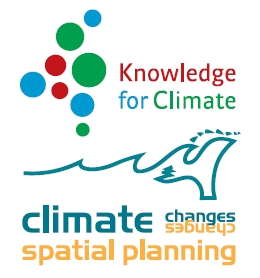 programme

theme

HS2 Hotspotoverstijgende thema's

(5)

project

publication type

publication year

author

language

keyword
Current refinement(s):
Check title to add to
marked list
Evaluating the effect of flood damage-reducing measures: a case study of the unembanked area of Rotterdam, the Netherlands \ Regional environmental change [Scientific article]

Empirical evidence of increasing flood damages and the prospect of climatic change has initiated discussions in the flood management community on how to effectively manage flood risks. In the Netherlands, the framework of multi-layer safety (MLS) has ...

The governance of adaptation to climate change : a collaborative action research programme to develop and test legitimate, effective and resilient governance arrangements for climate adaptation : midterm review [Monograph]

The Knowledge for Climate, Governance of Adaptation programme aims to integrate existing knowledge from the fields of public administration, economics, political science, spatial planning, law, environmental studies and psychology. Through close coop ...

Exploring the urban heat island intensity of Dutch cities : assessment based on a literature review, recent meteorological observation and datasets provide by hobby meteorologists [Monograph]

In the present study, an up-to-date assessment of the current Urbana Heat Island (UHI)-intensity in urban areas in the Netherlands has been made. The underlying question is whether or not thermal comfort will be a critical issue considering urbanizat ...

Socio-economic effects of climate change on mainports and on urban infrastructure networks [Fact sheet]

What are the socio-economic effects of climate change via changes in the reliability and usability of transport and electricity infrastructures and via the physical infrastructure in the hotspot regions and what are potential flexibility oriented ada ...

Scientific aspects [Fact sheet]

Description of the research involved in adapting flood risk management policy to climate change.
Check title to add to
marked list