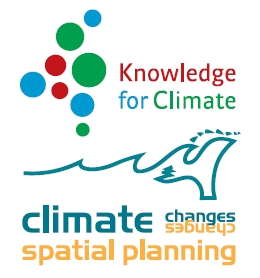 programme

theme

project

publication type

publication year

author

language

keyword
Current refinement(s):
Check title to add to
marked list
The synergy between flood risk protection and spatial quality in coastal cities \ Research in Urbanism Series [Scientific article]

Coastal regions throughout the world are subject to flood risk challenges. This paper concentrates on the Netherlands; its coastline fulfils an important role in the protection of the Dutch delta. Due to the expected sea level rise, part of the Dutch ...

In search for more robust flood protection concepts in the Dutch Wadden area [Presentation]

Flood defences along Waddencoast: several stretches in Wadden area do not meet current standards

Verschillende perspectieven op de nieuwe waterveiligheidsnormen : Kennis voor Klimaat [Monograph]

De nieuwe normstelling voor waterkeringen is een belangrijke verandering in het waterveiligheidsbeleid. Maar veiligheid, in welke mate en voor welke prijs? Zijn we bereid ten aanzien van overstromingen groter risico's te nemen. Dergelijke vragen verd ...

Adaptive flood risk management for unembanked areas in Rotterdam : co-creating governance arrangements for local adaptation strategies \ Action research for climate change adaptation : developing and applying knowledge for governance [Scientific article]

The governance of adaptation to climate change as a multi-level, multi-sector and multi-actor challenge: a European comparative perspective \ Journal of water and climate change [Scientific article]

There is increasing recognition of the need for society to adapt to the impacts of climate change, especially in the water sector. Adaptation to climatic impacts involves both infrastructural adjustments, such as reinforcing dykes or creating water s ...

The rationales of resilience in English and Dutch flood risk policies \ Journal of water and climate change [Scientific article]

We compared the governance of flood risk in England and the Netherlands, focusing on the general policies, instruments used and underlying principles. Both physical and political environments are important in explaining how countries evolved towards ...

Adapting flood management to climate change: comparing policy frames and governance practices in the Low Countries \ Journal of water and climate change [Scientific article]

Belgium and the Netherlands together form the Low Countries. Empirical research in Flanders (the Dutch-speaking part of Belgium) and the Netherlands proves that there are substantive differences in the organization of governance processes regarding f ...

Adaptation to climate change in urban water management : flood management in the Rotterdam Rijnmond Area \ Understanding and Managing Urban Water in Transition [Scientific article]

Many large coastal cities are located in deltas, which makes them vulnerable to floods. In many places flood damages have increased due to an increase in people and assets in the cities. This process is expected to continue. At the same time, climate ...

Strategic flood management: ten 'golden rules' to guide a sound approach \ International journal of river basin management / International Association of Hydraulic Engineering and Research (IAHR), International Network of Basin Organizations (INBO) [Scientific article]

Over recent decades, remarkable progress in cultivating the concepts of flood risk management has taken place across countries as diverse as India, China, Australia, the UK and the USA. This change highlights a risk management paradigm as potentially ...

Economic optimization of flood prevention systems in the Netherlands \ Mitigation and adaptation strategies for global change : an international journal devoted to scientific, engineering, socio-economic and policy responses to environmental change [Scientific article]

After the flood disaster of 1953, the Netherlands adopted a rational approach to flood risk management with the use of protection standards determined by means of costbenefit analysis. Due to scientific and political developments that have recently t ...

System robustness analysis in support of flood and drought risk management [PhD thesis]

Floods and droughts cause increasingly large impacts on societies worldwide. The probability of these extreme events is also expected to increase due to climate change. Water management primarily tries to protect against floods and droughts, for exam ...

Hotspot Grote Rivieren : regionale adaptatiestrategie [Monograph]

'Dijkversterking en rivierverruiming in een krachtig samenspel'. Dat is het motto van de voorkeurstrategie van het Deltaprogramma voor het rivierengebied. Daar zou nog een ander motto aan kunnen worden toegevoegd: 'Wateropgave en ruimtelijke adaptati ...

Evaluating the effect of flood damage-reducing measures: a case study of the unembanked area of Rotterdam, the Netherlands \ Regional environmental change [Scientific article]

Empirical evidence of increasing flood damages and the prospect of climatic change has initiated discussions in the flood management community on how to effectively manage flood risks. In the Netherlands, the framework of multi-layer safety (MLS) has ...

Legitimate adaptive flood risk governance beyond the dikes : the cases of Hamburg, Helsinki and Rotterdam \ Regional environmental change [Scientific article]

The paper offers an analysis of public and private responsibilities in adaptive flood risk governance arrangements, as well as of the legitimacy of the arrangements in the light of the public–private divide. A comparative case study is presented for ...

Dijken die niet bezwijken, dankzij Kennis voor Klimaat \ Land + water : magazine voor civiele- en milieutechniek [Article]

'Om Nederland te beschermen, moeten de dijken hoger', was lange tijd het uitgangspunt. Het consortium Waterveiligheid liet dit los en onderzocht hoe doorbraakvrije dijken onbeheersbare rampen kunnen voorkomen.

Why are decisions in flood disaster management so poorly supported by information from flood models? \ Environmental modelling & software [Scientific article]

In this paper we analyze the use of flood simulation models in flood disaster management, which takes place from about 1 to 5 days in advance of a potential flood. Specifically in this period, the potential consequences of a flood can be importantly ...

Rotterdam Centre for Resilient Delta Cities : internationaal kennisloket en samenwerkingsverband voor duurzame Deltasteden [Presentation]

Uitleg over RDC: Nederland is sterk verstedelijkte delta, met Regio Rotterdam als koploper duurzame deltastad.

Improving flood risk communication by focusing on prevention-focused motivation \ Risk analysis [Scientific article]

This article proposes an approach to flood risk communication that gives particular emphasis to the distinction between prevention and promotion motivation. The article describes how the insights worked out in practice, using a flood risk communicati ...

Resultaten Survey Deltaprogramma [Monograph]

Als onderdeel van de evaluatiestudie naar het Deltaprogramma, is een survey uitgezet onder alle aanwezigen bij het Deltacongres 2013. In deze rapportage worden de resultaten van de survey weergegeven. De 1481 aangemelde bezoekers van het Deltacongres ...

Verkenningsstudie Meerjarig Expertise netwerk Ruimte en Water op het Eiland van Dordrecht [Monograph]

Verkenningsstudie voor de oprichting van MERWE: Meerjarig Expertise netwerk Ruimte en Water op het Eiland van Dordrecht.
Check title to add to
marked list