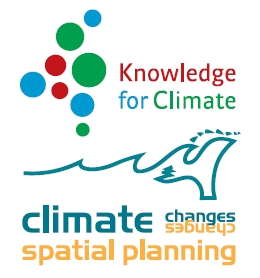 programme

theme

HS2 Hotspotoverstijgende thema's

(13)

project

publication type

publication year

author

language

keyword

governance

(13)

regional planning

(13)
Current refinement(s):
Check title to add to
marked list
Do state traditions matter? Comparing deliberative governance initiatives for climate change adaptation in Dutch corporatism and British pluralism \ Journal of water and climate change [Scientific article]

In the emerging field of climate adaptation, deliberative governance initiatives are proposed to yield better adaptation strategies. However, introducing these network-centred deliberations between public and private players may contrast with institu ...

Reconciling collaborative action research with existing institutions: insights from Dutch and German climate knowledge programmes \ Journal of water and climate change [Scientific article]

Both the Netherlands and Germany have set up largescale collaborative action research (CAR) programmes for the governance of adaptation to climate change. By comparing both programmes, this paper explores the difficulties researchers encounter, analy ...

Handling adaptation policy choices in Sweden, Germany, the UK and the Netherlands \ Journal of water and climate change [Scientific article]

Adaptation is the 'adjustment in natural or human systems in response to actual or expected climatic stimuli or their effects, which moderates harm or exploits beneficial opportunities'. The challenge for governments is taking this rather vague conce ...

The role of leadership in regional climate change adaptation: a comparison of adaptation practices initiated by governmental and non-governmental actors \ Journal of water and climate change [Scientific article]

This paper aims to better understand the role of leadership in regional climate change adaptation. We first present a framework, which distinguishes five functions of leadership within inter-organizational networks: the connective, enabling, adaptive ...

Adapting flood management to climate change: comparing policy frames and governance practices in the Low Countries \ Journal of water and climate change [Scientific article]

Belgium and the Netherlands together form the Low Countries. Empirical research in Flanders (the Dutch-speaking part of Belgium) and the Netherlands proves that there are substantive differences in the organization of governance processes regarding f ...

Governance van klimaatadaptatie: handelingsperspectieven [Monograph]

Het boek dat voor u ligt is ontstaan uit een unieke samenwerking tussen kopstukken uit de werelden van beleid en wetenschap. Ontstaan uit de gedachte "het consortium doet goed en interessant onderzoek, maar er is meer aandacht nodig voor de vertaling ...

Towards adaptive spatial planning for climate change: balancing between robustness and flexibility \ Journal for European environmental & planning law [Scientific article]

Adaptation to climate change necessitates serious adjustments to the spatial organization of our environment. However, the uncertainties, the controversial character of the climate debate, the variety of climate change consequences and the inherently ...

Toward legitimate governance strategies for climate adaptation in the Netherlands : combining insights from a legal, planning, and network perspective \ Regional environmental change [Scientific article]

In general, the issue of climate change is characterized by uncertainty, complexity, and multifacetedness. In the Netherlands, climate change is in above highly controversial. These characteristics make it difficult to realize adaptation measures tha ...

Van participatie naar zelforganisatie: over het verschuivende initiatief voor ruimtelijke ontwikkeling \ Balkan in de polder : naar organische gebiedsontwikkeling in Nederland? [Article]

The regional governance of climate adaptation: a framework for developing legitimate, effective, and resilient governance arrangements \ Climate law [Scientific article]

Adaptation to climate change raises important governance issues. Notwithstanding the increasing attention on climate adaptation at the global and European level, the variety of local conditions and climate impacts points towards a prime role for regi ...

Resilient and sustainable governance of river basins in times of climate change : avoiding flooding and water scarcity: the Dutch institutional arrangement for regional water management [Presentation]

Presentation held at Water Colloquium, Eastern Cape, South Africa, 4 July 2011

De Delta werkt! : verslag van de zesde werkconferentie Zuidwestelijke Delta, Bruinisse, 28 september 2011 [Monograph]

In de vorige conferentie was alle aandacht voor de centrale driehoek (Vitaal, Veerkrachtig, Veilig). Economische ontwikkeling is daarbij de belangrijkste pijler. Maar een gebied kun je alleen ontwikkelen als er een veilige en gezonde basis is. Ontwik ...

(Re)allocating responsibilities and risks [Fact sheet]

This work package aims at developing and testing new governance arrangements and instruments in order to increase adaptation capacity. Specific attention is paid to the allocation of responsibilities to public and/or private organizations, and to the ...
Check title to add to
marked list