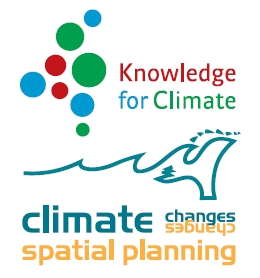 programme

theme

project

publication type

publication year

author

language

keyword

governance

(20)

urban areas

(20)
Current refinement(s):
Check title to add to
marked list
Adaptive flood risk management for unembanked areas in Rotterdam : co-creating governance arrangements for local adaptation strategies \ Action research for climate change adaptation : developing and applying knowledge for governance [Scientific article]

Action research in governance landscapes : partnering with city guides and gatekeepers \ Action research for climate change adaptation : developing and applying knowledge for governance [Scientific article]

Overview of challenges and achievements in the climate adaptation of cities and in the Climate Proof Cities program \ Building and environment : the international journal of building science and its applications [Scientific article]

Despite all international, national and local initiatives to mitigate climate change, a certain degree of climate change is unavoidable. Urban environments in particular seem vulnerable to the consequences of climate change. How can cities, which are ...

Heated debates: the transformation of urban warming into an object of governance in the Netherlands \ Evolutionary governance theory : theory and applications [Scientific article]

In the Netherlands climate adaptation policies and measures have been dominated by a strong water-centered discourse. We observed four moments of transformation of the object from science into governance, and will illustrate these transformations in ...

How mainstream is mainstreaming? : the integration of climate adaptation into urban policy [PhD thesis]

Hoewel een toenemend aantal gemeenten zich bewust is van de eventuele gevolgen van klimaatverandering en hun mogelijke rol in het organiseren van klimaatadaptatie, komt de planning en uitvoering van adaptatiemaatregelen slechts langzaam op gang. Vers ...

Van organisch ontwikkelen naar organisch organiseren : lessen over zelforganisatie uit Almere \ Regie en loslaten : bijdragen aan de PlanDag 2014 [Book chapter]

Almere Poort werd stap voor stap bouwrijp gemaakt en ontwikkeld via particulier opdrachtgeverschap. In deze bijdrage wordt de vrag gesteld: Hoe verloopt de interactie tussen burgerinitiatieven en de gemeentelijke organiatie van Almere en welke lessen ...

Governance van klimaatadaptatie: handelingsperspectieven [Monograph]

Het boek dat voor u ligt is ontstaan uit een unieke samenwerking tussen kopstukken uit de werelden van beleid en wetenschap. Ontstaan uit de gedachte "het consortium doet goed en interessant onderzoek, maar er is meer aandacht nodig voor de vertaling ...

Rethinking barriers to adaptation: mechanism-based explanation of impasses in the governance of an innovative adaptation measure \ Global environmental change : human and policy dimensions [Scientific article]

Many of the possible barriers in the governance of climate change adaptation have already been identified and catalogued in the academic literature. Thus far it has proven to be difficult to provide meaningful recommendations on how to deal with thes ...

Stimuli for municipal responses to climate adaptation: insights from Philadelphia – an early adapter [Monograph]

The aim of this paper is to identify stimuli for municipal responses to climate adaptation and examine how they influence the governance approach to addressing climate adaptation through explorative case study research. An early adapter was selected ...

Implementatie van klimaatadaptaties bij woningcorporaties [Presentation]

Vraagstelling vanuit Delft: In hoeverre zijn beleidsmakers van woningcorporaties zich bewust van benodigde klimaatadaptatie ingrepen in de bestaande woningvoorraad en hoe haalbaar acht men het om deze maatregelen door te voeren?

Exploring the role of boundaries in multifunctional land-use : lessons from boundary encounters in the Dakpark Rotterdam [Fact sheet]

In delta regions scarcity of space and new spatial claims for climate adaptation measures urge governments and scholars to look multifunctional land-use, i.e. combine economic, ecologic and social objectives in spatial developments. Realizing multifu ...

Governance of flood risk management in a time of climate change: the cases of Jakarta and Rotterdam \ Environmental politics [Scientific article]

Traditionally, flood management has concentrated on providing protection against floods using technical measures, but there is currently an international shift towards more integrated flood risk management, whereby flood risk is defined as the probab ...

Who governs climate adaptation? Getting green roofs for stormwater retention off the ground \ Journal of environmental planning and management [Scientific article]

Green roofs are an innovative solution for urban stormwater management. This paper examines governance arrangements for green roofs as a 'no-regrets' climate adaptation measure in five cities. We analysed who governs green roofs, why and with what ou ...

The integration of climate adaptation in urban policy [Fact sheet]

With cities facing climate change, climate adaptation is necessary to reduce risks such as heat stress and flooding and maintain the goals of sustainable urban development. In climate change literature, the focus has been on developing a new dedicate ...

Adaptive comanagement in the Venice lagoon? An analysis of current water and environmental management practices and prospects for change \ Ecology & society : a journal of integrative science for resilience and sustainability [Scientific article]

Adaptive comanagement (ACM) is often suggested as a way of handling the modern challenges of environmental governance, which include uncertainty and complexity. ACM is a novel combination of the learning dimension of adaptive management and the linka ...

Climate proof cities: an integrated research framework [Monograph]

Climate Proof Cities (CPC) is a large scale research programme that focuses on climate change adaptation in cities in the Netherlands. The CPC programme is based on a systems approach, and aims to answer its research questions in an integrated way. T ...

Climate adaptation conclusions, recommendations and applications [Brochure]

Meeting report, Deltas in Practice Theme 3: Governance, Session DP GV 3.5: Climate adaptation: conclusions, recommendations and applications (2010). International conference Deltas in Times of Climate Change, 29 September - 1 October, Rotterdam, the ...

Governance and adaptive capacity in cities and metropolitan areas [Fact sheet]

In order to study urban governance processes to facilitate adaptive capacity in order to cope with the effects of climate change, this work package relies heavily on an urban planning perspective.

Bestuurders/beleidsmakers [Poster]

Inventarisatie van stakeholders

Klimaatverandering en het Rotterdamse stedelijk watersysteem: verkennende studie en agenda voor vervolg [Monograph]

In deze verkenning zijn zowel technisch-inhoudelijke als sociaalmaatschappelijke aspecten onderzocht. Het blijkt niet eenvoudig om de effecten van klimaatverandering voor de Rotterdamse binnendijkse stedelijk watersysteem gedetailleerd in kaart te br ...
Check title to add to
marked list