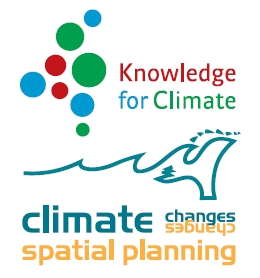 programme

theme

project

publication type

publication year

author

language

keyword

land use

(14)

scenario analysis

(14)
Current refinement(s):
Check title to add to
marked list
De invloed van het veranderend landgebruik op de hydrologie : een koppeling tussen de Ruimtescanner en het Nationaal Hydrologisch Instrumentarium [Student report]

In dit onderzoek is de invloed van landgebruikverandering op het gevoerde waterbeheer, de verdamping en de grondwaterstand onderzocht. Hierbij is gestart met een literatuuronderzoek waarbij de relatie tussen het landgebruik en de hydrologie is bescho ...

Model-based decision support for adaptation pathways: a proof of concept [Monograph]

Dit rapport presenteert de resultaten van het toepassen van verkennend modelleren op een zoetwater case. Verkennend modelleren is een manier om modellen te gebruiken ter ondersteuning van besluitvorming onder diepe onzekerheid. Om deze methode te dem ...

Regionale adaptatiestrategieën in Friese veenweidegebieden [Monograph]

Op basis van berekende (verlaagde) maaiveldhoogten in 2050 en 2100 heeft het waterschap berekend, met het grondwatermodel MIPWA, wat het effect zal zijn van de maaivelddaling op de grondwaterstanden in het veenweidegebied en de omgeving. Vooral in de ...

Verslag workshops Friese veenweidevisie [Monograph]

Waterschap en provincie werken aan een Veenweidevisie voor Friesland. In de Veenweidevisie vormt de zorg over de toenemende snelheid van de maaivelddaling en het verlies van de veenbodem een centraal aandachtspunt. Voor het verkennen van de problemen ...

Interactieve trendanalyse Vallei en Veluwe [Map]

Deze interactieve atlas schetst de effecten van een veranderend landgebruik en klimaat. Daarbij wordt gebruik gemaakt van diverse klimaatscenario's.

Deltascenario's 2050-2100 : CPB, PBL, LEI, KNMI, Deltares [Presentation]

Deltascenario's en de rol van bestuurlijke en maatschappelijke trends. Consequenties voor hydrologie, bodemdaling, zoetwater, veiligheid, ruimtelijke adaptatie. Kennisconferentie Deltaprogramma, 23 april, Wageningen.

Impacts of climate and socio‐economic change on economic viability and land use of dairy farms in 'de Baakse Beek', the Netherlands [Student report]

Climate change happens in the broader context of society. Together, climate and socio-economic change will affect the economic viability and land use of Dutch dairy farms. Effective agricultural and environmental policies are required to enable adapt ...

IGLO: Integrating global and local assessment models: improving an integrated multi-scale modelling framework to assess the inter-relationships between land use and climate change [Monograph]

The Integrating Global and LOcal assessment models (IGLO) project has the objective to improve integrated multi-scale modelling frameworks to assess the interrelationships between land use and climate. The project aims to consistently address the int ...

Land-use scenario modelling recent results [Presentation]

Presented at International Workshop Adaptation Decision Support Methods and Tools, Amsterdam 3 October 2012

Scenario-based projections of future land use in the Netherlands : a spatially-explicit knowledge base for the Knowledge for Climate programme [Monograph]

De ontwikkeling van effectieve regionale klimaatadaptatieperspectieven vereist niet alleen informatie over klimaatverandering maar vraagt ook om het rekening houden met veranderingen in economisch en sociaal opzicht. Landgebruikmodellen zijn geschikt ...

NRC debat Water [Presentation]

NRC debat Water, 1 november (2011). In de Rode Hoed, Amsterdam op 1 nov. 2011. Presentatie Pier Vellinga, Wageningen UR.

Modelplatform – Tailoring [Fact sheet]

Er is veel onderzoek gedaan naar klimaatverandering. Er zijn al veel data gegenereerd en beschikbaar over klimaatverandering en de effecten van klimaatverandering op hydrologie, landbouw, ecosystemen. In deze eerste fase richt dit project zich op tai ...

Klimaatscan : van effect tot adaptatie [Presentation]

Quickscan, op basis van huidig of toekomstig landgebruik en de te verwachte klimaateffecten in 2050, die de kansen en knelpunten geeft voor de ruimtelijke ontwikkelingen.

Hotspot regio Schiphol quickscan klimaat [Monograph]

Dit rapport geeft op basis van een zeer globale quick-scan op basis van beschikbare kaartlagen uit de klimaateffectatlas inzichtelijk wat de belangrijkste gevolgen kunnen zijn van klimaatverandering voor de regio. Hierbij gaat het zowel om de impact ...
Check title to add to
marked list