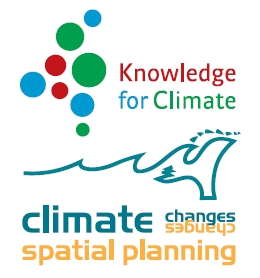 programme

theme

project

publication type

publication year

author

language

keyword
Current refinement(s):
Check title to add to
marked list
Planning support system for climate adaptation: composing effective sets of blue-green measures to reduce urban vulnerability to extreme weather events \ Building and environment : the international journal of building science and its applications [Scientific article]

The risk of pluvial flooding, heat stress and drought is increasing due to climate change. To increase urban resilience to extreme weather events, it is essential to combine green and blue infrastructure and link enhanced storage capacity in periods ...

Klimaatprojecties toekomstig klimaat [Monograph]

Onderzoekers, beleidsmakers en ondernemers werkten in Kennis voor Klimaat samen aan manieren om Nederland klimaatbestendiger te maken. Binnen het thema Klimaatprojecties is onderzocht wat gevolgen van veranderingen in het weer zijn op lokale en regio ...

De Natuurlijke Alliantie als methode voor klimaatateliers : verankering van klimaatverandering op provinciaal, regionaal en lokaal schaalniveau in de provincie Gelderland [Monograph]

Dit rapport beschrijft hoe de samenwerking tussen Kennis voor Klimaat, waterschap, provincie, gemeenten en regio's en de kennispartners heeft geresulteerd in verankering van klimaatadaptatie op verschillende schaalniveaus. De in dit project ontwikkel ...

Uncertainty in the future change of extreme precipitation over the Rhine basin: the role of internal climate variability \ Climate dynamics : observational, theoretical and computational research on the climate system [Scientific article]

Future changes in extreme multi-day precipitation will influence the probability of floods in the river Rhine basin. In this paper the spread of the changes projected by climate models at the end of this century (2081–2100) is studied for a 17-member ...

Spatial precipitation patterns and trends in The Netherlands during 1951–2009 \ International journal of climatology : a journal of the Royal Meteorological Society [Scientific article]

Significant increases in precipitation have been observed in The Netherlands over the last century. At the same time persistent spatial variations are apparent. The objective of this study is to analyse and explain these spatial patterns, focussing o ...

Climate atlas Bangladesh [Map]

Simulation of temperature and precipitation under different scenarios for the years 2050 and 2085

Soil moisture–precipitation feedback experiments over the Netherlands with AROME [Monograph]

We have applied the climate version, HCLIM, of the meso-scale modelling system HARMONIE to study soil moisture–precipitation feedback mechanisms over the Netherlands. The studied time period, May 10–15 1999, represents a consecutive number of days wi ...

Water opslaan in de Stippelberg : aanpak watertekort hoge zandgronden [Monograph]

De Stippelberg heeft de potentie om veel water op te slaan in de bodem, maar verliest het water nog te snel om watertekorten te verminderen. Het grondwater lekt via ondiepe grindlagen al tijdens het winterseizoen weg naar het agrarisch gebied. Door l ...

Voorraadvorming van water door vernatten van de Stippelberg: experimentele verificatie van de effectiviteit van infiltreren [Monograph]

De Stippelbergregio is een karakteristiek gebied van de hoge zandgronden, waar natuur en landbouw geregeld te maken hebben met een watertekort en verdroging. In dit rapport worden aan de hand van kennis over het watersysteem van de Stippelberg een aa ...

Veldproef ondergrondse zoetwaterberging in zout grondwater : (Pilot ASR Prominent) [Monograph]

In de herfst/winter wordt een groot deel van het hemelwateroverschot in het Westland afgevoerd naar zee. In de zomer kent het gebied echter een structureel gietwatertekort. Daarvoor kan ondergrondse wateropslag een oplossing bieden. 'Ondergrondse wat ...

Verslag 2e workshop Gebiedsstudie Noord Rotterdam [Monograph]

Een positief resultaat is dat er zoveel en de goede partijen (stakeholders) bij elkaar gekomen zijn. De uitwisseling van informatie en de verschillende visies en perspectieven te horen worden hoog gewaardeerd. Behoefte aan kaarten, omdat men niet zoc ...

Extreme precipitation response to climate perturbations in an atmospheric mesoscale model \ Environmental research letters [Scientific article]

Observations of extreme (sub-)hourly precipitation at mid-latitudes show a large dependency on the dew point temperature often close to 14% per degree—2 times the dependency of the specific humidity on dew point temperature which is given by the Clau ...

Joint fact finding a collaborative multi stakeholder approach to climate ready infrastructure [Presentation]

Presentation at Deltas in times of climate change II conference, Rotterdam, 24 September 2014

Wind en regen in de toekomst - wat zeggen de KNMI'14 scenario's? [Presentation]

Presentatie tijdens providersoverleg bij KNMI.

KNMI'14 klimaatscenario's? : stakeholders-meeting Visserij [Presentation]

Presentatie tijdens stakeholders meeting NAS visserij.

Introductie KNMI'14 klimaatscenario's [Presentation]

Presentatie tijdens providersoverleg bij KNMI.

Hoe vaak komt extreme neerslag zoals op 28 juli tegenwoordig voor, en is dat anders dan vroeger? \ Weer en klimaat in Nederland [Article]

Op 28 juli vielen grote hoeveelheden neerslag in Nederland, op sommige plaatsen ontstond wateroverlast. Hoe vaak komt zoiets voor, en is dat nu vaker dan vroeger? Op basis van een eerste analyse van de meetgegevens vinden we dat de grootste hoeveelhe ...

Model-based decision support for adaptation pathways: a proof of concept [Monograph]

Dit rapport presenteert de resultaten van het toepassen van verkennend modelleren op een zoetwater case. Verkennend modelleren is een manier om modellen te gebruiken ter ondersteuning van besluitvorming onder diepe onzekerheid. Om deze methode te dem ...

Eindrapport 20 juni 2014 : deelrapport B: wateraanbod glastuinbouw Haaglanden [Monograph]

In de regio Haaglanden is veel glastuinbouw. Op dit moment wordt hemelwater als primaire gietwaterbron gebruikt voor de substraatteelt, wat 88% van het glastuinbouw areaal in deze regio beslaat. Bedrijven zijn verplicht een hemel-waterberging te hebb ...

Vergroten zelfvoorzienendheid watervoorziening glastuinbouw : watervraag glastuinbouw Haaglanden : deelrapport A [Monograph]

De watervoorziening van de glastuinbouw in Haaglanden staat onder druk door toekomstige ontwikkelingen zoals klimaatverandering (langere perioden van droogte en toename verzilting), veranderingen in het beheer van het hoofdwatersysteem en verschuivin ...
Check title to add to
marked list