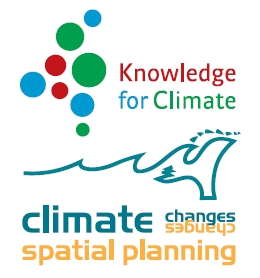 programme

theme

project

publication type

publication year

author

language

keyword
Current refinement(s):
Check title to add to
marked list
The role of leadership in regional climate change adaptation: a comparison of adaptation practices initiated by governmental and non-governmental actors \ Journal of water and climate change [Scientific article]

This paper aims to better understand the role of leadership in regional climate change adaptation. We first present a framework, which distinguishes five functions of leadership within inter-organizational networks: the connective, enabling, adaptive ...

Reconciling collaborative action research with existing institutions: insights from Dutch and German climate knowledge programmes \ Journal of water and climate change [Scientific article]

Both the Netherlands and Germany have set up largescale collaborative action research (CAR) programmes for the governance of adaptation to climate change. By comparing both programmes, this paper explores the difficulties researchers encounter, analy ...

Do state traditions matter? Comparing deliberative governance initiatives for climate change adaptation in Dutch corporatism and British pluralism \ Journal of water and climate change [Scientific article]

In the emerging field of climate adaptation, deliberative governance initiatives are proposed to yield better adaptation strategies. However, introducing these network-centred deliberations between public and private players may contrast with institu ...

Adapting flood management to climate change: comparing policy frames and governance practices in the Low Countries \ Journal of water and climate change [Scientific article]

Belgium and the Netherlands together form the Low Countries. Empirical research in Flanders (the Dutch-speaking part of Belgium) and the Netherlands proves that there are substantive differences in the organization of governance processes regarding f ...

Knowledge for Climate 2008-2014 [Monograph]

This is the final report (eindrapport) of the national Knowledge for Climate (KfC) research program. The program was set up in 2007 to explore the consequences of climate change for the Netherlands and how they should be managed. To that end, an inde ...

Kennis voor Klimaat 2008-2014 : verantwoording en resultaten [Monograph]

Dit is het eindrapport van het nationaal onderzoeksprogramma Kennis voor Klimaat (KvK). Het programma is in 2007 opgezet om de gevolgen van klimaatverandering voor Nederland inzichtelijk en hanteerbaar te maken. Daartoe is een onafhankelijke stichtin ...

Handling adaptation policy choices in Sweden, Germany, the UK and the Netherlands \ Journal of water and climate change [Scientific article]

Adaptation is the 'adjustment in natural or human systems in response to actual or expected climatic stimuli or their effects, which moderates harm or exploits beneficial opportunities'. The challenge for governments is taking this rather vague conce ...

IEC integration with urban heat storyline and the process of visualisation [Brochure]

The Information Enrichment Chain (IEC) is an approach to support information transfer for adaptation planning. It provides a step-wise method to get from the information needs of users to a map presentation of a climate indicator

De Natuurlijke Alliantie als methode voor klimaatateliers : verankering van klimaatverandering op provinciaal, regionaal en lokaal schaalniveau in de provincie Gelderland [Monograph]

Dit rapport beschrijft hoe de samenwerking tussen Kennis voor Klimaat, waterschap, provincie, gemeenten en regio's en de kennispartners heeft geresulteerd in verankering van klimaatadaptatie op verschillende schaalniveaus. De in dit project ontwikkel ...

Improving the allocation of flood-risk interventions from a spatial quality perspective \ JoLA : journal of landscape architecture [Scientific article]

This paper describes an integral approach to flood-risk protection and spatial design that allows for an active involvement of landscape architects and urban designers in the allocation of flood-risk interventions within the Dutch Delta. The Dutch Ri ...

Participatie in watermanagement : goed voorbeeld doet volgen? \ Nederlands juristenblad : weekblad behorende bij de Nederlandse jurisprudentie [Scientific article]

Verschillende rapporten over participatie, zoals van de Commissie Elverding, de Ombudsman en de WRR, bevelen overheden aan de participatie te versterken. Maar wat wordt er eigenlijk bedoeld met participatie? In dit artikel wordt burgerparticipatie be ...

Climate-proof planning for flood-prone areas: assessing the adaptive capacity of planning institutions in the Netherlands \ Regional environmental change [Scientific article]

It is generally acknowledged that adapting lowlying, flood-prone deltas to the projected impacts of climate change is of great importance. Deltas are densely populated and often subject to high risk. Climate-proof planning is, however, not only a new ...

Innovation in climate adaptation [Monograph]

The book you have in your hands presents the results of the Dutch 'Knowledge for Climate' research programme on climate change and adaption. The programme will conclude at the end of 2014. Nine books have been published, covering a cross-section of a ...

Monitoring en evaluatie van adaptatie op regionaal en lokaal niveau : rapport KvK thema 8: casussen Stadsregio Rotterdam en Regio Haaglanden [Monograph]

Eindrapport van onderdeel Kennis voor Klimaat met de titel "Monitoren en evalueren van effecten, kwetsbaarheden en adaptatiebeleid als gevolg van klimaatverandering op verschillende ruimtelijke schalen". Het rapport beschrijft twee casussen waarin mo ...

Governance van klimaatadaptatie: handelingsperspectieven [Monograph]

Het boek dat voor u ligt is ontstaan uit een unieke samenwerking tussen kopstukken uit de werelden van beleid en wetenschap. Ontstaan uit de gedachte "het consortium doet goed en interessant onderzoek, maar er is meer aandacht nodig voor de vertaling ...

Waterveiligheid klimaat en overstromingen [Monograph]

Onderzoekers, beleidsmakers en ondernemers werkten in Kennis voor Klimaat samen aan manieren om Nederland klimaatbestendiger te maken. In het thema Waterveiligheid zijn maatregelen bedacht en onderzocht om de risico's van overstromingen te beheersen.

Rurale gebieden klimaat en natuur en landbouw [Monograph]

Onderzoekers, beleidsmakers en ondernemers werkten in Kennis voor Klimaat samen aan manieren om Nederland klimaatbestendiger te maken. Binnen het thema Rurale Gebieden is onderzocht hoe landbouw en natuur gevolgen van klimaatverandering zoals droogte ...

Met oog op de toekomst : Regionale klimaat Adaptatie Strategie Haaglanden [Monograph]

Haaglanden heeft de ambitie om in 2050 een klimaatbestendige internationale topregio te zijn (Regionaal Structuurplan 2020). Om deze ambitie te realiseren is het van belang om rekening te houden met veranderingen in de toekomst en om nu al de kansen ...

Integrated, transboundary climate-adaptation governance : exploring essential steps for the development of a cross-border and integrated climate-adaptation strategy [Monograph]

Met behulp van een literatuurstudie is gezocht naar de noodzaak en mogelijkheden voor een grensoverschrijdende en geïntegreerde aanpak van klimaatverandering. Tevens is een analyse verricht van de methoden van 'best practices' op het gebied van klima ...

Innovatie in klimaatadaptatie [Monograph]

Wetenschappers, beleidsmakers en ondernemers werkten in Kennis voor Klimaat samen aan onderzoek om Nederland klimaatbestendig te maken. Per thema is een boek verschenen. Dit boek laat enkele hoofdrolspelers aan het woord en gaat in op de opzet van he ...
Check title to add to
marked list