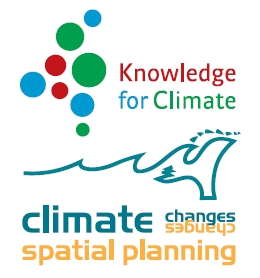 programme

theme

project

publication type

publication year

author

language

keyword
Current refinement(s):
Check title to add to
marked list
Adaptive flood risk management for unembanked areas in Rotterdam : co-creating governance arrangements for local adaptation strategies \ Action research for climate change adaptation : developing and applying knowledge for governance [Scientific article]

Integration in urban climate adaptation: lessons from Rotterdam on integration between scientific disciplines and integration between scientific and stakeholder knowledge \ Building and environment : the international journal of building science and its applications [Scientific article]

Based on the experience acquired in the Bergpolder Zuid district in the city of Rotterdam, The Netherlands, this paper presents lessons learned so far on science-policy interactions supporting the adaptation to climate change in an urban district. Tw ...

Assessment of evaporative water loss from Dutch cities \ Building and environment : the international journal of building science and its applications [Scientific article]

Reliable estimates of evaporative water loss are required to assess the urban water budget in support of division of water resources among various needs, including heat mitigation measures in cities relying on evaporative cooling. We report on urban ...

Temporal and spatial variability of urban heat island and thermal comfort within the Rotterdam agglomeration \ Building and environment : the international journal of building science and its applications [Scientific article]

This paper reports on temporal and spatial variability of local climate and outdoor human thermal comfort within the Rotterdam agglomeration. We analyse three years of meteorological observations (2010–2012) from a monitoring network. Focus is on the ...

Heated debates: the transformation of urban warming into an object of governance in the Netherlands \ Evolutionary governance theory : theory and applications [Scientific article]

In the Netherlands climate adaptation policies and measures have been dominated by a strong water-centered discourse. We observed four moments of transformation of the object from science into governance, and will illustrate these transformations in ...

CFD simulation and validation of urban microclimate: a case study for Bergpolder Zuid, Rotterdam \ Building and environment : the international journal of building science and its applications [Scientific article]

Considering climate change and the rapid trend towards urbanization, the analysis of urban microclimate is gaining importance. The Urban Heat Island (UHI) effect and summer-time heat waves can significantly affect urban microclimate with negative con ...

Draagt de bodem bij aan de Rotterdamse klimaatambities? : hoe de koolstofkringloop zorgt voor CO2 vastlegging in de bodem \ Bodem : kwartaalblad voor informatie-uitwisseling en discussie over bodembescherming en bodemsanering [Article]

Dit artikel geeft inzicht in het bodemdeel van de koolstofkringloop in de stad Rotterdam. Kan inzicht in de cyclus bijdragen aan oplossingen voor de opgaven voor klimaat en duurzaamheid? Verschillende koolstofstromen zijn voor de stad Rotterdam in ka ...

Klimaatbestendige stad : klimaat en de stad [Monograph]

Onderzoekers, beleidsmakers en ondernemers werkten in Kennis voor Klimaat samen aan manieren om Nederland klimaatbestendiger te maken. In het thema Klimaatbestendige Stad zijn maatregelen bedacht en onderzocht om onze steden aangenaam te houden.

Hotspot regio Rotterdam : kennismontage Kennis voor Klimaat onderzoek [Monograph]

De ambitie van Rotterdam is om in 2025 klimaatbestendig te zijn. Dit betekent dat in 2025 de maatregelen zijn getroffen om minimaal last en maximaal profijt te hebben van klimaatverandering op dat moment én in de decennia daarna. Bovendien betekent d ...

Kader van de ontwikkeling van de Adaptatiestrategie Regio Rotterdam [Monograph]

De adaptatiestrategie ARR is gebaseerd op een aantal bouwstenen dat binnen de hotspot is ontwikkeld, namelijk de Rotterdamse Adaptatiestrategie (RAS), MKBA, klimaatatlas regio Rotterdam en de regionale klimaatagenda. Gezien de grote lokale verschille ...

MKBA Klimaatadaptatiestrategie : Casus: Bergpolder Zuid [Monograph]

De stad voorbereiden op verandering van het klimaat, met een strategisch aanpak en onderbouwde maatregelen – dat is het doel van de Rotterdamse Klimaatadaptatiestrategie. De Rotterdamse strategie laat zien hoe bewoners, bedrijven en stad maximaal kun ...

Eindrapport Clustervoorstel kleine kennisvragen [Monograph]

Binnen het project "Clustervoorstel kleine kennisvragen" is een aantel kleinschalige studies uitgevoerd om kennishiaten te dichten die al schrijvende aan de Adaptatiestrategie Regio Rotterdam en de Rotterdamse Adaptatiestrategie opdoemden. De literat ...

Regionale keringen Rotterdam : overstromingsrisico's en strategieën [Monograph]

Het programma Rotterdam Climate Proof en het Waterplan Rotterdam richten zich op het klimaatbestendig maken van de stad en haar omgeving. In dat kader is voor het thema waterveiligheid onderzoek verricht naar de klimaatbestendigheid van de regionale ...

Syntheserapport MKBA RAS Kennis voor Klimaat project HSRR 3.6 : eindrapport, aangepast naar aanleiding van externe reviews en bestuurlijke behandeling [Monograph]

In project HSRR3.6 stond de vraag centraal welke klimaatadaptieve maatregelen vanuit economisch en maatschappelijk perspectief optimaal zijn in concrete gebiedsontwikkelingen. In Bergpolder Zuid gaat naar verwachting op termijn schade ontstaan door h ...

Monitoren van klimaat adaptatie op lokale en regionale schaal: casus stadsregio Rotterdam, Nederland [Student report]

Het aanpassen aan klimaatverandering is een belangrijk aspect van het omgaan met de effecten van klimaatverandering. Om effectief adaptatiebeleid te informeren en om te leren over de effecten van adaptatie maatregelen is monitoring nodig. Er is echte ...

Monitoring en evaluatie van adaptatie op regionaal en lokaal niveau : rapport KvK thema 8: casussen Stadsregio Rotterdam en Regio Haaglanden [Monograph]

Eindrapport van onderdeel Kennis voor Klimaat met de titel "Monitoren en evalueren van effecten, kwetsbaarheden en adaptatiebeleid als gevolg van klimaatverandering op verschillende ruimtelijke schalen". Het rapport beschrijft twee casussen waarin mo ...

How mainstream is mainstreaming? : the integration of climate adaptation into urban policy [PhD thesis]

Hoewel een toenemend aantal gemeenten zich bewust is van de eventuele gevolgen van klimaatverandering en hun mogelijke rol in het organiseren van klimaatadaptatie, komt de planning en uitvoering van adaptatiemaatregelen slechts langzaam op gang. Vers ...

Rotterdam Centre for Resilient Delta Cities : internationaal kennisloket en samenwerkingsverband voor duurzame Deltasteden [Presentation]

Uitleg over RDC: Nederland is sterk verstedelijkte delta, met Regio Rotterdam als koploper duurzame deltastad.

Naar een klimaatbestendige Bergpolder Zuid [Monograph]

Het klimaat verandert. Dit heeft ook voor Rotterdam gevolgen. De temperatuur in de stad zal stijgen waardoor steeds meer mensen last kunnen krijgen van hittestress. Hevige regenbuien komen vaker voor waardoor de kans op wateroverlast in de stad toene ...

Evaluating the effect of flood damage-reducing measures: a case study of the unembanked area of Rotterdam, the Netherlands \ Regional environmental change [Scientific article]

Empirical evidence of increasing flood damages and the prospect of climatic change has initiated discussions in the flood management community on how to effectively manage flood risks. In the Netherlands, the framework of multi-layer safety (MLS) has ...
Check title to add to
marked list