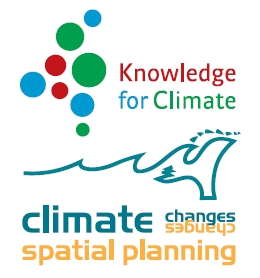 programme

theme

project

publication type

publication year

author

language

keyword
Current refinement(s):
Check title to add to
marked list
Amsterwarm: mapping the landuse, health and energy-efficiency implications of the Amsterdam urban heat island \ Building services engineering research & technology [Scientific article]

The Amsterwarm project investigates the urban heat island of Amsterdam, the vulnerability of its population, the energy efficiency of its buildings and landuse. A novel mapping approach provides insights into the questions of what causes the urban he ...

Planning support system for climate adaptation: composing effective sets of blue-green measures to reduce urban vulnerability to extreme weather events \ Building and environment : the international journal of building science and its applications [Scientific article]

The risk of pluvial flooding, heat stress and drought is increasing due to climate change. To increase urban resilience to extreme weather events, it is essential to combine green and blue infrastructure and link enhanced storage capacity in periods ...

Improving the allocation of flood-risk interventions from a spatial quality perspective \ JoLA : journal of landscape architecture [Scientific article]

This paper describes an integral approach to flood-risk protection and spatial design that allows for an active involvement of landscape architects and urban designers in the allocation of flood-risk interventions within the Dutch Delta. The Dutch Ri ...

Rethinking barriers to adaptation: mechanism-based explanation of impasses in the governance of an innovative adaptation measure \ Global environmental change : human and policy dimensions [Scientific article]

Many of the possible barriers in the governance of climate change adaptation have already been identified and catalogued in the academic literature. Thus far it has proven to be difficult to provide meaningful recommendations on how to deal with thes ...

Organizational values and the implications for mainstreaming climate adaptation in Dutch cities - using Q methodology \ Journal of water and climate change [Scientific article]

Mainstreaming climate adaptation requires the inclusion of climate adaptation in the policies of various policy domains such as water management and spatial planning. This paper investigates the organizational values present in several municipal poli ...

Political commitment in organising municipal responses to climate adaptation: the dedicated approach versus the mainstreaming approach \ Environmental politics [Scientific article]

We develop conceptual understanding of political commitment in two approaches to organising municipal responses to climate adaptation. The dedicated approach, based on direct political commitment to climate adaptation, implies political agenda settin ...

Capacity building for the integration of climate adaptation into urban planning processes : the Dutch experience \ American journal of climate change [Scientific article]

The institutions of the Dutch (urban) planning system face four challenging characteristics of climate adaptation measures. These measures are uncertain in their effects, in competition with other interests, multifaceted, and inherently complex. Capa ...

Klimaatbestendige wijken: doelgroep: projectontwikkelaars, ruimtelijke ordening [Fact sheet]

De meest bepalende factoren voor de verschillen tussen wijken zijn de fractie bebouwd oppervlak, verhard oppervlak en de fractie groenoppervlak. Daarnaast heeft de gemiddelde gebouwhoogte een duidelijke invloed, evenals de verhouding tussen gebouwhoo ...

Mainstreaming climate adaptation at the implementation level : routines as possible barriers to organisational change \ Association of European Schools of Planning (AESOP) annual congress [Conference proceedings]

This article aims to develop a conceptual framework to better understand the role of routines as possible barriers to organizational routines in the case of mainstreaming climate adaptation. It is the implementation level where barriers to climate ad ...

Seasonal dependence of the urban heat island on the street canyon aspect ratio \ Quarterly Journal of the Royal Meteorological Society [Scientific article]

In this article we study the relation between the urban heat island (UHI) in the urban canyon and street geometry, in particular the aspect ratio. Model results and observations show that two counteracting processes govern the relation between the no ...

Klimaatadaptatie binnen de gemeente Amersfoort [Presentation]

Camps, P. (2014). Klimaatadaptatie binnen de gemeente Amersfoort, Symposium Kennisportaal voor een klimaatbestendige en waterrobuuste ruimte, 24 juni.

Van organisch ontwikkelen naar organisch organiseren : lessen over zelforganisatie uit Almere \ Regie en loslaten : bijdragen aan de PlanDag 2014 [Book chapter]

Almere Poort werd stap voor stap bouwrijp gemaakt en ontwikkeld via particulier opdrachtgeverschap. In deze bijdrage wordt de vrag gesteld: Hoe verloopt de interactie tussen burgerinitiatieven en de gemeentelijke organiatie van Almere en welke lessen ...

Klimaatbestendige stad : klimaat en de stad [Monograph]

Onderzoekers, beleidsmakers en ondernemers werkten in Kennis voor Klimaat samen aan manieren om Nederland klimaatbestendiger te maken. In het thema Klimaatbestendige Stad zijn maatregelen bedacht en onderzocht om onze steden aangenaam te houden.

Monitoren van klimaat adaptatie op lokale en regionale schaal: casus stadsregio Rotterdam, Nederland [Student report]

Het aanpassen aan klimaatverandering is een belangrijk aspect van het omgaan met de effecten van klimaatverandering. Om effectief adaptatiebeleid te informeren en om te leren over de effecten van adaptatie maatregelen is monitoring nodig. Er is echte ...

Hotspot regio Rotterdam : kennismontage Kennis voor Klimaat onderzoek [Monograph]

De ambitie van Rotterdam is om in 2025 klimaatbestendig te zijn. Dit betekent dat in 2025 de maatregelen zijn getroffen om minimaal last en maximaal profijt te hebben van klimaatverandering op dat moment én in de decennia daarna. Bovendien betekent d ...

Kader van de ontwikkeling van de Adaptatiestrategie Regio Rotterdam [Monograph]

De adaptatiestrategie ARR is gebaseerd op een aantal bouwstenen dat binnen de hotspot is ontwikkeld, namelijk de Rotterdamse Adaptatiestrategie (RAS), MKBA, klimaatatlas regio Rotterdam en de regionale klimaatagenda. Gezien de grote lokale verschille ...

Adaptieve strategieën voor het buitendijkse gebied van Rotterdam [Fact sheet]

Een aanzienlijk deel van het Rotterdamse stedelijke gebied ligt buitendijks. Door klimaatverandering en verstedelijking neemt de kwetsbaarheid van dit gebied voor hoogwater toe. De vraag is of de huidige waterveiligheidsbenadering waarbij vooral inge ...

Rotterdamse adaptatiestrategie [Monograph]

De Rotterdamse adaptatiestrategie zet de koers uit waarlangs Rotterdam zich wil aanpassen aan de veranderingen van het klimaat. Doel is een klimaatbestendige stad voor de Rotterdammers van nu en voor toekomstige generaties. Dat is een stad die bovend ...

Ondernemerscollectieven als ruimtelijke planners: een update van de Business Improvement Districts in Engeland en Nederland [thema Stadstraten] \ Stedebouw & ruimtelijke ordening / Nederlands Instituut voor Ruimtelijke Ordening en Volkshuisvesting [Article]

Zelforganisatie in de strak geplande polder: over de on)mogelijkheden van een organische ontwikkel strategie \ Tussen Tijd / Gebruik van ruimte in transitie : podium voor architectuur Haarlemmermeer en Schiphol [Article]

De kantorenleegstand in Haarlemmermeer, een vraagstuk waarbij zelforganiserende initiatieven het verschil lijken te maken. Juist leegstand van kantoren is vaak het resultaat van stagnatie in besluitvorming of een vastgelopen markt. Juist daardoor kom ...
Check title to add to
marked list