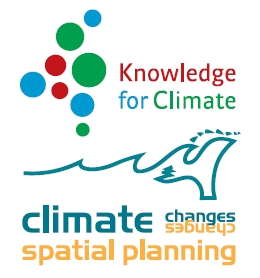 programme

theme

project

publication type

publication year

author

language

keyword
Current refinement(s):
Check title to add to
marked list
Dealing with uncertainties in fresh water supply: experiences in the Netherlands : climate proof fresh water supply in coastal areas and deltas in Europe \ Water resources management : an international journal [Scientific article]

This paper, first, offers a brief overview of developments in the field of planning under (deep) uncertainty. Next, we illustrate application of three different approaches to fresh water provision planning under uncertainty in case studies in the Net ...

Knowledge for Climate 2008-2014 [Monograph]

This is the final report (eindrapport) of the national Knowledge for Climate (KfC) research program. The program was set up in 2007 to explore the consequences of climate change for the Netherlands and how they should be managed. To that end, an inde ...

System robustness analysis in support of flood and drought risk management [PhD thesis]

Floods and droughts cause increasingly large impacts on societies worldwide. The probability of these extreme events is also expected to increase due to climate change. Water management primarily tries to protect against floods and droughts, for exam ...

Kennis voor Klimaat 2008-2014 : verantwoording en resultaten [Monograph]

Dit is het eindrapport van het nationaal onderzoeksprogramma Kennis voor Klimaat (KvK). Het programma is in 2007 opgezet om de gevolgen van klimaatverandering voor Nederland inzichtelijk en hanteerbaar te maken. Daartoe is een onafhankelijke stichtin ...

Hotspot Grote Rivieren : regionale adaptatiestrategie [Monograph]

'Dijkversterking en rivierverruiming in een krachtig samenspel'. Dat is het motto van de voorkeurstrategie van het Deltaprogramma voor het rivierengebied. Daar zou nog een ander motto aan kunnen worden toegevoegd: 'Wateropgave en ruimtelijke adaptati ...

Do state traditions matter? Comparing deliberative governance initiatives for climate change adaptation in Dutch corporatism and British pluralism \ Journal of water and climate change [Scientific article]

In the emerging field of climate adaptation, deliberative governance initiatives are proposed to yield better adaptation strategies. However, introducing these network-centred deliberations between public and private players may contrast with institu ...

The role of leadership in regional climate change adaptation: a comparison of adaptation practices initiated by governmental and non-governmental actors \ Journal of water and climate change [Scientific article]

This paper aims to better understand the role of leadership in regional climate change adaptation. We first present a framework, which distinguishes five functions of leadership within inter-organizational networks: the connective, enabling, adaptive ...

Combining backcasting and exploratory scenarios to develop robust water strategies in face of uncertain futures \ Mitigation and adaptation strategies for global change : an international journal devoted to scientific, engineering, socio-economic and policy responses to environmental change [Scientific article]

Water management strategies in times of global change need to be developed within a complex and uncertain environment. Scenarios are often used to deal with uncertainty. A novel backcasting methodology has been tested in which a normative objective ( ...

Strategic flood management: ten 'golden rules' to guide a sound approach \ International journal of river basin management / International Association of Hydraulic Engineering and Research (IAHR), International Network of Basin Organizations (INBO) [Scientific article]

Over recent decades, remarkable progress in cultivating the concepts of flood risk management has taken place across countries as diverse as India, China, Australia, the UK and the USA. This change highlights a risk management paradigm as potentially ...

Adaptation to climate change in urban water management : flood management in the Rotterdam Rijnmond Area \ Understanding and Managing Urban Water in Transition [Scientific article]

Many large coastal cities are located in deltas, which makes them vulnerable to floods. In many places flood damages have increased due to an increase in people and assets in the cities. This process is expected to continue. At the same time, climate ...

De KNMI'14 klimaatscenario's : neerslag en neerslagextremen [Presentation]

Presentatie tijdens het Stowa/NHV symposium gevolgen klimaatverandering voor het waterbeheer, 4-5 juni 2014.

Zoetwatervoorziening en waterkwaliteit: klimaat en zoet water [Monograph]

Onderzoekers, beleidsmakers en ondernemers werkten in Kennis voor Klimaat samen aan manieren om Nederland klimaatbestendiger te maken. Binnen het thema Zoetwatervoorziening en waterkwaliteit is kennis ontwikkeld om te zorgen voor een duurzame zoetwat ...

Zoet water opslaan in zoute ondergrond en later gebruiken als gietwater : theoretische onderbouwing voor bredere toepasbaarheid \ Onder glas [Article]

Het is al jaren mogelijk zoet water op te slaan in de ondergrond. KWR Watercycle Research Institute doet nu onderzoek naar de mogelijkheid om zoet water op te slaan in een zoute ondergrond en dit later te gebruiken als gietwater. Aan de hand van mode ...

De klimaatprofessor wordt weer gehoord : Pier Vellinga : hoofdrolspelers \ H twee O : tijdschrift voor watervoorziening en afvalwaterbehandeling [Article]

Interview met de directeur van het tijdelijk onderzoeksprogramma "Kennis voor Klimaat". De hoogleraar Pier Vellinga ziet een kentering: het klimaatprobleem wordt weer serieus genomen. En wat nog mooier is: steeds meer partijen zien oplossingen en heb ...

Adaptatie aan klimaatverandering in de Zuidwestelijke Delta : een langetermijnvisie (2050-2100) [Monograph]

Op basis van de inventarisatie van kwetsbaarheden en adaptatiekansen, en een aantal uitgangpunten ten aanzien van sociaaleconomische ontwikkelingen, het functioneren van de delta en grenzen die de inrichting van het gebied aan mogelijke maatregelen s ...

De Natuurlijke Alliantie als methode voor klimaatateliers : verankering van klimaatverandering op provinciaal, regionaal en lokaal schaalniveau in de provincie Gelderland [Monograph]

Dit rapport beschrijft hoe de samenwerking tussen Kennis voor Klimaat, waterschap, provincie, gemeenten en regio's en de kennispartners heeft geresulteerd in verankering van klimaatadaptatie op verschillende schaalniveaus. De in dit project ontwikkel ...

Participation under a spell of instrumentalization? Reflections on action research in an entrenched climate adaptation policy process \ Critical policy studies [Scientific article]

The article discusses action research in a Dutch intergovernmental project group DV2050. That group was to assess the effects of climate change and soil subsidence on the regional water system and to propose adaptive policies to increase regional wat ...

Europese Rivieren Omarmd : de Gordiaanse knoop ontwaard? (voorheen: een frisse kijk op ons rivierenland) [Presentation]

Vriend, M. de (2014). Presentatie werkconferentie Europese rivieren omarmd: 'De Waterwolf getemd?', 30 januari. Door Marnix de Vriend Trekker ORAS HS Grote Rivieren. Inhoud presentatie: 1. Wie ben ik, wat is mijn visie op de Delta Nederland en hoe is ...

'Foreign perspectives - Great Britain' [Presentation]

Barker, R. (2014). Presentatie werkconferentie Europese rivieren omarmd: 'Foreign perspectives - Great Britain', 30 januari.

'Ober- und Unterlieger' [Presentation]

Heiland, P. (2014). Presentatie werkconferentie Europese rivieren omarmd: 'Foreign Perspectives: Ober und Unterlieger', 30 januari.
Check title to add to
marked list