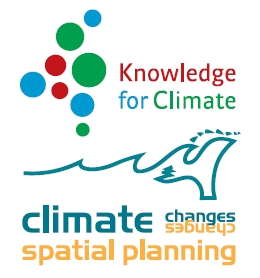 programme

theme

project

publication type

publication year

author

language

keyword
Current refinement(s):
Check title to add to
marked list
Klimaatadaptatie Verbeeld [Video recording]

In 2050 leven er 9 miljard mensen op aarde, waarvan 75 procent in stedelijke gebieden zal wonen. Deze verstedelijking brengt drie uitdagingen met zich mee: hoe geven we al die mensen een plekje? Hoe gaan we om met klimaatverandering? En hoe gaan we d ...

Kennis voor Klimaat TV: voor een beter stadsklimaat [Video recording]

Het klimaat verandert en dit is te merken in de stad. Het wordt warmer, natter en tegelijk droger in de stad. Gelukkig kunnen wij daar wat tegen doen en er direct ons voordeel uit halen. Wat dacht je van spelen met het water, het plaatsen van groene ...

Superstorm [Video recording]

Superstorm in Nederland? Een superstorm zoals Sandy in New York kan ook in Nederland voorkomen. En we zijn hier helemaal niet goed op voorbereid. Welke maatregelen kunnen genomen worden om de gevolgen te beperken en wat kun je zelf doen? In de nieuws ...

Superveilige dijken [Video recording]

Klimaatverandering zorgt voor meer neerslag en een stijgende zeespiegel. Nederland moet maatregelen nemen om ervoor te zorgen dat de dijken ook in de toekomst stand blijven houden tegen het water. Superveilige dijken (ook wel bekend als klimaatdijken ...

Hitte en ouderen [Video recording]

Ouderen zijn extra gevoelig voor hittestress en de gevolgen kunnen vrij ernstig zijn: ademhalingsproblemen, uitdroging en zelfs sterfte. Slimme ouderen wachten de hittegolven echter niet lijdzaam af, maar nemen zelf maatregelen. In de nieuwste afleve ...

Climate change: thirty years of history and future prospects: Pier Vellinga at TEDxEde [Video recording]

A ten minutes talk about climatic change, held by Pier Vellinga (Wageningen UR). His analysis: after finishing flood control (for The Netherlands) the focus was the rising of the sea level. When cold war was over, the political attention for greenhou ...

Kennis voor Klimaat TV: de waterbuffer [Video recording]

Nederland krijg te maken met een stijgende zeespiegel, watertekort en een zouter wordende bodem. Het ondergronds bergen van wateroverschot zorgt voor een waterbuffer in tijden van droogte.

Kennis voor Klimaat TV: blauwalg [Video recording]

Blauwalgen: iedereen heeft er van gehoord, maar hoe gevaarlijk zijn ze nu eigenlijk? Met de nieuwste aflevering van Kennis voor Klimaat TV leggen onderzoekers van Wageningen UR en de Radboud Universiteit uit dat blauwalgen kunnen leiden tot maag- en ...

Wat zijn de gevolgen van de droogte in Nederland? [Video recording]

Hoewel Nederland bekend staat als een nat land met veel water, kampen we ook af en toe met neerslagtekort en droogte. Dit jaar is het zelfs extreem: de lente van 2011 is de droogste sinds in 1906 landelijk neerslag wordt bijhouden. De gevolgen voor d ...
Check title to add to
marked list