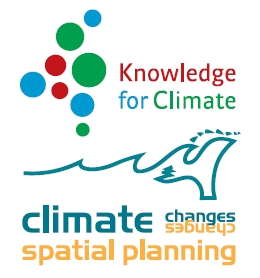 programme

theme

project

publication type

publication year

author

language

keyword
Current refinement(s):
Check title to add to
marked list
State of the art on the legal and policy literature on adaptation to climate change: towards a research agenda [Monograph]

Dit rapport beschrijft de juridische vragen die voortvloeien uit het internationale klimaatregime, de belangrijkste juridische concepten zoals het "no-harm-principle", het "ability-to-pay-principle" en de ontwikkeling die men waarneemt richting een m ...

Klimaatbestendige inrichting van Nederland: opgave voor de Rijksoverheid? [Monograph]

Hoe wordt in de praktijk omgegaan met klimaatbestendigheid en wat voor overheidssturing is gewenst? Met deze en andere vragen zijn verschillende betrokkenen bij projecten die deel uitmaken van de ruimtelijke hoofdstructuur (RHS) geinterviewed. De pro ...

Klimaatscan Natura 2000 gebieden [Monograph]

Provincies hebben behoefte aan een beter inzicht in de mogelijke consequenties van klimaatverandering voor het bereiken van natuurdoelen die in het kader van Natura 2000 gesteld worden. Om zicht te krijgen op de mogelijke consequenties is een aanpak ...

State of the art of the impact of climate change on environmental quality in The Netherlands : a framework for adaptation. [Monograph]

The effects of climate change on environmental quality in the Netherlands are expected to be large and diverse. However, effects may be very different for the compartment considered e.g air, soil, water, vegetation, fauna and the impact also depends ...

Europe adapts to climate change : comparing national adaptation strategies [Monograph]

Climate Change is happening. Even if global emission reductions and mitigation efforts over the next decades prove to be successful, a signifi cant amount of human-induced climate change has become inevitable. In addition to efforts to reduce greenho ...

Adapting Dutch agriculture to climate change [Monograph]

This review starts with a brief discussion on agricultural land use in the Netherlands, followed by an overview of the expected climatic changes in the Netherlands and the consequences of land use change on current agricultural practices. Subsequentl ...

Climate research Netherlands : research highlights [Monograph]

In the Netherlands the temperature has risen, on average, by 1.6°C since 1900. Regional climate scenarios for the 21st century developed by the Dutch Royal Meteorological Institute [1] show that temperature in the Netherlands will continue to rise an ...

Spatial economic research on climate change and adaptation : literature review for 'Knowledge for Climate' [Monograph]

An exact prediction of future climate changes is impossible. Firstly, because of the uncertainty related to the main causes of climate change. Secondly, because of the even larger uncertainty in feedback processes, both back - and forward-coupling. A ...

A state of the art of governance literature on adaptation to climate change: towards a research agenda [Monograph]

Rapport uit een serie verkenningen, uitgevoerd om de stand van zaken op het gebied van klimaatverandering en adaptatie te inventariseren. Governance of Adaptation bevat een literatuuranalyse van bestuurskundige en planologische aspecten van klimaatad ...

Klimaatdijk : een verkenning [Monograph]

Door het veranderende klimaat is de tijd rijp om na te denken over andere concepten van waterveiligheid dan het steeds maar ophogen van dijken. Een Klimaatdijk is een inrichtingsvorm waarbij de waterkering zo robuust is dat hij niet doorbreekt en dus ...

Inventarisatie van wensen voor klimaatscenario's [Presentation]

Achtergronden bij scenario-analyses. Aanleiding is de komst van nieuwe KNMI scenario's rond 2013. Uitleg tijdens overleg IPO projectgroep Kwantiteit/Kwaliteit 9 en 23 juni 2009

KNMI klimaatscenario's [Presentation]

Klimaatscenario's vormen de basis voor adaptatiemaatregelen, bijv. waterkeringen, riolen en gebouwen. Presentatie gehouden voor Unie van Waterschappen, 20 oktober 2009

Generation of river flow scenarios [Monograph]

An unobstructed inland navigation is essential for the Rotterdam Harbour. Decreasing discharges in the Rhine and Meuse branches may lead to longer periods with low water levels. This may hamper the navigation. In this memo, estimates are made for cha ...

Knowledge for Climate : workshop report 7th of April 2010 [Monograph]

This report contains the results of the discussion during the workshop Water and Transport (Knowledge for Climate) on April 7th 2010. This workshop was organized by the members of the consortium in close cooperation with LEF Future Centre of Rijkswat ...

Helderheid voor Rotterdamse waterfronts : afsluitbaar open Rijnmond \ Waterwonen [Article]

Havenstad Rotterdam mag de komende decennia veilig zijn, de zuidkant van de Rijnmond kan zich wel beter wapenen tegen buitendijkse waterproblemen. Bovendien komen de klimaatverandering en strengere veiligheidsnormen op ons af, en dat heeft vandaag al ...

Open call adaptation to climate change : invitation to submit pre-proposals [Monograph]

Climate change and the human role in it emerged at the top of the international political agenda at the end of the nineteen eighties. Since then, international agreements have been reached to limit the emission of greenhouse gases. However, even if a ...

A state of the art of governance literature on adaptation to climate change: towards a research agenda [Poster]

Literature on governance of adaptation is concentrated in the domain of environmental studies, whereas the domain of public administration supplies hardly, if any, literature on the topic

Rapport inventarisatie modelinstrumentarium [Monograph]

Om het onderzoek naar de effectiviteit en de gevolgen van adaptatiemaatregelen uit te voeren zal veelal gebruik moeten worden gemaakt van bestaande klimaat-, effect- en impactmodellen. De koppelingen tussen die modellen zijn vaak nog niet tot stand g ...

Na het zoet komt het zout \ www.clubvanMaarssen.org [Article]

In de Nederlandse waterhuishoudingen is van alles aan de hand. Altijd al geweest trouwens. Mede als gevolg van de klimaatverandering staat ons in de Zuidwestelijke Delta van alles te wachten. Zoals meer verzilting. Dat kan op termijn een probleem wor ...

Zoet zout water Zuidwestelijke delta [Presentation]

Het ontstaan van aandacht en draagvlak ligt bij het kierbesluit (op een kier zetten van Haringvlietsluizen) en het zout maken van Volkerak-Zoommeer.
Check title to add to
marked list