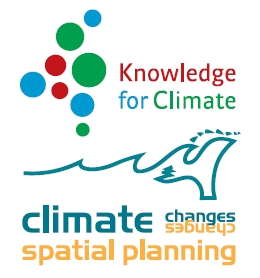 programme

theme

project

publication type

publication year

author

language

keyword
Current refinement(s):
Check title to add to
marked list
Intensiteit van extreme neerslag in een veranderend klimaat \ Weer en klimaat in Nederland [Article]

Intense buien hebben een grote invloed op de maatschappij en gaan vaak vergezeld met heftige meteorologische verschijnselen zoals onweer, hagel, windstoten, windhozen en tornado's. Ze kunnen aanleiding geven tot lokale wateroverlast, beperkingen in h ...

'Droogte en verzilting in extreem droge zomers' [Monograph]

Onderzoek naar hoe het watersysteem reageert op een extreem droge zomer. Het huidige weerbeeld sluit daar bij aan. Het is erg droog in Nederland voor deze tijd van het jaar. Er is tot nu toe sinds maart minder neerslag gevallen dan in het recordjaar ...

Economic motivation of households to undertake private precautionary measures against floods \ Natural hazards and earth system sciences / European Geosciences Union [Scientific article]

Flood damage is on the increase due to a combination of growing vulnerability and a changing climate. This trend can be mitigated only through significantly improved flood risk management which, alongside the efforts of public authorities, will inclu ...

Stochastic modeling of salt accumulation in the root zone due to capillary flux from brackish groundwater \ Water resources research [Scientific article]

Groundwater can be a source of both water and salts in semiarid areas, and therefore, capillary pressure–induced upward water flow may cause root zone salinization. To identify which conditions result in hazardous salt concentrations in the root zone ...

Quantifying water and salt fluxes in a lowland polder catchment dominated by boil seepage: a probabilistic end-member mixing approach \ Hydrology and earth system sciences [Scientific article]

Upward saline groundwater seepage is leading to surface water salinization of deep lying polders in the Netherlands. Identifying measures to reduce the salt content requires a thorough understanding and quantification of the dominant sources of water ...

Shallow rainwater lenses in deltaic areas with saline seepage \ Hydrology and earth system sciences [Scientific article]

In deltaic areas with saline seepage, freshwater availability is often limited to shallow rainwater lenses lying on top of saline groundwater. Here we describe the characteristics and spatial variability of such lenses in areas with saline seepage an ...

Distributed agro-hydrological modeling with SWAP to improve water and salt management of the Voshmgir Irrigation and Drainage Network in Northern Iran \ Agricultural water management : an international journal [Scientific article]

The agro-hydrological model SWAP was used in a distributed manner to quantify irrigation water management effects on the water and salt balances of the Voshmgir Network of North Iran during the agricultural year 2006–2007. Field experiments, satellit ...

Zoet of... zout? : quiz vragen [Presentation]

Bijdragen aan de bijeenkomst december 2011, Amersfoort Knooppunt Klimaat

Research: governance of climate adaptation [Presentation]

Governance: Developing and implementing adaptation options; Increasing the adaptive capacity of society so that future climate changes can be confronted. Presentation at the The Committee for Climate Change, 24 February 2011, London

The evaluation of climate policy: theory and emerging practice in Europe \ Policy sciences : an international journal [Scientific article]

Climate policy is a relatively young and dynamic area of public policy making. However, its development has attracted far more attention than the results it delivers in practice, which of course are the concern of policy evaluators. This article atte ...

Are Dutch water safety institutions prepared for climate change? \ Journal of water and climate change [Scientific article]

For the water sector, adapting to the effects of climate change is a highly complex issue. Due to its geographical position, The Netherlands is vulnerable to sea level rise, increasing river discharges and increasing salt intrusion. This paper deals ...

Fragmentation and connection of frames in collaborative water governance: a case study of river catchment management in Southern Ecuador \ International review of administrative sciences / publ. by the International Institute of Administrative Sciences [Scientific article]

In collaborative water governance, the variety of frames that actors bring to the discussion constitutes an important challenge. In this study, we analyse the fragmentation and connection of frames in collaborative water governance projects in the Pa ...

Adaptive water management and policy learning in a changing climate : a formal comparative analysis of eight water management regimes in Europe, Africa and Asia \ Environmental policy and governance [Scientific article]

This article provides an evidence‐based and policy‐relevant contribution to understanding the phenomenon of policy learning and its structural constraints in the field of river basin management, in particular related to coping with current and future ...

Normative principles of adaptation : shifts in defining the public interest and the role of principles with regard to adaptation to climate change [Monograph]

This position paper concerns the research which will be done in work package 5 'Normative principles for adaptation', which aims to elaborate the principles of legitimacy, effectiveness and resilience and to analyze their impact for the Dutch governa ...

The interplay of meaning and power in the science-policy-society triangle: powering, puzzling and co-producing climate change adaptation [Monograph]

Decision-making in relation to climate change is knowledge-intensive. Without systematic observations and advanced mathematical models, even awareness of climate change would be very limited. At the same time, important uncertainties about the nature ...

Invloed stedelijk oppervlaktewater op omgevingstemperatuur [Monograph]

In dit onderzoek is het effect van oppervlaktewater op de omgevingstemperatuur onderzocht op basis van metingen, ondersteund met modelberekeningen.

Risicoperceptie, probleemeigenaarschap en adaptatie van bewoners en bedrijven [Fact sheet]

Het 'Waterplan Rotterdam' en de 'Onderzoeksagenda Waterkader Haaglanden' stellen dat deze hotspots hun ruimtelijke planning moeten aanpassen aan zowel klimaatgerelateerde problemen met betrekking tot overstromingsveiligheid als aan de eisen van bewon ...

River engineering measures to improve navigability [Monograph]

Navigability can be improved by technical measures in the main channel, such as dredging and the construction or modification of groynes, fixed bed layers, bottom vanes, bendway weirs and longitudinal dams. This report presents technical measures for ...

Map-based multicriteria analysis to support interactive land use allocation \ International journal of geographical information science [Scientific article]

This article focuses on the use of map-based multicriteria analysis to develop a negotiation support tool for land use allocation. Spatial multicriteria analysis is used to make explicit trade-offs between objectives and to provide guidance and feedb ...

Klimaatateliers in de regio: tools voor adaptieve ruimtelijke planning [Presentation]

Hasse Goosen, Alterra/Wageningen UR (2011). Klimaatateliers in de regio: tools voor adaptieve ruimtelijke planning, gepresenteerd tijdens de Kennis- en Netwerkdag Klimaatbestendige Gemeente, 14 april, Arnhem.
Check title to add to
marked list