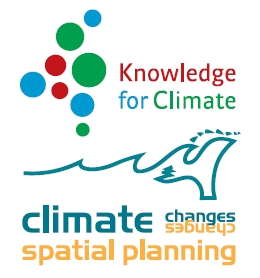 programme

Climate changes Spatial Planning (CcSP)

(67)

theme

project

publication type

publication year

author

language

keyword
Current refinement(s):
Check title to add to
marked list
Weather to travel to the beach \ Transportation research. Part A, Policy and practice [Scientific article]

Weather conditions have a strong effect on certain leisure destinations choices causing extreme road and parking congestion. An important question is then to what extent travelers react to these forms of congestion by switching to other travel modes. ...

Hotspot Rijnenburg : over kennisdoorwerking en een aanpak die tot een klimaatbestendige en duurzame structuurvisie Rijnenburg heeft geleid [Monograph]

Bij het opstellen van de structuurvisie voor het nieuwe woongebied Rijnenburg is theoretische kennis op het gebied van klimaatadaptatie en -mitigatie (nationaal en internationaal) verzameld en toegepast in de structuurvisie. Zo is ervaring opgedaan m ...

Assessing the adaptive capacity of agriculture in the Netherlands to the impacts of climate change under different market and policy scenarios (AgriAdapt project) [Monograph]

The AgriAdapt project has developed methodologies that enable (a) the assessment of impacts, risks and resiliencies for agriculture under changes in climatic conditions but also under changes of other drivers (market, technology, policy, etc.) and (b ...

Klimaatateliers voor klimaatbestendige ruimtelijke inrichting : ervaringen uit 4 pilots [Monograph]

In verschillende sessies is in kaart gebracht waar in de toekomst knelpunten kunnen optreden en hoe deze mogelijk kunnen worden omgezet in kansen. De aanwezige Gelderse regio's waren: Stadsregio Arnhem-Nijmegen, Veluwe Vallei, Regio Stedendriehoek en ...

Veenergiek : rapportage Hotspot Veenkoloniën [Monograph]

Het doel van deze studie was de beschikbare kennis over klimaatverandering en ruimte te projecteren op één gebied. Gekozen is voor het gebied Veenkolonien. Diverse wetenschappelijke verkenningen zijn uitgevoerd. Met betrekking tot energietransitie, e ...

Future changes in extreme precipitation in the Rhine basin based on global and regional climate model simulations \ Hydrology and earth system sciences [Scientific article]

In this study a relatively simple method has been developed to get a better description of the range of changes in extreme precipitation events

A combination of functionally different plant traits provides a means to quantitatively predict a broad range of species assemblages in NW Europe \ Ecography : pattern and diversity in ecology / [issued by the Nordic Society Oikos] [Scientific article]

Assembly theory predicts that filtering processes will select species by their attributes to build a community. Some filters increase functional similarity among species, while others lead to dissimilarity. Assuming converging processes to be dominan ...

Process-based proxy of oxygen stress surpasses indirect ones in predicting vegetation characteristics \ Ecohydrology [Scientific article]

Robust relationships among soil, water, atmosphere and plants are needed to reliably forecast the plant species composition. In this paper, we show the need for, and the application of, a process-based relationship between soil moisture conditions an ...

Integrated assessment of adaptation to climate change in Flevoland at the farm and regional level [Monograph]

A key objective of the AgriAdapt project is to assess climate change impacts on agriculture including adaptation at regional and farm type level in combination with market and technological changes. More specifically, the developed methodologies enab ...

Modelling and observing urban climate in the Netherlands [Monograph]

Volgens de klimaatscenario's van het KNMI uit 2006 zal de gemiddelde temperatuur in Nederland in de komende decennia verder stijgen. Hittegolven zullen naar verwachting vaker voorkomen en de intensiteit van met name zomerse buien kan toenemen. In ste ...

Zoet of... zout? : quiz vragen [Presentation]

Bijdragen aan de bijeenkomst december 2011, Amersfoort Knooppunt Klimaat

Quantification of the urban heat island effect and human comfort in the Netherlands using data from hobby meteorologists : role of vegetation in the city \ 11th Annual meeting European Meteorological Society, 12-16 September 2011, Berlin [Conference proceedings]

Attention for urban heat stress during summer warm episodes has recently increased. The European severe heat waves in 2003 and 2006 underlined that heat stress results in substantial thermal discomfort to citizens and adverse health effects for vulne ...

Times series information [Monograph]

project richt zich op het digitaliseren van databronnen met daarin lange tijdreeksen van meteorologische variabelen. De resulterende datasets spelen een belangrijke rol bij de inrichting van Nederland en vormen de basis voor studies naar klimaatveran ...

Weather and travel behaviour [PhD thesis]

The aim of this thesis is to quantify the impacts of weather on travel behaviour, and on the basis of these findings suggest policy measure for the Dutch government to take possible corrective measures in transport management during various weather c ...

Adapting agriculture in 2050 in Flevoland: perspectives from stakeholders [Monograph]

Although recently more research has gone into farm level studies, little attention has been given to the variety of responses of farmers, considering their characteristics, objectives and the socio-economic, technological and political contexts (Reid ...

Endogenous transport prices and trade imbalances \ Journal of economic geography [Scientific article]

According to economic theory, imbalances in trade flows affect transport prices, because (some) carriers have to return without cargo from the low-demand region to the high-demand region. Therefore, transport prices in the high-demand direction have ...

Normative aspects of climate adaptation policies \ Climate law [Scientific article]

Adaptation to climate change is a complex process of societal change and should be studied as such. Attention to issues of climate adaptation has increased considerably over the past few years. Until now, less attention has been paid to questions con ...

How are flood risk estimates affected by the choice of return-periods? \ Natural hazards and earth system sciences / European Geosciences Union [Scientific article]

One of the most common approaches in flood risk assessment is to estimate the damage that would occur for floods of several exceedance probabilities (or return periods), to plot these on an exceedance probability-loss curve (risk curve) and to estima ...

Vochtige ecosystemen kwetsbaar: klimaateffecten in Nederland \ Landschap : tijdschrift voor landschapsecologie en milieukunde [Article]

Drie onderling onafhankelijke onderzoeken, uitgevoerd door verschillende teams met eigen methoden, komen tot dezelfde conclusie: natte, voedselarme ecosystemen als vochtige graslanden, natte heide en vennen in Nederland lijken het meeste risico te lo ...

Future flood risk estimates along the river Rhine \ Natural hazards and earth system sciences / European Geosciences Union [Scientific article]

In Europe, water management is moving from flood defence to a risk management approach, which takes both the probability and the potential consequences of flooding into account. It is expected that climate change and socio-economic development will l ...
Check title to add to
marked list