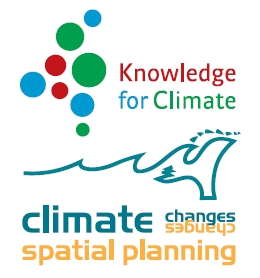 programme

theme

project

(Thema 3) Klimaatbestendig maken van het platteland

(13)

publication type

publication year

author

language

keyword
Current refinement(s):
Check title to add to
marked list
Climate adaptation services for the Netherlands : an operational approach to support spatial adaptation planning \ Regional environmental change [Scientific article]

There is a growing availability of climate change information, offered to scientists and policy makers through climate services. However, climate services are not well taken up by the policy-making and planning community. Climate services focus on pr ...

Ontwikkeling van een gemeenschappelijke effect module voor terrestrische natuur [Monograph]

Voor het bepalen van de effecten van ingrepen in de waterhuishouding op de terrestrische natuur zijn op dit moment verschillende modellijnen operationeel. In het Deltaprogramma is op landelijke schaal vooral het ecohydrologische model DEMNAT gebruikt ...

Factsheet rapport adaptatiemaatregelen : CARE 2014 [Monograph]

Dit rapport richt zich specifiek op hogere zandgronden en geeft voor de gebruiksvormen landbouw, natuur en drinkwater een overzicht van maatregelen die ter beschikking staan om negatieve effecten van klimaatverandering op te vangen.

Rurale gebieden klimaat en natuur en landbouw [Monograph]

Onderzoekers, beleidsmakers en ondernemers werkten in Kennis voor Klimaat samen aan manieren om Nederland klimaatbestendiger te maken. Binnen het thema Rurale Gebieden is onderzocht hoe landbouw en natuur gevolgen van klimaatverandering zoals droogte ...

Simulating the expansion of large-sized farms in rural Netherlands: a land exchange model \ Multi-agent-based simulation XIV : International Workshop, MABS 2013, Saint Paul, MN, USA, May 6-7, 2013, Revised selected papers [Conference proceedings]

This paper introduces a data-driven agent-based simulation model of rural land exchange in the Netherlands. The model development process is part of an ongoing research program aiming at understanding the effects of climate change and socioeconomic d ...

Klimaatverandering op de droge zandgronden: effecten en mogelijke adaptatiestrategieën [Presentation]

Presentatie over de gevolgen van klimaatverandering op waterbeheer, landbouw, natuurbeheer en andere vormen van grondgebruik in Drenthe, en mogelijke adaptatiestrategieën. Presentatie voor KLV Alumnikring Noord, Assen, 24 april 2014.

Impacts of climate and socio‐economic change on economic viability and land use of dairy farms in 'de Baakse Beek', the Netherlands [Student report]

Climate change happens in the broader context of society. Together, climate and socio-economic change will affect the economic viability and land use of Dutch dairy farms. Effective agricultural and environmental policies are required to enable adapt ...

Workshop CARE Baakse Beek [Monograph]

Verslag van de Workshop CARE Baakse Beek op 14-5-2012 in Zelhem. 'Baakse Beek' is een case study binnen het CARE-project (Climate Adaptation for Rural arEas). CARE gebruikt een Agent Based Model (ABM) om autonome response van landgebruikers (met name ...

Adaptive landscape : towards a climate robust future for the 'Blauwe Bron' [Student report]

This thesis report is the result of a research on climate change adaptation of the sandy rural areas of the Netherlands, During our research we worked on one of the two case study areas within the CARE project called the 'Blauwe Bron', which consists ...

Integrated analysis of the effects of agricultural management on nitrogen fluxes at landscape scale \ Environmental pollution [Scientific article]

The integrated modelling system INITIATOR was applied to a landscape in the northern part of the Netherlands to assess current nitrogen fluxes to air and water and the impact of various agricultural measures on these fluxes, using spatially explicit ...

Ex-ante impact assessment: participative concepts versus modelling approaches for operational policy advice [Presentation]

PowerPoint presentation given at the XIIIth Congress of the European Association of Agricultural Economists, 30 August-2 September 2011, Zurich, Switzerland. Theme of the congress: Change and Uncertainty, Challenges for Agriculture, Food and Natural ...

Kennis voor Klimaat nieuwsbrief. Thema 3: Klimaatbestendig maken van het platteland [Serial]

Nieuwsbrief over ontwikkelingen binnen het project 'Klimaatbestendig maken van het platteland' (Climate Adaptation for Rural Areas, CARE).

Scientific aspects [Fact sheet]

Factsheet about the scientific research for Knowledge for Climate Theme 3: Climate Adaptation for Rural arEas (CARE), with the central aim to assess the effects of climate change and adaptive strategies (i.e. sets of concrete adaptation measures) on ...
Check title to add to
marked list