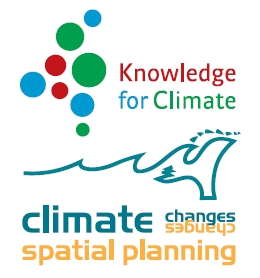 programme

theme

project

(Thema 6) Hoge kwaliteit klimaatprojecties voor adaptatie

(124)

publication type

publication year

author

language

keyword
Current refinement(s):
Check title to add to
marked list
Hoe vaak komt extreme neerslag zoals op 28 juli tegenwoordig voor, en is dat anders dan vroeger? \ Weer en klimaat in Nederland [Article]

Op 28 juli vielen grote hoeveelheden neerslag in Nederland, op sommige plaatsen ontstond wateroverlast. Hoe vaak komt zoiets voor, en is dat nu vaker dan vroeger? Op basis van een eerste analyse van de meetgegevens vinden we dat de grootste hoeveelhe ...

Using the Town Energy Balance model (TEB) in regional climate simulations over the Netherlands [Monograph]

The Town Energy Balance Model (TEB) is used for modelling the surface-atmosphere exchange processes for urban environments in the Netherlands. Simulations were run with and without TEB using the regional NWP and climate modelling system HARMONIE for ...

Soil moisture–precipitation feedback experiments over the Netherlands with AROME [Monograph]

We have applied the climate version, HCLIM, of the meso-scale modelling system HARMONIE to study soil moisture–precipitation feedback mechanisms over the Netherlands. The studied time period, May 10–15 1999, represents a consecutive number of days wi ...

Climate services : mapping of providers and purveyors in the Netherlands and Sweden [Monograph]

The present study was a cooperation project between the Centre for Environmental and Climate research at Lund University (Sweden) and the KNMI (Netherlands). The overall aim was to provide an initial mapping of providers and purveyers of climate serv ...

Uncertainty in the future change of extreme precipitation over the Rhine basin: the role of internal climate variability \ Climate dynamics : observational, theoretical and computational research on the climate system [Scientific article]

Future changes in extreme multi-day precipitation will influence the probability of floods in the river Rhine basin. In this paper the spread of the changes projected by climate models at the end of this century (2081–2100) is studied for a 17-member ...

Including climate change projections in probabilistic flood risk assessment \ Journal of flood risk management [Scientific article]

This paper demonstrates a framework for producing probabilistic flood risk estimates, focusing on two sections of the Rhine River. We used an ensemble of six (bias-corrected) regional climate model (RCM) future simulations to create a 3000-year time- ...

Population dynamics of Great Bittern (Botaurus stellaris) in the Netherlands: interaction effects of winter weather and habitat fragmentation \ Regional environmental change [Scientific article]

The increased variability in weather as a manifestation of climate change is expected to have negative impacts on population survival in wildlife species, because it will likely lead to increased variation in vital demographic rates (mortality and re ...

De nieuwe KNMI'14-klimaatscenario's voor Nederland \ Meteorologica [Article]

De opwarming van de aarde die wordt veroorzaakt door de uitstoot van broeikasgassen beinvloedt ook het Nederlandse klimaat, inclusief de zeespiegel. Veel van de huidige klimaattrends zullen in de toekomst doorzetten en maken het noodzakelijk om na te ...

Framing climate uncertainty: socioeconomic and climate scenarios in vulnerability and adaptation assessments \ Regional environmental change [Scientific article]

Scenarios have become a powerful tool in integrated assessment and policy analysis for climate change. Socio-economic and climate scenarios are often combined to assess climate change impacts and vulnerabilities across different sectors and to inform ...

KNMI' 14 : klimaatscenario's voor Nederland : leidraad voor professionals [Monograph]

Als de klimaatverandering volgens de scenario's groot is ten opzichte van de verandering door natuurlijke variaties, dan verschilt het klimaat in de toekomst duidelijk van dat in de afgelopen eeuw. Als de klimaatverandering volgens de scenario's rela ...

Synthesis of ecosystem vulnerability to climate change in the Netherlands shows the need to consider environmental fluctuations in adaptation measures \ Regional environmental change [Scientific article]

Climate change impacts on individual species are various and range from shifts in phenology and functional properties to changes in productivity and dispersal. The combination of impacts determines future biodiversity and species composition, but is ...

Extreme precipitation response to climate perturbations in an atmospheric mesoscale model \ Environmental research letters [Scientific article]

Observations of extreme (sub-)hourly precipitation at mid-latitudes show a large dependency on the dew point temperature often close to 14% per degree—2 times the dependency of the specific humidity on dew point temperature which is given by the Clau ...

Assessing climate change and associated socio-economic scenarios for arable farming in the Netherlands : an application of benchmarking and bio-economic farm modelling \ European journal of agronomy : official journal of the European Society for Agronomy [Scientific article]

The objective of this article is to assess the impact of different climate change and socio-economic scenarios on arable farming systems in Flevoland (the Netherlands) and to explore possible adaptation strategies. Data Envelopment Analysis was used ...

De KNMI'14 klimaatscenario's : neerslag en neerslagextremen [Presentation]

Presentatie tijdens het Stowa/NHV symposium gevolgen klimaatverandering voor het waterbeheer, 4-5 juni 2014.

Methodieken van KNMInext [Presentation]

Presentatie over methodieken die KNMI hanteert t.a.v. scenario's en de constructie van nieuwe tijdseries. Dertig-jaars klimaatperiode wordt opgedeeld in 5-jaars periodes. Per scenario wordt dan een top 10 gekozen die modelrange opspant.

Wind en regen in de toekomst - wat zeggen de KNMI'14 scenario's? [Presentation]

Presentatie tijdens providersoverleg bij KNMI.

KNMI'14 klimaatscenario's? : stakeholders-meeting Visserij [Presentation]

Presentatie tijdens stakeholders meeting NAS visserij.

Introductie KNMI'14 klimaatscenario's [Presentation]

Presentatie tijdens providersoverleg bij KNMI.

The role of farmers' objectives in current farm practices and adaptation preferences: a case study in Flevoland, the Netherlands \ Regional environmental change [Scientific article]

The diversity in farmers' objectives and responses to external drivers is usually not considered in integrated assessment studies that investigate impacts and adaptation to climate and socio-economic change. Here, we present an approach to assess how ...

Using the Time-Lag-Correlation function of Dual-Aperture-Scintillometer measurements to obtain the Crosswind \ Journal of atmospheric and oceanic technology [Scientific article]

The wind component perpendicular to airport runways, the so-called crosswind (U⊥), introduces a safety risk for airplanes landing and taking off. The crosswind U⊥ on the runway is in general measured by cup anemometers and wind vanes, which are point ...
Check title to add to
marked list