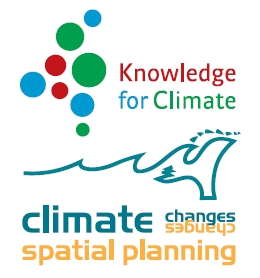 programme

theme

project

(Thema 6) Hoge kwaliteit klimaatprojecties voor adaptatie

(124)

publication type

publication year

author

language

keyword
Current refinement(s):
Check title to add to
marked list
De nieuwe KNMI'14-klimaatscenario's voor Nederland \ Meteorologica [Article]

De opwarming van de aarde die wordt veroorzaakt door de uitstoot van broeikasgassen beinvloedt ook het Nederlandse klimaat, inclusief de zeespiegel. Veel van de huidige klimaattrends zullen in de toekomst doorzetten en maken het noodzakelijk om na te ...

Extreme precipitation response to climate perturbations in an atmospheric mesoscale model \ Environmental research letters [Scientific article]

Observations of extreme (sub-)hourly precipitation at mid-latitudes show a large dependency on the dew point temperature often close to 14% per degree—2 times the dependency of the specific humidity on dew point temperature which is given by the Clau ...

Uncertainty in the future change of extreme precipitation over the Rhine basin: the role of internal climate variability \ Climate dynamics : observational, theoretical and computational research on the climate system [Scientific article]

Future changes in extreme multi-day precipitation will influence the probability of floods in the river Rhine basin. In this paper the spread of the changes projected by climate models at the end of this century (2081–2100) is studied for a 17-member ...

De KNMI'14 klimaatscenario's : neerslag en neerslagextremen [Presentation]

Presentatie tijdens het Stowa/NHV symposium gevolgen klimaatverandering voor het waterbeheer, 4-5 juni 2014.

Methodieken van KNMInext [Presentation]

Presentatie over methodieken die KNMI hanteert t.a.v. scenario's en de constructie van nieuwe tijdseries. Dertig-jaars klimaatperiode wordt opgedeeld in 5-jaars periodes. Per scenario wordt dan een top 10 gekozen die modelrange opspant.

Wind en regen in de toekomst - wat zeggen de KNMI'14 scenario's? [Presentation]

Presentatie tijdens providersoverleg bij KNMI.

KNMI'14 klimaatscenario's? : stakeholders-meeting Visserij [Presentation]

Presentatie tijdens stakeholders meeting NAS visserij.

Introductie KNMI'14 klimaatscenario's [Presentation]

Presentatie tijdens providersoverleg bij KNMI.

KNMI'14 climate scenario's for the Netherlands [Brochure]

KNMI'14 climate scenarios for the Netherlands How does our climate change and what are the impacts?

KNMI'14 klimaatscenario's voor Nederland [Brochure]

KNMI'14-klimaatscenario's voor Nederland Hoe verandert ons klimaat en wat zijn de gevolgen?

KNMI' 14 : klimaatscenario's voor Nederland : leidraad voor professionals [Monograph]

Als de klimaatverandering volgens de scenario's groot is ten opzichte van de verandering door natuurlijke variaties, dan verschilt het klimaat in de toekomst duidelijk van dat in de afgelopen eeuw. Als de klimaatverandering volgens de scenario's rela ...

Framing climate uncertainty: socioeconomic and climate scenarios in vulnerability and adaptation assessments \ Regional environmental change [Scientific article]

Scenarios have become a powerful tool in integrated assessment and policy analysis for climate change. Socio-economic and climate scenarios are often combined to assess climate change impacts and vulnerabilities across different sectors and to inform ...

Climate adaptation services for the Netherlands : an operational approach to support spatial adaptation planning \ Regional environmental change [Scientific article]

There is a growing availability of climate change information, offered to scientists and policy makers through climate services. However, climate services are not well taken up by the policy-making and planning community. Climate services focus on pr ...

Including climate change projections in probabilistic flood risk assessment \ Journal of flood risk management [Scientific article]

This paper demonstrates a framework for producing probabilistic flood risk estimates, focusing on two sections of the Rhine River. We used an ensemble of six (bias-corrected) regional climate model (RCM) future simulations to create a 3000-year time- ...

Ontwikkeling van een gemeenschappelijke effect module voor terrestrische natuur [Monograph]

Voor het bepalen van de effecten van ingrepen in de waterhuishouding op de terrestrische natuur zijn op dit moment verschillende modellijnen operationeel. In het Deltaprogramma is op landelijke schaal vooral het ecohydrologische model DEMNAT gebruikt ...

Climate services in the Rhine basin: with special focus on climate data for hydrological impact studies in Germany and the Netherlands [Monograph]

Climate services have been set up to answer the growing requirements for information related to climate change by a variety of stakeholders ranging from government agencies, the private sector to academia, for the purpose of interpreting and applying ...

KNMI '14 : climate scenarios for the Netherlands : a guide for professionals inclimate adaption [Monograph]

KNMI presents the KNMI'14 climate scenarios: four new scenarios for future climate change in the Netherlands. Each scenario provides a consistent picture of the changes in 12 climate variables, including temperature, precipitation, sea level, and win ...

De invloed van het veranderend landgebruik op de hydrologie : een koppeling tussen de Ruimtescanner en het Nationaal Hydrologisch Instrumentarium [Student report]

In dit onderzoek is de invloed van landgebruikverandering op het gevoerde waterbeheer, de verdamping en de grondwaterstand onderzocht. Hierbij is gestart met een literatuuronderzoek waarbij de relatie tussen het landgebruik en de hydrologie is bescho ...

KNMI'14: climate change scenarios for the 21st Century – a Netherlands perspective [Monograph]

This report documents and motivates the KNMI'14 climate change scenarios. It has an intermediate status, implying that the current content of the document can be considered to be final, but that additional components on applications and spin-off issu ...

Klimaatprojecties toekomstig klimaat [Monograph]

Onderzoekers, beleidsmakers en ondernemers werkten in Kennis voor Klimaat samen aan manieren om Nederland klimaatbestendiger te maken. Binnen het thema Klimaatprojecties is onderzocht wat gevolgen van veranderingen in het weer zijn op lokale en regio ...
Check title to add to
marked list