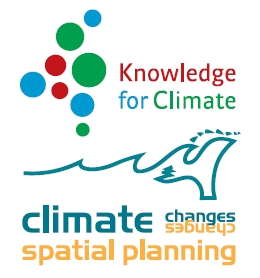 programme

theme

project

(Thema 8) Beleidsondersteunende instrumenten

(87)

publication type

publication year

author

language

keyword
Current refinement(s):
Check title to add to
marked list
IEC integration with urban heat storyline and the process of visualisation [Brochure]

The Information Enrichment Chain (IEC) is an approach to support information transfer for adaptation planning. It provides a step-wise method to get from the information needs of users to a map presentation of a climate indicator

Beleidsondersteunende instrumenten : instrumenten voor klimaatbeleid [Monograph]

Onderzoekers, beleidsmakers en ondernemers werkten in Kennis voor Klimaat samen aan manieren om Nederland klimaatbestendiger te maken. Binnen het thema Beleidsondersteunende instrumenten is gewerkt aan hulpmiddelen ter ondersteuning van het maken van ...

Monitoren van klimaat adaptatie op lokale en regionale schaal: casus stadsregio Rotterdam, Nederland [Student report]

Het aanpassen aan klimaatverandering is een belangrijk aspect van het omgaan met de effecten van klimaatverandering. Om effectief adaptatiebeleid te informeren en om te leren over de effecten van adaptatie maatregelen is monitoring nodig. Er is echte ...

Met oog op de toekomst : Regionale klimaat Adaptatie Strategie Haaglanden [Monograph]

Haaglanden heeft de ambitie om in 2050 een klimaatbestendige internationale topregio te zijn (Regionaal Structuurplan 2020). Om deze ambitie te realiseren is het van belang om rekening te houden met veranderingen in de toekomst en om nu al de kansen ...

Monitoring en evaluatie van adaptatie op regionaal en lokaal niveau : rapport KvK thema 8: casussen Stadsregio Rotterdam en Regio Haaglanden [Monograph]

Eindrapport van onderdeel Kennis voor Klimaat met de titel "Monitoren en evalueren van effecten, kwetsbaarheden en adaptatiebeleid als gevolg van klimaatverandering op verschillende ruimtelijke schalen". Het rapport beschrijft twee casussen waarin mo ...

Aanzet klimaat agenda Den Helder : verslag klimaatatelier, 27 augustus 2014 [Monograph]

Het klimaatatelier is georganiseerd als start van het traject Den Helder klimaatbestendig. Het atelier Den Helder is gehouden via de aandachtspunten: weten, willen, werken.

Sticks and carrots for the design of international climate agreements with renegotiations \ Annals of operations research [Scientific article]

This paper examines renegotiations of international climate agreements for carbon abatement. We explore coalition stability under 'optimal transfers' that have been suggested to stabilise international environmental agreements. Such transfer schemes ...

Climate proofing of the Zuidplaspolder: a guiding model approach to climate adaptation \ Regional environmental change [Scientific article]

Climate change will have an impact on various sectors, such as housing, infrastructure, recreation and agriculture. Climate change may change spatial demands. For example, rising temperatures will increase the need for recreation areas, and areas cou ...

Climate adaptation services for the Netherlands : an operational approach to support spatial adaptation planning \ Regional environmental change [Scientific article]

There is a growing availability of climate change information, offered to scientists and policy makers through climate services. However, climate services are not well taken up by the policy-making and planning community. Climate services focus on pr ...

Optimal dike investments under uncertainty and learning about increasing water levels \ Journal of flood risk management [Scientific article]

Water level extremes for seas and rivers are crucial to determine optimal dike heights. Future development in extremes under climate change is, however, uncertain. In this paper, we explore impacts of uncertainty and learning about increasing water l ...

Climate atlas Bangladesh [Map]

Simulation of temperature and precipitation under different scenarios for the years 2050 and 2085

Real-time Canonical-angle Views in 3D Virtual Cities \ International Workshop on Vision, Modeling and Visualization [Conference proceedings]

Virtual city models are useful for navigation planning or the investigation of unknown regions. However, existing rendering systems often fail to provide optimal views during the exploration, introduce occlusions, or show the buildings from the top o ...

Simulating future changes in the urban heat island effect based on an integration of socio-economic and climate scenarios \ Adaptation Frontiers : conference on European Climate Adaptation Research and Practice, Lisbon 10-12 March, 2014 [Conference proceedings]

Many examples exist of studies that aim to measure the urban heat island effect using different data sources such as satellite images, weather stations and mobile devices. Yet, few studies explain local variation in the observed temperatures and appl ...

Interactieve klimaatatlas regio Haaglanden [Map]

In het kader van het opstellen van de Regionale Adaptatie Strategie (RAS) Haglanden is een interactieve klimaatatlas voor de regio Haaglanden ontwikkeld. Deze digitale tool bevat overzichtskaarten die inzicht geven in de verschillende klimaateffecten ...

Spatial quantification and valuation of cultural ecosystem services in an agricultural landscape \ Ecological indicators [Scientific article]

While the spatial and economic quantification and valuation of ecosystem services is becoming increasingly recognised as a way to communicate the importance of ecosystem conservation, little attention has been given to cultural services of the landsc ...

A multiobjective GIS-based land use planning algorithm \ Computers, environment and urban systems [Scientific article]

This paper purposes an enhanced land use optimization model for land-use planning with a new spatial component. This component uses a simple representation of the proximity of related land uses to each other as a function of distances between parcel ...

Economic impact of water scarcity from climate change and dependency on surface and groundwater for irrigation [Presentation]

Deltas in Depth Theme 10: Economic impact of climate risks, Session DD 10.2: Economic impact of water scarcity from climate change and dependency on surface and groundwater for irrigation, Jason Levin-Koopman, VU University Amsterdam, the Netherlands ...

Interactieve klimaatatlas Rotterdam [Map]

De interactieve klimaatatlas is gebaseerd op de klimaatscenario's van het KNMI (2006). De meteorologische variabelen zijn voor de klimaateffectatlas vertaald naar effecten op een gebied, waarbij zo goed mogelijk rekening is gehouden met lokale omstan ...

Interactive simulation and visualisation of realistic flooding scenarios \ Intelligent systems for crisis management : Geo-information for Disaster Management (Gi4DM) 2012 [Scientific article]

Floods are a permanent threat for urban environments and coastal regions. Due to the numerous environmental and climatological factors that cause floods, their prevention and prediction is complicated. Flood protection and prevention plans are assess ...

The economic impact of water scarcity from climate change in an international river basin context [Monograph]

In this paper we simulate and analyze the direct and indirect impacts of climate change on water availability for irrigation on the economy of the Netherlands and the other EU countries which share in the Rhine and Meuse river basin (France, Germany ...
Check title to add to
marked list