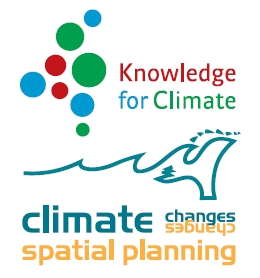 programme

theme

project

publication type

publication year

author

language

keyword
Current refinement(s):
Check title to add to
marked list
More than fear induction : toward an understanding of people's motivation to be well-prepared for emergencies in flood prone areas \ Risk analysis [Scientific article]

This article examines the extent and manner to which evaluations of flood-related precautions are affected by an individual's motivation and perception of context. It argues that the relationship between risk perception and flood risk preparedness ca ...

Veldproef ondergrondse zoetwaterberging in zout grondwater : (Pilot ASR Prominent) [Monograph]

In de herfst/winter wordt een groot deel van het hemelwateroverschot in het Westland afgevoerd naar zee. In de zomer kent het gebied echter een structureel gietwatertekort. Daarvoor kan ondergrondse wateropslag een oplossing bieden. 'Ondergrondse wat ...

Visieontwikkeling Regionale Adaptatie Strategie : hotspot Waddenzee [Monograph]

De Waddenzee wordt beschouwd als een gebied van groot ecologisch belang. Bovendien speelt het Waddenzee- systeem een sleutelrol in de bescherming tegen overstroming van het aangrenzend land. De gevolgen van klimaatverandering, met name versnelde zees ...

Jakarta Climate Adaptation Tools (JCAT) [Presentation]

DeltaAlliance to contribute to scientific knowledge and the development of methods and tools to assess flood risk in Jakarta

Damage scanner Jakarta [Presentation]

Presentation deals with:● Flood risk in general and the use of risk assessment ● Flood risk model: damage scanner ● Current day risk ● Future flood risk ● Adaptation options

Costs and benefits of adaptation for river flooding in Jakarta [Presentation]

The central government and local authority have a limited budget to conduct all flood adaptation measures. The decision makers should consider the costs and the benefits of such measures. Presented at the JCAT final workshop, 21 August 2014, Jakarta.

Coastal flood risk modeling tool : (preliminary assessment of impact of climate change in north Jakarta coastal area) [Presentation]

Jakarta, as the most populated city in Indonesia, is predicted to suffer from major losses due to severe impact of sea level rise. Urban settlement and business area are the largest area affected by coastal inundation. Presented at the JCAT final wor ...

GS verdedigen zoetwaterproef \ PZC [Article]

Het dagelijks bestuur van Zeeland schaart zich achter een experiment waarbij water uit zandige kreekruggen wordt opgepompt.

Hoe bloemkool nog jaren kan groeien [zoet water] \ PZC [Article]

De Zeeuwse bodem wordt droger en zouter. Driftig wordt door Deltares gezocht naar manieren om zoet water op te slaan. Aandacht voor opslag van regenwater in een kreekrug (Esther van Baaren), Frershmaker en Drains2buffer (Gualbert Oude Essink)

Nederlands-Franse samenwerking binnen project GO-FRESH [Monograph]

In het project GO-FRESH (Geohydrological Opportunities FRESH water supply) onderzoekt een consortium bestaande uit Deltares, Alterra, KWR, Acacia en de Hogeschool Zeeland in hoeverre lokale maatregelen de zoetwaterbeschikbaarheid voor landbouw kunnen ...

Inspiratiedocument klimaatadaptatie grote rivieren [Monograph]

Inspiratiedocument over klimaatadaptatie langs de Rijn, Maas, Waal, Nederrijn, IJssel, Merwede en Lek. Het blikt vooruit naar handelingsperspectieven voor de langere termijn (2050-2100). Beschouwend. Op basis van een 16-tal vertrouwelijke bilaterale ...

Jakarta Climate Adaptation Tools (JCAT) [Monograph]

Historical records show that flooding per se is not a new problem in Jakarta, and that flooding has occurred throughout the city's history. However, the impacts of flooding have increased in recent decades, as a result of changes in both physical (e. ...

GO-FRESH : valorisatie kansrijke oplossingen voor een robuuste zoetwatervoorziening [Monograph]

Een consortium onderzoekt in hoeverre lokale maatregelen de zoetwaterbeschikbaarheid voor de landbouw kunnen vergroten in gebieden die onafhankelijk zijn van het hoofdwatersysteem. Hierbij wordt de ondergrond gebruikt voor opslag van zoet water in pe ...

De haalbaarheid van een Rijn-Maas-Schelde Academie : een verkenning van nut en noodzaak [Monograph]

In de Zuidwestelijke Delta en het Schelde estuarium zijn er in de afgelopen jaren door Nederlandse en Vlaamse overheden verschillende ambities en beleidsopgaven verwoord op het gebied van waterveiligheid, zoetwatervoorziening, toegankelijkheid, econo ...

Natural solutions to cope with accelerated sea level rise in the Wadden Sea region : towards an integrated long term adaptation strategy framework [Monograph]

The Wadden Sea (WS) is considered an area of extreme ecological importance. Moreover, the WS system performs a key role in the flood protection of its bordering countries by providing a 'shield' of islands, tidal flats and shallow waters that reduces ...

Transboundary aspects of water safety : assessment of the state of the art of cross-border cooperation on water safety in the Rhine and Meuse catchments [Monograph]

De maatgevende afvoer van de Rijn en Maas in Nederland wordt beïnvloed door de afvoer en de genomen waterbeheersmaatregelen in de buurlanden. Bovenstroomse maatregelen heb-ben een invloed op benedenstroomse waterstanden en andersom. Daarnaast kan het ...

Short period of oxygenation releases latch on peat decomposition \ The science of the total environment : an international journal for scientific research into the environment and its relationship with man [Scientific article]

Extreme summer droughts are expected to occur more often in the future in NW Europe due to climate change. These droughts might accelerate the rate of peat oxidation in drained peat areas, with impacts on soil subsidence, GHG emission and water quali ...

Spatial Decision Assistance of Watershed Sedimentation (SDAS) [Presentation]

SDAS as a policy making tool. What is the total erosion and sediment yield of a given watershed? JCAT final workshop. 21 August 2014, Jakarta, Indonesia.

River flood damage estimation in Jakarta, Indonesia [Poster]

Flooding is a serious problem in Jakarta. Estimation of flood damages is important to estimate the benefits of implementing flood protection measures.

Economic modelling for selection of flood protection measures in Jakarta: An optimization approach [Presentation]

Deltas in Depth Theme 10: Evaluation of adaptation tools, Session DD 10.3: Economic modelling for selection of flood protection measures in Jakarta: An optimization approach, MSc Pini Wijayanti, Wageningen UR, the Netherlands(2014). Presented at the ...
Check title to add to
marked list