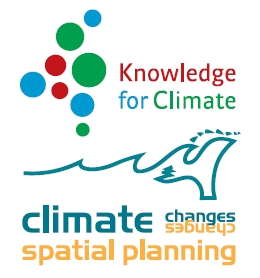 programme

theme

project

publication type

publication year

author

language

keyword
Current refinement(s):
Check title to add to
marked list
Knowledge for Climate 2008-2014 [Monograph]

This is the final report (eindrapport) of the national Knowledge for Climate (KfC) research program. The program was set up in 2007 to explore the consequences of climate change for the Netherlands and how they should be managed. To that end, an inde ...

Kennis voor Klimaat 2008-2014 : verantwoording en resultaten [Monograph]

Dit is het eindrapport van het nationaal onderzoeksprogramma Kennis voor Klimaat (KvK). Het programma is in 2007 opgezet om de gevolgen van klimaatverandering voor Nederland inzichtelijk en hanteerbaar te maken. Daartoe is een onafhankelijke stichtin ...

Dijken die niet bezwijken, dankzij Kennis voor Klimaat \ Land + water : magazine voor civiele- en milieutechniek [Article]

'Om Nederland te beschermen, moeten de dijken hoger', was lange tijd het uitgangspunt. Het consortium Waterveiligheid liet dit los en onderzocht hoe doorbraakvrije dijken onbeheersbare rampen kunnen voorkomen.

Verslag van de studiedag 'Doorbraakvrije' dijken: wensdroom of maakbaar? op 5 maart 2014 in Zwolle : de dag was georganiseerd door Kennis voor Klimaat en STOWA [Conference proceedings]

Waterkeringen die in principe niet door kunnen breken, alleen kunnen overlopen. Dat is simpel gezegd waar het bij doorbraakvrije dijken om draait. Er is bijna niemand die twijfelt aan het nut van dit concept. Maar waarom gebeurt het in de praktijk da ...

De klimaatprofessor wordt weer gehoord : Pier Vellinga : hoofdrolspelers \ H twee O : tijdschrift voor watervoorziening en afvalwaterbehandeling [Article]

Interview met de directeur van het tijdelijk onderzoeksprogramma "Kennis voor Klimaat". De hoogleraar Pier Vellinga ziet een kentering: het klimaatprobleem wordt weer serieus genomen. En wat nog mooier is: steeds meer partijen zien oplossingen en heb ...

Aanpassen aan klimaatverandering : kwetsbaarheden zien, kansen grijpen [Monograph] - Tweede editie (april 2014)

Het Nederlandse kabinet wil in de eerste helft van 2016 een Nationale Adaptatie Strategie uitbrengen. Het PBL is gevraagd om de kennis over de mogelijke effecten van klimaatverandering bijeen te brengen en aangrijpingspunten hiervoor aan te dragen. E ...

Climate change: thirty years of history and future prospects: Pier Vellinga at TEDxEde [Video recording]

A ten minutes talk about climatic change, held by Pier Vellinga (Wageningen UR). His analysis: after finishing flood control (for The Netherlands) the focus was the rising of the sea level. When cold war was over, the political attention for greenhou ...

Knowledge for Climate : Dutch climate adaptation research [Brochure]

Adaptation options and their feasibility can best be examined in national and regional settings, since that is where one finds the knowledge and experience for effective intervention strategies. This is why we focus on a limited number of places: the ...

Drawing up a national climate change adaptation policy: feedback from five European case studies [Monograph]

The United Nations Framework Convention on Climate Change (UNFCCC) introduced the adaptation issue at the international level as far back as 1992. At that time, it was specified that the aims of such policies were to minimise the impacts of climate c ...

Knowledge for Climate : hotspots and consortia joining forces for national and regional adaptation strategies in the Netherlands [Poster]

Options for regional adaptation strategies.

20 miljoen euro voor aanpassing aan klimaatverandering : persbericht [Monograph]

Het nationaal onderzoekprogramma Kennis voor Klimaat stelt 20 miljoen euro beschikbaar aan de beste onderzoekgroepen om Nederland beter voor te bereiden op klimaatverandering. Centraal staat de vraag hoe we beleid, ruimtelijke investeringen en mensel ...

Knowledge for Climate : hotspots and consortia joining forces for national and regional adaptation strategies in the Netherlands [Brochure]

Options for regional adaptation strategies.

Symposium de Brede Dijk : veilig leven in de toekomst [Monograph]

De brede dijk, de superdijk, de multifunctionele dijk, de klimaatdijk. Nu al zoveel synoniemen voor iets dat in Nederland nog niet bestaat. Op papier kennen we al tientallen alternatieven voor deze soort dijk. Een verslag, afgesloten met Vellinga's u ...

Projecten eerste tranche mei 2010 [Brochure]

Kennis voor Klimaat (KvK) is een onderzoeksprogramma waarin kennis wordt ontwikkeld voor een klimaatbestendige inrichting van Nederland. Dit betekent Nederland dusdanig inrichten dat het de gevolgen van klimaatverandering het hoofd kan bieden. Wageni ...

Klimaat als kans : adaptatie aan klimaatverandering in de ruimtelijke ordening : reizende tentoonstelling : showcase en specificaties voor gastlocaties [Brochure]

Onderzoeksprogramma Kennis voor Klimaat toont met vijf voorbeelden in deze tentoonstelling een overzicht van de stand van zaken van klimaatadaptatie in Nederland. We willen beleidsmakers, bestuurders en bedrijven inspireren en laten zien hoe Nederlan ...

Klimaat als kans : adaptatie aan klimaatverandering in de ruimtelijke ordening [Monograph]

Klimaatadaptatie vindt op dit moment plaats in honderden projecten overal in Nederland. Bij de rivieren, langs de kust, in de polders, maar ook in de stad en op het platteland. Het Ministerie van VROM vroeg het onderzoeksprogramma Kennis voor Klimaat ...

Open call adaptation to climate change : invitation to submit pre-proposals [Monograph]

Climate change and the human role in it emerged at the top of the international political agenda at the end of the nineteen eighties. Since then, international agreements have been reached to limit the emission of greenhouse gases. However, even if a ...

A state of the art of governance literature on adaptation to climate change: towards a research agenda [Poster]

Literature on governance of adaptation is concentrated in the domain of environmental studies, whereas the domain of public administration supplies hardly, if any, literature on the topic

Jaarverslag ... nationaal onderzoeksprogramma Kennis voor Klimaat [Annual report, serial]

In 2008 is het organisatorisch en inhoudelijk fundament gelegd voor het onderzoekprogramma. Door een actieve samenwerking tussen kennisinstellingen en kennisvragende instellingen (private partijen en de verschillende overheden) wordt de klimaatkennis ...

Rapportage voorbereiding uitvoering nationaal onderzoeksprogramma Kennis voor Klimaat [Monograph]

Op basis van de inbreng van zowel onderzoekers, nationale en lokale overheden als stakeholders in hotspots zijn onderzoeksthema"s en kennisvragen geïdentificeerd die essentieel zijn voor de ontwikkeling van een lokale en nationale adaptatiestrategie. ...
Check title to add to
marked list