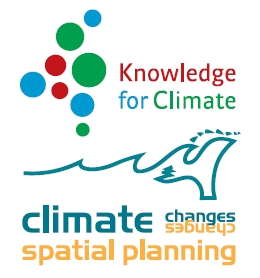 programme

theme

KvK-KT Kennistransfer KvR en KvK gezamenlijk

(8)

project

publication type

publication year

author

language

keyword
Current refinement(s):
Check title to add to
marked list
Kennis voor Klimaat TV: voor een beter stadsklimaat [Video recording]

Het klimaat verandert en dit is te merken in de stad. Het wordt warmer, natter en tegelijk droger in de stad. Gelukkig kunnen wij daar wat tegen doen en er direct ons voordeel uit halen. Wat dacht je van spelen met het water, het plaatsen van groene ...

Climate-proofing spatial planning and water management projects: an analysis of 100 local and regional projects in the Netherlands \ Journal of environmental policy & planning [Scientific article]

Since the turn of the century, an increasing number of local and regional authorities in Europe started making their city or region resilient to climate change, or 'climate-proof'. In order to identify common processes and characteristics, moving bey ...

Opties voor Regionale Adaptatie Strategiëen veenweide gebieden [Presentation]

Jos Verhoeven (UU) (2013). Opties voor Regionale Adaptatie Strategiëen veenweide gebieden, 20 november, Amersfoort. Veenbodems in Nederland en de ambitie en aanpak van de KvK hotspots.

De culturen van Veenweiden [Presentation]

Wim Dijkman (CLM) (2013). Symposium Opties voor Regionale Adapatie Strategiëen voor veenweide gebieden 20 november, Amersfoort. Duurzame landbouw – Gezond voedsel - Vitaal platteland

Superstorm [Video recording]

Superstorm in Nederland? Een superstorm zoals Sandy in New York kan ook in Nederland voorkomen. En we zijn hier helemaal niet goed op voorbereid. Welke maatregelen kunnen genomen worden om de gevolgen te beperken en wat kun je zelf doen? In de nieuws ...

Superveilige dijken [Video recording]

Klimaatverandering zorgt voor meer neerslag en een stijgende zeespiegel. Nederland moet maatregelen nemen om ervoor te zorgen dat de dijken ook in de toekomst stand blijven houden tegen het water. Superveilige dijken (ook wel bekend als klimaatdijken ...

Hitte en ouderen [Video recording]

Ouderen zijn extra gevoelig voor hittestress en de gevolgen kunnen vrij ernstig zijn: ademhalingsproblemen, uitdroging en zelfs sterfte. Slimme ouderen wachten de hittegolven echter niet lijdzaam af, maar nemen zelf maatregelen. In de nieuwste afleve ...

Kennis voor Klimaat TV: blauwalg [Video recording]

Blauwalgen: iedereen heeft er van gehoord, maar hoe gevaarlijk zijn ze nu eigenlijk? Met de nieuwste aflevering van Kennis voor Klimaat TV leggen onderzoekers van Wageningen UR en de Radboud Universiteit uit dat blauwalgen kunnen leiden tot maag- en ...
Check title to add to
marked list