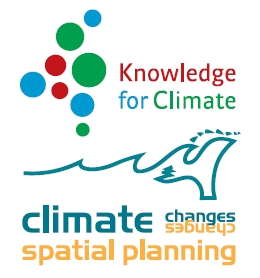 programme

Knowledge for Climate (KfC)/Climate changes Spatial Planning (CcSP)

(3)

theme

KvK-KT Kennistransfer KvR en KvK gezamenlijk

(3)

project

publication type

publication year

author

language

keyword
Current refinement(s):
Check title to add to
marked list
Bedenk, ontwikkel en gebruik : Kennis voor Klimaat in de praktijk [Monograph]

Het onderzoeksprogramma Kennis voor Klimaat heeft een belangrijke en urgente taak: kennis ontwikkelen voor het klimaatbestendig maken van Nederland. Kennis voor Klimaat brengt wetenschappers en praktijkmensen samen in zogenaamde hotspots, real life l ...

HBO minor klimaatbestendige gebiedsontwikkeling [Presentation]

Peter Groenhuijzen, Marjolein Pijnappels (Wageningen UR) (2011). HBO minor klimaatbestendige gebiedsontwikkeling, gepresenteerd tijdens de KennisMaakDag, Ede 25 mei 2011. Minor vanwege: Verwacht tekort aan experts op het gebied van delta's & klimaat; ...

Klimaatkennis in de praktijk, dat werkt [Brochure]

Deze uitgave geeft voorbeelden van wat er gebeurt met kennis die is ontwikkeld binnen Klimaat voor Ruimte. In het eerste deel zetten we in een analyse uiteen hoe Klimaat voor Ruimte kennis in de praktijk laat doorstromen. Vervolgens worden vier proje ...
Check title to add to
marked list