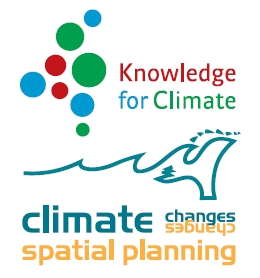 programme

theme

KvK-KT Kennistransfer KvR en KvK gezamenlijk

(5)

project

(KT) Kennistransfer Klimaat

(5)

publication type

publication year

author

language

keyword
Current refinement(s):
Check title to add to
marked list
Climate-proofing spatial planning and water management projects: an analysis of 100 local and regional projects in the Netherlands \ Journal of environmental policy & planning [Scientific article]

Since the turn of the century, an increasing number of local and regional authorities in Europe started making their city or region resilient to climate change, or 'climate-proof'. In order to identify common processes and characteristics, moving bey ...

'We moeten zaken slimmer aanpakken': omgaan met klimaatverandering \ Watermanagement insights [Article]

Het wordt niet alleen warmer, het gaat in de komende honderd jaar ook harder regenen. Bovendien stijgt de zeespiegel. Reden voor paniek? Volgens hoogleraar Pier Vellinga niet. "Je moet alleen weten wat het weer doet, hoe je slim op klimaatverandering ...

'Klimaatneutraal vlees kan niet' \ Kennis online : Wageningen UR-onderzoek voor LNV [Article]

Reflectie van Pier Vellinga, hoogleraar Klimaatveranderingen en water aan Wageningen UR en leider van het nationale onderzoeksprogramma Kennis voor Klimaat. 'Iedereen concentreert zich op CO2-uitstoot die ontstaat bij de verbranding van olie, gas en ...

NRC debat Water [Presentation]

NRC debat Water, 1 november (2011). In de Rode Hoed, Amsterdam op 1 nov. 2011. Presentatie Pier Vellinga, Wageningen UR.

Climate research Netherlands : research highlights [Monograph]

In the Netherlands the temperature has risen, on average, by 1.6°C since 1900. Regional climate scenarios for the 21st century developed by the Dutch Royal Meteorological Institute [1] show that temperature in the Netherlands will continue to rise an ...
Check title to add to
marked list