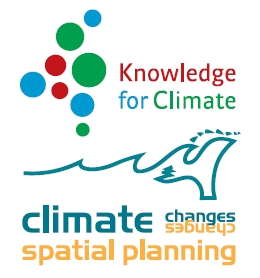 programme

theme

project

publication type

publication year

author

language

keyword
Check title to add to
marked list
Using stochastic population process models to predict the impact of climate change \ Journal of sea research [Scientific article]

More than ten years ago a paper was published in which stochastic population process models were fitted to time series of two marine polychaete species in the western Wadden Sea, The Netherlands (Van der Meer et al., 2000). For the predator species, ...

Weather to travel to the beach \ Transportation research. Part A, Policy and practice [Scientific article]

Weather conditions have a strong effect on certain leisure destinations choices causing extreme road and parking congestion. An important question is then to what extent travelers react to these forms of congestion by switching to other travel modes. ...

Geïntegreerd en ambitieus lokaal klimaatbeleid : een handreiking voor gemeenten naar aanleiding van de Hotspot Tilburg [Monograph]

Steeds meer gemeenten willen klimaatbeleid ontwikkelen en klimaatdoelen realiseren. Op onderdelen is er vaak al veel aanwezig. Via deze handreiking worden ideeën aangereikt voor een 'ambitieus en geïntegreerd gemeentelijke klimaatbeleid'. In dit rapp ...

Landscape prerequisites for the survival of a modelled metapopulation and its neutral genetic diversity are affected by climate change \ Landscape ecology [Scientific article]

In response to climate change a species may move, adapt, or go extinct. For the adaptability of a population its genetic diversity is essential, but climate change-induced range shifts can cause a loss of genetic diversity. We investigated how landsc ...

Wrong place, wrong time: climate change-induced range shift across fragmented habitat causes maladaptation and declined population size in a modelled bird species \ Global change biology [Scientific article]

Many species are locally adapted to decreased habitat quality at their range margins, and therefore show genetic differences throughout their ranges. Under contemporary climate change, range shifts may affect evolutionary processes at the expanding r ...

Future changes in extreme precipitation in the Rhine basin based on global and regional climate model simulations \ Hydrology and earth system sciences [Scientific article]

In this study a relatively simple method has been developed to get a better description of the range of changes in extreme precipitation events

A combination of functionally different plant traits provides a means to quantitatively predict a broad range of species assemblages in NW Europe \ Ecography : pattern and diversity in ecology / [issued by the Nordic Society Oikos] [Scientific article]

Assembly theory predicts that filtering processes will select species by their attributes to build a community. Some filters increase functional similarity among species, while others lead to dissimilarity. Assuming converging processes to be dominan ...

Process-based proxy of oxygen stress surpasses indirect ones in predicting vegetation characteristics \ Ecohydrology [Scientific article]

Robust relationships among soil, water, atmosphere and plants are needed to reliably forecast the plant species composition. In this paper, we show the need for, and the application of, a process-based relationship between soil moisture conditions an ...

Nieuwe probabilistische methode om overstromingsrisico's te schatten \ H twee O : tijdschrift voor watervoorziening en afvalwaterbehandeling [Article]

Bij onderzoek naar toekomstige overstromingsrisico's worden vaak de resultaten op basis van klimaatsimulaties gepresenteerd en met elkaar vergeleken zonder dat iets gezegd wordt over de kans op veranderingen in het overstromingsrisico. Om zulke kanse ...

Hotspot Rijnenburg : over kennisdoorwerking en een aanpak die tot een klimaatbestendige en duurzame structuurvisie Rijnenburg heeft geleid [Monograph]

Bij het opstellen van de structuurvisie voor het nieuwe woongebied Rijnenburg is theoretische kennis op het gebied van klimaatadaptatie en -mitigatie (nationaal en internationaal) verzameld en toegepast in de structuurvisie. Zo is ervaring opgedaan m ...

Adapt, move or perish : the interaction of genetics and demography in fragmented populations under climate change [PhD thesis]

In reactie op klimaatverandering verschuift van veel soorten het areaal, maar het is duidelijk dat dit voor lang niet alle soorten snel genoeg gaat. Habitatfragmentatie zal in het algemeen de noodzakelijke areaalverschuivingen vertragen. Er is geoppe ...

Klimaatverandering, toenemende verzilting en landbouw in Noord-Nederland [Monograph]

Het voorliggende deelrapport maakt deel uit van een serie van vier rapporten behorend bij de studie "Klimaatverandering en Toenemende Verzilting en landbouw in Noord-Nederland". Dit rapport behandelt het onderzoek dat is gedaan naar de huidige en toe ...

Sociaal-economisch spoor verzilting Noord-Nederland : effecten van aan klimaatverandering gerelateerde verzilting op de bedrijfsvoering van landbouwbedrijven in Noord-Nederland [Monograph]

Het doel van het deelproject 'Sociaal Economisch Spoor' is om de effecten van verzilting in sociaal economische zin op landbouw inzichtelijk te maken voor Noord-Nederland. Hierbij wordt onderscheid gemaakt in directe gevolgen voor de interne agrarisc ...

Verzilting in perspectief : de uitkomst van zeven interviews en vier focusgroepen over klimaatverandering, toenemende verzilting en landbouw in Noord-Nederland [Monograph]

Dit rapport biedt een analyse van een zevental interviews en vier focusgroepen die hebben plaatsgevonden in het kader van het zogenaamde perceptiespoor binnen het onderzoek 'Klimaatverandering, toenemende verzilting en landbouw in Noord-Nederland'. H ...

Assessing the adaptive capacity of agriculture in the Netherlands to the impacts of climate change under different market and policy scenarios (AgriAdapt project) [Monograph]

The AgriAdapt project has developed methodologies that enable (a) the assessment of impacts, risks and resiliencies for agriculture under changes in climatic conditions but also under changes of other drivers (market, technology, policy, etc.) and (b ...

Attention to safety 2 [Monograph]

Tot op heden heeft onderzoek naar toekomstig overstromingsrisico vooral gebruik gemaakt van de scenarioaanpak. Het belangrijkste doel van deze studie is om een demonstratie te geven van een methode voor het produceren van probabilistische schattingen ...

ACER: developing Adaptive Capacity to Extreme events in the Rhine basin [Monograph]

Het algemene doel van het ACER project is om de gevolgen van klimaatverandering en adaptatie strategieën te onderzoeken voor het Rijnstroomgebied, zowel grensoverschrijdend in Duitsland en Frankrijk als voor het regionale waterbeheer in Nederland. AC ...

Financial arrangements for disaster losses under climate change [Monograph]

Het project bestond uit vier activiteiten: analyse van de huidige financiële regelingen; beoordeling van de risico's van extreme weersomstandigheden; potentieel van nieuwe regelingen, en betrekken van de stakeholders. Een overzicht is gemaakt van fin ...

On the wings of change : species' responses in fragmented landscapes under climate change [PhD thesis]

Omdat klimatologische condities bepalen wat geschikt habitat is voor soorten, kan klimaatverandering in de zin van temperatuursstijging ook leiden tot verschuivingen in de verspreiding van soorten. De mogelijkheid van soorten om zich ook daadwerkelij ...

Integrated assessment of adaptation to climate change in Flevoland at the farm and regional level [Monograph]

A key objective of the AgriAdapt project is to assess climate change impacts on agriculture including adaptation at regional and farm type level in combination with market and technological changes. More specifically, the developed methodologies enab ...
Check title to add to
marked list