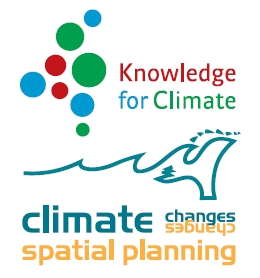 programme

theme

project

publication type

publication year

author

language

keyword
Check title to add to
marked list
Land use and climate change [Monograph]

Klimaat en landgebruik zijn sterk aan elkaar gerelateerd. Landgebruik beïnvloedt het klimaat, bijvoorbeeld doordat vegetatie kooldioxide opneemt, landbouw stikstof vastlegt en industrie diverse broeikasgassen uitstoot. Omgekeerd betekent een verander ...

Inzichten over het duiden van klimaat-gerelateerde informatie om participatie bij adaptatieprojecten te bevorderen [Monograph]

Dit rapport laat zien dat de participatie van stakeholders bij adaptatieprojecten kan worden bevorderd door informatie over aard en effecten van klimaatverandering zo te duiden dat ook niet-specialisten kunnen snappen wat er aan de hand is. Het duide ...

Socio-economic scenarios in climate adaptation studies \ Climate adaptation and flood risk in coastal cities [Book chapter]

PRObing a method to facilitate the interactive linking of expert knowledge to stakeholder assessment PROFILES [Monograph]

Dit onderzoek betreft het ontwikkelen en toetsen van een methode voor participatieve verkenningen op het gebied van klimaat en energie, waarbij partijen met een verschillende expertise zijn betrokken. De methode die het onderzoek heeft opgeleverd is ...

Scale, scope and cognition : context analysis of multiple stated choice experiments on the values of life and limb [Monograph]

In this paper we use data from an SP study on flood safety in the Netherlands, and elicit individual preferences for reduction of risk to life and limb. We perform context analysis to test the robustness of fatality risk valuation throughout choice e ...

Cost benefit analysis for climate change adaption [Monograph]

The focus of this programme was on the development of decision making tools based on cost benefit analysis under uncertainty, for analysing adaptation and mitigation options related to spatial planning in the Netherlands. The full programme focused o ...

Integrated analysis of emission reduction over regions, sectors, sources and greenhouse gases [Monograph]

Na CO2 emissies uit energieproductie en –gebruik leveren broeikasgasemissies uit landgebruik de grootste bijdrage aan de stijgende concentraties in de atmosfeer, die verantwoordelijk zijn voor klimaatverandering. In emissiereductie strategieën wordt ...

Composite valuation of immaterial damage in flooding : value of statistical life, value of statistical evacuation and value of statistical injury [Monograph]

This paper enriches existing valuation literature in a number of ways by presenting context-specific estimates of immaterial damage. Our estimated indicators are plausible and stay robust throughout various estimations. For flood protection policy in ...

Assessing adaptive capacity of institutions to climate change : a comparative case study of the Dutch Wadden Sea and the Venice Lagoon \ Climate law [Scientific article]

In this study we assess the adaptive capacity of relevant institutions for ecosystems and environmental management in two complex systems: the Dutch Wadden Sea and the Venice Lagoon. A new tool called the Adaptive Capacity Wheel (ACW) is used to diag ...

Introducing Land Use Scanner \ Land-use modelling in planning practice [Scientific article]

The PBL Netherlands Environmental Assessment Agency has a long tradition in land-use modelling. Indeed, the PBL has been putting spatially explicit models of land-use change into practice for almost 15 years The agency manages the Land Use MOdelling ...

Biomass on peat soils? : feasibility of bioenergy production under a climate change scenario \ Land-use modelling in planning practice [Scientific article]

Energy security has become a priority as the world's population increases and its standard of living improves, thus increasing energy consumption. As the demand for energy increases, there is growing concern about the possible exhaustion of finite su ...

Simulation of future land use for developing a regional spatial strategy : the case of the Province of Overijssel \ Land-use modelling in planning practice [Scientific article]

Many geo-information tools, such as visioning, storytelling, forecasting, analysis, sketching, and evaluation, appear to be rarely used for spatial planning. Land Use Scanner's model has the ability to assist in many of these planning-specific tasks. ...

Lessons learned from using land-use simulation in regional planning \ Land-use modelling in planning practice [Scientific article]

This chapter briefly describes three types of regional applications of Land Use Scanner. The first type was performed by Geodan Next in conjunction with PBL and was used to provide input for regional strategic visions of three Dutch provinces. A seco ...

Regionale toepassingen van de Ruimtescanner \ Rooilijn : mededelingen van het Planologisch en Demografisch Instituut, Universiteit van Amsterdam [Article]

Waar liggen kansen voor nieuwe ruimtelijke ontwikkelingen en waar worden gewaardeerde gebieden bedreigd? Het antwoord op deze vragen kan komen uit computermodellen die toekomstig ruimtegebruik sumuleren. Deze simulaties kunnen behulpzaam zijn bij zow ...

Development of a composite index of urban compactness for land use modelling applications \ Landscape and urban planning : an international journal of landscape design, conservation and reclamation, planning and urban ecology [Scientific article]

This paper introduces a composite index to characterise urban expansion patterns based on four associated indices that describe the degree of compactness of urban land: nuclearity, ribbon development, leapfrogging and branching processes. Subsequentl ...

Bounding the future : the use of scenarios in assessing climate change impacts \ Futures : the journal of policy, planning and futures studies [Scientific article]

This paper investigates the contribution of socio-economic scenarios to improve decisions and policies in climate assessments. We specifically looked at adaptation projects in the Dutch Climate changes Spatial Planning programme. Based on the four de ...

The effect of risk context on the value of a statistical life : a Bayesian meta-model \ Environmental & resource economics [Scientific article]

This paper presents the first value of statistical life (VSL) meta-analysis that empirically estimates correction factors for 'out of context' benefits transfer (BT) purposes. In the field of mortality risk reductions elicited willingness to pay valu ...

Effect of uncertainty in land use, damage models and inundation depth on flood damage estimates \ Natural hazards : journal of the International Society for the Prevention and Mitigation of Natural Hazards [Scientific article]

With the recent transition to a more risk-based approach in flood management, flood risk models—being a key component in flood risk management—are becoming increasingly important. Such models combine information from 4 components: - the flood hazard ...

Development of flood exposure in the Netherlands during the 20th and 21st century \ Global environmental change : human and policy dimensions [Scientific article]

Flood risks of deltaic areas increase because of population growth, economic development, land subsidence and climatic changes such as sea-level rise. In this study, we analyze trends in floodexposure by combining spatially explicit historical, prese ...

Climate change impact assessment and adaptation under uncertainty [PhD thesis]

Expected impacts of climate change are associated with large uncertainties, particularly at the local level. Adaptation scientists, practitioners, and decision-makers will need to find ways to cope with these uncertainties. Several approaches have be ...
Check title to add to
marked list