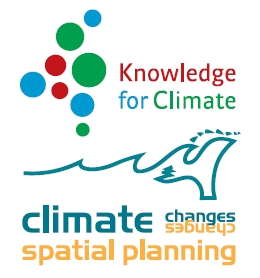 programme

theme

project

publication type

publication year

author

language

keyword
Current refinement(s):
Check title to add to
marked list
Routeplanner naar een klimaatbestendig Nederland - 3: A qualitative assessment of climate adaptation options and some estimates of adaptation costs [Monograph]

The Routeplanner project aims to provide a 'systematic assessment' of potential adaptation options to respond to climate change in the Netherlands in connection to spatial planning. The study is the result of a policy oriented project that took place ...

Climate scenarios : communicating uncertainties [Presentation]

Presentation at MNP workshop on uncertainties and adaptation to climatic change. Set of generic climate scenarios for impact, adaptation studies.

Localising the land-use impact of global climate change : integration of sector-specific adaptation measures with the Land Use Scanner \ Framing Land Use Dynamics II – abstractbook. International conference, 18-20 April 2007, Utrecht University, the Netherlands. [Conference proceedings]

Netherlands Climatic changes are expected to have important implications for land-use patterns, especially in coastal areas and river basins. Land use, on the other hand, also influences the climate through its impact on, amongst others, atmospheric ...

LANDS: land-use and climate change : Integration of sector-specific climate adaptation measures with the land use scanner [Poster]

Within the research program the LANDS project identifies climate change driven land-use developments and integrates these into balanced national visions and regional solutions. Poster presented at CCsP conference, The Hague, September 13, 2007

Planning for biodiversity in a changing climate : BRANCH project final report [Monograph] - English version

BRANCH evidence confirms that there is an urgent need for spatial planners to act now to ensure that wildlife can respond to the impacts of climate change. This report summarises the project's research findings and recommends how current planning pra ...

Adapting to climate change: a landscape approach [Presentation]

Powerpoint presentation dealing with main impacts of climate change on biodiversity; effects stronger because of habitat fragmentation; adaptation strategies

Introduction to the symposium theme: climate change in fragmented landscapes; can we develop spatial adaptation strategies? [Presentation]

Presentation as introduction to the world congress of IALE (Wageningen, July 8-13 2007). Climate change in fragmented landscapes; can we develop spatial adaptation strategies?

Routeplanner 3: wat we weten en wat we niet weten over klimaatverandering in Nederland : Het Groene Hart, natuur, de stad en waterveiligheid [Monograph]

De Routeplanner is de wetenschappelijke tak van Nationaal Programma 'Adaptatie Ruimte en Klimaat (ARK). Deze brochure vat de belangrijkste conclusies van de vier brugdocumenten samen. Zijnde: Het Groene Hart, Natuur, De stad, Waterveiligheid.

Adaptatiescan Tilburg : klimaatadaptatie in de Hotspot : eindrapport [Monograph]

In het klimaatprogramma van Tilburg voor de jaren 2008-2011/2013 wordt zowel aandacht besteed aan het tegengaan van klimaatverandering als aan het aanpassen aan de gevolgen van klimaatverandering (adaptatie). Om de gevolgen van klimaatverandering voo ...

CO2-neutraal Tilburg [Monograph]

Roadmap Tilburg beschrijft een serie van activiteiten die een gemeente stap-voor-stap CO2-neutraal kan maken. Het bestaat uit diverse typen activiteiten: behalve technische ook instrumenteel of organisatorisch van aard. Deze studie is onderdeel van E ...

Integrated scenarios of socio-economic and climate change : a framework for the 'Climate changes Spatial Planning' programme [Monograph]

Dit rapport is een werkdocument binnen het kennisprogramma 'Ruimte voor Klimaat'. In dit programma heeft het project LANDS (LAND uSe and climate change) tot doel de door klimaatverandering gedreven veranderingen en aanpassingen in landgebruik te iden ...

Towards a climate-proof Netherlands : summary routeplanner [Monograph]

Samenvatting van wetenschappelijke kennis over de effecten van klimaatverandering en de mogelijkheden om daar mee om te gaan. Dit rapport helpt om een strategie op te stellen om bij ruimtelijke ordening rekening te houden met de gevolgen van klimaatv ...
Check title to add to
marked list