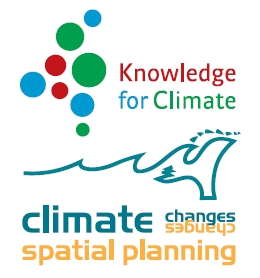 programme

theme

project

publication type

publication year

author

language

keyword
Current refinement(s):
Check title to add to
marked list
Hotspot Rijnenburg : over kennisdoorwerking en een aanpak die tot een klimaatbestendige en duurzame structuurvisie Rijnenburg heeft geleid [Monograph]

Bij het opstellen van de structuurvisie voor het nieuwe woongebied Rijnenburg is theoretische kennis op het gebied van klimaatadaptatie en -mitigatie (nationaal en internationaal) verzameld en toegepast in de structuurvisie. Zo is ervaring opgedaan m ...

Assessing the adaptive capacity of agriculture in the Netherlands to the impacts of climate change under different market and policy scenarios (AgriAdapt project) [Monograph]

The AgriAdapt project has developed methodologies that enable (a) the assessment of impacts, risks and resiliencies for agriculture under changes in climatic conditions but also under changes of other drivers (market, technology, policy, etc.) and (b ...

ACER: developing Adaptive Capacity to Extreme events in the Rhine basin [Monograph]

Het algemene doel van het ACER project is om de gevolgen van klimaatverandering en adaptatie strategieën te onderzoeken voor het Rijnstroomgebied, zowel grensoverschrijdend in Duitsland en Frankrijk als voor het regionale waterbeheer in Nederland. AC ...

Biodiversity in a changing environment: predicting spatio-temporal dynamics of vegetations [Monograph]

Om geschikte adaptatiemaatregelen te kunnen ontwerpen, is het noodzakelijk over betrouwbare schattingen van de vegetatiesamenstelling en de functionele biodiversiteit onder verschillende klimaatveranderingscenario's te beschikken. Huidige benaderinge ...

Eindrapportage Hotspot Tilburg [Monograph]

Het Hotspot project heeft de gemeente Tilburg ondersteund bij het inhoudelijk en procesmatig voorbereiden van een langdurig, ambitieus, meerjarenprogramma gericht op het klimaatneutraal en klimaatbestendig maken van de stad Tilburg. Om inhoud te geve ...

Impact changes of climatic extremes on arable farming in the north of the Netherlands \ Regional environmental change [Scientific article]

Agriculture is vulnerable to climate change in multiple ways. Here, we use the northern region of the Netherlands as a case study to explore how risk assessments for climate change impacts on crop production can address multiple vulnerabilities. We p ...

Spatial planning of a climate adaptation zone for wetland ecosystems \ Landscape ecology [Scientific article]

Here we present a spatial planning approach for the implementation of adaptation measures to climate change in conservation planning for ecological networks. We analyse the wetland ecosystems of the Dutch National Ecological Network for locations whe ...

Assessing adaptive management options to cope with climate change at the farm level \ Proceedings, FAO-IRRI workshop on Advanced technologies of rice production for coping with climate change: No-regret options for adaptation and mitigation, 23-25 June 2010 Los Banos, Philippines [Conference proceedings]

In recent years, considerable achievements have been made by several European climate research groups in gaining a better understanding of and in developing methodologies and tools for integrated, multiscale analyses of how to adapt agricultural syst ...

Constructing adaptation strategies for species in the Dutch National Ecological Network using multifunctional land-use options [Presentation]

Powerpoint presentation held at 10th INTECOL congres, Brisbane August 2009

Financing adaptation in developing countries : assessing new mechanisms [Monograph]

The estimated additional investment and financial flows needed for adaptation to climate change in developing countries up to 2030 could amount to many tens of billion US dollars per year. The funding available under the financing mechanisms of the U ...

Willingness of homeowners to mitigate climate risk through insurance \ Ecological economics : the journal of the International Society for Ecological Economics [Scientific article]

The willingness of homeowners in the Netherlands to undertake measures that mitigate flood damage in exchange for benefits on hypothetical flood insurance policies is examined using surveys. The results indicate that many homeowners are willing to ma ...

Integratie van sectorale adaptatiemaatregelen voor een klimaatbestendige provincie Groningen \ RPB ruimteconferentie, abstractbundel [Conference proceedings]

De gevolgen van klimaatwijziging zijn groot en regiospecifiek. De provincie Groningen verwacht door klimaatwijziging bijvoorbeeld last te krijgen van verhoogd overstromingsgevaar door zeespiegelstijging, waterbergingsproblemen bij extreme neerslag en ...

Onderzoek naar het stadsklimaat in Nederland [Presentation]

Klimaatprognoses voor Noordwest-Europa gedurende de 21ste eeuw en de mogelijke consequenties voor het stedelijk klimaat.

Hotspot Klimaatbestendig Groningen : eindrapportage [Monograph]

De resultaten van het hotspot project, zoals ze in dit eindrapport samengevat zijn uit de talloze uitgebreide deelrapportages, geven zowel een antwoord op de vraag hoe kunnen we klimaatadaptatie verankeren in het ruimtelijke ordeningsproces (methodis ...

Verslag Workshop IC10 en A18 [Monograph]

Verslag van een workshop die tot doel had informatie uit te wisselen tussen de Klimaat voor Ruimte projecten A18 (Hotspot Groningen) en IC10 (communicatie over klimaat).

Towards a climate proof energy system in Groningen : spatial impact of adjustments to the future energy system : report expert meetings & INCREASE conference [Monograph]

Climate change is influenced strongly by the amount of greenhouse gases in the atmosphere. Especially, the CO2 concentration increases over the last decennia. This increase is mainly caused by the extensive use of fossil resources, such as oil and ga ...

Identification of stakeholder perspectives on future flood management in the Rhine basin using Q methodology \ Hydrology and earth system sciences [Scientific article]

This article identifies different stakeholder perspectives on future flood management in the downstream parts of the Rhine basin in Germany and The Netherlands. The perspectives were identified using Q methodology, which proved to be a good, but time ...

Assessing management regimes in transboundary river basins : do they support adaptive management? \ Ecology & society : a journal of integrative science for resilience and sustainability [Scientific article]

River basin management is faced with complex problems that are characterized by uncertainty and change. In transboundary river basins, historical, legal, and cultural differences add to the complexity. The literature on adaptive management gives seve ...

Aanpassing aan weersextremen in grensoverschrijdende stroomgebieden [Fact sheet]

De Nederlandse overheid is al geruime tijd bezig met maatregelen tegen overstromingen in de stroomgebieden van de grote rivieren. De overstromingen in de 90-er jaren en nieuwe inzichten in klimaatverandering hebben een discussie op gang gebracht over ...

Developing adaptive capacity to extreme events in the Rhine basin (ACER) [Fact sheet]

For some years the Dutch government has been busy with flood protection measures in the floodplains of the main rivers. The floods in the 1990s and new insights into climate change have fuelled debate about the sustainability of current measures. Pla ...
Check title to add to
marked list