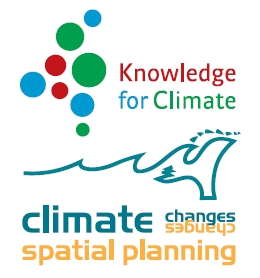 programme

theme

project

publication type

publication year

author

language

keyword
Current refinement(s):
Check title to add to
marked list
Dealing with uncertainties in fresh water supply: experiences in the Netherlands : climate proof fresh water supply in coastal areas and deltas in Europe \ Water resources management : an international journal [Scientific article]

This paper, first, offers a brief overview of developments in the field of planning under (deep) uncertainty. Next, we illustrate application of three different approaches to fresh water provision planning under uncertainty in case studies in the Net ...

Economic optimization of flood prevention systems in the Netherlands \ Mitigation and adaptation strategies for global change : an international journal devoted to scientific, engineering, socio-economic and policy responses to environmental change [Scientific article]

After the flood disaster of 1953, the Netherlands adopted a rational approach to flood risk management with the use of protection standards determined by means of costbenefit analysis. Due to scientific and political developments that have recently t ...

Population dynamics of Great Bittern (Botaurus stellaris) in the Netherlands: interaction effects of winter weather and habitat fragmentation \ Regional environmental change [Scientific article]

The increased variability in weather as a manifestation of climate change is expected to have negative impacts on population survival in wildlife species, because it will likely lead to increased variation in vital demographic rates (mortality and re ...

Seasonal dependence of the urban heat island on the street canyon aspect ratio \ Quarterly Journal of the Royal Meteorological Society [Scientific article]

In this article we study the relation between the urban heat island (UHI) in the urban canyon and street geometry, in particular the aspect ratio. Model results and observations show that two counteracting processes govern the relation between the no ...

Robust, multifunctional flood defenses in the Dutch rural riverine area \ Natural hazards and earth system sciences / European Geosciences Union [Scientific article]

This paper reviews the possible functions as well as strengths, weaknesses, opportunities, and threats for robust flood defenses in the rural riverine areas of the Netherlands on the basis of the recent literature and case studies at five locations i ...

Spatial precipitation patterns and trends in The Netherlands during 1951–2009 \ International journal of climatology : a journal of the Royal Meteorological Society [Scientific article]

Significant increases in precipitation have been observed in The Netherlands over the last century. At the same time persistent spatial variations are apparent. The objective of this study is to analyse and explain these spatial patterns, focussing o ...

The added value of system robustness analysis for flood risk management \ Natural hazards and earth system sciences / European Geosciences Union [Scientific article]

Decision makers in fluvial flood risk management increasingly acknowledge that they have to prepare for extreme events. Flood risk is the most common basis on which to compare flood risk-reducing strategies. To take uncertainties into account the cri ...

Modeling global change impacts on breeding habitat quality of four meadow bird species [Poster]

Poster presented at the joint British Ecological Society and Durell Institute of Conservation and Ecology Symposium 'Considering the future of conservation', University of Kent, Canterbury, UK, 25-27 June 2014.

Climate change and water conservation effects on vegetation patterns in a stream catchment [Poster]

Poster presented at the International Conference 'Deltas in Times of Climate Change II', Rotterdam, 24-26 sep 2014.

Climate change and water conservation effects on water availability and vegetation patterns in a stream valley \ Geophysical Research Abstracts [Conference proceedings]

Presentation at the EGU General Assembly 2014, Session General Ecohydrology, 29 April 2014 in Vienna, Austria.

Doorbraakvrije dijken: een nadere verkenning [Monograph]

Tijdens een studiedag over 'Dijken voor de toekomst', die KvK-Thema 1 in november 2011 samen met STOWA had georganiseerd, werd duidelijk dat veel discussie over 'praktisch doorbraakvrije' dijken het gevolg is van verschillende beelden, mede veroorzaa ...

Inspiratiedocument klimaatadaptatie grote rivieren [Monograph]

Inspiratiedocument over klimaatadaptatie langs de Rijn, Maas, Waal, Nederrijn, IJssel, Merwede en Lek. Het blikt vooruit naar handelingsperspectieven voor de langere termijn (2050-2100). Beschouwend. Op basis van een 16-tal vertrouwelijke bilaterale ...

Rainwater harvesting, a sustainable solution for urban climate adaptation? [Monograph]

Rainwater harvesting (RWH) is a climate adaptation strategy of all times and was applied by many civilisations in history of mankind. The system is especially found during eras with long dry periods. Rainwater harvesting is gaining interest again wor ...

Climate services in the Rhine basin: with special focus on climate data for hydrological impact studies in Germany and the Netherlands [Monograph]

Climate services have been set up to answer the growing requirements for information related to climate change by a variety of stakeholders ranging from government agencies, the private sector to academia, for the purpose of interpreting and applying ...

KNMI'14: climate change scenarios for the 21st Century – a Netherlands perspective [Monograph]

This report documents and motivates the KNMI'14 climate change scenarios. It has an intermediate status, implying that the current content of the document can be considered to be final, but that additional components on applications and spin-off issu ...

'SimDelta global'- towards a standardised interactive model for water infrastructure development \ European journal of geography [Scientific article]

The research project 'SimDelta' builds on novel internet technology to support the development of the Rhine-Meuse delta water infrastructure. It has three goals: education, organisation of research and design studies, and stakeholder polling. A curre ...

Green infrastructure as a regional climate change adaptation strategy for dispersal-limited species [Poster]

Poster presented at the European Climate Change Adaptation Conference 18-20 March 2013, Hamburg, Germany.

On the potential contribution of spatial planning in combination with unbreachable embankments in the design of a robust flood risk system, exemplified for the Netherlands \ Comprehensive flood risk management : research for policy and practice [Conference proceedings]

The government has announced a revision of the current flood risk management policy, comprising not only a possible revision of the protection standards, but also a transition towards a broader risk-based policy, which may involve reducing the conseq ...

Transboundary governance of climate adaptation : enabling and constraining characteristics for cross border cooperation on climate adaptation between the policy arrangements of the Netherlands and North Rhine-Westphalia, knowledge gaps and policy recommendations [Monograph]

This report summarizes the research outcomes of deliverable 5.2.2 of 'Kennis voor Klimaat' and provides recommendations for further research and climate adaptation policy across borders. More details, results and an encompassing theoretical backgroun ...

Integrated water resources management in the Netherlands : historical trends and current practices in the governance of integration \ International journal of water governance [Scientific article]

Dutch water management has experienced a gradual evolution in which integration has become an important objective. Recently, over a short period, the pace has quickened in the integration of water management and land-use planning practices in the Net ...
Check title to add to
marked list