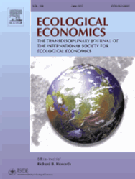 Ecological Economics
Elsevier
1989-
ISSN: 0921-8009 (1873-6106)
Ecology - Environmental Sciences - Economics and Econometrics - General Environmental Science
Recent articles
1

show

abstract

0921-8009 * * 29367658

Publication date: June 2019

Source: Ecological Economics, Volume 160

Author(s): Mirijam Mock, Ines Omann, Christine Polzin, Wouter Spekkink, Julia Schuler, Vlad Pandur, Ambra Brizi, Angelo Panno

The role of sustainability initiatives and niche groups in transitions towards sustainability has received a good deal of attention. However, little is known about the people who make up these groups. This paper discusses their psychological wellbeing – a concept that comprises six elements: self-acceptance, personal growth and development, purpose in life, environmental mastery, autonomy, and positive relations with others. In the study we performed 46 semi-structured interviews with people from 11 sustainability initiatives in five countries across Europe. We find that the groups offer a platform to build and maintain social relations with other, often like-minded, people. While these relations often serve an important motivational function to stay engaged, they are not free of challenges. The interviews show that sustainability initiatives can also provide fertile ground for personal growth and other dimensions of psychological wellbeing. Environmental mastery – and specifically the capacity to cope with global environmental problems beyond individual control – is a major challenge for people engaged in sustainability initiatives. Overall, the data suggests strong links between social engagement and psychological wellbeing. From a theoretical perspective, this paper enriches the transition literature by exploring the role of psychological wellbeing among people engaged in niches.

2

show

abstract

0921-8009 * * 29403498

Publication date: June 2019

Source: Ecological Economics, Volume 160

Author(s): Michael K. Tanner, Nicolas Moity, Matthew T. Costa, Jose R. Marin Jarrin, Octavio Aburto-Oropeza, Pelayo Salinas-de-León

Mangroves provide many benefits to human welfare, but they are disappearing rapidly; Ecuador and countries within the Tropical Eastern Pacific (TEP) region have lost over 40% of their mangrove coverage in the last 40 years. One reason for this destruction is that the benefits of mangroves have not been valued in a way that policymakers and markets can understand. Here, we present the first economic valuation of multiple ecosystem services (ES) for Ecuador and the TEP using the Galapagos mangroves as a case study. We focused on three ES of high value and policy relevance: carbon storage, support for small-scale fisheries, and mangrove-based tourism. Our data suggest that over 778,000 tons of carbon are stored in Galapagos mangroves, with mean belowground carbon being 211.03 ± 179.65 Mg C/ha, valued at $2940/ha or $22,838/ha depending on the valuation methodology. We identified mangrove-dependent fish targeted by the local finfish fishery, with net benefits of $245 ha−1, making this fishery the second most profitable in the Archipelago. The value of mangrove-based recreation was estimated at $16,958/ha, contributing $62 million to the industry. By accounting for stakeholders and existing property rights, our results allow for the discussion of institutionalizing ES payments for the Galapagos Islands.

3

show

abstract

0921-8009 * * 29446957

Publication date: June 2019

Source: Ecological Economics, Volume 160

Author(s): Paola D'Orazio, Lilit Popoyan

While there is a growing debate among researchers and practitioners on the possible role of central banks and financial regulators in supporting a smooth transition to a low-carbon economy, the information on which macroprudential instruments could be used for reaching the "green structural change" is still quite limited. Moreover, the achievement of climate goals is still affected by the so-called "green finance gap". This paper addresses these issues by proposing a critical review of existing and novel prudential approaches to incentivizing the decarbonization of banks' balance sheets and aligning finance with sustainable growth and development objectives. The analysis carried out in the paper allows understanding of under which conditions macroprudential policy could tackle climate change and promote green lending, while also containing climate-related financial risks.

4

show

abstract

0921-8009 * * 29481114

Publication date: June 2019

Source: Ecological Economics, Volume 160

Author(s): Mario Enrique Fuente-Carrasco, David Barkin, Ricardo Clark-Tapia

5

show

abstract

0921-8009 * * 29481115

Publication date: June 2019

Source: Ecological Economics, Volume 160

Author(s): Paul Dewick, Eunice Maytorena-Sanchez, Graham Winch

Regenerative eco-innovation, demanding radical and architectural change to restore, renew and revitalise the natural system, is arguably the most important type of eco-innovation to address the pressing challenges of sustainable development. The aim of this paper is to explore the role of the regulatory framework and wider contextual conditions in facilitating or hindering regenerative eco-innovations. This is especially relevant for the built environment, a sector that is highly regulated and where rates of innovation are typically slow. We combined a review of relevant archival material with an interview programme involving key stakeholders from the UK's built environment sector. We contribute to the literature by extending and elaborating our understanding of regenerative eco-innovation in two ways. First, we extend the literature on regulation and eco-innovation by exploring what constitutes high quality regulation in the context of regenerative development. Second, we elaborate on how regenerative eco-innovations are facilitated or hindered by wider contextual conditions. Our paper also has practical utility. More understanding of how effective regulation can support regenerative eco-innovations, and of how the wider contextual conditions facilitate or hinder regenerative eco-innovations, allows industry and government to respond better to the urgent global challenge of closing material cycles.

6

show

abstract

0921-8009 * * 29516091

Publication date: June 2019

Source: Ecological Economics, Volume 160

Author(s): Stefan Hoffmann, Robert Mai, Wassili Lasarov, Jan S. Krause, Ulrich Schmidt

While reports state that consumers are increasingly willing to consume more sustainably, no study has considered how the activation of very basic human needs, such as the state of hunger, affects sustainable food consumption. The authors expect that hungry consumers display a lower preference for sustainable food items and that this hunger-induced imprint on food consumption patterns must be traced back to the fact that the activation of very fundamental human needs contaminates stereotypical perceptions of sustainable products. More importantly, hunger primarily operates spontaneously, as well as automatically, and affects perceptions, which are difficult to control (and which sometimes go unnoticed). A laboratory experiment studied this premise by sampling 166 participants with 18 h of actual food deprivation, half of them having breakfast before and the other half after completing the experimental tasks. The participants who had breakfast show a stronger tendency to choose sustainable products, which can be traced back to implicit gentleness-associations concerning sustainable products in the Implicit Association Test (IAT). Albeit explicitly held beliefs also influence choices, these judgments are not affected by food deprivation. A field study then replicates the findings in a real-life setting.

7

show

abstract

0921-8009 * * 29516092

Publication date: June 2019

Source: Ecological Economics, Volume 160

Author(s): Hongbo Duan, Gupeng Zhang, Shouyang Wang, Ying Fan

In this work, we develop a regional integrated assessment framework by incorporating both adaptation and mitigation mechanisms to conduct benefit-cost analysis of China's optimal adaptation and portray the relative adaptation cost curve. In particular, we explore the influence of induced optimal mitigation, given the 2-degree warming-increase target, on the effectiveness of adaptation. Although adaptation alone may not be able to tackle all the risks of climate change, it remains a benefit-cost effective option. Our results show that China's optimal adaptation strategy can avoid, on average, 28% of climate damage over the entire simulation horizon. With respect to the reduction of adverse climate effects, the effect of a policy mix of both adaptation and mitigation does not appear to be "1 + 1 ≥ 2", despite the combination strategy is still the better option compared to adaptation or mitigation alone. Robustness analysis reveals that the choice of time scales is important for policy effectiveness assessment, and the discount rate tells most of the story. Specifically, the lower the discount level, the higher the policy effectiveness; and the effectiveness of targeted policy would be significantly reinforced if a longer time scale is considered, given the same discount rate.

8

show

abstract

0921-8009 * * 29516093

Publication date: June 2019

Source: Ecological Economics, Volume 160

Author(s): Junichi Ito, Hart N. Feuer, Shinichi Kitano, Haruka Asahi

The Japanese government introduced a direct payment scheme (DPS) for hilly and mountainous areas (HMAs) in 2000, with the aim of preventing further farmland abandonment in HMAs and compensating the farmers working in such disadvantaged regions for their costly production. Rural community members decide whether to participate in the DPS after taking account of its economic consequences. Using counterfactual-based empirical evaluation methods, we measure the extent to which a rural policy goal in Japan, namely the prevention of farmland abandonment, is achieved at the community level under the DPS framework. The pre-matching differences in the ratios of farmland abandonment, based on cross-sectional and longitudinal data, do not initially provide evidence to support the DPS's effectiveness or "additionality". However, when confounding factors are considered, our estimation results lend strong support to the view that the DPS deters farmland abandonment. The most important driver of additionality is that the DPS targets communities with higher threat of farmland abandonment, which helps to prevent adverse participant selection from occurring. This can be supported by a rational inference that the DPS effectiveness would have been modest if farmlands on flat slopes were eligible for subsidization.

9

show

abstract

0921-8009 * * 29547989

Publication date: June 2019

Source: Ecological Economics, Volume 160

Author(s): Sean Pascoe

Beaches provide multiple recreational opportunities, such as swimming, surfing, fishing, walking or just enjoying being by the seaside. Most previous studies that have valued beach use have assumed a trip to the beach was a homogeneous activity. In this study, we estimate the non-market value of beach usage by New South Wales, Australia, residents using a travel cost modelling approach. Unlike previous studies, we develop the model based on the activities that visitors mostly undertake when visiting the beach, and allow for multiple activities to occur. We find that different uses of the beach attract different levels of consumer surplus. Activities such as surfing, fishing and swimming generate higher levels of consumer surplus than more passive activities such as just enjoying the natural environment. We also find that Sydney residents have different values to non-Sydney residents. From our analysis, a trip to the beach provides a base level of consumer surplus of around $10/trip for Sydney residents, with additional benefits derived from undertaking different activities. For example, surfing followed by a walk along the beach adds an additional $17 to the value of the visit. Understanding the pattern of use is therefore important when estimating the use values of beaches.

10

show

abstract

0921-8009 * * 29547990

Publication date: June 2019

Source: Ecological Economics, Volume 160

Author(s): Nicholas Bowles, Samuel Alexander, Michalis Hadjikakou

The livestock sector is a key driver of humanity's transgression of several planetary boundaries, with the production of ruminant meat being particularly impactful. Given current trends in demand for animal products, strategies to significantly reduce the livestock sector's environmental impacts are urgently needed. Here we draw on published data to examine livestock's impacts in three key critical sustainability domains within the planetary boundaries framework – climate change, biochemical flows and land-system change, and seek to quantify livestock's occupation of humanity's safe operating space now and into the future (2050). We estimate that the livestock sector may already occupy the majority of, or transgress, humanity's safe operating space across these domains, with such impacts forecast to grow by 2050. Furthermore, we explore the potential of reasonably foreseeable technological measures to mitigate the sector's environmental impacts. While such measures are deemed necessary, their effects are unlikely to be sufficient to shrink the scale of livestock's impacts to a sustainable level, as defined by the three planetary boundaries tested. The implication of these findings is that macroeconomic policies promoting both sustainable production and consumption practices are integral to the realisation of a sustainable food system, where humanity functions within its safe operating space.

11

show

abstract

0921-8009 * * 29547991

Publication date: June 2019

Source: Ecological Economics, Volume 160

Author(s): Qi Zhang, Richard E. Bilsborrow, Conghe Song, Shiqi Tao, Qingfeng Huang

In the late 1990s, China initiated the Conversion of Croplands to Forest Program (CCFP) and the Ecological Welfare Forest Program (EWFP) based on the Payments for Ecosystem Services (PES) principle. Positive socioeconomic outcomes of the programs are essential for the long-term success of eco-environment conservation. However, there is lack of understanding of their longer-term (over 10 years) impacts on rural livelihoods. In this paper, we examine income distribution and inequality of rural households under CCFP and EWFP in rural Anhui, China after 12 years of program implementation. Results show that CCFP-participating households have higher income inequality than non-participants, while the EWFP does not have a significant effect. Local off-farm work and out-migration with remittances are the two principal income sources and both add to inequality. A regression-based decomposition of inequality shows that the CCFP indirectly alters livelihoods by increasing out-migration with remittances, but it also adds to inequality from shifting livelihoods to non-agricultural activities. Meanwhile, EWFP payments positively affect agricultural incomes and contribute 16% to agricultural income inequality. Finally, human capital, natural capital and physical capital all play important roles in generating income and inequality, but the factors affecting inequality from agricultural and non-agricultural activities are different.

12

show

abstract

0921-8009 * * 29584847

Publication date: June 2019

Source: Ecological Economics, Volume 160

Author(s): Patricia E. (Ellie) Perkins

Economic inequality reduces the political space for addressing climate change, by producing fear-based populism. Only when the safety, social status, and livelihoods of all members of society are assured will voluntary, democratic decisions be possible to reverse climate change and fairly mitigate its effects. Socio-environmental and climate justice, commoning, and decolonization are pre-conditions for participatory, responsible governance that both signals and assists the development of equitable socio-political systems. Degrowth movements, when they explicitly prioritize equity, can help to focus activism for climate justice and sustainable livelihoods.

This paper overviews the theoretical grounding for these arguments, drawing from the work of ecofeminist and Indigenous writers.

Indigenous (and also ecofeminist) praxis is grounded in activists' leadership for commoning and resistance to extraction, the fossil fuel economy, and commodified property rights. These movements are building a politics of decolonization, respect, solidarity, and hope rather than xenophobia and despair.

13

show

abstract

0921-8009 * * 29584848

Publication date: June 2019

Source: Ecological Economics, Volume 160

Author(s): Marc Germain

Within the framework of an optimal growth model with a non renewable resource, this paper seeks to answer the question of whether a production function that ignores the constraints of physics on the production process (such as the Cobb-Douglas) can generate a good medium-term approximation of the trajectory of the economy obtained with a "true" production function, which takes these constraints into account. Two functions that respect these constraints are considered: (i) the CES function and (ii) a function called ATF, designed specifically for the purposes of this paper and which has the property of being closer to the Cobb-Douglas than is the CES.

The approximation generated by the Cobb-Douglas can be rough, at least for some variables. When the "true" production function is the CES, this is explained by two effects: (i) the difference in technologies and (ii) the fact that the Cobb-Douglas totally changes the long-term path of the economy compared to that induced by the CES. In the case of the ATF, only the second effect acts. If accuracy is a concern, then whatever the "true" function the obtained results do not argue in favour of a positive answer to the above question. The Cobb-Douglas is only acceptable when the constraints of physics act weakly, which unfortunately is not always empirically verified (especially in the case of energy). If accuracy is not the first concern, then the answer seems positive, to the extent that the medium term paths generated by the Cobb-Douglas and the "true" function have a similar shape and the orders of magnitude are preserved.

14

show

abstract

0921-8009 * * 29584849

Publication date: June 2019

Source: Ecological Economics, Volume 160

Author(s): Rasmus Nielsen, Ayoe Hoff, Staffan Waldo, Cecilia Hammarlund, Jarno Virtanen

The Baltic Sea is one of the most eutrophied seas in the world, facing challenges with both hypoxia and algae blooms. In this study we analyse the effect of using different fishery policy instruments to reduce nutrient loads by removing fish biomass from the ecosystem. The study covers Danish, Finnish and Swedish pelagic fisheries. We distinguish between a private optimum maximising the net present value from fishing and a social optimum including the positive externality of removing nutrients. A dynamic bio-economic model, FishRent, is used to estimate the effect of three policy scenarios: Fisheries regulation using individual transferable quotas (ITQ); Economic compensation provided to fishers for reducing nutrients; and Environmental regulation maximising sustainable catches. The results show that the highest social welfare gain is achieved by maximising catch volumes while having a flexible system for quota trade within the fishing sector. The social welfare gain from the positive externality of the extra fish landed in this case outweighs the private loss of not fishing at the optimal individual level (maximum economic yield).

15

show

abstract

0921-8009 * * 29584850

Publication date: June 2019

Source: Ecological Economics, Volume 160

Author(s): Jun Li, Dayong Zhang, Bin Su

Household carbon emissions account for a significant proportion of the national total emissions. Using a unique nation-wide survey data, this paper investigates the impact of different subjective measures of social awareness on household carbon emissions in China. Subjective variables are found to have significant impacts on household carbon emissions. Feeling secure, compliance with rules, and happiness have negative and significant effects on household carbon emissions, whereas the impact of interest in social issues is positive, which indicates the existence of a gap between awareness and behavior. The impacts of consumer lifestyles on the relationship between awareness and household emissions are also explored and are found to play a significant role in the relationship between awareness and emissions. People with a frugal lifestyle not only associate with lower emissions but also reinforce the role of social awareness. Furthermore, substantial differences are found across rural/urban areas and regional and income groups in China. The government should further promote a green lifestyle and give households more incentives to engage in green consumption behavior.

16

show

abstract

0921-8009 * * 29624820

Publication date: June 2019

Source: Ecological Economics, Volume 160

Author(s): R. Padró, I. Marco, C. Font, E. Tello

17

show

abstract

0921-8009 * * 29624821

Publication date: June 2019

Source: Ecological Economics, Volume 160

Author(s): M. Usman Mirza, Andries Richter, Egbert H. van Nes, Marten Scheffer

The rapid rise in inequality is often seen to go in-hand with resource overuse. Examples include water extraction in Pakistan, land degradation in Bangladesh, forest harvesting in Sub-Saharan Africa and industrial fishing in Lake Victoria. While access to ecosystem services provided by common pool resources mitigates poverty, exclusive access to technology by wealthy individuals may fuel excessive resource extraction and deplete the resource, thus widening the wealth gap. We use a stylised social-ecological model, to illustrate how a positive feedback between wealth and technology may fuel local inequality. The resulting rise in local inequality can lead to resource degradation and critical transitions such as ecological resource collapse and unexpected increase in poverty. Further, we find that societies may evolve towards a stable state of few wealthy and many poor individuals, where the distribution of wealth depends on how access to technology is distributed. Overall, our results illustrate how access to technology may be a mechanism that fuels resource degradation and consequently pushes most vulnerable members of society into a poverty trap.

18

show

abstract

0921-8009 * * 29624822

Publication date: June 2019

Source: Ecological Economics, Volume 160

Author(s): Johannes Christian Haas, Lasse Loft, Thuy Thu Pham

While incentive-based approaches like Payments for Ecosystem Services abound in current theoretical debates and environmental governance, their social impact is often unclear. It is highly relevant to ask if costs and benefits of such interventions are allocated equitably, and if the distribution of payments is dependent on a policy's socio-political context. Literature speaks of distributive and contextual equity here, but evidence on how these two dimensions are interlinked is scarce. Thus, our study investigates Vietnam's Payments for Forest Environmental Services scheme and assesses its implementation's cost benefit-allocation at the local level. Pre-existing political, economic, and social conditions are examined for their impact on current payment distribution. The study takes a qualitative case study approach with semi-structured in-depth interviews with local, provincial, and national respondents focusing on the district of Nam Đông. Findings reveal that various gains were distributed unevenly among individuals. While some community members benefitted from privileged positions in local hierarchies, others were excluded from participation and from tapping into funds. Such results hint to the functional importance of equity for incentive-based resource management. They demonstrate that environmental policies can reinforce existing asymmetries in power and wealth if they do not consider the socio-political context they operate in.

19

show

abstract

0921-8009 * * 29624823

Publication date: June 2019

Source: Ecological Economics, Volume 160

Author(s): Luisa Sievers, Barbara Breitschopf, Matthias Pfaff, Axel Schaffer

Macroeconomic impacts such as changes in economic structures and employment are very important when evaluating the energy transition in societal terms. We employ a macroeconomic model that accounts for regional, economic and sectoral features. The model results show how the overall positive net impacts of the energy transition in Germany – energy efficiency and renewable energies - on economic growth and employment up to 2030 are distributed across sectors and regions. The biggest relative increases in value added occur in construction, real estate and electricity generation; the biggest decrease is in mining of lignite. Significant effects mainly result from changes in the heat and transport sectors, while the transition in the electricity sector entails smaller impacts. The latter are, however, relevant to the regional distribution: The model results suggest that especially northern and eastern German federal states will benefit economically from the energy transition because they offer attractive locations for investments. At the same time, these states are less affected by decreasing conventional energy generation. Moreover, the impact of rising electricity prices is less negative here than in the other federal states because of their lower electricity intensity in production. In summary, the energy transition represents an opportunity for these regions to strengthen their economies.

20

show

abstract

0921-8009 * * 29691424

Publication date: Available online 14 March 2019

Source: Ecological Economics

Author(s): Hubert Buch-Hansen, Max Koch

In the degrowth literature, maximum caps on wealth and/or income are frequently mentioned among the policy instruments that could support transitions towards ecologically and socially sustainable societies. Yet an in-depth discussion of concrete policy proposals has yet to be initiated. To facilitate such a discussion, the present paper reviews several proposals for placing caps on wealth and/or income. Some of these proposals consider environmental limits, others focus exclusively on social inequality. The paper moreover raises various critical issues concerning the introduction of maximum caps on wealth and income in a degrowth context, discussing the role of the state, the impact on economic growth and the risk of emigration of high-skilled employees and capital flight. We conclude that while, in an ecologically constrained world, there is an argument for imposing limits on wealth and income above a certain level, it is crucial not to dictate such policies as mere top-down measures but to develop and deliberate them in democratic forums.

21

show

abstract

0921-8009 * * 29725512

Publication date: July 2019

Source: Ecological Economics, Volume 161

Author(s): Alix Whiting, Maik Kecinski, Tongzhe Li, Kent D. Messer r, Julia Parker

This study tests how different messengers—scientists, government agencies, non-profit organizations, and newspapers—influence individual behavior. We conducted framed field experiments to compare the effects of these messengers on consumers' monetary bids on different items produced with recycled and conventional irrigation water. Using recycled wastewater for agricultural irrigation has the potential to conserve substantial amounts of fresh water. Although using recycled water for irrigating of both edible and inedible crops can be safe for human consumption, people may stigmatize these products since the origin of the waste water is still too apparent. Providing consumers with information about recycled water can help ameliorate their negative perceptions, and the effectiveness of such information can depend on the origin, i.e. the messenger. Our results suggest that participants respond least favourably when the message is attributed to a scientist and most favourably when the message is attributed to a newspaper. Further analysis shows that consumer responses to the scientist messenger fall into two general categories: (1) individuals who place zero bids and (2) individuals who place relatively larger bids in response to information from scientists.

22

show

abstract

0921-8009 * * 29725513

Publication date: June 2019

Source: Ecological Economics, Volume 160

Author(s): Vivek Anand Asokan, Masaru Yarime, Motoharu Onuki

There is a need for enterprises to incorporate information on the environment into decision making and to take action on ecological restoration. Within academia, a comprehensive understanding of the impacts on how business can serve sustainability transformation is still lacking as diverging holistic approaches and reductive approaches cloud academic thinking. The authors take a science-policy interface perspective to cover the role of cognitive proximity, matching and coordination of scientific knowledge from diverse stakeholders for effective policy making and implementation. We show through a literature review that temporal and spatial scales, soil and land degradation, institutions and ecosystem, and the role of human behavior and narrative are not adequately emphasized in sustainability research. A scale-based picture, focusing on landscapes, institutions and practices is proposed which can be used to align diverse fields by acting as "bridge" for improved science policy interface and decision making, facilitated through cognitive proximity, matching, and coordination. A case study on a business association from South India is used to demonstrate the scales based approach in practice. A scale-based approach can play a key role in connecting human behaviour, a social science thematic topic, with ecosystems, a natural science thematic topic.

23

show

abstract

0921-8009 * * 29766871

Publication date: July 2019

Source: Ecological Economics, Volume 161

Author(s): Jo Thori Lind, Karine Nyborg, Anna Pauls

Do people try to avoid unpleasant information about the environmental consequences of their actions' If so, do they react with hostility towards others who provide the unwanted information' Fearing such hostility, do others abstain from providing the information' These are the questions we set out to explore by means of lab experiments presented here. To our surprise, and in stark contrast to related previous literature, we found few indications of willful ignorance. In a binary dictator game with an environmental charity as the recipient, an option to stay uninformed about the effects of one's actions for the charity was infrequently chosen, and did not significantly affect generosity. When another subject might choose to impose information on the dictator, almost all dictators asked for information themselves – but this was not associated with increased dictator generosity. We argue that the phenomenon of strategic ignorance is likely to be less robust and more context-dependent than one might expect based on previous research, and that this result may be important from an environmental policy perspective.

24

show

abstract

0921-8009 * * 29809964

Publication date: July 2019

Source: Ecological Economics, Volume 161

Author(s): Rehab Osman, Emanuele Ferrari, Scott McDonald

Egypt's irrigation systems are inefficient; the use of water is profligate and soil salinity levels have risen. This has reduced agricultural yields and biased production patterns away from high value crops in favour of salt resistant crops. The need to improve irrigation water quality is accentuated by increasing demand for, and declining supplies of, water resources. This study uses a Computable General Equilibrium model, calibrated to an extended SAM and detailed satellite accounts for water quality, to assess the impacts of the huge investments needed to raise water quality. The results indicate strong positive economy-wide impacts in Egypt, which exceed the investment cost. Income increases by 4% and induce increases in the production of high-value crops; i.e., fruits (almost triple), seasonal vegetables (30–37%) and rice by (13%) with a 64% increase in rice exports. The study illustrates the importance of including water quality as a variable in the analyses of water systems.

25

show

abstract

0921-8009 * * 29809965

Publication date: June 2019

Source: Ecological Economics, Volume 160

Author(s): Julia Rosa-Schleich, Jacqueline Loos, Oliver Mußhoff, Teja Tscharntke

Diversified Farming (DF) Systems aim to integrate ecological and economic benefits for sustainable agriculture. DF systems can enhance ecological benefits at the farm level and therewith reduce negative environmental externalities. However, diversification may cause economic costs for the farmer. Although considering ecological-economic trade-offs is crucial for integrating biodiversity into agricultural production, ecological and economic benefits of DF practices have rarely been analyzed conjointly. Here, we synthesize published evidence provided by reviews and meta-analyses that evaluate the ecological and economic performance of single DF practices and more complex diversification bundles. Compared to non-diversified farming, DF practices provide substantially greater biodiversity and associated ecosystem services, such as pest and weed control, soil health, nutrient and water management and carbon sequestration. Overall, the ecological benefits for the farmer were partly insufficient to outbalance economic costs in the short term, even though many examples showed that DF practices have the potential to lead to higher and more stable yields, increase profitability and reduce risks in the long-term. Combined DF practices deliver highest ecological and economic benefits on the farm level. Financial instruments are needed to increase the implementation of combined DF practices to adequately reward for the ecological benefits on the farm level.

26

show

abstract

0921-8009 * * 29870689

Publication date: July 2019

Source: Ecological Economics, Volume 161

Author(s): A. Madad, A. Gharagozlou, H. Majedi, S.M. Monavari

The environmental attitude associated with sustainable development includes the belief that the manipulation of ecosystems has a negative effect on natural evolution. Therefore, monitoring and controlling mechanisms have been developed for urban construction activities. Accordingly, urban green building ranking systems have been established around the world. However, Iran does not have its own system, nor does it follow any existing system due to political relationship issues. Through conducting literature reviews, this study introduces a new method of regulating green buildings based on the temperature factor of local climates and the sequestration of carbon on green covers, besides integrating the results of monetary studies with judgments of experts in AHP technology to effectively reduce energy consumption and its consequences carbon dioxide (CO2) emissions. Taking into consideration the varying climatic conditions of the country, a separate quantitative model of assessing and ranking buildings has been developed for each of 600 cities considered; in such a way that it minimizes climatic disadvantages. Finally, the criteria for a green building assessment were used for a single district in Tehran containing 1195 residential building; the assessment found that the studied buildings utilized only 26% of the building capabilities considered as "green".

27

show

abstract

0921-8009 * * 29870690

Publication date: July 2019

Source: Ecological Economics, Volume 161

Author(s): Megan Star, John Rolfe, Emily Barbi

A key challenge in agri-environmental policy is to encourage agricultural producers to adopt better management practices to reduce adverse environmental impacts. Research attention around has focused on the underlying drivers of landholder actions and decisions, the costs and returns of improving management practices, and the effects of different policy mechanisms to achieve change. One potential barrier to changing management practices are the risks that agricultural producers may perceive to exist. Outcome risks relate to the possibility that a management change may not achieve environmental goals or anticipated production increases, while input risks relate to the possibility that the costs of management change turn out to be much higher than expected. These risks lead to perceptions of winners' curse, where producers are reluctant to adopt better management practices in case costs are higher and returns are lower than expected. In this paper we test the extent to which the willingness to implement environmental improvements are limited by conservation outcome risks or input risks, using a choice experiment in workshops with landholders. Our case study involved projects to reduce gully erosion and subsequent sediment run-off which it attributed to inshore reef health decline in catchments adjacent to the Great Barrier Reef.

28

show

abstract

0921-8009 * * 29870691

Publication date: July 2019

Source: Ecological Economics, Volume 161

Author(s): Hongxing Liu, Sathya Gopalakrishnan, Drew Browning, Gajan Sivandran

Non-point source pollution and the its impact on water quality has garnered interest from policymakers, residents, and scientists in the past decade. We develop a novel method that links water quality indicators derived from a hydrological process model with housing sales data between 1990 and 2013 to estimate the marginal value of water quality changes in the Upper Big Walnut Creek (UBWC) watershed in Ohio. Econometric results indicate that a one-foot increase of Secchi-disk depth in the Hoover Reservoir leads to 7.72% increase in the housing price of an average residential property located within 0.3 miles from the reservoir, with an aggregate impact of around $6 million in the watershed. We find that the impact of water quality is heterogeneous over space, decreases with distance from the reservoir, and is insignificant beyond 0.3 miles. This study provides an alternative approach to fill the gap when observational water quality data are limited and provides reliable estimations of water quality impact, which is essential to evaluate the benefits and costs associated with land use change and urban development.

29

show

abstract

0921-8009 * * 29910003

Publication date: July 2019

Source: Ecological Economics, Volume 161

Author(s): Tavleen Kaur Dhandra

The present study makes a novel attempt to demonstrate a possible relation between mindfulness, sustainable consumption pattern, unsustainable consumption pattern and life satisfaction. A survey based on self-administered questionnaires was conducted on a sample of 420 participants. The results revealed that mindfulness is positively related to green purchase intention, social conscious purchasing and frugal purchasing behavior. This suggests that mindfulness generates a sense of care for self, nature and society that reflect in their respective consumption behaviors. Fulfilling the second purpose, mindfulness displayed a negative relation with materialism. This indicates that since mindfulness generates a sense of care for nature and society, individuals with greater mindfulness are less likely to engage in unsustainable consumption patterns. Furthermore, green purchase intention, social conscious purchasing and materialism showed a relationship with life satisfaction and significantly mediated the relationship between mindfulness and satisfaction with life. Understanding the beneficial effects of mindfulness in enhancing sustainable lifestyles, reducing materialistic tendencies and consequently having a relationship with life satisfaction, imply that mindfulness can be helpful in providing 'triple dividend'.

30

show

abstract

0921-8009 * * 29910004

Publication date: Available online 27 March 2019

Source: Ecological Economics

Author(s): Arnim Scheidel, Anke Schaffartzik

Degrowth and environmental justice movements share overarching aims of sustainability and justice and pursue them through radical social change and resistances. Both movements are diverse and comprised of groups that originate and operate in different contexts. The ever-growing metabolism of the world economy presents an obstacle to both movements' aims, while a socio-metabolic perspective unveils very different characteristics and contexts of the specific struggles. The strategies of many environmental justice movements located at the frontiers of resource extraction are employed to resist coerced socio-ecological transition towards industrialization and to protect more customary ways of life. Movements for the degrowth of industrial metabolism tend to push for socio-ecological transformation, pursuing new ways of life and reimagined social relations in alternative societies. The overarching aims and obstacles of these movements may be shared, but their struggles, strategies and required actions are not the same. Alliances should seek advantages from this plurality of perspectives and positions within their struggles, while acknowledging potential tensions arising from these different contexts.

31

show

abstract

0921-8009 * * 29943522

Publication date: July 2019

Source: Ecological Economics, Volume 161

Author(s): Natalia V. Czap, Hans J. Czap, Simanti Banerjee, Mark E. Burbach

In this paper we present the results of a field experiment on encouraging farmers' application for agri-environmental schemes, specifically the Conservation Stewardship Program (CSP) that is administered by the U.S. Department of Agriculture at the state level. We sent different versions of a recruitment/enrollment letter to agricultural producers in 36 Nebraska counties with historically very low levels of CSP enrollment. We found that the letters doubled the uptake rates as compared to the control (no letter) population. Personalized letters with a handwritten phrase appealing to people's empathetic tendencies toward environmental conservation – an empathy nudge – had the largest impact. When the same nudge was photocopied, it performed statistically significantly worse than handwritten and somewhat (statistically insignificant) worse than a standard letter. The experimental results suggest that the USDA can double the application rate at a cost of only $58–116 per farm. If the money spent on sending letters were instead directed toward increasing financial incentives, it would be cost-equivalent to adding 2.5–5 cents per acre per year to CSP payments. During the time of the experiment, the CSP payments in the state were on average $6.8/acre for rangeland and $24/acre for cropland per year, and extra 2.5–5 cents per acre per year is unlikely to affect the decision of a farmer to apply. As such, from an agri-environmental policy perspective, using personalized letters is highly cost effective.

32

show

abstract

0921-8009 * * 29943523

Publication date: July 2019

Source: Ecological Economics, Volume 161

Author(s): Richard van der Hoff, Raoni Rajão, Pieter Leroy

During almost 20 years of political debate on the nature of Payments for Ecosystem Services (PES), these schemes have been characterized mostly as a non-market approach, even though attempts to transform them into market instruments has persistently recurred in these debates. One notable example is the materialization of Reducing Emissions from Deforestation and Forest Degradation (REDD+) in Brazil, where a sustainable development discourse dominates national forest governance at the expense of a carbon commodification discourse. This research paper adopts a Foucauldian approach to plot the epistemological foundations of the market logics that still influence REDD+ institutionalization in Brazil to a large extent and thereby reproduce what we define as a ruptured dependence on nature. More specifically, we recognize ruptured dependence in the three building blocks of market instruments, namely singularization, monetary valuation and appropriation. Our analysis shows that REDD+ institutions have retained the singularization and monetary valuation of emission reductions, even though the appropriation processes have rejected the possibility of exchange and instead emphasized the national ownership of emission reductions. However, appropriation remains a highly politicized process that is sensitive to criticism and open to calls for alternative approaches that are closer to ruptured dependence.

33

show

abstract

0921-8009 * * 29943524

Publication date: July 2019

Source: Ecological Economics, Volume 161

Author(s): Jean-Christophe Pereau, Alexandre Pryet, Tina Rambonilaza

The protection of environmental flows is a main challenge pursued by water regulating agencies in their groundwater management policies. A stylised hydro-economic model with natural drainage is used to compare the outcome of the optimal control approach in which environmental flows are introduced as an externality with the viable approach in which environmental flows are modelled as a constraint to satisfy. The optimal and viable paths for the water table, water extraction for irrigation and environmental flows are analytically derived together with their long-term values. We show how results are sensitive to some key parameters like the discount factor and the monetary value of the externality in the optimal control approach. We show how the value of the environmental flows target in the viable approach can be derived from the optimal control approach. Numerical simulations based on the Western La Mancha aquifer illustrate the main results of the study.

34

show

abstract

0921-8009 * * 29943525

Publication date: July 2019

Source: Ecological Economics, Volume 161

Author(s): Yang Gao, Ziheng Niu, Haoran Yang, Lili Yu

Using survey data of 375 family farms in five provinces of the Huang-Huai-Hai Plain, this paper conducts a comprehensive measurement of family farms' welfare within the framework of the capability approach theory. Furthermore, using an endogenous switching regression model and a multinomial treatment effects model, this paper evaluates the impact of the adoption or non-adoption of green control techniques on family farms' welfare and estimate the welfare effects of the degree and timing of adoption. This research finds that the average treatment effect on family farm welfare with and without adopting green control techniques is significant, at 0.084 and 0.046, respectively. Therefore, green control techniques help to improve the welfare level of family farms. Compared with family farms that do not adopt green control techniques, the welfare level of family farms adopting a high or low degree of green control techniques increases by 22.63% and 16.42%, respectively, and the welfare level of family farms given the early or late adoption of green control techniques increases by 5.87% and 7.57%, respectively. Therefore, the welfare effect of a high degree of adoption on family farms is greater, and the welfare level of family farms with late adoption is higher.

35

show

abstract

0921-8009 * * 29943526

Publication date: July 2019

Source: Ecological Economics, Volume 161

Author(s): Moon Jeong Kang, Jacek P. Siry, Gregory Colson, Susana Ferreira

Previous research has found that the manner in which forests are managed reveals forest owners' goals and management preferences for their properties. In this study, we attempt to predict forest owners' participation in payments for ecosystem services (PES) programs using observable forest management in southeast Georgia, U.S. For this task, we rely on forest property characteristics identified from publicly available aerial images and databases. We examine whether and how forest property characteristics are related to family forest owners' preferences towards PES programs. The results from a random parameter logit model indicate that forest owners in southeast Georgia with planted pine forests, bottomland hardwood forests, or residential structures are more likely to participate in hypothetical PES programs. The results also indicate that forest owners' willingness to accept compensation to participate in PES programs is negatively related to the proportion of planted pine and bottomland hardwood forest areas, and to the existence of a residential structure on one's property. Findings of our study indicate the potential of revealed forest property characteristics in identifying and targeting PES programs.

36

show

abstract

0921-8009 * * 29943527

Publication date: July 2019

Source: Ecological Economics, Volume 161

Author(s): Lingyun Mi, Hanlin Zhu, Jie Yang, Xiaoli Gan, Ting Xu, Lijie Qiao, Qingyan Liu

Reference groups are crucial factor in consumer purchasing decisions. However, we know little about how such groups affect low-carbon consumption behavior (LCB), especially the impact of habitual low-carbon consumption behavior (HLCB). To expand on the previous research and encourage LCB from the perspective of reference groups, we conducted a social study of Xuzhou, Jiangsu Province, China (N = 351). We aim to test how the influences of reference groups act on the purchasing low-carbon consumption behavior (PLCB) and HLCB of residents. The results indicate that all of the influences work indirectly through low-carbon consumption intention (LCI). Among these influences, the informational influence and utilitarian influence positively promote LCI, while the value-expressive influence inhibits it. The intention engendered by reference groups has a significantly greater impact on residents' HLCB than on their PLCB, and it is more conducive to promoting a low-carbon lifestyle.

37

show

abstract

0921-8009 * * 29976980

Publication date: July 2019

Source: Ecological Economics, Volume 161

Author(s): Belinda Barnes, Fiona Giannini, Anthony Arthur, James Walker

Newly arrived pests and diseases pose a continuous threat to agriculture and the environment, and there are limited resources available for early detection programs. We formulate an optimal resource-allocation framework for early detection. The approach is based on the principles of portfolio theory although, unlike standard portfolio theory and its previous applications to biosecurity problems, return is modelled using a flexible mixed-distribution and an uncertainty measure is defined using the Chernoff bound. The Chernoff bound does not assume underlying symmetry and allows sensitivity to both stochasticity and parameter uncertainty to be incorporated systematically into the optimisation process. Optimisation is a trade-off between expected return values and uncertainty while, at the same time, hedging against low-probability high-impact events. In an application to the islands of Torres Strait (Australia), we demonstrate how uncertainty, stochasticity and linkages between surveillance locations interact to significantly alter relative allocation, when compared with allocation based on expected values alone. Locations of particular interest for biosecurity are identified and results lead to a more even spread of resources, or greater surveillance 'diversification'.

38

show

abstract

0921-8009 * * 30014131

Publication date: July 2019

Source: Ecological Economics, Volume 161

Author(s): Ignacio C. Fernández

Mapping ecosystem services is a challenging task, particularly for regulating services presenting spatial mismatches between the areas providing the services and those benefiting from them, such as the temperature reduction ecosystem service (TRES) provided by urban vegetation. The challenge for mapping TRES arises because vegetation not only reduces temperatures at the immediate location, but also in distance-decaying rates in surrounding areas. Furthermore, different functional types of vegetation have differential cooling capabilities, making difficult to assess the accumulated level of TRES provided by vegetated areas if these are heterogeneous in terms of vegetation cover and functional types. To help overcoming these challenges, this work presents a GIS-based methodological approach for mapping TRES that takes explicit consideration of the differential cooling capabilities of vegetation functional types and the distance-decaying spatial transference of services from vegetated to surrounding areas. This approach is applied to the city of Santiago, comparing the mapping results with two other potential alternative mapping methods. The mapping approach presented in this work consistently outperformed the alternative methods. This approach could be easily applied to other urban areas and adapted to be used for mapping other regulating services, such as air and noise pollution mitigation provided by urban vegetation.

39

show

abstract

0921-8009 * * 30014132

Publication date: July 2019

Source: Ecological Economics, Volume 161

Author(s): Ivan Solomon Adolwa, Stefan Schwarze, Andreas Buerkert

Integrated soil fertility management (ISFM) has been widely promoted by research and philanthropic organizations as well as governments to increase crop yields and improve livelihoods of smallholder farmers in Africa. Therefore, it is surprising that there is still scant information on its impact on crop yields and household income. This paper uses a counterfactual model to assess ISFM impact on yields and total household incomes using farm household data from Tamale (Northern Ghana) and Kakamega (Western Kenya). The analyses reveal that ISFM adoption leads to an increase in maize yields by up to 27% in Tamale and 16% in Kakamega. Increasing the number of ISFM components, however, does not improve yields. Despite the effect on yields, adoption of ISFM does not increase total household incomes at both locations. Some implications for future research are discussed.

40

show

abstract

0921-8009 * * 30014133

Publication date: July 2019

Source: Ecological Economics, Volume 161

Author(s): Marie Schill, Delphine Godefroit-Winkel, Mbaye Fall Diallo, Camilla Barbarossa

The literature that investigates consumers' motivations to adopt smart home objects has focused on the ego-centric, utilitarian, and functional benefits that smart home objects may provide to consumers. Although smart home objects have also been acknowledged to promote environmental sustainability, investigation of the influence of altruistic and ecological motivational variables on consumers' willingness to purchase these products has been limited. This study presents a conceptual model that considers three relevant altruistic, ecological antecedents of eco-friendly product adoption (environmental beliefs, environmental concern, and smart home objects' perceived usefulness for the environment) and assesses their influence on the intention to purchase smart home objects. Furthermore, it uncovers the moderating role of the two dimensions of materialism (success and happiness) and hypothesizes that they moderate the relationship between environmental concern and intentions to purchase smart home objects. Structural equation modeling is applied to data from a sample of 641 French respondents. The results confirm that altruistic, ecological variables do matter in developing intentions to purchase smart home objects. Environmental concern and perceived usefulness positively affect consumers' intentions to purchase smart home objects. Furthermore, both happiness and success negatively moderate the effect of environmental concern on consumers' intentions to purchase smart home objects.

41

show

abstract

0921-8009 * * 30014134

Publication date: July 2019

Source: Ecological Economics, Volume 161

Author(s): Léa Tardieu, Laëtitia Tuffery

The concept of ecosystem services (ES) remains underused in supporting practical decisions in conservation/development plans and programs. One of the most important factors explaining this non-consideration is the lack of spatial information describing the nature-society relationship in environmental and economic analyses. In this paper, we developed a novel method to predict, in spatially explicit terms, the recreation attractiveness potential combining supply and demand factors. Our method is based on the combination and transfer of a Lancasterian function of biophysical aspects and a travel cost model based on agents' sociodemographic characteristics. We further validate the usefulness of the proposed recreation model by using it in the evaluation of a regional park charter pursuing two main objectives: recreational attractiveness and habitat quality (modeled with InVEST). The results demonstrate first that the biophysical context plays a large role in the recreational trip choice and thus should not be ignored in travel cost studies. Second, from a policy guidance perspective, we show that providing spatial information appears particularly critical for ES to be a useful lever for action in day-to-day decision-making.

42

show

abstract

0921-8009 * * 30040811

Publication date: July 2019

Source: Ecological Economics, Volume 161

Author(s): Eva C. Alfredsson, J. Mikael Malmaeus

Real capital investments are important for a transition to a more sustainable economy and for the continuous process of creative destruction and economic development. At the same time investments have negative environmental effects. In this paper we analyze to what extent the current investments in real capital (i.e., buildings, machinery and infrastructures) in Sweden are sustainable in regard of the most important resources used in investments and in terms of CO2 emissions. This is evaluated based on Sweden's share of a sustainable use of these resources and our share of the remaining carbon budget for achieving the Paris agreement. In the analysis we have used best publicly available data and methods to indicatively establish sustainable levels of resource use and emissions. We find that 1 million invested SEK (US$ 110,000) generate 15–75 tonnes of CO2 emissions and use 80–260 MWh of energy, and on average 4.8 tonnes of iron, 0.2 tonnes of aluminum, 260 tonnes of gravel and sand and 6 tonnes of timber. Our analysis shows that within 50 years current investment would use up Sweden's CO2 budget available for achieving the Paris agreement, leaving no room for emissions from consumption. The use of timber, gravel and sand is above Sweden's share of a global yearly sustainable production. The current use of iron and aluminum can be maintained for 20–50 years, but approaches the sustainability criteria with a 200 year perspective.

43

show

abstract

0921-8009 * * 30040812

Publication date: July 2019

Source: Ecological Economics, Volume 161

Author(s): Klara Zwickl

Using data on the geographic location of fracking wells in four U.S. states with mandatory disclosure between 2011 and 2013 — Colorado, Oklahoma, Pennsylvania, and Texas — this paper analyzes the socio-demographic characteristics of people living close to fracking activity. Geo-coded well data from the FracFocus registry are merged to blockgroup-level socio-demographic data from the 2006–2010 American Community Survey and population density and land use data from EPA's Smart Location Database 2010. Different buffer zones around fracking wells are applied to capture effects at different spatial scales and to compare only areas with similar geological properties. We explain the distance to the nearest well within a county with fracking activity or within a buffer zone by race/ethnicity, income, educational attainment, various land-use control variables, and county fixed-effects. We find robust evidence that minorities, especially African Americans, disproportionately live near fracking wells, but less consistent evidence for environmental injustice by income or educational attainment. Strong heterogeneity across states can be observed, suggesting that an improvement in disclosure laws in other states, that would make similar analyses possible, is of great importance.

44

show

abstract

0921-8009 * * 30070070

Publication date: July 2019

Source: Ecological Economics, Volume 161

Author(s): Onil Banerjee, Martin Cicowiez, Mark Horridge, Renato Vargas

The Sustainable Development Goals (SDGs) are a universal call to action to end poverty and protect the environment. The Government of Guatemala is prioritizing the SDGs it will focus on and defining lines of action to achieve them. In this paper, we apply the Integrated Economic-Environmental Modelling (IEEM) Platform for Guatemala to evaluate the economic, wealth and environmental impacts of strategies to achieve the second SDG of zero hunger and the sixth SDG of clean water and sanitation. The analytical power of the IEEM approach is driven by its integration of the first international standard for environmental statistics, the System of Environmental-Economic Accounting introduced in an earlier edition of this journal. This integration enables the evaluation of policy alternatives from economic, wealth and environmental perspectives which is essential given the integrated nature of the SDGs. We find that significant additional investment in agricultural productivity and water and sanitation would be required to meet these SDG targets and that the overall pace of economic growth is critical. IEEM applied to the SDGs lends transparency and structure to the prioritization and agenda setting process of the policy cycle and highlights the importance of allocating adequate resources in multi-year budgets if targets are to be met. IEEM can shed light on the need for complementary policies to reconcile lines of action that can make progress toward one SDG while inadvertently moving away from another SDG, as well as identify potential win-wins, where one line of action can make progress toward multiple SDGs simultaneously.

45

show

abstract

0921-8009 * * 30070071

Publication date: July 2019

Source: Ecological Economics, Volume 161

Author(s): Stephan Bosch, Matthias Schmidt

Our central target is to show that capitalism is not only much more robust to crises than presumed by its critics, but also features promising capabilities with regard to solving the environmental crisis. To elaborate this thesis, we analyse how far capitalism can survive given the end of fossil energy carriers and may maintain its productivity under the preconditions of a regenerative energy system. In a further step, we demonstrate that crises may actually provide the prerequisites of the economy's transformation towards sustainability. We argue that especially competitive capitalism as analysed by Schumpeter offers excellent preconditions for generating environmental innovations. However, we will also point out the numerous social problems of green infrastructure projects. In the last section, we assume that markets alone will not suffice to concertedly solve the global environmental crisis. Here, political action is needed that pools societal forces with regard to the ecological challenges, hence specifically promoting desirable innovations. The usefulness of state measures is to be judged in correlation to the respective specific national political and economic contexts. A generalised opposition to capitalistic social orders disregards the complexity of these contexts and is at danger of omitting decisive determinants of crisis management.

46

show

abstract

0921-8009 * * 30070072

Publication date: July 2019

Source: Ecological Economics, Volume 161

Author(s): Rowan Alcock

This paper investigates a grassroots Chinese movement called the New Rural Reconstruction Movement (NRRM). Drawing on field visits, surveys, interviews and social media posts regarding a NRRM project and relevant literature I link the NRRM to the degrowth movement. This is likely the first research analysing a Chinese grass-roots movement from a degrowth theoretical perspective. This link is designed to bring greater awareness of the NRRM to western environmentalists and greater awareness of degrowth to Chinese scholars, in the expectation that the two movements will find it beneficial to engage in collaborative research. This paper demonstrates similar progressive environmental based arguments are being debated in places with different geographical and socio-political contexts. It suggests there is the possibility that the NRRM and degrowth could work together to help achieve shared goals.

47

show

abstract

0921-8009 * * 30070073

Publication date: July 2019

Source: Ecological Economics, Volume 161

Author(s): Edyta Łaszkiewicz, Piotr Czembrowski, Jakub Kronenberg

Environmental goods are sometimes considered a luxury that only the rich can afford. This is no less true in the case of green spaces. However, a typical microeconomic lens is not relevant to study the potential luxury of non-tradable goods. Typically, the distributional interpretation of the income elasticity of the willingness to pay (WTP) for such goods would involve stated preferences valuation methods. The possibility to describe the luxury of green space proximity based on revealed preferences methods has not been evaluated yet. Through this study, we would like to fill this gap. We proposed a three-step analysis of the apartment market in Lodz (Poland), based on the hedonic pricing method, to check how the marginal WTP (MWTP) for proximity to parks/forests differs among apartment price sub-segments. We discuss whether and to what extent the variability of the MWTP could be linked with the presumed luxury of green space proximity. We found that proximity does not result in increased apartment prices for all parks and forests. The estimated MWTP for the proximity to selected parks rises in consecutive apartment price sub-segments. This could be interpreted as a sign of the luxury of living close to these parks by apartment buyers.

48

show

abstract

0921-8009 * * 30070074

Publication date: July 2019

Source: Ecological Economics, Volume 161

Author(s): Lunyu Xie, Sarah L. MacDonald, Maximilian Auffhammer, Deepak Jaiswal, Peter Berck

Using fine-scale panel data and an econometric model, we predict land use change in the Midwestern United States if a new bioenergy crop, Miscanthus × Giganteus (miscanthus), is introduced. To explain farmers' current crop choices, we use a local, limited dependent variable regression based on soil and weather characteristics. To this model, we add miscanthus as a new crop, based on its place dependent BioCro model-predicted yield. We find that the vast majority of land used to grow miscanthus will come from land now used for non-major crops, pasture, woodland, and other uses. This implies that miscanthus can help mitigate climate change by displacing oil usage without causing food conflict.

49

show

abstract

0921-8009 * * 30070075

Publication date: July 2019

Source: Ecological Economics, Volume 161

Author(s): Roldan Muradian

I argue that the degrowth movement reflects the values of a particular social group, namely the well-educated European middle class that share progressive-green-cosmopolitan values. This feature creates significant barriers for its dissemination among lower-income social groups in other parts of the world. There is an important difference between frugality as a choice and frugality as a social condition. In order to elaborate on this, I challenge a couple of theses put forward in the degrowth literature.
Green Open Access
Sherpa/Romeo info
Author can archive pre-print (ie pre-refereeing)
Author can archive post-print (ie final draft post-refereeing)
Author cannot archive publisher's version/PDF
Authors pre-print on any website, including arXiv and RePEC
Author's post-print on author's personal website immediately
Author's post-print on open access repository after an embargo period of between 12 months and 48 months
Permitted deposit due to Funding Body, Institutional and Governmental policy or mandate, may be required to comply with embargo periods of 12 months to 48 months
Author's post-print may be used to update arXiv and RepEC
Publisher's version/PDF cannot be used
Must link to publisher version with DOI
Author's post-print must be released with a Creative Commons Attribution Non-Commercial No Derivatives License
Publisher last reviewed on 03/06/2015
More Sherpa/Romeo information
APC Discount
For this journal
no
deals have been made concerning APC discount
Impact
Journal Citation Reports (2017)
Impact factor:
3.895
Q1
(Ecology (30/158))
Q1
(Environmental Sciences (51/241))
Scopus Journal Metrics (2017)
Cited by WUR staff: 1006 times. (2014-2016)