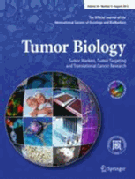 Tumor Biology
Sage
1987-
ISSN: 1010-4283 (1423-0380)
- Cancer Research - molecular biomarkers - tumour markers - tumour targetting
Recent articles
1

show

abstract

2019-01-11T02:25:11Z

Tumor Biology, Volume 41, Issue 1, January 2019.
Green Open Access
Sherpa/Romeo info
Author can archive pre-print (ie pre-refereeing)
Author can archive post-print (ie final draft post-refereeing)
Author cannot archive publisher's version/PDF
Authors retain copyright
Pre-print on any website
Author's post-print on author's personal website, departmental website, institutional website or institutional repository
On other repositories including PubMed Central after 12 months embargo
Publisher copyright and source must be acknowledged
Publisher's version/PDF cannot be used
Post-print version with changes from referees comments can be used
"as published" final version with layout and copy-editing changes cannot be archived but can be used on secure institutional intranet
Must link to publisher version with DOI
Publisher last reviewed on 29/07/2015
More Sherpa/Romeo information
Open Access
Author does not hold copyright without restrictions
Author does not hold publishing right without restrictions
APC Discount
Researchers from
RUG
,
UU
,
VU
,
UM
,
UL
,
WUR
,
EUR
,
RU
,
TU/e
,
TUD
,
UT
,
OU
,
TiU
and
UvA
will receive a 20% discount on the Article Processing Charges that need to be paid by a first or corresponding author to publish open access in this journal. When you submit your article you must use your wur-email-address.
More information on this Sage Choice deal.
This deal is valid until 2019-12-31.
Last updated: 2019-01-14
Impact
Scopus Journal Metrics (2017)
Cited by WUR staff: 7 times. (2014-2016)
Publishing
There is an average period of 15 weeks between submission and publication of an article