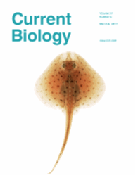 Current Biology
Elsevier
1991-
ISSN: 0960-9822 (1879-0445)
Cell Biology - Biochemistry & Molecular Biology - General Agricultural and Biological Sciences - General Biochemistry, Genetics and Molecular Biology
Recent articles
1

show

abstract

0960-9822 * * 30012630

Publication date: Available online 4 April 2019

Source: Current Biology

Author(s): Stephanie Badde, Brigitte Röder, Tobias Heed

Summary

Where we perceive a touch putatively depends on topographic maps that code the touch's location on the skin [1] as well as its position in external space [2, 3, 4, 5]. However, neither somatotopic nor external-spatial representations can account for atypical tactile percepts in some neurological patients and amputees; referral of touch to an absent or anaesthetized hand after stimulation of a foot [6, 7] or the contralateral hand [8, 9, 10] challenges the role of topographic representations when attributing touch to the limbs. Here, we show that even healthy adults systematically misattribute touch to other limbs. Participants received two tactile stimuli, each to a different limb—hand or foot—and reported which of all four limbs had been stimulated first. Hands and feet were either uncrossed or crossed to dissociate body-based and external-spatial representations [11, 12, 13, 14]. Remarkably, participants regularly attributed the first touch to a limb that had received neither of the two stimuli. The erroneously reported, non-stimulated limb typically matched the correct limb with respect to limb type or body side. Touch was misattributed to non-stimulated limbs of the other limb type and body side only if they were placed at the correct limb's canonical (default) side of space. The touch's actual location in external space was irrelevant. These errors replicated across several contexts, and modeling linked them to incoming sensory evidence rather than to decision strategies. The results highlight the importance of the touched body part's identity and canonical location but challenge the role of external-spatial tactile representations when attributing touch to a limb.

2

show

abstract

0960-9822 * * 30146362

Publication date: Available online 18 April 2019

Source: Current Biology

Author(s): Katherine E. Helliwell, Abdul Chrachri, Julie A. Koester, Susan Wharam, Frédéric Verret, Alison R. Taylor, Glen L. Wheeler, Colin Brownlee

Summary

Rapid Na+/Ca2+-based action potentials govern essential cellular functions in eukaryotes, from the motile responses of unicellular protists, such as Paramecium [1, 2], to complex animal neuromuscular activity [3]. A key innovation underpinning this fundamental signaling process has been the evolution of four-domain voltage-gated Na+/Ca2+ channels (4D-Cavs/Navs). These channels are widely distributed across eukaryote diversity [4], albeit several eukaryotes, including land plants and fungi, have lost voltage-sensitive 4D-Cav/Navs [5, 6, 7]. Because these lineages appear to lack rapid Na+/Ca2+-based action potentials, 4D-Cav/Navs are generally considered necessary for fast Na+/Ca2+-based signaling [7]. However, the cellular mechanisms underpinning the membrane physiology of many eukaryotes remain unexamined. Eukaryotic phytoplankton critically influence our climate as major primary producers. Several taxa, including the globally abundant diatoms, exhibit membrane excitability [8, 9, 10]. We previously demonstrated that certain diatom genomes encode 4D-Cav/Navs [4] but also proteins of unknown function, resembling prokaryote single-domain, voltage-gated Na+ channels (BacNavs) [4]. Here, we show that single-domain channels are actually broadly distributed across major eukaryote phytoplankton lineages and represent three novel classes of single-domain channels, which we refer collectively to as EukCats. Functional characterization of diatom EukCatAs indicates that they are voltage-gated Na+- and Ca2+-permeable channels, with rapid kinetics resembling metazoan 4D-Cavs/Navs. In Phaeodactylum tricornutum, which lacks 4D-Cav/Navs, EukCatAs underpin voltage-activated Ca2+ signaling important for membrane excitability, and mutants exhibit impaired motility. EukCatAs therefore provide alternative mechanisms for rapid Na+/Ca2+ signaling in eukaryotes and may functionally replace 4D-Cavs/Navs in pennate diatoms. Marine phytoplankton thus possess unique signaling mechanisms that may be key to environmental sensing in the oceans.

Graphical

3

show

abstract

0960-9822 * * 30146363

Publication date: Available online 18 April 2019

Source: Current Biology

Author(s): Toshiya Ando, Sayaka Sekine, Sachi Inagaki, Kazuyo Misaki, Laurent Badel, Hiroyuki Moriya, Mustafa M. Sami, Yuki Itakura, Takahiro Chihara, Hokto Kazama, Shigenobu Yonemura, Shigeo Hayashi

Summary

Nanometer-level patterned surface structures form the basis of biological functions, including superhydrophobicity, structural coloration, and light absorption [1, 2, 3]. In insects, the cuticle overlying the olfactory sensilla has multiple small (50- to 200-nm diameter) pores [4, 5, 6, 7, 8], which are supposed to function as a filter that admits odorant molecules, while preventing the entry of larger airborne particles and limiting water loss. However, the cellular processes underlying the patterning of extracellular matrices into functional nano-structures remain unknown. Here, we show that cuticular nanopores in Drosophila olfactory sensilla originate from a curved ultrathin film that is formed in the outermost envelope layer of the cuticle and secreted from specialized protrusions in the plasma membrane of the hair forming (trichogen) cell. The envelope curvature coincides with plasma membrane undulations associated with endocytic structures. The gore-tex/Osiris23 gene encodes an endosomal protein that is essential for envelope curvature, nanopore formation, and odor receptivity and is expressed specifically in developing olfactory trichogen cells. The 24-member Osiris gene family is expressed in cuticle-secreting cells and is found only in insect genomes. These results reveal an essential requirement for nanopores for odor reception and identify Osiris genes as a platform for investigating the evolution of surface nano-fabrication in insects.

4

show

abstract

0960-9822 * * 30146364

Publication date: Available online 18 April 2019

Source: Current Biology

Author(s): Renato A. Morais, David R. Bellwood

Summary

Coral reefs harbor high productivity in nutrient-poor tropical oceans. This exceptional productivity can be explained by high recycling rates [1, 2], deep-water nutrient enrichment [3], and assimilation of external production [4]. Fishes consume this productivity through multiple trophic pathways and, as a result, dominate consumer biomass. Their reliance on pelagic versus benthic productivity pathways has been quantified from the tissues of individual fish [5, 6], but the contribution of different energetic pathways to the total productivity of coral reef fish assemblages remains unquantified. Here, we combined high-resolution surveys and individual biomass production estimates to generate the first energetic map of a full coral reef fish assemblage, from the smallest to the largest fishes [7, 8]. We found that the windward section of a coral reef on the Great Barrier Reef delivered an average fish productivity of 4.7 kg ha−1 day−1, of which 41% was derived from water column photosynthesis, 29% by the epibenthic reef surface, 14% from cryptobenthic microhabitats, and 11% from adjacent sandy areas. The critical energetic contribution of pelagic subsidies would remain undetected if considering fish standing biomass alone, because the high productivity of reef planktivores originated from a relatively small biomass. Importantly, this study took place on a reef with only ∼6% of coral cover following multiple coral mortality events. Thus, our study offers hope that reefs subject to coral loss can still maintain considerable fish productivity, with planktivorous fishes providing major pelagic subsidies.

Graphical

5

show

abstract

0960-9822 * * 30146365

Publication date: Available online 18 April 2019

Source: Current Biology

Author(s): Rachael C. Shaw, Regan D. MacKinlay, Nicola S. Clayton, Kevin C. Burns

Summary

Despite decades of comparative research, how selection shapes the evolution of cognitive traits remains poorly understood [1, 2, 3]. Several lines of evidence suggest that natural selection acts on spatial memory in food-caching species [3, 4, 5, 6]. However, a link between reproductive fitness and spatial memory ability has yet to be demonstrated in any caching species [1, 3, 6]. Here, we show that memory performance influences reproductive success differentially for males and females in a caching songbird, the New Zealand robin (Petroica longipes). Males' memory performance in a spatial task during winter influenced their subsequent breeding success; individuals with more accurate performance produced more fledglings and independent offspring per nesting attempt. Males with superior memory performance also provided an increased proportion of large prey items to chicks in the nest and spent less time flying while foraging and provisioning. No such effects were found for females. Previous research reveals that trade-offs may constrain selection and act to maintain variation in cognitive traits [7]. The gender dimorphism in the reproductive benefits of robin memory performance suggests an additional role for divergent selection between the sexes in constraining runaway selection on male memory ability [8], ultimately maintaining variation in this cognitive trait.

6

show

abstract

0960-9822 * * 30146366

Publication date: Available online 18 April 2019

Source: Current Biology

Author(s): Yanfang Zuo, Mathew E. Diamond

Summary

Recent work demonstrated that when a rat palpates a surface to identify its texture, signals generated by whisker kinematics are integrated by the brain, one touch at a time, until the accumulated evidence supports a well-grounded choice. The framework of decision making through bounded integration, previously attributed to primates, thus extends to rodents. In the present study, we ask whether vibrissal somatosensory cortex (vS1 and vS2) functions as the integrator of incoming evidence or, alternatively, as a relay of evidence to a downstream integrator. Rats carried out 1–6 touches per trial to discriminate among candidate textures. We calculated the evidence for each texture, per touch, carried by the firing rates of sets of neurons in vS1 and vS2. The quantity of information within vS1 and vS2 did not grow progressively; instead, the decision was accounted for by modeling a downstream integrator that accumulated packets of vS1 and vS2 texture information until the total quantity of evidence for one texture reached a boundary. In this behavioral task, vibrissal somatosensory cortex appears to act as a sensory relay. Bounded integration is likely to take place in regions targeted by somatosensory cortex.

Graphical

7

show

abstract

0960-9822 * * 30146367

Publication date: Available online 18 April 2019

Source: Current Biology

Author(s): Wei-Kang Yang, Yi-Ru Chueh, Ying-Ju Cheng, Dominique Siegenthaler, Jan Pielage, Cheng-Ting Chien

Summary

Building sensory dendritic arbors requires branching, growth, spacing, and substrate support. The conserved L1CAM family of cell-adhesion molecules generates neuronal isoforms to regulate neurite development in various aspects. However, whether non-neuronal isoforms participate in any of these aspects is unclear. In Drosophila, the L1CAM homolog Neuroglian (Nrg) is expressed as two isoforms: the neuronal isoform Nrg180 on dendritic surfaces of dendritic arborization (da) neurons and the non-neuronal isoform Nrg167 in epidermis innervated by dendrites. We found that epidermal Nrg167 encircles dendrites by interactions with dendritic Nrg180 to support dendrite growth, stabilization, and enclosure inside epidermis. Interestingly, whereas Nrg180 forms homophilic interactions to facilitate axonal bundling, heteroneuronal dendrites in the same innervating field avoid bundling through unknown mechanisms to maintain individual dendritic patterns. Here, we show that both epidermal Nrg167 depletion and neuronal Nrg180 overexpression can cause dendrite bundling, with genetic analyses suggesting that Nrg167-Nrg180 interactions antagonize Nrg180-Nrg180 homophilic interaction to prevent dendrite bundling. Furthermore, internalization of Nrg180 also participates in resolving dendrite bundling, as overexpression of endocytosis-defective Nrg180 and compromising endocytosis in neurons both exacerbated dendrite-bundling defects. Together, our study highlights the functional significance of substrate-derived Nrg167 in conferring dendrite stability, positioning, and avoidance.

Graphical

8

show

abstract

0960-9822 * * 30146368

Publication date: Available online 18 April 2019

Source: Current Biology

Author(s): Yanfang Zuo, Mathew E. Diamond

Summary

Behaviors in which primates collect externally generated streams of sensory evidence, such as judgment of random dot motion direction, are explained by a bounded integration decision model. Does this model extend to rodents, and does it account for behavior in which the motor system generates evidence through interactions with the environment' In this study, rats palpated surfaces to identify the texture before them, showing marked trial-to-trial variability in the number of touches prior to expressing their choice. By high-speed video, we tracked whisker kinematic features and characterized how they encoded the contacted texture. Next, we quantified the evidence for each candidate texture transmitted on each touch by the specified whisker kinematic features. The instant of choice was well fit by modeling the brain as an integrator that gives the greatest weight to vibrissal evidence on first touch and exponentially less weight to evidence on successive touches; according to this model, the rat makes a decision when the accumulated quantity of evidence for one texture reaches a boundary. In summary, evidence appears to be accumulated within the brain until sufficient to support a well-grounded choice. These findings extend the framework of bounded sensory integration from primates to rodents and from passively received evidence to evidence that is actively generated by the sensorimotor system.

Graphical

9

show

abstract

0960-9822 * * 30146369

Publication date: Available online 18 April 2019

Source: Current Biology

Author(s): Luis J. García-Rodríguez, Taciana Kasciukovic, Viola Denninger, Tomoyuki U. Tanaka

Summary

For proper chromosome segregation in mitosis, sister kinetochores must interact with microtubules from opposite spindle poles (chromosome bi-orientation) [1, 2]. To promote bi-orientation, Aurora B kinase disrupts aberrant kinetochore-microtubule interactions [3, 4, 5, 6]. It has long been debated how Aurora B halts this action when bi-orientation is established and tension is applied across sister kinetochores. A popular explanation for it is that, upon bi-orientation, sister kinetochores are pulled in opposite directions, stretching the outer kinetochores [7, 8] and moving Aurora B substrates away from Aurora-B-localizing sites at centromeres (spatial separation model) [3, 5, 9]. This model predicts that Aurora B localization at centromeres is required for bi-orientation. However, this notion was challenged by the observation that Bir1 (yeast survivin), which recruits Ipl1-Sli15 (yeast Aurora B-INCENP) to centromeres, can become dispensable for bi-orientation [10]. This raised the possibility that Aurora B localization at centromeres is dispensable for bi-orientation. Alternatively, there might be a Bir1-independent mechanism for recruiting Ipl1-Sli15 to centromeres or inner kinetochores [5, 9]. Here, we show that the COMA inner kinetochore sub-complex physically interacts with Sli15, recruits Ipl1-Sli15 to the inner kinetochore, and promotes chromosome bi-orientation, independently of Bir1, in budding yeast. Moreover, using an engineered recruitment of Ipl1-Sli15 to the inner kinetochore when both Bir1 and COMA are defective, we show that localization of Ipl1-Sli15 at centromeres or inner kinetochores is required for bi-orientation. Our results give important insight into how Aurora B disrupts kinetochore-microtubule interaction in a tension-dependent manner to promote chromosome bi-orientation.

10

show

abstract

0960-9822 * * 30198403

Publication date: Available online 25 April 2019

Source: Current Biology

Author(s): Adam P. Morris, Bart Krekelberg

Summary

Humans and other primates rely on eye movements to explore visual scenes and to track moving objects. As a result, the image that is projected onto the retina—and propagated throughout the visual cortical hierarchy—is almost constantly changing and makes little sense without taking into account the momentary direction of gaze. How is this achieved in the visual system' Here, we show that in primary visual cortex (V1), the earliest stage of cortical vision, neural representations carry an embedded "eye tracker" that signals the direction of gaze associated with each image. Using chronically implanted multi-electrode arrays, we recorded the activity of neurons in area V1 of macaque monkeys during tasks requiring fast (exploratory) and slow (pursuit) eye movements. Neurons were stimulated with flickering, full-field luminance noise at all times. As in previous studies, we observed neurons that were sensitive to gaze direction during fixation, despite comparable stimulation of their receptive fields. We trained a decoder to translate neural activity into metric estimates of gaze direction. This decoded signal tracked the eye accurately not only during fixation but also during fast and slow eye movements. After a fast eye movement, the eye-position signal arrived in V1 at approximately the same time at which the new visual information arrived from the retina. Using simulations, we show that this V1 eye-position signal could be used to take into account the sensory consequences of eye movements and map the fleeting positions of objects on the retina onto their stable position in the world.

11

show

abstract

0960-9822 * * 30198404

Publication date: Available online 25 April 2019

Source: Current Biology

Author(s): Matthias Meier, Alexander Borst

Summary

A neuron is conventionally regarded as a single processing unit. It receives input from one or several presynaptic cells, transforms these signals, and transmits one output signal to its postsynaptic partners. Exceptions exist: amacrine cells in the mammalian retina [1, 2, 3] or interneurons in the locust mesothoracic ganglion [4] are thought to represent many electrically isolated microcircuits within one neuron. An extreme case of such an amacrine cell has recently been described in the Drosophila visual system. This cell, called CT1, reaches into two neuropils of the optic lobe, where it visits each of 700 repetitive columns, thereby covering the whole visual field [5, 6]. Due to its unusual morphology, CT1 has been suspected to perform local computations [6, 7], but this has never been proven. Using 2-photon calcium imaging and visual stimulation, we find highly compartmentalized retinotopic response properties in neighboring terminals of CT1, with each terminal acting as an independent functional unit. Model simulations demonstrate that this extreme case of compartmentalization is at the biophysical limit of neural computation.

12

show

abstract

0960-9822 * * 30198405

Publication date: Available online 25 April 2019

Source: Current Biology

Author(s): Arturo D'Angelo, Kai Dierkes, Carlo Carolis, Guillaume Salbreux, Jérôme Solon

Summary

During development, cell-generated forces induce tissue-scale deformations to shape the organism [1, 2]. The pattern and extent of these deformations depend not solely on the temporal and spatial profile of the generated force fields but also on the mechanical properties of the tissues that the forces act on. It is thus conceivable that, much like the cell-generated forces, the mechanical properties of tissues are modulated during development in order to drive morphogenesis toward specific developmental endpoints. Although many approaches have recently emerged to assess effective mechanical parameters of tissues [3, 4, 5, 6, 7, 8], they could not quantitatively relate spatially localized force induction to tissue-scale deformations in vivo. Here, we present a method that overcomes this limitation. Our approach is based on the application of controlled forces on a single microparticle embedded in an individual cell of an embryo. Combining measurements of bead displacement with the analysis of induced deformation fields in a continuum mechanics framework, we quantify material properties of the tissue and follow their changes over time. In particular, we uncover a rapid change in tissue response occurring during Drosophila cellularization, resulting from a softening of the blastoderm and an increase of external friction. We find that the microtubule cytoskeleton is a major contributor to epithelial mechanics at this stage. We identify developmentally controlled modulations in perivitelline spacing that can account for the changes in friction. Overall, our method allows for the measurement of key mechanical parameters governing tissue-scale deformations and flows occurring during morphogenesis.

13

show

abstract

0960-9822 * * 30198406

Publication date: Available online 25 April 2019

Source: Current Biology

Author(s): Frédéric Michon, Jyh-Jang Sun, Chae Young Kim, Davide Ciliberti, Fabian Kloosterman

Summary

Offline replay of hippocampal neural patterns supports the acquisition of new tasks in novel contexts, but its contribution to consolidation of salient experiences in a familiar context is unknown. Here, we show that in a highly familiar spatial memory task, large rewards selectively enhanced performance for demanding task configurations. The reward-related enhancement was sensitive to ripple-specific disruption, and the proportion of replay events positively correlated with reward size and task demands. Hippocampal replay thus selectively enhances memory of highly rewarded locations in a familiar context.

14

show

abstract

0960-9822 * * 30198407

Publication date: Available online 25 April 2019

Source: Current Biology

Author(s): Stefano Zucca, Valentina Pasquale, Pedro Lagomarsino de Leon Roig, Stefano Panzeri, Tommaso Fellin

Summary

Up and down states are among the most prominent features of the thalamo-cortical system during non-rapid eye movement (NREM) sleep and many forms of anesthesia. Cortical interneurons, including parvalbumin (PV) cells, display firing activity during cortical down states, and this GABAergic signaling is associated with prolonged down-state durations. However, what drives PV interneurons to fire during down states remains unclear. We here tested the hypothesis that background thalamic activity may lead to suprathreshold activation of PV cells during down states. To this aim, we performed two-photon guided juxtasomal recordings from PV interneurons in the barrel field of the somatosensory cortex (S1bf) of anesthetized mice, while simultaneously collecting the local field potential (LFP) in S1bf and the multi-unit activity (MUA) in the ventral posteromedial (VPM) thalamic nucleus. We found that activity in the VPM was associated with longer down-state duration in S1bf and that down states displaying PV cell firing were associated with increased VPM activity. Moreover, thalamic inhibition through application of muscimol reduced the fraction of spikes discharged by PV cells during cortical down states. Finally, we inhibited PV interneurons using optogenetics during down states while monitoring cortical LFP under control conditions and after thalamic muscimol injection. We found increased latency of the optogenetically triggered down-to-up transitions upon thalamic pharmacological blockade compared to controls. These findings demonstrate that spontaneous thalamic activity inhibits cortex during down states through the activation of PV interneurons.

Graphical

15

show

abstract

0960-9822 * * 30198408

Publication date: Available online 25 April 2019

Source: Current Biology

Author(s): Patrick J. Lariviere, Christopher R. Mahone, Gustavo Santiago-Collazo, Matthew Howell, Allison K. Daitch, Rilee Zeinert, Peter Chien, Pamela J.B. Brown, Erin D. Goley

Summary

Bacterial growth and division require insertion of new peptidoglycan (PG) into the existing cell wall by PG synthase enzymes. Emerging evidence suggests that many PG synthases require activation to function; however, it is unclear how activation of division-specific PG synthases occurs. The FtsZ cytoskeleton has been implicated as a regulator of PG synthesis during division, but the mechanisms through which it acts are unknown. Here, we show that FzlA, an FtsZ-binding protein and essential regulator of constriction in Caulobacter crescentus, helps link FtsZ to PG synthesis to promote division. We find that hyperactive mutants of the PG synthases FtsW and FtsI specifically render fzlA, but not other division genes, non-essential. However, FzlA is still required to maintain proper constriction rate and efficiency in a hyperactive PG synthase background. Intriguingly, loss of fzlA in the presence of hyperactivated FtsWI causes cells to rotate about the division plane during constriction and sensitizes cells to cell-wall-specific antibiotics. We demonstrate that FzlA-dependent signaling to division-specific PG synthesis is conserved in another α-proteobacterium, Agrobacterium tumefaciens. These data establish that FzlA helps link FtsZ to cell wall remodeling and is required for signaling to both activate and spatially orient PG synthesis during division. Overall, our findings support the paradigm that activation of SEDS-PBP PG synthases is a broadly conserved requirement for bacterial morphogenesis.

16

show

abstract

0960-9822 * * 30198409

Publication date: Available online 25 April 2019

Source: Current Biology

Author(s): Emily J. Dennis, Olivia V. Goldman, Leslie B. Vosshall

Summary

DEET (N, N-diethyl-meta-toluamide) is the most effective and widely used insect repellent, but its mechanism of action is both complex and controversial [1]. DEET acts on insect smell [2, 3, 4, 5, 6] and taste [7, 8, 9, 10, 11], and its olfactory mode of action requires the odorant co-receptor orco [2, 3, 6]. We previously observed that orco mutant female Aedes aegypti mosquitoes are strongly attracted to humans even in the presence of DEET, but they are rapidly repelled after contacting DEET-treated skin [6]. DEET inhibits food ingestion by Drosophila melanogaster flies, and this repellency is mediated by bitter taste neurons in the proboscis [9]. Similar neurons were identified in the mosquito proboscis, leading to the hypothesis that DEET repels on contact by activating an aversive bitter taste pathway [10]. To understand the basis of DEET contact chemorepellency, we carried out behavioral experiments and discovered that DEET acts by three distinct mechanisms: smell, ingestion, and contact. Like bitter tastants, DEET is a feeding deterrent when ingested, but its bitterness per se does not fully explain DEET contact chemorepellency. Mosquitoes blood fed on human arms treated with high concentrations of bitters, but rapidly avoided DEET-treated skin and did not blood feed. Insects detect tastants both through their proboscis and legs. We show that DEET contact chemorepellency is mediated exclusively by the tarsal segments of the legs and not the proboscis. This work establishes mosquito legs as the behaviorally relevant contact sensors of DEET. These results will inform the search for molecular mechanisms mediating DEET contact chemorepellency and novel contact-based insect repellents.

Graphical

17

show

abstract

0960-9822 * * 30198410

Publication date: Available online 25 April 2019

Source: Current Biology

Author(s): Tim N. Enke, Manoshi S. Datta, Julia Schwartzman, Nathan Cermak, Désirée Schmitz, Julien Barrere, Alberto Pascual-García, Otto X. Cordero

Summary

Understanding the principles that govern the assembly of microbial communities across earth's biomes is a major challenge in modern microbial ecology. This pursuit is complicated by the difficulties of mapping functional roles and interactions onto communities with immense taxonomic diversity and of identifying the scale at which microbes interact [1]. To address this challenge, here, we focused on the bacterial communities that colonize and degrade particulate organic matter in the ocean [2, 3, 4]. We show that the assembly of these communities can be simplified as a linear combination of functional modules. Using synthetic polysaccharide particles immersed in natural bacterioplankton assemblages [1, 5], we showed that successional particle colonization dynamics are driven by the interaction of two types of modules: a first type made of narrowly specialized primary degraders, whose dynamics are controlled by particle polysaccharide composition, and a second type containing substrate-independent taxa whose dynamics are controlled by interspecific interactions—in particular, cross-feeding via organic acids, amino acids, and other metabolic byproducts. We show that, as a consequence of this trophic structure, communities can assemble modularly—i.e., by a simple sum of substrate-specific primary degrader modules, one for each complex polysaccharide in the particle, connected to a single broad-niche range consumer module. Consistent with this model, a linear combination of the communities on single-polysaccharide particles accurately predicts community composition on mixed-polysaccharide particles. Our results suggest that the assembly of heterotrophic communities that degrade complex organic materials follows simple design principles that could be exploited to engineer heterotrophic microbiomes.

18

show

abstract

0960-9822 * * 30255218

Publication date: Available online 2 May 2019

Source: Current Biology

Author(s): Günter G. Lehretz, Sophia Sonnewald, Csaba Hornyik, José M. Corral, Uwe Sonnewald

Summary

Understanding tuberization in the major crop plant potato (Solanum tuberosum L.) is of importance to secure yield even under changing environmental conditions. Tuber formation is controlled by a homolog of the floral inductor FLOWERING LOCUS T, referred to as SP6A. To gain deeper insights into its function, we created transgenic potato plants overexpressing a codon-optimized version of SP6A, SP6Acop, to avoid silencing effects. These plants exhibited extremely early tuberization at the juvenile stage, hindering green biomass development and indicating a tremendous shift in the source sink balance. The meristem identity was altered in dormant buds of transgenic tubers. This strong phenotype, not being reported so far for plants overexpressing an unmodified SP6A, could be due to post-transcriptional regulation. In fact, a putative SP6A-specific small regulatory RNA was identified in potato. It was effectively repressing SP6A mRNA accumulation in transient assays as well as in leaves of young potato plants prior to tuber formation. SP6A expression is downregulated under heat, preventing tuberization. The molecular mechanism has not been elucidated yet. We showed that this small RNA is strongly upregulated under heat. The importance of the small RNA was demonstrated by overexpression of a target mimicry construct, which led to an increased SP6A expression, enabling tuberization even under continuous heat conditions, which abolished tuber formation in the wild-type. Thus, our study describes an additional regulatory mechanism for SP6A besides the well-known pathway that integrates both developmental and environmental signals to control tuberization and is therefore a promising target for breeding of heat-tolerant potato.

Graphical

19

show

abstract

0960-9822 * * 30255219

Publication date: Available online 2 May 2019

Source: Current Biology

Author(s): Román A. Corfas, Tarun Sharma, Michael H. Dickinson

Summary

Foraging animals may benefit from remembering the location of a newly discovered food patch while continuing to explore nearby [1, 2]. For example, after encountering a drop of yeast or sugar, hungry flies often perform a local search [3, 4]. That is, rather than remaining on the food or simply walking away, flies execute a series of exploratory excursions during which they repeatedly depart and return to the resource. Fruit flies, Drosophila melanogaster, can perform this food-centered search behavior in the absence of external landmarks, instead relying on internal (idiothetic) cues [5]. This path-integration behavior may represent a deeply conserved navigational capacity in insects [6, 7], but its underlying neural basis remains unknown. Here, we used optogenetic activation to screen candidate cell classes and found that local searches can be initiated by diverse sensory neurons. Optogenetically induced searches resemble those triggered by actual food, are modulated by starvation state, and exhibit key features of path integration. Flies perform tightly centered searches around the fictive food site, even within a constrained maze, and they can return to the fictive food site after long excursions. Together, these results suggest that flies enact local searches in response to a wide variety of food-associated cues and that these sensory pathways may converge upon a common neural system for navigation. Using a virtual reality system, we demonstrate that local searches can be optogenetically induced in tethered flies walking on a spherical treadmill, laying the groundwork for future studies to image the brain during path integration.

Video

20

show

abstract

0960-9822 * * 30255220

Publication date: Available online 2 May 2019

Source: Current Biology

Author(s): Yifat Eliezer, Noa Deshe, Lihi Hoch, Shachar Iwanir, Christian O. Pritz, Alon Zaslaver

Summary

Organisms' capacity to anticipate future conditions is key for survival. Associative memories are instrumental for learning from past experiences, yet little is known about the processes that follow memory retrieval and their potential advantage in preparing for impending developments. Here, using C. elegans nematodes, we demonstrate that odor-evoked retrieval of aversive memories induces rapid and protective stress responses, which increase animal survival prospects when facing imminent adversities. The underlying mechanism relies on two sensory neurons: one is necessary during the learning period, and the other is necessary and sufficient for memory retrieval. Downstream of memory reactivation, serotonin secreted from two head neurons mediates the systemic stress response. Thus, evoking stressful memories, stored within individual sensory neurons, allows animals to anticipate upcoming dire conditions and provides a head start to initiate rapid and protective responses that ultimately increase animal fitness.

21

show

abstract

0960-9822 * * 30255221

Publication date: Available online 2 May 2019

Source: Current Biology

Author(s): Samuel D. McDougle, Peter A. Butcher, Darius E. Parvin, Fasial Mushtaq, Yael Niv, Richard B. Ivry, Jordan A. Taylor

Summary

Decisions must be implemented through actions, and actions are prone to error. As such, when an expected outcome is not obtained, an individual should be sensitive to not only whether the choice itself was suboptimal but also whether the action required to indicate that choice was executed successfully. The intelligent assignment of credit to action execution versus action selection has clear ecological utility for the learner. To explore this, we used a modified version of a classic reinforcement learning task in which feedback indicated whether negative prediction errors were, or were not, associated with execution errors. Using fMRI, we asked if prediction error computations in the human striatum, a key substrate in reinforcement learning and decision making, are modulated when a failure in action execution results in the negative outcome. Participants were more tolerant of non-rewarded outcomes when these resulted from execution errors versus when execution was successful, but reward was withheld. Consistent with this behavior, a model-driven analysis of neural activity revealed an attenuation of the signal associated with negative reward prediction errors in the striatum following execution failures. These results converge with other lines of evidence suggesting that prediction errors in the mesostriatal dopamine system integrate high-level information during the evaluation of instantaneous reward outcomes.

22

show

abstract

0960-9822 * * 30255222

Publication date: Available online 2 May 2019

Source: Current Biology

Author(s): Alexander Gann

23

show

abstract

0960-9822 * * 30255223

Publication date: Available online 2 May 2019

Source: Current Biology

Author(s): Scott Hayes, Chrysoula K. Pantazopoulou, Kasper van Gelderen, Emilie Reinen, Adrian Louis Tween, Ashutosh Sharma, Michel de Vries, Salomé Prat, Robert C. Schuurink, Christa Testerink, Ronald Pierik

Summary

Global food production is set to keep increasing despite a predicted decrease in total arable land [1]. To achieve higher production, denser planting will be required on increasingly degraded soils. When grown in dense stands, crops elongate and raise their leaves in an effort to reach sunlight, a process termed shade avoidance [2]. Shade is perceived by a reduction in the ratio of red (R) to far-red (FR) light and results in the stabilization of a class of transcription factors known as PHYTOCHROME INTERACTING FACTORS (PIFs) [3, 4]. PIFs activate the expression of auxin biosynthesis genes [4, 5] and enhance auxin sensitivity [6], which promotes cell-wall loosening and drives elongation growth. Despite our molecular understanding of shade-induced growth, little is known about how this developmental program is integrated with other environmental factors. Here, we demonstrate that low levels of NaCl in soil strongly impair the ability of plants to respond to shade. This block is dependent upon abscisic acid (ABA) signaling and the canonical ABA signaling pathway. Low R:FR light enhances brassinosteroid (BR) signaling through BRASSINOSTEROID SIGNALING KINASE 5 (BSK5) and leads to the activation of BRI1 EMS SUPPRESSOR 1 (BES1). ABA inhibits BSK5 upregulation and interferes with GSK3-like kinase inactivation by the BR pathway, thus leading to a suppression of BES1:PIF function. By demonstrating a link between light, ABA-, and BR-signaling pathways, this study provides an important step forward in our understanding of how multiple environmental cues are integrated into plant development.

24

show

abstract

0960-9822 * * 30255224

Publication date: Available online 2 May 2019

Source: Current Biology

Author(s): Ethan G. McBride, Su-Yee J. Lee, Edward M. Callaway

Summary

Sensory selection and movement locally and globally modulate neural responses in seemingly similar ways. For example, locomotion enhances visual responses in mouse primary visual cortex (V1), resembling the effects of spatial attention on primate visual cortical activity. However, interactions between these local and global mechanisms and the resulting effects on perceptual behavior remain largely unknown. Here, we describe a novel mouse visual spatial selection task in which animals either monitor one of two locations for a contrast change ("selective mice") or monitor both ("non-selective mice") and can run at will. Selective mice perform well only when their selected stimulus changes, giving rise to local electrophysiological changes in the corresponding hemisphere of V1 including decreased noise correlations and increased visual information. Non-selective mice perform well when either stimulus changes, giving rise to global changes across both hemispheres of V1. During locomotion, selective mice have worse behavioral performance, increased noise correlations in V1, and decreased visual information, while non-selective mice have decreased noise correlations in V1 but no change in performance or visual information. Our findings demonstrate that mice can locally or globally enhance visual information, but the interaction of the global effect of locomotion with local selection impairs behavioral performance. Moving forward, this mouse model will facilitate future studies of local and global sensory modulatory mechanisms and their effects on behavior.

25

show

abstract

0960-9822 * * 30255225

Publication date: Available online 2 May 2019

Source: Current Biology

Author(s): Haoxuan Liu, Jianzhi Zhang

Summary

Mutation is the ultimate genetic source of evolution and biodiversity, but to what extent the environment impacts mutation rate and spectrum is poorly understood. Past studies discovered mutagenesis induced by antibiotic treatment or starvation, but its relevance and importance to long-term evolution is unclear because these severe stressors typically halt cell growth and/or cause substantial cell deaths. Here, we quantify the mutation rate and spectrum in Saccharomyces cerevisiae by whole-genome sequencing following mutation accumulation in each of seven environments with relatively rapid cell growths and minimal cell deaths. We find the point mutation rate per generation to differ by 3.6-fold among the seven environments, generally increasing in environments with slower cell growths. This trend renders the mutation rate per year more constant than that per generation across environments, which has implications for neutral evolution and the molecular clock. Additionally, we find substantial among-environment variations in mutation spectrum, such as the transition to transversion ratio and AT mutational bias. Other main mutation types, including small insertion or deletion, segmental duplication or deletion, and chromosome gain or loss also tend to occur more frequently in environments where yeast grows more slowly. In contrast to these findings from the nuclear genome, the yeast mitochondrial mutation rate rises with the growth rate, consistent with the metabolic rate hypothesis. Together, these observations indicate that environmental changes, which are ubiquitous in nature, influence not only natural selection, but also the amount and type of mutations available to selection, and suggest that ignoring the latter impact, as is currently practiced, may mislead evolutionary inferences.

Graphical

26

show

abstract

0960-9822 * * 30255226

Publication date: Available online 2 May 2019

Source: Current Biology

Author(s): Jonathan Hodgkin

27

show

abstract

0960-9822 * * 30255227

Publication date: Available online 2 May 2019

Source: Current Biology

Author(s): Yonggang Nie, Fuwen Wei, Wenliang Zhou, Yibo Hu, Alistair M. Senior, Qi Wu, Li Yan, David Raubenheimer

Summary

Giant pandas are unusual in belonging to a primarily carnivorous clade and yet being extremely specialized herbivores that feed almost exclusively on highly fibrous bamboo [1]. Paradoxically, they appear inconsistently adapted to their plant diet, bearing a mix of herbivore and carnivore traits. Herbivore traits include a skull, jaw musculature, and dentition that are adapted for fibrous diets and a specialized "pseudo-thumb" used for handling bamboo [2, 3]. They have lost functional versions of the T1R1 gene codes for umami taste receptors, which are often associated with meat eating [3]. They also have an herbivore-like subcellular distribution of the metabolic enzyme alanine: glyoxylate aminotransferase [4]. But meanwhile, giant pandas have a digestive tract [5], digestive enzymes [6], and a gut microbiota composition that resemble those of carnivores and not of herbivores [6, 7]. We draw on recent developments in multi-dimensional niche theory [8] to examine this apparent paradox. We show that the pandas' diet clustered in a macronutrient space among carnivores and was distinct from that of herbivores. The similarity with carnivore diets applied not only to the ingested diet but also to the absorbed diet, with the absorbed macronutrient ratios similar to those of the ingested foods. Comparison of the macronutrient composition of pandas' milk with those of other species shows that the carnivore-like dietary macronutrient composition extends across the life cycle. These results cast new light on the seemingly incongruous constellation of dietary adaptations in pandas, suggesting that the transition from carnivorous and omnivorous ancestry to specialized herbivory might be less abrupt than it might otherwise appear.

28

show

abstract

0960-9822 * * 30255228

Publication date: Available online 2 May 2019

Source: Current Biology

Author(s): Hannah Haberkern, Melanie A. Basnak, Biafra Ahanonu, David Schauder, Jeremy D. Cohen, Mark Bolstad, Christopher Bruns, Vivek Jayaraman

Summary

Studying the intertwined roles of sensation, experience, and directed action in navigation has been facilitated by the development of virtual reality (VR) environments for head-fixed animals, allowing for quantitative measurements of behavior in well-controlled conditions. VR has long featured in studies of Drosophila melanogaster, but these experiments have typically allowed the fly to change only its heading in a visual scene and not its position. Here we explore how flies move in two dimensions (2D) using a visual VR environment that more closely captures an animal's experience during free behavior. We show that flies' 2D interaction with landmarks cannot be automatically derived from their orienting behavior under simpler one-dimensional (1D) conditions. Using novel paradigms, we then demonstrate that flies in 2D VR adapt their behavior in response to optogenetically delivered appetitive and aversive stimuli. Much like free-walking flies after encounters with food, head-fixed flies exploring a 2D VR respond to optogenetic activation of sugar-sensing neurons by initiating a local search, which appears not to rely on visual landmarks. Visual landmarks can, however, help flies to avoid areas in VR where they experience an aversive, optogenetically generated heat stimulus. By coupling aversive virtual heat to the flies' presence near visual landmarks of specific shapes, we elicit selective learned avoidance of those landmarks. Thus, we demonstrate that head-fixed flies adaptively navigate in 2D virtual environments, but their reliance on visual landmarks is context dependent. These behavioral paradigms set the stage for interrogation of the fly brain circuitry underlying flexible navigation in complex multisensory environments.

Graphical

29

show

abstract

0960-9822 * * 30317657

Publication date: 6 May 2019

Source: Current Biology, Volume 29, Issue 9

Author(s): Cristina Ferrandiz

Fruit morphological diversity reflects the versatility of these angiosperm-specific structures, which facilitate plant progeny dispersal from their sessile parents. A recent study links regulatory changes in a key genetic network for fruit patterning with the origin of heart-shaped pods in Brassicaceae.

30

show

abstract

0960-9822 * * 30317658

Publication date: 6 May 2019

Source: Current Biology, Volume 29, Issue 9

Author(s): Sirio Dupont, Leonardo Morsut

A new mechanism for the selection and differentiation of a single cell, based on mechanical competition with its neighbors and differential TAZ activity, is shown to be at play during zebrafish oogenesis to prevent polyspermy.

31

show

abstract

0960-9822 * * 30317659

Publication date: 6 May 2019

Source: Current Biology, Volume 29, Issue 9

Author(s): Alexiane Decout, Andrea Ablasser

The mammalian cyclic dinucleotide 2',3'-cGAMP is a potent inducer of innate immune responses produced upon detection of cytosolic DNA by cGAS. The mechanisms underlying the control of intracellular cGAMP levels remained unclear. In a new study, Eaglesham et al. identified poxins as 2',3'-cGAMP-specific nucleases allowing immune evasion by viruses.

32

show

abstract

0960-9822 * * 30317660

Publication date: 6 May 2019

Source: Current Biology, Volume 29, Issue 9

Author(s): Stephen R. Lindemann

Although ecological principles governing the competition of microbes for simple substrates are well-understood, less is known about how complex, structured substrates influence ecological outcomes in microbial communities. A new study sheds light on how marine microbial communities assemble on polysaccharide particles modeling marine snow.

33

show

abstract

0960-9822 * * 30317661

Publication date: 6 May 2019

Source: Current Biology, Volume 29, Issue 9

Author(s): Jeffrey B. Rosa, Alvaro Sagasti

The development of sensory receptive fields requires the coordinated spatial patterning of neurites from multiple sensory neuron subtypes. A new study identifies a role for neuron–skin cell interactions in preventing the bundling of dendritic arbors from distinct neurons.

34

show

abstract

0960-9822 * * 30317662

Publication date: 6 May 2019

Source: Current Biology, Volume 29, Issue 9

Author(s): Alex Thornton, Neeltje J. Boogert

How cognitive abilities evolve through natural selection is poorly understood. Two new studies show that a good spatial memory helps birds that hide their food to survive and produce more offspring.

35

show

abstract

0960-9822 * * 30317663

Publication date: 6 May 2019

Source: Current Biology, Volume 29, Issue 9

Author(s): Elena Azañón, Matthew R. Longo

New research demonstrates systematic errors of tactile localisation, involving confusions of body parts and body sides. Such errors do not follow the organisation of topographic maps in somatosensory cortex, suggesting that tactile localisation involves coding of abstract features of limbs.

36

show

abstract

0960-9822 * * 30317664

Publication date: 6 May 2019

Source: Current Biology, Volume 29, Issue 9

Author(s): Rainer Hedrich

Our nerve and muscle cells communicate using voltage-dependent four-domain sodium channels. A recent study in eukaryotic phytoplankton reveals that single-domain, prokaryote-like, voltage-gated Na+- and Ca2+-permeable channels are key to environmental sensing in the oceans.

37

show

abstract

0960-9822 * * 30317665

Publication date: 6 May 2019

Source: Current Biology, Volume 29, Issue 9

Author(s): Miguel Maravall

Rats using their whiskers to identify a texture gather evidence touch by touch until they reach a threshold. On every touch, the somatosensory cortex sends a packet of texture information to downstream regions tasked with integrating this evidence.

38

show

abstract

0960-9822 * * 30317666

Publication date: 6 May 2019

Source: Current Biology, Volume 29, Issue 9

Author(s): Louise Hill, Glyn Jones, Nick Atkinson, Andy Hector, Gabriel Hemery, Nick Brown

Summary

Invasive tree pests and diseases present some of the greatest global threats to forests, and the recent global acceleration in invasions has caused massive ecological damage 1, 2. Calls to improve biosecurity have, however, often lost out to economic arguments in favour of trade [3]. Human activities, such as trade, move organisms between continents, and interventions to reduce risk of introductions inevitably incur financial costs. No previous studies have attempted to estimate the full economic cost of a tree disease, and the economic imperative to improve biosecurity may have been underappreciated. We set out to estimate the cost of the dieback of ash, Fraxinus excelsior, caused by Hymenoscyphus fraxineus, in Great Britain, and investigate whether this may be the case [4].

39

show

abstract

0960-9822 * * 30317667

Publication date: 6 May 2019

Source: Current Biology, Volume 29, Issue 9

Author(s): Hayley V. Miller, Alexandra C.N. Kingston, Yakir L. Gagnon, Daniel I. Speiser

Summary

Light levels in terrestrial and shallow-water environments can vary by ten orders of magnitude between clear days and overcast nights. Light-evoked pupillary responses help the eyes of animals perform optimally under these variable light conditions by balancing trade-offs between sensitivity and resolution [1]. Here, we document that the mirror-based eyes of the bay scallop Argopecten irradians and the sea scallop Placopecten magellanicus have pupils that constrict to ∼60% of their fully dilated areas within several minutes of light exposure. The eyes of scallops contain two separate retinas and our ray-tracing model indicates that, compared to eyes with fully constricted pupils, eyes from A. irradians with fully dilated pupils provide approximately three times the sensitivity and half the spatial resolution at the distal retina and five times the sensitivity and one third the spatial resolution at the proximal retina. We also identify radial and circular actin fibers associated with the corneas of A. irradians that may represent muscles whose contractions dilate and constrict the pupil, respectively.

40

show

abstract

0960-9822 * * 30317668

Publication date: 6 May 2019

Source: Current Biology, Volume 29, Issue 9

Author(s): Liana Y. Zanette, Michael Clinchy

The 'ecology of fear' refers to the total impact of predators on prey populations and communities. The traditional view in ecology is that predators directly kill prey, thereby reducing prey survival and prey numbers — and that this is the limit of their ecological role. The ecology of fear posits that the behavioural, physiological and neurobiological costs of avoiding predation ('fear' for short) may additionally reduce prey fecundity and survival, and the total reduction in prey numbers resulting from exposure to predators may thus far exceed that due to direct killing alone. If this is the case, then failing to consider fear as a factor risks profoundly underestimating the ecological role predators play.

41

show

abstract

0960-9822 * * 30317669

Publication date: 6 May 2019

Source: Current Biology, Volume 29, Issue 9

Author(s): Jakub Prokop, Michael S. Engel

42

show

abstract

0960-9822 * * 30317670

Publication date: 6 May 2019

Source: Current Biology, Volume 29, Issue 9

Author(s): Basil el Jundi

43

show

abstract

0960-9822 * * 30317671

Publication date: 6 May 2019

Source: Current Biology, Volume 29, Issue 9

Author(s): John Peever

44

show

abstract

0960-9822 * * 30317672

Publication date: 6 May 2019

Source: Current Biology, Volume 29, Issue 9

Author(s): Michael Gross

Summary

Efforts to roll back malaria have run into problems as the annual number of cases appears to be stagnating. Resistance traits spreading both in mosquitoes and in the disease-causing parasite are making the quest for new approaches more urgent. Michael Gross reports.

45

show

abstract

0960-9822 * * 30317673

Publication date: 6 May 2019

Source: Current Biology, Volume 29, Issue 9

Author(s): Pamela González-del-Pliego, Robert P. Freckleton, David P. Edwards, Michelle S. Koo, Brett R. Scheffers, R. Alexander Pyron, Walter Jetz

Summary

Amphibians are among the most highly threatened lineages, with at least 2,000 species estimated to be in danger of extinction [1, 2]. Alarmingly, another ∼2,200 species (∼25% of all ∼7,900 known species) are data deficient or not evaluated (hereinafter termed data deficient) by the International Union for Conservation of Nature (IUCN) [1]. Without an estimate of their status, data-deficient species are usually overlooked in conservation planning and resource allocation [3]. Amphibians have the highest proportion of data-deficient species of any vertebrate group [1, 4], which highlights the need to estimate their threat status considering potentially imminent extinctions. We apply a trait-based spatio-phylogenetic statistical framework [5] to predict threat status for data-deficient species. Because ecological, geographical, and evolutionary attributes increase extinction risk [6, 7], we used geographic distribution data [1, 8], phylogenetically imputed ecological traits, and an amphibian phylogeny [9] to provide initial baseline predictions. We estimate that half of the ∼2,200 data-deficient species are threatened with extinction (vulnerable, endangered, or critically endangered), primarily in the Neotropics and Southeast Asia. This increases the number of amphibian species estimated to be threatened with extinction by ∼50%. Of these, we predict that ∼500 species are endangered or critically endangered, and three may be extinct already. We highlight families that are most at risk and suggest where urgent conservation is needed to avert their loss. We show that some of the most vulnerable species may also be the most poorly known and offer an analytical framework for preliminary analysis of their threat status in the face of deficient empirical data.

46

show

abstract

0960-9822 * * 30350669

Publication date: Available online 9 May 2019

Source: Current Biology

Author(s): Yong Yang, Isaac Edery

Summary

Sleep is fundamental to animal survival but is a vulnerable state that also limits how much time can be devoted to critical wake-dependent activities [1]. Although many animals are day-active and sleep at night, they exhibit a midday nap, or "siesta," that can vary in intensity and is usually more prominent on warm days. In humans, the balance between maintaining the wake state or sleeping during the day has important health implications [2], but the mechanisms underlying this dynamic regulation are poorly understood. Using the well-established Drosophila melanogaster animal model to study sleep [3], we identify a new wake-sleep regulator that we term daywake (dyw). dyw encodes a juvenile hormone-binding protein [4] that functions in neurons as a day-specific anti-siesta gene, with little effect on sleep levels during the nighttime or in the absence of light. Remarkably, dyw expression is stimulated in trans via cold-enhanced splicing of the dmpi8 intron [5] from the reverse-oriented but slightly overlapping period (per) clock gene [6]. The functionally integrated dmpi8-dyw genetic unit operates as a "behavioral temperate acclimator" by increasingly counterbalancing siesta-promoting pathways as daily temperatures become cooler and carry reduced risks from daytime heat exposure. While daily patterns of when animals are awake and when they sleep are largely scheduled by the circadian timing system, dyw implicates a less recognized class of modulatory wake-sleep regulators that primarily function to enhance flexibility in wake-sleep preference, a behavioral plasticity that is commonly observed in animals during the midday, raising the possibility of shared mechanisms.

Graphical

47

show

abstract

0960-9822 * * 30350670

Publication date: Available online 9 May 2019

Source: Current Biology

Author(s): Lehti Saag, Margot Laneman, Liivi Varul, Martin Malve, Heiki Valk, Maria A. Razzak, Ivan G. Shirobokov, Valeri I. Khartanovich, Elena R. Mikhaylova, Alena Kushniarevich, Christiana Lyn Scheib, Anu Solnik, Tuuli Reisberg, Jüri Parik, Lauri Saag, Ene Metspalu, Siiri Rootsi, Francesco Montinaro, Maido Remm, Reedik Mägi

Summary

In this study, we compare the genetic ancestry of individuals from two as yet genetically unstudied cultural traditions in Estonia in the context of available modern and ancient datasets: 15 from the Late Bronze Age stone-cist graves (1200–400 BC) (EstBA) and 6 from the Pre-Roman Iron Age tarand cemeteries (800/500 BC–50 AD) (EstIA). We also included 5 Pre-Roman to Roman Iron Age Ingrian (500 BC–450 AD) (IngIA) and 7 Middle Age Estonian (1200–1600 AD) (EstMA) individuals to build a dataset for studying the demographic history of the northern parts of the Eastern Baltic from the earliest layer of Mesolithic to modern times. Our findings are consistent with EstBA receiving gene flow from regions with strong Western hunter-gatherer (WHG) affinities and EstIA from populations related to modern Siberians. The latter inference is in accordance with Y chromosome (chrY) distributions in present day populations of the Eastern Baltic, as well as patterns of autosomal variation in the majority of the westernmost Uralic speakers [1, 2, 3, 4, 5]. This ancestry reached the coasts of the Baltic Sea no later than the mid-first millennium BC; i.e., in the same time window as the diversification of west Uralic (Finnic) languages [6]. Furthermore, phenotypic traits often associated with modern Northern Europeans, like light eyes, hair, and skin, as well as lactose tolerance, can be traced back to the Bronze Age in the Eastern Baltic.

Video

Graphical

48

show

abstract

0960-9822 * * 30350671

Publication date: Available online 9 May 2019

Source: Current Biology

Author(s): Toni I. Gossmann, Achchuthan Shanmugasundram, Stefan Börno, Ludovic Duvaux, Christophe Lemaire, Heiner Kuhl, Sven Klages, Lee D. Roberts, Sophia Schade, Johanna M. Gostner, Falk Hildebrand, Jakob Vowinckel, Coraline Bichet, Michael Mülleder, Enrica Calvani, Aleksej Zelezniak, Julian L. Griffin, Peer Bork, Dominique Allaine, Aurélie Cohas

Summary

Some species responded successfully to prehistoric changes in climate [1, 2], while others failed to adapt and became extinct [3]. The factors that determine successful climate adaptation remain poorly understood. We constructed a reference genome and studied physiological adaptations in the Alpine marmot (Marmota marmota), a large ground-dwelling squirrel exquisitely adapted to the "ice-age" climate of the Pleistocene steppe [4, 5]. Since the disappearance of this habitat, the rodent persists in large numbers in the high-altitude Alpine meadow [6, 7]. Genome and metabolome showed evidence of adaptation consistent with cold climate, affecting white adipose tissue. Conversely, however, we found that the Alpine marmot has levels of genetic variation that are among the lowest for mammals, such that deleterious mutations are less effectively purged. Our data rule out typical explanations for low diversity, such as high levels of consanguineous mating, or a very recent bottleneck. Instead, ancient demographic reconstruction revealed that genetic diversity was lost during the climate shifts of the Pleistocene and has not recovered, despite the current high population size. We attribute this slow recovery to the marmot's adaptive life history. The case of the Alpine marmot reveals a complicated relationship between climatic changes, genetic diversity, and conservation status. It shows that species of extremely low genetic diversity can be very successful and persist over thousands of years, but also that climate-adapted life history can trap a species in a persistent state of low genetic diversity.

49

show

abstract

0960-9822 * * 30350672

Publication date: Available online 9 May 2019

Source: Current Biology

Author(s): Daniel M. van Es, Wietske van der Zwaag, Tomas Knapen

Summary

The purported role of the cerebellum has shifted from one that is exclusively sensorimotor related to one that encompasses a wide range of cognitive and associative functions [1, 2, 3, 4, 5]. Within sensorimotor areas of the cerebellum, functional organization is characterized by ipsilateral representations of the body [6]. Yet, in the remaining cerebellar cognitive and associative networks, functional organization remains less well understood. Regions of cerebral cortex [7, 8, 9] and subcortex [10] important for visual perception and cognition are organized topographically: neural organization mirrors the retina. Recently, it was shown that known retinotopic areas in cerebral cortex are functionally connected to nodes in the cerebellum [2, 11, 12]. In fact, this revealed signals with visuospatial selectivity in the cerebellum [13]. Here, we analyzed the highly powered Human Connectome Project (HCP) retinotopy dataset [14] to create a comprehensive and detailed overview of visuospatial organization in the cerebellum. This revealed 5 ipsilateral topographic maps in 3 cerebellar clusters (oculomotor vermis [OMV]-lobule VIIb-lobule VIIIb), of which we quantified visual field coverage and topography. These quantifications dovetail with the known roles of these areas in eye movements (OMV) [5, 15], attention (OMV-VIIb) [5, 13], working memory (VIIb) [13], and the integration of visuomotor information with respect to effector movements (VIIIb) [5]. To aid future research on visual perception in the cerebellum, we provide an online atlas of the visuospatial maps in Montreal Neurological Institute (MNI) space. Our findings demonstrate that the cerebellum is abundant with visuospatial information and, moreover, that it is organized according to known retinotopic properties.

50

show

abstract

0960-9822 * * 30350673

Publication date: Available online 9 May 2019

Source: Current Biology

Author(s): Joseph M. Santin, David J. Schulz

Summary

The number and type of ion channels present in the membrane determines the electrophysiological function of every neuron. In many species, stereotyped output of neurons often persists for years [1], and ion channel dysregulation can change these properties to cause severe neurological disorders [2, 3, 4]. Thus, a fundamental question is how do neurons coordinate channel expression to uphold their firing patterns over long timescales [1, 5]' One major hypothesis purports that neurons homeostatically regulate their ongoing activity through mechanisms that link membrane voltage to expression relationships among ion channels [6, 7, 8, 9, 10]. However, experimentally establishing this feedback loop for the control of expression relationships has been a challenge: manipulations that aim to test for voltage feedback invariably disrupt trophic signaling from synaptic transmission and neuromodulation in addition to activity [9, 11, 12]. Further, neuronal activity often relies critically on these chemical mediators, obscuring the contribution of voltage activity of the membrane per se in forming the channel relationships that determine neuronal output [6, 13]. To resolve this, we isolated an identifiable neuron in crustaceans and then either kept this neuron silent or used a long-term voltage clamp protocol to artificially maintain activity. We found that physiological voltage activity—independent of all known forms of synaptic and neuromodulatory feedback—maintains most channel mRNA relationships, while metabotropic influences may play a relatively smaller role. Thus, ion channel relationships likely needed to maintain neuronal identity are actively and continually regulated at least in part at the level of channel mRNAs through feedback by membrane voltage.

51

show

abstract

0960-9822 * * 30350674

Publication date: Available online 9 May 2019

Source: Current Biology

Author(s): Gui-Lian Sheng, Nikolas Basler, Xue-Ping Ji, Johanna L.A. Paijmans, Federica Alberti, Michaela Preick, Stefanie Hartmann, Michael V. Westbury, Jun-Xia Yuan, Nina G. Jablonski, Georgios Xenikoudakis, Xin-Dong Hou, Bo Xiao, Jian-Hui Liu, Michael Hofreiter, Xu-Long Lai, Axel Barlow

Summary

Historically, the giant panda was widely distributed from northern China to southwestern Asia [1]. As a result of range contraction and fragmentation, extant individuals are currently restricted to fragmented mountain ranges on the eastern margin of the Qinghai-Tibet plateau, where they are distributed among three major population clusters [2]. However, little is known about the genetic consequences of this dramatic range contraction. For example, were regions where giant pandas previously existed occupied by ancestors of present-day populations, or were these regions occupied by genetically distinct populations that are now extinct' If so, is there any contribution of these extinct populations to the genomes of giant pandas living today' To investigate these questions, we sequenced the nuclear genome of an ∼5,000-year-old giant panda from Jiangdongshan, Tengchong County in Yunnan Province, China. We find that this individual represents a genetically distinct population that diverged prior to the diversification of modern giant panda populations. We find evidence of differential admixture with this ancient population among modern individuals originating from different populations as well as within the same population. We also find evidence for directional gene flow, which transferred alleles from the ancient population into the modern giant panda lineages. A variable proportion of the genomes of extant individuals is therefore likely derived from the ancient population represented by our sequenced individual. Although extant giant panda populations retain reasonable genetic diversity, our results suggest that this represents only part of the genetic diversity this species harbored prior to its recent range contractions.

52

show

abstract

0960-9822 * * 30350675

Publication date: Available online 9 May 2019

Source: Current Biology

Author(s): Amelia M. Randich, David T. Kysela, Cécile Morlot, Yves V. Brun

Summary

Temperate phages constitute a potentially beneficial genetic reservoir for bacterial innovation despite being selfish entities encoding an infection cycle inherently at odds with bacterial fitness. These phages integrate their genomes into the bacterial host during infection, donating new but deleterious genetic material: the phage genome encodes toxic genes, such as lysins, that kill the bacterium during the phage infection cycle. Remarkably, some bacteria have exploited the destructive properties of phage genes for their own benefit by co-opting them as toxins for functions related to bacterial warfare, virulence, and secretion. However, do toxic phage genes ever become raw material for functional innovation' Here, we report on a toxic phage gene whose product has lost its toxicity and has become a domain of a core cellular factor, SpmX, throughout the bacterial order Caulobacterales. Using a combination of phylogenetics, bioinformatics, structural biology, cell biology, and biochemistry, we have investigated the origin and function of SpmX and determined that its occurrence is the result of the detoxification of a phage peptidoglycan hydrolase gene. We show that the retained, attenuated activity of the phage-derived domain plays an important role in proper cell morphology and developmental regulation in representatives of this large bacterial clade. To our knowledge, this is the first observation of a phage gene domestication event in which a toxic phage gene has been co-opted for core cellular function at the root of a large bacterial clade.

Graphical

53

show

abstract

0960-9822 * * 30350676

Publication date: Available online 9 May 2019

Source: Current Biology

Author(s): Chao Cai, Nadia A. Lanman, Kelley A. Withers, Alyssa M. DeLeon, Qiong Wu, Michael Gribskov, David E. Salt, Jo Ann Banks

Summary

Arsenic is a carcinogenic contaminant of water and food and a growing threat to human health in many regions of the world. This study focuses on the fern Pteris vittata (Pteridaceae), which is extraordinary in its ability to tolerate and hyperaccumulate very high levels of arsenic that would kill any other plant or animal outside the Pteridaceae. Here, we use RNA-seq to identify three genes (GLYCERALDEHYDE 3-PHOSPHATE DEHYDROGENASE (PvGAPC1), ORGANIC CATION TRANSPORTER 4 (PvOCT4), and GLUTATHIONE S-TRANSFERASE (PvGSTF1) that are highly upregulated by arsenic and are necessary for arsenic tolerance, as demonstrated by RNAi. The proteins encoded by these genes have unexpected properties: PvGAPC1 has an unusual active site and a much greater affinity for arsenate than phosphate; PvGSTF1 has arsenate reductase activity; and PvOCT4 localizes as puncta in the cytoplasm. Surprisingly, PvGAPC1, PvGSTF1, and arsenate localize in a similar pattern. These results are consistent with a model that describes the fate of arsenate once it enters the cell. It involves the conversion of arsenate into 1-arseno-3-phosphoglycerate by PvGAPC1. This "chemically trapped" arsenate is pumped into specific arsenic metabolizing vesicles by the PvOCT4 protein. Once inside these vesicles, 1-arseno-3-phosphoglycerate hydrolyses to release arsenate, which is then reduced by PvGSTF1 to arsenite, the form of arsenic stored in the vacuoles of this fern. This mechanism is strikingly similar to one recently described Pseudomonas aeruginosa, whose tolerance to arsenic also involves the biosynthesis and transport of 1-arseno-3-phosphoglycerate, indicating that P. vittata has evolved a simple, bacterial-like mechanism for arsenic tolerance.

54

show

abstract

0960-9822 * * 30350677

Publication date: Available online 9 May 2019

Source: Current Biology

Author(s): Stef Bokhorst, Peter Convey, Rien Aerts

Summary

Biodiversity is threatened by climate change and other human activities [1], but to assess impacts, we also need to identify the current distribution of species on Earth. Predicting abundance and richness patterns is difficult in many regions and especially so on the remote Antarctic continent, due to periods of snow cover, which limit remote sensing, and the small size of the biota present. As the Earth's coldest continent, temperature and water availability have received particular attention in understanding patterns of Antarctic biodiversity [2], whereas nitrogen availability has received less attention [3]. Nitrogen input by birds is a major nutrient source in many regions on Earth [4, 5, 6, 7], and input from penguins and seals is associated with increased plant growth [8, 9, 10] and soil respiration [11, 12, 13] at some Antarctic locations. However, the consequences of increased nitrogen concentrations in Antarctic mosses and lichens for their associated food web has hardly been addressed [14, 15], despite the fact that nutrient status of primary producers affects the abundance and diversity of higher trophic levels [16, 17]. We show that nitrogen input and δ15N signatures from marine vertebrates are associated with terrestrial biodiversity hotspots well beyond (>1,000 m) their immediate colony borders along the Antarctic Peninsula. Invertebrate abundance and richness was two to eight times higher under penguin and elephant seal influence. The nitrogen footprint area was correlated with the vertebrate population size. These findings improve our ability to predict biogeographical patterns of Antarctic terrestrial biodiversity through knowledge of the location and size of penguin and elephant seal concentrations.

Graphical

55

show

abstract

0960-9822 * * 30413732

Publication date: Available online 16 May 2019

Source: Current Biology

Author(s): Pedro M. Henriques, Niloy Rahman, Samuel E. Jackson, Isaac H. Bianco

Summary

Animals must frequently perform a sequence of behaviors to achieve a specific goal. However, the neural mechanisms that promote the continuation and completion of such action sequences are not well understood. Here, we characterize the anatomy, physiology, and function of the nucleus isthmi (NI), a cholinergic nucleus thought to modulate tectal-dependent, goal-directed behaviors. We find that the larval zebrafish NI establishes reciprocal connectivity with the optic tectum and identify two distinct types of isthmic projection neuron that either connect ipsilaterally to retinorecipient laminae of the tectum and pretectum or bilaterally to both tectal hemispheres. Laser ablation of NI caused highly specific deficits in tectally mediated loom-avoidance and prey-catching behavior. In the context of hunting, NI ablation did not affect prey detection or hunting initiation but resulted in larvae failing to sustain prey-tracking sequences and aborting their hunting routines. Moreover, calcium imaging revealed elevated neural activity in NI following onset of hunting behavior. We propose a model in which NI provides state-dependent feedback facilitation to the optic tectum and pretectum to potentiate neural activity and increase the probability of consecutive prey-tracking maneuvers during hunting sequences.

Graphical

56

show

abstract

0960-9822 * * 30413733

Publication date: Available online 16 May 2019

Source: Current Biology

Author(s): Hervé Philippe, Albert J. Poustka, Marta Chiodin, Katharina J. Hoff, Christophe Dessimoz, Bartlomiej Tomiczek, Philipp H. Schiffer, Steven Müller, Daryl Domman, Matthias Horn, Heiner Kuhl, Bernd Timmermann, Noriyuki Satoh, Tomoe Hikosaka-Katayama, Hiroaki Nakano, Matthew L. Rowe, Maurice R. Elphick, Morgane Thomas-Chollier, Thomas Hankeln, Florian Mertes

Summary

Xenoturbella and the acoelomorph worms (Xenacoelomorpha) are simple marine animals with controversial affinities. They have been placed as the sister group of all other bilaterian animals (Nephrozoa hypothesis), implying their simplicity is an ancient characteristic [1, 2]; alternatively, they have been linked to the complex Ambulacraria (echinoderms and hemichordates) in a clade called the Xenambulacraria [3, 4, 5], suggesting their simplicity evolved by reduction from a complex ancestor. The difficulty resolving this problem implies the phylogenetic signal supporting the correct solution is weak and affected by inadequate modeling, creating a misleading non-phylogenetic signal. The idea that the Nephrozoa hypothesis might be an artifact is prompted by the faster molecular evolutionary rate observed within the Acoelomorpha. Unequal rates of evolution are known to result in the systematic artifact of long branch attraction, which would be predicted to result in an attraction between long-branch acoelomorphs and the outgroup, pulling them toward the root [6]. Other biases inadequately accommodated by the models used can also have strong effects, exacerbated in the context of short internal branches and long terminal branches [7]. We have assembled a large and informative dataset to address this problem. Analyses designed to reduce or to emphasize misleading signals show the Nephrozoa hypothesis is supported under conditions expected to exacerbate errors, and the Xenambulacraria hypothesis is preferred in conditions designed to reduce errors. Our reanalyses of two other recently published datasets [1, 2] produce the same result. We conclude that the Xenacoelomorpha are simplified relatives of the Ambulacraria.

57

show

abstract

0960-9822 * * 30413734

Publication date: Available online 16 May 2019

Source: Current Biology

Author(s): Orkan Ilbay, Victor Ambros

Summary

Adverse environmental conditions can affect rates of animal developmental progression and lead to temporary developmental quiescence (diapause), exemplified by the dauer larva stage of the nematode Caenorhabditis elegans (C. elegans). Remarkably, patterns of cell division and temporal cell-fate progression in C. elegans larvae are not affected by changes in developmental trajectory. However, the underlying physiological and gene regulatory mechanisms that ensure robust developmental patterning despite substantial plasticity in developmental progression are largely unknown. Here, we report that diapause-inducing pheromones correct heterochronic developmental cell lineage defects caused by insufficient expression of let-7 family microRNAs in C. elegans. Moreover, two conserved endocrine signaling pathways, DAF-7/TGF-β and DAF-2/Insulin, that confer on the larva diapause and non-diapause alternative developmental trajectories interact with the nuclear hormone receptor, DAF-12, to initiate and regulate a rewiring of the genetic circuitry controlling temporal cell fates. This rewiring includes engagement of certain heterochronic genes, lin-46, lin-4, and nhl-2, that are previously associated with an altered genetic program in post-diapause animals, in combination with a novel ligand-independent DAF-12 activity, to downregulate the critical let-7 family target Hunchback-like-1 (HBL-1). Our results show how pheromone or endocrine signaling pathways can coordinately regulate both developmental progression and cell-fate transitions in C. elegans larvae under stress so that the developmental schedule of cell fates remains unaffected by changes in developmental trajectory.

Graphical

58

show

abstract

0960-9822 * * 30413735

Publication date: Available online 16 May 2019

Source: Current Biology

Author(s): Philipp Denninger, Anna Reichelt, Vanessa A.F. Schmidt, Dietmar G. Mehlhorn, Lisa Y. Asseck, Claire E. Stanley, Nana F. Keinath, Jan-Felix Evers, Christopher Grefen, Guido Grossmann

Summary

Root hairs are tubular protrusions of the root epidermis that significantly enlarge the exploitable soil volume in the rhizosphere. Trichoblasts, the cell type responsible for root hair formation, switch from cell elongation to tip growth through polarization of the growth machinery to a predefined root hair initiation domain (RHID) at the plasma membrane. The emergence of this polar domain resembles the establishment of cell polarity in other eukaryotic systems [1, 2, 3]. Rho-type GTPases of plants (ROPs) are among the first molecular determinants of the RHID [4, 5], and later play a central role in polar growth [6]. Numerous studies have elucidated mechanisms that position the RHID in the cell [7, 8, 9] or regulate ROP activity [10, 11, 12, 13, 14, 15, 16, 17, 18]. The molecular players that target ROPs to the RHID and initiate outgrowth, however, have not been identified. We dissected the timing of the growth machinery assembly in polarizing hair cells and found that positioning of molecular players and outgrowth are temporally separate processes that are each controlled by specific ROP guanine nucleotide exchange factors (GEFs). A functional analysis of trichoblast-specific GEFs revealed GEF3 to be required for normal ROP polarization and thus efficient root hair emergence, whereas GEF4 predominantly regulates subsequent tip growth. Ectopic expression of GEF3 induced the formation of spatially confined, ROP-recruiting domains in other cell types, demonstrating the role of GEF3 to serve as a membrane landmark during cell polarization.

Graphical

59

show

abstract

0960-9822 * * 30413736

Publication date: Available online 16 May 2019

Source: Current Biology

Author(s): Cornelia Geberl, Kathrin Kugler, Lutz Wiegrebe

Summary

Bats are navigation super-performers, flying at high speed through nocturnal forests. Numerous field observations and formal experiments have impressively shown how well bats tackle navigation in 3D with biosonar, i.e., the auditory analysis of self-generated ultrasonic emissions [1, 2, 3, 4, 5, 6, 7]. However, unlike in the visual system, where space is explicitly coded at very high resolution in the retinal fovea, the inner ear encodes frequency and time, not space. Spatial attributes of echoes are represented in the space-dependent filtering of the bats' pinnae [8, 9] and binaural computations, like interaural time and level differences [10, 11], as first proposed by Lord Rayleigh [12]. Remarkably, Rayleigh also provided a clear definition of spatial resolution: based on the shape of optical diffraction patterns arising from two closely spaced light sources, Rayleigh defined resolution as the capability to detect a trough in their joint light diffraction patterns [13, 14]. Here, we recruit Rayleigh's classical resolution paradigm to quantify how well bats can resolve multiple simultaneously presented reflectors in space. We show that biosonar spatial resolution in azimuth is no better than about 80° compared to a human visual resolution down to 0.02° [14]. We suggest that bats compensate this effective lack of spatial resolution by sequentially probing their environment in flight. Our data show that low-resolution environment perception is a viable alternative to high-resolution vision to support intelligent behavior in complex environments.

60

show

abstract

0960-9822 * * 30413737

Publication date: Available online 16 May 2019

Source: Current Biology

Author(s): Fangwei Si, Guillaume Le Treut, John T. Sauls, Stephen Vadia, Petra Anne Levin, Suckjoon Jun

Summary

Evolutionarily divergent bacteria share a common phenomenological strategy for cell-size homeostasis under steady-state conditions. In the presence of inherent physiological stochasticity, cells following this "adder" principle gradually return to their steady-state size by adding a constant volume between birth and division, regardless of their size at birth. However, the mechanism of the adder has been unknown despite intense efforts. In this work, we show that the adder is a direct consequence of two general processes in biology: (1) threshold—accumulation of initiators and precursors required for cell division to a respective fixed number—and (2) balanced biosynthesis—maintenance of their production proportional to volume growth. This mechanism is naturally robust to static growth inhibition but also allows us to "reprogram" cell-size homeostasis in a quantitatively predictive manner in both Gram-negative Escherichia coli and Gram-positive Bacillus subtilis. By generating dynamic oscillations in the concentration of the division protein FtsZ, we were able to oscillate cell size at division and systematically break the adder. In contrast, periodic induction of replication initiator protein DnaA caused oscillations in cell size at initiation but did not alter division size or the adder. Finally, we were able to restore the adder phenotype in slow-growing E. coli, the only known steady-state growth condition wherein E. coli significantly deviates from the adder, by repressing active degradation of division proteins. Together, these results show that cell division and replication initiation are independently controlled at the gene-expression level and that division processes exclusively drive cell-size homeostasis in bacteria.

Graphical

61

show

abstract

0960-9822 * * 30413738

Publication date: Available online 16 May 2019

Source: Current Biology

Author(s): Maximilian S. Bothe, Harald Luksch, Hans Straka, Tobias Kohl

Summary

Pit vipers detect infrared (IR) radiation with loreal pit organs [1] that are connected to the hindbrain by trigeminal nerve fibers [2, 3, 4]. The pattern of central afferent termination forms a topographical representation of the sensory periphery within the nucleus of the lateral descending trigeminal tract (LTTD) [4, 5, 6, 7]. All LTTD neurons project to another specialized, ipsilateral hindbrain area, the nucleus reticularis caloris (RC) [8, 9, 10, 11], before IR signals are integrated with visual signals in the optic tectum [12, 13]. Pit-organ-innervating afferent fibers provoke in individual LTTD neurons a direct, robust spike activity upon peripheral activation [7, 14]. This discharge is truncated by an indirect, delayed synaptic inhibition from afferent fibers of adjacent sensory areas through parallel microcircuitry that converges with afferent fibers onto the same target neurons [7]. Here, we determined the impact of this interaction on IR contrast enhancement and/or motion detection in LTTD and RC neurons using isolated whole-brain preparations of rattlesnakes with intact pit organs. Simulated and real IR source motion provoked weak directional tuning of the discharge in LTTD neurons and RC neurons expressed a strong, motion-direction-differentiating activity. The hierarchically increasing motion sensitivity potentially derives from a direction-specific inhibition or spike frequency adaptation of LTTD neuronal discharge that becomes further pronounced by convergent projections onto individual RC neurons. The emerging signaling pattern complies with contrast enhancement (LTTD) and extraction of movement-related signals (RC), thereby forming a motion detection mechanism that encodes moving IR sources relative to the ambient temperature [14].

Graphical

62

show

abstract

0960-9822 * * 30413739

Publication date: Available online 16 May 2019

Source: Current Biology

Author(s): Steffen Roth, Ondřej Balvín, Michael T. Siva-Jothy, Osvaldo Di Iorio, Petr Benda, Omar Calva, Eduardo I. Faundez, Faisal Ali Anwarali Khan, Mary McFadzen, Margie P. Lehnert, Richard Naylor, Nikolay Simov, Edward H. Morrow, Endre Willassen, Klaus Reinhardt

Summary

All 100+ bedbug species (Cimicidae) are obligate blood-sucking parasites [1, 2]. In general, blood sucking (hematophagy) is thought to have evolved in generalist feeders adventitiously taking blood meals [3, 4], but those cimicid taxa currently considered ancestral are putative host specialists [1, 5]. Bats are believed to be the ancestral hosts of cimicids [1], but a cimicid fossil [6] predates the oldest known bat fossil [7] by>30 million years (Ma). The bedbugs that parasitize humans [1, 8] are host generalists, so their evolution from specialist ancestors is incompatible with the "resource efficiency" hypothesis and only partially consistent with the "oscillation" hypothesis [9, 10, 11, 12, 13, 14, 15, 16]. Because quantifying host shift frequencies of hematophagous specialists and generalists may help to predict host associations when vertebrate ranges expand by climate change [17], livestock, and pet trade in general and because of the previously proposed role of human pre-history in parasite speciation [18, 19, 20], we constructed a fossil-dated, molecular phylogeny of the Cimicidae. This phylogeny places ancestral Cimicidae to 115 mya as hematophagous specialists with lineages that later frequently populated bat and bird lineages. We also found that the clades, including the two major current urban pests, Cimex lectularius and C. hemipterus, separated 47 mya, rejecting the notion that the evolutionary trajectories of Homo caused their divergence [18, 19, 20, 21].

63

show

abstract

0960-9822 * * 30413740

Publication date: Available online 16 May 2019

Source: Current Biology

Author(s): Alon Israeli, Yossi Capua, Ido Shwartz, Lior Tal, Zohar Meir, Matan Levy, Maya Bar, Idan Efroni, Naomi Ori

Summary

Auxin-signal transduction is mediated by the antagonistic activity of transcriptional activators and repressors. Both activators and repressors belong to gene families, but the biological importance of this complexity is not clear. Here, we addressed this question using tomato leaf development as a model by generating and analyzing mutants in multiple auxin-response components. In developing compound tomato leaves, auxin promotes leaflet formation and blade growth, and in the intercalary regions between leaflets, auxin response is inhibited by the Aux/IAA protein ENTIRE (E). e mutants form simple leaves due to ectopic blade growth in the intercalary domain. Using this unique loss-of-function phenotype and genome editing of auxin-response factor (ARF) genes, encoding auxin-response activators, we identified the contribution of specific ARFs to the e phenotype. Mutations in the related ARFs SlMP, SlARF19A, and SlARF19B, but not SlARF7, reduced the leaf blade and suppressed the e phenotype in a dosage-dependent manner that correlated with their relative expression, leading to a continuum of shapes. While single e and slmp mutants affected blade growth in an opposite manner, leaves of e slmp double mutants were similar to those of the wild type. However, the leaf shape of e slmp was more variable than that of the wild type, and it showed increased sensitivity to auxin. Our findings demonstrate that the existence of multiple auxin-response repressors and activators stabilizes the developmental output of auxin and that tuning their activity enables shape variability. The increased complexity of the auxin response therefore balances stability and flexibility in leaf patterning.

Graphical

64

show

abstract

0960-9822 * * 30413741

Publication date: Available online 16 May 2019

Source: Current Biology

Author(s): Tammo Krause, Laura Spindler, Burkhard Poeck, Roland Strauss

Summary

Grasping an object or crossing a trench requires the integration of information on the operating distance of our limbs with precise distance estimation. The reach of our hands and step size of our legs are learned by the visual feedback we get during our actions. This implicit knowledge of our peripersonal space is first acquired during infancy but will be continuously updated throughout our whole life [1]. In contrast, body size of holometabolous insects does not change after metamorphosis; nevertheless, they do have to learn their body reaches at least once. The body size of Drosophila imagines can vary by about 15% depending on environmental factors like food quality and temperature [2]. To investigate how flies acquire knowledge about and memorize their body size, we studied their decisions to either refrain from or initiate climbing over gaps exceeding their body size [3]. Naive (dark-reared) flies overestimate their size and have to learn it from the parallax motion of the retinal images of objects in their environment while walking. Naive flies can be trained in a striped arena and manipulated to underestimate their size, but once consolidated, this memory seems to last for a lifetime. Consolidation of this memory is stress sensitive only in the first 2 h after training but cannot be retrieved for the next 12 h. We have identified a set of intrinsic, lateral neurons of the protocerebral bridge of the central complex [4, 5] that depend on dCREB2 transcriptional activity for long-term memory consolidation and maintenance.

Graphical

65

show

abstract

0960-9822 * * 30438471

Publication date: 20 May 2019

Source: Current Biology, Volume 29, Issue 10

Author(s): Kyoko Morimoto, Renier A.L. van der Hoorn

Plants protect their wounds against pathogen invasion by releasing damage signals that induce immune responses in neighboring cells. A new study shows that a conserved bioactive peptide is released from its cytoplasmic precursor upon wounding by a metacaspase that is activated by calcium influx into the injured cell.

66

show

abstract

0960-9822 * * 30438472

Publication date: 20 May 2019

Source: Current Biology, Volume 29, Issue 10

Author(s): Jan Steensels, Brigida Gallone, Karin Voordeckers, Kevin J. Verstrepen

Domestication refers to artificial selection and breeding of wild species to obtain cultivated variants that thrive in man-made niches and meet human or industrial requirements. Several genotypic and phenotypic signatures of domestication have been described in crops, livestock and pets. However, domestication is not unique to plants and animals. Microbial diversity has also been shaped by the emergence of novel and highly specific man-made environments, like food and beverage fermentations. This allowed rapid adaptation and diversification of various microbes, such as certain Lactococcus, Lactobacillus, Oenococcus, Saccharomyces and Aspergillus species. During the domestication process, microbes gained the capacity to efficiently consume particular nutrients, cope with a multitude of industry-specific stress factors and produce desirable compounds, often at the cost of a reduction in fitness in their original, natural environments. Moreover, different lineages of the same species adapted to highly diverse niches, resulting in genetically and phenotypically distinct strains. In this Review, we discuss the basic principles of microbial domestication and describe how recent research is uncovering its genetic underpinnings.

67

show

abstract

0960-9822 * * 30438473

Publication date: 20 May 2019

Source: Current Biology, Volume 29, Issue 10

Author(s): Maria Bohnert

Lipid droplets are physically linked to other organelles via contact sites for communication, but the underlying molecular machineries are poorly characterized. Recent studies identify metabolically controlled sorting nexin tether proteins as important players at these sites.

68

show

abstract

0960-9822 * * 30438474

Publication date: 20 May 2019

Source: Current Biology, Volume 29, Issue 10

Author(s): Alberto E. Pereda

The complete description of the expression of gap junction proteins in the nervous system of the worm reveals a great complexity of their distribution amongst different neuronal classes, opening an unprecedented opportunity to expose the functional diversity of electrical synapses.

69

show

abstract

0960-9822 * * 30438475

Publication date: 20 May 2019

Source: Current Biology, Volume 29, Issue 10

Author(s): Sjouke A. Kingma, Tamás Székely

In cooperatively-breeding animals, some individuals may postpone or completely forego independent reproduction to help others reproduce. A recent large-scale manipulation of adult sex ratio in wild nuthatches suggests that male birds postpone breeding because of a shortage of potential mates.

70

show

abstract

0960-9822 * * 30438476

Publication date: 20 May 2019

Source: Current Biology, Volume 29, Issue 10

Author(s): Roberto Dominguez

Actin undergoes several forms of post-translational modifications that play roles in normal physiological processes and pathological states. A new study reveals that a complex between lysine-acetylated actin and cyclase-associated protein inhibits the formin INF2 by enhancing intramolecular inhibitory interactions in this protein.

71

show

abstract

0960-9822 * * 30438477

Publication date: 20 May 2019

Source: Current Biology, Volume 29, Issue 10

Author(s): Menachem Katz, Shai Shaham

The capacity to respond to adverse conditions is key for animal survival. Research in the nematode Caenorhabditis elegans demonstrates that retrieval of aversive memories, stored within sensory neurons, is sufficient to induce a protective systemic stress response that improves fitness.

72

show

abstract

0960-9822 * * 30438478

Publication date: 20 May 2019

Source: Current Biology, Volume 29, Issue 10

Author(s): Michael Matschiner, Walter Salzburger

How new species form in the ocean, and thus what determines the diversity of fish in the sea, is not well understood. A study in Caribbean coral-reef fishes sheds light on the genomic underpinnings of diversification in the marine realm.

73

show

abstract

0960-9822 * * 30438479

Publication date: 20 May 2019

Source: Current Biology, Volume 29, Issue 10

Author(s): Katie J. Magallon, José R. Dinneny

New research reveals how low levels of salinity in soil inhibit a plant's ability to respond to shade through a signaling mechanism involving the plant stress hormone abscisic acid.

74

show

abstract

0960-9822 * * 30438480

Publication date: 20 May 2019

Source: Current Biology, Volume 29, Issue 10

Author(s): Richard J. Krauzlis

How sensory signals are processed by the visual cortex is not fixed but changes depending on our spatial goals and whether or not we are moving. New research helps explain why these two effects do not always work well together.

75

show

abstract

0960-9822 * * 30438481

Publication date: 20 May 2019

Source: Current Biology, Volume 29, Issue 10

Author(s): Damien A. Fordham, Stuart C. Brown, Tom M.L. Wigley, Carsten Rahbek

Summary

The stability of regional climates on millennial timescales is theorised to be a primary determinant of nearby diversification 1, 2, 3, 4, 5. Using simulated patterns of past temperature change at monthly timescales [6], we show that the locations of climatically stable regions are likely to have varied considerably across and within millennia during glacial–interglacial cycles of the Late Quaternary. This result has important implications for the role of regional climate stability in theories of speciation, because long-term climate refugia are typically presumed to be 'cradles' of diversity (areas of high speciation) only if they remain stable across Milankovitch climate oscillations 1, 2, 3, 4, 5, which operate on multi-millennial time scales [7].

76

show

abstract

0960-9822 * * 30438482

Publication date: 20 May 2019

Source: Current Biology, Volume 29, Issue 10

Author(s): Martin Surbeck, Christophe Boesch, Catherine Crockford, Melissa Emery Thompson, Takeshi Furuichi, Barbara Fruth, Gottfried Hohmann, Shintaro Ishizuka, Zarin Machanda, Martin N. Muller, Anne Pusey, Tetsuya Sakamaki, Nahoko Tokuyama, Kara Walker, Richard Wrangham, Emily Wroblewski, Klaus Zuberbühler, Linda Vigilant, Kevin Langergraber

Summary

In many group-living mammals, mothers may increase the reproductive success of their daughters even after they are nutritionally independent and fully grown [1]. However, whether such maternal effects exist for adult sons is largely unknown. Here we show that males have higher paternity success when their mother is living in the group at the time of the offspring's conception in bonobos (N = 39 paternities from 4 groups) but not in chimpanzees (N = 263 paternities from 7 groups). These results are consistent with previous research showing a stronger role of mothers (and females more generally) in bonobo than chimpanzee societies.

77

show

abstract

0960-9822 * * 30438483

Publication date: 20 May 2019

Source: Current Biology, Volume 29, Issue 10

Author(s): Justin R. Rizzari, Brittany Finucci

78

show

abstract

0960-9822 * * 30438484

Publication date: 20 May 2019

Source: Current Biology, Volume 29, Issue 10

Author(s): David Reznick

79

show

abstract

0960-9822 * * 30438485

Publication date: 20 May 2019

Source: Current Biology, Volume 29, Issue 10

Author(s): Nicola S. Clayton, Clive A.P. Wilkins

80

show

abstract

0960-9822 * * 30438486

Publication date: 20 May 2019

Source: Current Biology, Volume 29, Issue 10

Author(s): Michael Gross

Summary

Birds share a number of unique features setting them apart from other vertebrates. These range from their anatomical adaptations to reproductive traits and behaviour. New fossil discoveries and advances in genomics and have shed light on the evolution of these remarkable differences. Michael Gross reports.
Green Open Access
Sherpa/Romeo info
Author can archive pre-print (ie pre-refereeing)
Author
can (with restrictions)
archive post-print (ie final draft post-refereeing) (
12
months
embargo)
Author cannot archive publisher's version/PDF
Author's pre-prints on ArXiv, bioRxiv or BioRN
On non-commercial hosting platforms including institutional repository
Published source must be acknowledged
Must link to journal homepage with DOI
Publisher's version/PDF cannot be used
Author's post-print must be released with a Creative Commons Attribution Non-Commercial No Derivatives License
Publisher last reviewed on 05/08/2015
More Sherpa/Romeo information
APC Discount
For this journal
no
deals have been made concerning APC discount
Impact
Journal Citation Reports (2017)
Impact factor:
9.251
Q1
(Cell Biology (19/190))
Q1
(Biochemistry & Molecular Biology (17/292))
Scopus Journal Metrics (2017)
Cited by WUR staff: 694 times. (2014-2016)