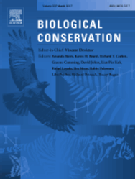 Biological Conservation
Elsevier
1969-
ISSN: 0006-3207 (1873-2917)
Biodiversity Conservation - Ecology - Environmental Sciences - Nature and Landscape Conservation - Ecology, Evolution, Behavior and Systematics
Recent articles
1

show

abstract

2018-02-05T16:01:50Z

Publication date: March 2018

Source:Biological Conservation, Volume 219

Author(s): Lauren C. White, Katherine E. Moseby, Vicki A. Thomson, Stephen C. Donnellan, Jeremy J. Austin

Reintroduction programs aim to restore self-sustaining populations of threatened species to their historic range. However, demographic restoration may not reflect genetic restoration, which is necessary for the long-term persistence of populations. Four threatened Australian mammals, the greater stick-nest rat (Leporillus conditor), greater bilby (Macrotis lagotis), burrowing bettong (Bettongia lesueur) and western barred bandicoot (Perameles bougainville), were reintroduced at Arid Recovery Reserve in northern South Australia over the last 18years. These reintroductions have been deemed successful based on population growth and persistence, however the genetic consequences of the reintroductions are not known. We generated large single nucleotide polymorphism (SNP) datasets for each species currently at Arid Recovery and compared them to samples collected from founders. We found that average genetic diversity in all populations at the Arid Recovery Reserve are close to, or exceeding, the levels measured in the founders. Increased genetic diversity in two species was achieved by admixing slightly diverged and inbred source populations. Our results suggest that genetic diversity in translocated populations can be improved or maintained over relatively long time frames, even in small conservation reserves, and highlight the power of admixture as a tool for conservation management.

2

show

abstract

2018-02-05T16:01:50Z

Publication date: March 2018

Source:Biological Conservation, Volume 219

Author(s): Renata Guimarães Frederico, Jansen Zuanon, Paulo De Marco

Large protected areas have been created in Brazilian Amazon intending to safeguard as much of its biodiversity as possible. Despite these intentions, such megareserves were created predominantly focusing on terrestrial organisms and ecosystems. Here, we assessed the ability of the current Brazilian Amazon protected areas network to efficiently safeguard its stream-dwelling fish fauna. Ecological niche models were built for 138 stream fish species using MaxEnt software. We performed a gap analysis and spatial prioritization under three different Amazon protected areas scenarios: (1) strictly protected areas (SPAs) only; (2) SPA plus sustainable use areas (SPA+SUA); and (3) SPA+SUA plus indigenous territories (SPA+SUA+IT). The species were classified according to their distribution range size and required representation targets. Widespread species usually had lower area under the curve (AUC) and true skill statistics (TSS) values, which would be expected for large and heterogeneous areas such as the Amazon. Only partial gap species were found, with 20% to 90% of required representation targets included in PAs, which was not enough for a complete protection. Most of the officially protected areas in the Brazilian Amazon do not correspond to areas with high direct conservation values for stream fishes, once the priority areas for these species conservation were outside the PAs, leaving a high portion of the regional vertebrate fauna inadequately protected. We conclude that fishes and other freshwater organisms and habitats should be explicitly included during systematic conservation planning in order to thoroughly protect the Brazilian Amazon biodiversity.

3

show

abstract

2018-02-05T16:01:50Z

Publication date: March 2018

Source:Biological Conservation, Volume 219

Author(s): Kelsey E. Roberts, Rebecca S. Valkan, Carly N. Cook

Marine protected areas (MPAs) have proven to be a valuable tool for both promoting the sustainable use of marine resources and long-term biodiversity conservation outcomes. Targets for marine protection under the Convention on Biological Diversity have seen rapid growth in MPAs globally, with progress judged using targets for total area protected rather than evaluating growth based on the capacity to protect biodiversity. The value of a MPA network to biodiversity conservation depends on a range of attributes of both individual MPAs and portfolios of MPAs, which are not captured by simple area-based targets. Therefore, a clear and efficient set of metrics are needed to effectively evaluate progress towards building MPA networks, considering the representation and adequacy of protection for biodiversity. We developed a universally applicable set of metrics that can evaluate network structure in relation to its capacity to conserve marine biodiversity. These metrics combine properties of effective individual MPAs with metrics for their capacity to function collectively as a network. To demonstrate the value of these metrics, we apply them to the Australian MPA network, the largest in the world. Collectively, the indicators suggest that while Australia has made significant progress in building a representative and well-structured MPA network, the level of protection offered to marine biodiversity is generally low, with insufficient coverage of no-take MPAs across many bioregions. The metrics reveal how the current value of the MPA network could be greatly increased by reducing the prevalence of multi-use zones that allow extractive activities known to negatively impact biodiversity.

4

show

abstract

2018-02-05T16:01:50Z

Publication date: March 2018

Source:Biological Conservation, Volume 219

Author(s): David C. Bartholomew, Jeffrey C. Mangel, Joanna Alfaro-Shigueto, Sergio Pingo, Astrid Jimenez, Brendan J. Godley

Small-scale fisheries can greatly impact threatened marine fauna. Peru's small-scale elasmobranch gillnet fishery captures thousands of sharks and rays each year, and incidentally captures sea turtles, marine mammals and seabirds. We assessed the ability of a dedicated fisheries remote electronic monitoring (REM) camera to identify and quantify captures in this fishery by comparing its performance to on-board observer reports. Cameras were installed across five boats with a total of 228 fishing sets monitored. Of these, 169 sets also had on-board fisheries observers present. The cameras were shown to be an effective tool for identifying catch, with >90% detection rates for 9 of 12 species of elasmobranchs caught. Detection rates of incidental catch were more variable (sea turtle=50%; cetacean=80%; pinniped=100%). The ability to quantify target catch from camera imagery degraded for fish quantities exceeding 15 individuals. Cameras were more effective at quantifying rays than sharks for small catch quantities (x≤15 fish), whereas size affected camera performance for large catches (x>15 fish). Our study showed REM to be effective in detecting and quantifying elasmobranch target catch and pinniped bycatch in Peru's small-scale fishery, but not, without modification, in detecting and quantifying sea turtle and cetacean bycatch. We showed REM can provide a time- and cost-effective method to monitor target catch in small-scale fisheries and can be used to overcome some deficiencies in observer reports. With modifications to the camera specifications, we expect performance to improve for all target catch and bycatch species.

5

show

abstract

2018-02-05T16:01:50Z

Publication date: March 2018

Source:Biological Conservation, Volume 219

Author(s): Eneko Arrondo, Marcos Moleón, Ainara Cortés-Avizanda, José Jiménez, Pedro Beja, José A. Sánchez-Zapata, José A. Donázar

Political boundaries may represent ecological barriers due to differences in wildlife management policies. In the European Union, it might be expected that these differences should be highly diluted, because all countries have to comply with common directives issued by the European Commission. However, the subsidiarity principle may lead to the uneven uptake of European Union regulations, which can impact on biodiversity conservation due to unequal legislation in neighboring countries, particularly in the case of highly mobile organisms. Here we address this issue, by analyzing how EU regulations issued in response to the Bovine Spongiform Encephalopathy (BSE) crisis differentially affected vulture conservation in Portugal and Spain. Taking advantage of the intensive GPS-tracking of 60 griffon (Gyps fulvus) and 11 cinereous vultures (Aegypius monachus) from Spain, we found that the Spanish-Portuguese border acts as a quasi-impermeable barrier. In fact, there was an abrupt decline in the number of vulture locations across the Spanish-Portuguese border, with modelling showing that this was unlikely to be related to differences in land cover or topography. Instead, the pattern found was likely due to differences in trophic resource availability, namely carcasses from extensive livestock husbandry, resulting from the differential application of European sanitary legislation regarding the mandatory removal of dead livestock from the field. Overall, our results should be seen as a warning signal to policy makers and conservation managers, highlighting the need for a stronger integration of sanitary and environmental policies at the European level.

6

show

abstract

2018-02-05T16:01:50Z

Publication date: March 2018

Source:Biological Conservation, Volume 219

Author(s): Santiago Saura, Bastian Bertzky, Lucy Bastin, Luca Battistella, Andrea Mandrici, Grégoire Dubois

Connectivity of protected areas (PAs) is crucial for meeting their conservation goals. We provide the first global evaluation of countries' progress towards Aichi Target 11 of the Convention on Biological Diversity that is to have at least 17% of the land covered by well-connected PA systems by 2020. We quantify how well the terrestrial PA systems of countries are designed to promote connectivity, using the Protected Connected (ProtConn) indicator. We refine ProtConn to focus on the part of PA connectivity that is in the power of a country to influence, i.e. not penalizing countries for PA isolation due to the sea and to foreign lands. We found that globally only 7.5% of the area of the countries is covered by protected connected lands, which is about half of the global PA coverage of 14.7%, and that only 30% of the countries currently meet the Aichi Target 11 connectivity element. These findings suggest the need for considerable efforts to improve PA connectivity globally. We further identify the main priorities for improving or sustaining PA connectivity in each country: general increase of PA coverage, targeted designation of PAs in strategic locations for connectivity, ensuring permeability of the unprotected landscapes between PAs, coordinated management of neighbouring PAs within the country, and/or transnational coordination with PAs in other countries. Our assessment provides a key contribution to evaluate progress towards global PA connectivity targets and to highlight important strengths and weaknesses of the design of PA systems for connectivity in the world's countries and regions.

Graphical abstract

7

show

abstract

2018-02-05T16:01:50Z

Publication date: March 2018

Source:Biological Conservation, Volume 219

Author(s): C.J.M. Musters, Peter M. van Bodegom

The relative impact of climate change and land use change on biodiversity loss is still under discussion. To alleviate drawbacks related to the use of observed species distributions, we introduce a novel approach to separate the effects of climate change and land use change, the latter split into fragmentation, agricultural intensification and reforestation. This approach, coined the Attribute Importance Analysis (AIA), uses the ability of species attributes to explain population declines. Through the a priori association between attributes and individual drivers, the relative importance of the drivers in causing the species decline can be assessed. We tested this approach on the population decline of vertebrate, insect, vascular plant, and fungi species in the Netherlands since the 1950s. Fragmentation was clearly the strongest driver of species decline for vertebrates and plants, and this may also be true for insects. For fungi, climate change seems the only driver. We found a weak signal of the importance of agricultural intensification for the decline of vertebrates only. We ascribe this unexpected low importance of agricultural intensification to our partitioning of agricultural effects into fragmentation and intensification. Our generic approach can offer valuable quantitative information on the relative importance of drivers that change local community composition without the need for spatial explicit information. Without data on temporal trends in drivers, including local climate and land use change, accurate information on species decline, species attribute values and association of attributes with drivers can give insights into the causes of species decline, which, in turn, can be used to adapt nature management accordingly.

8

show

abstract

2018-02-05T16:01:50Z

Publication date: March 2018

Source:Biological Conservation, Volume 219

Author(s): K.E. Moseby, G.W. Lollback, C.E. Lynch

The failure of broadscale management to protect some threatened species has led to an increase in the use of islands and fenced reserves as translocation sites or foci for intensive threat mitigation. Although highly successful at excluding some threats, these sites may be prone to ecosystem imbalance due to the absence or removal of predators and competitors. We documented population trends and environmental impacts of the burrowing bettong, (Bettongia lesueur), a threatened herbivorous macropod reintroduced to a 1400 ha fenced reserve in arid Australia for 17 years after release. The population increased from 30 individuals to an estimated 1532 individuals (1.09 per ha), a density up to ten times higher than wild populations. There was little evidence that population growth was density dependent, the average intrinsic rate of increase (r) was 0.125 and population size was unrelated to rainfall, body condition or reproductive output. Browse damage on palatable plant species increased, and cover of palatable shrub species decreased, with increased abundance of bettongs. Activity of another reintroduced herbivore, the greater stick-nest rat, (Leporillus conditor), declined as bettong abundance increased while a reintroduced species not reliant on herbage was unaffected. The burrowing bettong has been successfully reintroduced to the Arid Recovery fenced reserve but the positive average intrinsic rate of increase, inflated population density and impacts to resident plant and animal species suggests the population is now overabundant. This is the first documented case of overpopulation of a reintroduced species at a restricted site in Australia, highlighting the importance of preparing overpopulation management plans and considering reintroductions of species from all trophic levels including native predators.

9

show

abstract

2018-02-25T16:20:20Z

Publication date: May 2018

Source:Biological Conservation, Volume 221

Author(s): John A. Vucetich, Dawn Burnham, Ewan A. Macdonald, Jeremy T. Bruskotter, Silvio Marchini, Alexandra Zimmermann, David W. Macdonald

Efforts to realize conservation are often met with stakeholders contending that particular conservation actions are unfair for conflicting with their basic interests. A useful lens through which to view such conflict is social justice, which may be considered the fair treatment of others judged according three principles: equality, need, and desert (noun form of deserve). We formally demonstrate that (i) the subject of social justice (others) includes many non-human elements of nature and (ii) realizing conservation that is also socially just requires being guided by a non-anthropocentrism principle, whereby no human should infringe on the well-being of others any more than is necessary for a healthy, meaningful life. The concept, "healthy, meaningful life" is less vague and subjective than might be presupposed. That concept is for example subject to considerable objective reasoning through social and behavioral sciences. We indicate how realizing socially-just conservation requires another guiding, safeguard principle: If a significant and genuine conservation interest calls for restricting a human interest, that restriction should occur except when doing so would result in injustice. When the restriction would be unjust every effort should be made by all involved parties to mitigate the restriction to the point of no longer being unjust. This principle covers concerns often raised when conservation is opposed – e.g., financial costs, loss of cultural tradition. We explain how these two principles are neglected or excluded by many methods for resolving conservation conflicts and collaborative governance of natural resources.

10

show

abstract

2018-02-25T16:20:20Z

Publication date: May 2018

Source:Biological Conservation, Volume 221

Author(s): Casey C. Day, Erin L. Landguth, Andrew Bearlin, Zachary A. Holden, Andrew R. Whiteley

Ecosystem impacts due to invasive species continue to attract significant conservation effort worldwide. In aquatic ecosystems, physical interventions such as suppression and eradication of non-native species are typically expensive, long-term commitments, with few examples of lasting success in the absence of significant ongoing effort. Control of non-native species is a major conservation and restoration challenge, as a species' demographic resilience and connectivity within networks can limit the ability of suppression or eradication efforts to influence populations. Simulation tools can provide valuable insights for the management of these systems - from evaluation of tradeoffs between time and effort to prediction of relative success rates of alternative strategies in changing environments. In the Pacific Northwest region of the U.S., the eastern brook trout (EBT; Salvelinus fontinalis) is a non-native invasive species that competes with native fish species across a wide spatial scale due to extensive human-mediated introduction starting in the early 20th century. The goal of this study was to simulate the individual movement and demographics of EBT before, during, and following implementation of control efforts in tributaries within the Pend Oreille River watershed. The ultimate purpose of the model was to inform mitigation decisions through the investigation of alternative management actions in an adaptive management framework. Our results indicate that eradication of EBT is improbable in large systems via electrofishing, but suppression is a viable alternative given sustained management efforts. Changes to scheduling, effort, and length of electrofishing suppression treatments had minimal effects on EBT population recovery times. We reproduced the effects of compensatory responses to control treatments, including increases in juvenile survival and emigration rates, and demonstrated that these mechanisms are likely drivers of recovery following treatment. Our study highlights the many benefits of incorporating spatially explicit, individual-based models into management plans for the control of invasive species.

11

show

abstract

2018-02-25T16:20:20Z

Publication date: April 2018

Source:Biological Conservation, Volume 220

Author(s): Arjun Thapa, Yibo Hu, Fuwen Wei

The red panda (Ailurus fulgens), a vegetarian member of the order Carnivora, is distributed in Nepal, India, Bhutan, Myanmar, and China. Many populations occur at low densities in small fragmented forest patches and face pressure from habitat loss, degradation, and fragmentation, poaching, and developmental activities. Most studies have taken place in China and Nepal; few studies have been conducted in the other countries, creating a gap in documentation. Therefore, there is an urgent need to increase our knowledge regarding the ecology of the red panda and its threats. Based on literature regarding the red panda, we attempt to summarize the progress in research on its current distribution, ecology, and existing threats in the wild, highlight conservation approaches and recommend future directions. Recent studies have focused on wild populations; however, earlier studies emphasized captive. China and Nepal have a wider elevational range in red panda distribution (2000–3800 m) compared to other countries. Bamboo mixed subtropical and temperate forest and other associated variables, including a relatively high cover of bamboo, shrubs, and canopy, high densities of fallen logs, relatively steep slopes, and proximity to water sources, are ecologically important in the habitat. Due to differences in methodologies, prior estimates on population size and habitat area have varied. The genetic diversity of red pandas is high in China, but a lack of such data in other range countries makes subspecies classification unclear. Movement, microbiota, pathogens, and threats have been insufficiently documented; thus, we recommended extensive research in these areas. Furthermore, regional cooperation in research, data sharing, and policy implementation are urgently needed to protect wild panda populations.

12

show

abstract

2018-02-25T16:20:20Z

Publication date: April 2018

Source:Biological Conservation, Volume 220

Author(s): Lyndsey Graham, Rachel Gaulton, France Gerard, Joanna T. Staley

In this review, we discuss the role of hedgerow structure and condition in determining the value of hedgerow habitat for biodiversity conservation within an agricultural context, to inform and evaluate hedgerow management decisions and policy. Through a systematic literature review, narrative synthesis and vote counting, key structural condition indicators were identified for a range of conservation priority taxa. Abundance, survival or fecundity of ground vegetation, birds, mammals and invertebrates were affected by height, width, woody biomass, foliar quality and quantity, and gappiness of hedgerows. Although general patterns may not occur, a response to a particular structural feature can vary both within and between taxonomic groups, many responses are synergistic and interdependent. In conclusion, the definition of a "good quality" hedgerow for biodiversity conservation should be expanded to include all those key structural features which are important across taxa. Furthermore, the importance of heterogeneity in hedgerow structural condition is highlighted, where no fixed set of hedgerow characteristics were found to benefit all taxa. If uniform hedgerow management is overprescribed, as has been the tendency with some agri-environment schemes, some species (including those of conservation concern) are likely to be adversely affected by a loss of suitable habitat or resource decline.

13

show

abstract

2018-02-25T16:20:20Z

Publication date: April 2018

Source:Biological Conservation, Volume 220

Author(s): A.S. Northover, A.J. Lymbery, A.F. Wayne, S.S. Godfrey, R.C.A. Thompson

Host-parasite relationships are complex, and in wild animal populations individuals are commonly co-infected with various parasite species or intraspecific strains. While it is widely recognised that polyparasitism has the potential to reduce host fitness and increase susceptibility to predation or disease, the role of polyparasitism in influencing translocation success has never been investigated. Here we review the consequences of translocation for the host-parasite infracommunity and demonstrate how translocation-induced perturbations to within-host-parasite relationships may exacerbate the negative impacts of polyparasitism to the detriment of host health and translocation success. We also consider the ecological and immunological effects of altering host-parasite assemblages during translocation, and illustrate how the use of anti-parasitic drugs can further modify parasite infracommunity dynamics, with unintended impacts on target and non-target parasites. Importantly, as the evolutionary and ecological significance of the host-parasite relationship is increasingly recognised, we discuss the benefits of conserving parasites during fauna translocations.

14

show

abstract

2018-02-25T16:20:20Z

Publication date: April 2018

Source:Biological Conservation, Volume 220

Author(s): Michael D. Tillotson, Ryan P. Kelly, Jeffrey J. Duda, Marshal Hoy, James Kralj, Thomas P. Quinn

Developing fast, cost-effective assessments of wild animal abundance is an important goal for many researchers, and environmental DNA (eDNA) holds much promise for this purpose. However, the quantitative relationship between species abundance and the amount of DNA present in the environment is likely to vary substantially among taxa and with ecological context. Here, we report a strong quantitative relationship between eDNA concentration and the abundance of spawning sockeye salmon in a small stream in Alaska, USA, where we took temporally- and spatially-replicated samples during the spawning period. This high-resolution dataset suggests that (1) eDNA concentrations vary significantly day-to-day, and likely within hours, in the context of the dynamic biological event of a salmon spawning season; (2) eDNA, as detected by species-specific quantitative PCR probes, seems to be conserved over short distances (tens of meters) in running water, but degrade quickly over larger scales (ca. 1.5 km); and (3) factors other than the mere presence of live, individual fish — such as location within the stream, live/dead ratio, and water temperature — can affect the eDNA-biomass correlation in space or time. A multivariate model incorporating both biotic and abiotic variables accounted for over 75% of the eDNA variance observed, suggesting that where a system is well-characterized, it may be possible to predict species' abundance from eDNA surveys, although we underscore that species- and system-specific variables are likely to limit the generality of any given quantitative model. Nevertheless, these findings provide an important step toward quantitative applications of eDNA in conservation and management.

15

show

abstract

2018-02-25T16:20:20Z

Publication date: April 2018

Source:Biological Conservation, Volume 220

Author(s): Lucas S. Bair, Charles B. Yackulic, Michael R. Springborn, Matthew N. Reimer, Craig A. Bond, Lewis G. Coggins

Recovering endangered species populations when confronted with the threat of invasive species is an ongoing natural resource management challenge. While eradication of the invasive species is often the optimal economic solution, it may not be a feasible nor desirable management action in other cases. For example, when invasive species are desired in one area, but disperse into areas managed for endangered species, managers may be interested in persistent, but cost-effective means of managing dispersers rather than eradicating the source. In the Colorado River, a nonnative rainbow trout (Oncorhynchus mykiss) sport fishery is desired within Glen Canyon National Recreation Area, however, dispersal downriver into the Grand Canyon National Park is not desired as rainbow trout negatively affect endangered humpback chub (Gila cypha). Here, we developed a bioeconomic model incorporating population abundance goals and cost-effectiveness analyses to approximate the optimal control strategies for invasive rainbow trout conditional on achieving endangered humpback chub adult population abundance goals. Model results indicated that the most cost-effective approach to achieve target adult humpback chub abundance was a high level of rainbow trout control over moderately high rainbow trout population abundance. Adult humpback chub abundance goals were achieved at relatively low rainbow trout abundance and control measures were not cost-effective at relatively high rainbow trout abundance. Our model considered population level dynamics, species interaction and economic costs in a multi-objective decision framework to provide a preferred solution to long-run management of invasive and native species.

16

show

abstract

2018-02-25T16:20:20Z

Publication date: April 2018

Source:Biological Conservation, Volume 220

Author(s): Leanne K. Van der Weyde, Christopher Mbisana, Rebecca Klein

Populations of large carnivores are declining at a rapid rate, primarily resulting from land use change due to increasing human pressure. Such changes can restrict available habitat for many species, particularly wide-ranging large carnivores. In Botswana, aside from protected areas, large tracts of land are set aside as wildlife management areas (WMAs). Wildlife management areas are important regions of habitat for many species and can serve as buffer zones between protected areas and agro-pastoral land, while allowing communities to utilise resources. It was hypothesised that land use type surrounding WMAs, human settlements and prey availability might affect carnivore distribution patterns. We conducted a camera-trap study with 96 stations in two WMAs in the Ghanzi district and used a Royles-Nichol multi-species occupancy model to test which factors influenced habitat use for nine carnivore species. Detection probability was low across all species, whereas occupancy varied substantially. Lion occurrence was highest close to protected areas, whereas leopards and brown hyaena occurred closer to commercial farms. Black-backed jackal and caracal had high occurrence probabilities near both protected and commercial farming areas. Settlement locations and wild prey availability did not strongly influence occurrence of any species, although black-backed jackals had higher occurrence in areas with high livestock frequency. As pressure for land continues to increase, available habitat for wildlife is reduced and wide-ranging species like carnivores are vulnerable to edge effects. The WMAs provide vital habitat for carnivores and can be used to improve livelihoods for communities, whilst maintaining biodiversity in the Kalahari.

17

show

abstract

2018-02-25T16:20:20Z

Publication date: April 2018

Source:Biological Conservation, Volume 220

Author(s): Sarah A. Scriven, Graeme R. Gillespie, Samsir Laimun, Benoît Goossens

The expansion of industrial agriculture (oil palm) has significantly reduced lowland tropical diversity through direct loss or alteration of habitat, leading to habitat fragmentation and edge effects. Edge effects can have serious impacts on species diversity and community dynamics. To assess the effect of oil palm plantation edges on anuran communities in Sabah, Malaysian Borneo, we surveyed anuran species and measured structural habitat and landscape parameters at 74 sites spread across forest and plantation habitats along the Kinabatangan River. We then evaluated how anuran species richness and assemblage composition varied in relation to these environmental parameters. Relative species richness was higher at forest sites, compared to oil palm plantation sites. Plantation sites were dominated by wide-ranging terrestrial species, and assemblage composition varied mostly in relation to standing surface water. Forest habitats supported both more endemic and arboreal species. Variability on anuran assemblage composition in forest habitats was greatest in relation to distance to forest edge followed by canopy density, which was also partially correlated with forest edge distance. Moreover, anuran species richness in forest habitats declined as proximity to the forest-plantation interface increased, and as canopy density decreased. Our study provides further evidence that oil palm plantations provide little conservation benefit to anurans. Furthermore, oil palm plantations appear to have adverse pervasive impacts on amphibian diversity considerable distances into adjacent forest areas. These findings suggest that in order for small patches or narrow corridors of retained forest in landscapes managed for oil palm to maintain biodiversity values in the long term, their sizes and widths need to adequately account for the considerable influence of edge effects.

18

show

abstract

2018-02-25T16:20:20Z

Publication date: April 2018

Source:Biological Conservation, Volume 220

Author(s): Christie Sampson, Peter Leimgruber, David Tonkyn, Jennifer Pastorini, H.K. Janaka, Elaine Sotherden, Prithiviraj Fernando

Protected areas provide some of the last refuges for Asian elephants in the wild. Managing these areas for elephants will be critical for elephant conservation. Scientists know little about elephant habitat use in Asia and how invasive species or livestock grazing influence habitat use. We studied these issues in two protected areas in Sri Lanka, Udawalawe National Park and Hurulu Eco-Park. These areas contain some of Sri Lanka's largest remaining grasslands. These grasslands are threatened by the invasive and toxic shrub, Lantana camara, and are used for illegal livestock grazing. To measure habitat use by elephants and livestock, we conducted dung surveys along over 50 km of transects stratified across grassland, scrub, and forest. We surveyed 159 vegetation plots along these transects to assess plant composition, and mapped habitat types based on satellite images. We used mixed-effect models to determine the relative importance of habitats, livestock presence, and plant associations for elephant use. Elephant presence was greatest in scrub and grassland habitats, positively associated with both livestock presence and short graminoids, and unaffected by L. camara, which was widespread but at low densities. Given the importance of these areas to elephants, we recommend a precautionary management approach that focuses on curbing both illegal grazing and the spread of L. camara.

19

show

abstract

2018-02-25T16:20:20Z

Publication date: April 2018

Source:Biological Conservation, Volume 220

Author(s): Matthew J. Grainger, Peter J. Garson, Stephen J. Browne, Philip J.K. McGowan, Tommaso Savini

Local and regional extirpations of individual species, typically high profile cases, are now well documented, leading to calls for urgent action for particular species in specific locations. There is a need to broaden our assessments of extinction to identify landscapes that contain high proportions of threatened species and therefore, how more holistic species conservation responses might be developed. The conservation status of species is especially concerning in Southeast Asia and within the region, the avian family Phasianidae affords the opportunity to develop an approach for examining species richness and extinction probability for an entire family at landscape scale. There are 42 pheasant, partridge and quail species in the region and 77% of Southeast Asia encompasses the geographic range of at least five species. Due to high levels of uncertainty about how species respond to anthropogenic threats, we created an expert elicited Bayesian Belief Network to explore survival prospects using publically available data on IUCN extinction probability categories, proxies of threat (effects of hunting, forest loss and protected area effectiveness) and species geographic ranges to assess where the overall risk to survival was highest. Western Myanmar, Central Indoburma (Thailand/Myanmar), the Annamite mountains and Central Vietnam lowlands, Peninsular Malaysia, Sumatra and Borneo are priorities for avoiding large numbers of extinctions of phasianids. This assessment will be strengthened by more detailed data on intensity of hunting pressure across the region, and variation in species' tolerance to human disturbance. Strategically, therefore, conservation and research should be targeted towards these landscapes.

20

show

abstract

2018-02-25T16:20:20Z

Publication date: April 2018

Source:Biological Conservation, Volume 220

Author(s): S. Ayebare, A.J. Plumptre, D. Kujirakwinja, D. Segan

The Albertine Rift region of Africa is one of the most biodiverse areas on the planet, with more threatened and endemic vertebrates than elsewhere on the continent. Many of the endemic species are confined to montane forest or alpine areas. We assessed impacts of loss of habitat to agriculture and predicted impacts from niche modelling of climate change to the endemic species of the Albertine Rift. Modelling species distributions for 162 endemic terrestrial vertebrates and plants, we estimated the average percentage of habitat already lost to agriculture at 38% across all species. However, of the remaining suitable habitat the average percentage protected is currently 46%, greatly increased by the recent establishment of Itombwe, Kabobo and Ngandja Reserves in eastern Democratic Republic of Congo from 30%. Species ranges in 2080 were estimated using climate models and predicted to lead to an average loss of an additional 75% of remaining suitable habitat across all species. An estimated 34 endemic species were predicted to lose >90% of their current remaining suitable habitat. The percentage of the total suitable habitat protected in parks or reserves increases under future climate change to 56% because as ranges contract more of the remaining area occurs within existing protected areas. This indicates that the protected area coverage is reasonably well located for future climate change. Based on these data we estimate that 46% of the endemic species we assessed would qualify for threatened status on the global Red List.

21

show

abstract

2018-02-25T16:20:20Z

Publication date: April 2018

Source:Biological Conservation, Volume 220

Author(s): Willem-Jan Emsens, Camiel J.S. Aggenbach, Håkan Rydin, Alfons J.P. Smolders, Rudy van Diggelen

Many endangered plant species remain absent in rewetted, previously drained fens. We performed a 3-year introduction experiment with endangered fen species (9 Carex- and 6 bryophyte species) in 4 hydrologically restored fens to investigate which factors hamper establishment and survival. Carex species were introduced as adults and seedlings, mosses as gametophytes. Introductions were done on (initially) bare soil, which allowed us to exclude excessive competition for light during the first year. First year survival of the transplants was high in all fens (mean survival = 96%), indicating that there were no direct abiotic constraints on establishment. However, survival analysis revealed that a decrease in relative light intensity (RLI) at the soil surface during consecutive years (indicating an increase in biotic competition for light) drove high mortality rates in most species. As a result, overall final survival was lowest in the two most productive (low light) fens (mean survival = 38%), while most transplants persisted in the two less productive (high light) fens (mean survival = 79%). Taller and faster-growing Carex species were able to outgrow light limitation near the soil surface, and thus had a higher overall survivability than smaller and slower-growing species. Light limitation also drove the loss of 5 out of 6 bryophyte species. We conclude that both dispersal limitation and asymmetric competition for light may explain the lack and loss of small and endangered plant species in rewetted fens. A minimum empirical threshold of c. 30% relative light intensity near the soil surface is required for successful introduction.

22

show

abstract

2018-02-25T16:20:20Z

Publication date: April 2018

Source:Biological Conservation, Volume 220

Author(s): Mathew J. Hardy, Sarah A. Bekessy, James A. Fitzsimons, Luis Mata, Chris Cook, Alex Nankivell, Kate Smillie, Ascelin Gordon

Protecting biodiversity on private land is an important and growing part of global conservation efforts. Revolving funds are used by conservation organisations to buy, resell and permanently protect private land with important ecological values. By reinvesting proceeds from sales in additional properties, revolving funds offer a potentially cost-effective way to protect biodiversity. Their success requires managers to choose properties that can be resold and recover costs, with resale outcomes having consequences for subsequent acquisitions. However, revolving fund property selection is a multi-dimensional decision, influenced by various ecological, social and financial considerations. In conjunction with revolving fund managers, we developed a Bayesian Belief Network (BBN) to understand which factors they consider to be the most influential on a property's suitability for acquisition, and how much to pay for it. Sensitivity analysis revealed that managers perceive property suitability to be heavily influenced by the threat to the property's ecological values, the acquisition and ongoing management costs, and finding alternative options for protection. Amenity values were seen to heavily influence property resale. Threat and alternative options influence how much to pay, but most influential was the balance of the fund when the purchasing decision is made. Our results suggest managers are taking a low risk approach to property selection. Opportunities may exist to apply revolving funds to higher risk properties otherwise difficult to conserve, provided the need for resale is still met. Ensuring revolving funds target properties with suitable attributes could increase the contribution of this tool to conserving biodiversity on private land.

Graphical abstract

23

show

abstract

2018-02-25T16:20:20Z

Publication date: April 2018

Source:Biological Conservation, Volume 220

Author(s): Cody J. Dey, Christina A.D. Semeniuk, Samuel A. Iverson, Evan Richardson, David McGeachy, H. Grant Gilchrist

Contemporary climate change has complex effects on animal populations caused by the (non-linear) combination of multiple direct and indirect effects on individuals. These interactions make predictions of the ecological response to climate change challenging; however, predictive models are required to effectively manage wildlife populations and conserve biodiversity. Here, we demonstrate how agent-based models (ABMs) can be used to predict population responses under multiple effects of climate change. We consider the case of northern common eiders (Somateria mollissima borealis), a culturally and ecologically important seaduck which is experiencing dramatic environmental change due to losses in Arctic sea ice. Our model shows that losses in Arctic sea ice will lead to increases in nest predation by polar bears in areas where these species are sympatric. However, climate-mediated increases in breeding propensity and clutch size could have a large positive effect on eider population size. When considered together, these effects are predicted to result in a relatively stable eider population size over a 50-year period. Additionally, assuming eider populations are influenced by climate change in the manner proposed in this study, our model suggests that future eider populations will not be more susceptible to extrinsic perturbations (e.g. severe weather events, disease outbreaks) than were historical populations. As a result, our study demonstrates increasing climatic suitability and increasing nest predation will not lead to major changes in population size in northern common eiders, and emphasizes the importance of considering multiple, interacting effects on wildlife populations experiencing climate change.

24

show

abstract

2018-02-25T16:20:20Z

Publication date: April 2018

Source:Biological Conservation, Volume 220

Author(s): Melinda M.J. de Jonge, Jelle P. Hilbers, Eelke Jongejans, Wim A. Ozinga, A. Jan Hendriks, Mark A.J. Huijbregts

To prioritize conservation efforts, it is important to know which plant species are most vulnerable to extinction. Intrinsic extinction vulnerabilities depend on demographic parameters, but for many species these demographic parameters are lacking. Body size has been successfully used as proxy of such parameters to estimate extinction vulnerability of birds and mammals. For plants, not all necessary demographic parameters have been related to size yet. Here, we derived allometric relationships with maximum plant height for the intrinsic population growth rate and the carrying capacity. Furthermore, for the first time, we derived a relationship between the variance in population growth rate due to environmental stochasticity and plant height. These relationships were used to relate extinction vulnerability to maximum plant height. Extinction vulnerability was found to be most sensitive to fluctuations in the population growth rate due to environmental stochasticity. Large plant species were less susceptible to environmental stochasticity, resulting in a lower vulnerability to extinction than small plant species. This negative relationship between plant size and extinction vulnerabilities is in contrast to previous results for mammals and birds. These results increase our theoretical understanding of the relationship between plant functional traits and extinction vulnerabilities and may aid in assessments of data deficient species. The uncertainty in the allometric relationships is, however, too large to quantify true extinction vulnerabilities. Further investigation in the relationship between demographic parameters and plant traits other than height is needed to further enhance our understanding of plant species extinction vulnerabilities.

25

show

abstract

2018-02-25T16:20:20Z

Publication date: April 2018

Source:Biological Conservation, Volume 220

Author(s): Catalina Gutiérrez-Chacón, Carsten F. Dormann, Alexandra-Maria Klein

Natural areas are important for wild bees in human-dominated landscapes as they provide permanent feeding and nesting resources. Understanding how bee communities vary with the amount of natural areas is thus key to guide conservation measures. This information, however, is largely lacking in montane tropical ecosystems. Here we explore to what extent the amount of forest area or forest edge (as landscape variables) influence the species richness and abundance of forest-edge associated bees in the Colombian Andes. In addition, we assess the effects of flower species richness and abundance (as local variables) to better understand the individual and interactive effects of forest conservation. Bees were surveyed along 20 forest edges differing in forest proportion and forest edge length within four spatial scales (250, 500, 1000 and 1500 m radii). We conducted trait-specific analyses as bees with different traits associated to body size, sociality and nesting behavior might differ in their response to local and landscape variables. We found that overall bee species richness and abundance increased with an increasing proportion of forest within 1000 m radius, but also with flower abundance. Similarly, the species richness and abundance of social, large and above-ground nesting bees increased with an increasing proportion of forest area, mainly within 500 and 1000 m radii. However, only the abundance (not the species richness) of solitary and small bees were positively related to the proportion of forest within 1000 m. Below-ground nesters did not respond to the individual effect of forest area at any spatial scale. Interactive effects between local and landscape variables were mainly found between flower richness and the proportion of forest. Forest edge length influenced only the abundance of solitary bees. These findings highlight the importance of conserving and/or restoring forest areas – at meaningful spatial scales – to promote diverse bee communities in montane tropical regions.

26

show

abstract

2018-02-25T16:20:20Z

Publication date: April 2018

Source:Biological Conservation, Volume 220

Author(s): Alec B.M. Moore

Conservation often focuses on "critical habitat" including areas important for the reproduction of threatened taxa. As for many aquatic species a priority of shark conservation is the protection of nurseries, yet few countries can support the costly fieldwork required to identify these according to strict criteria. Alternative approaches are therefore required where resource, capacity and security constraints exist. This study collates low-resolution data from alternative, remotely collected and inexpensive existing sources (fish market surveys, literature, museums, anecdotal accounts), to evaluate a possible nursery for the regionally Endangered bull shark (Carcharhinus leucas) in the Tigris-Euphrates system and adjacent northwestern Persian/Arabian Gulf (Iraq, Iran, Kuwait), a data-poor area long characterised by conflict and inaccessibility. Evidence is presented that aligns with two of the three nursery definition criteria (abundance and repeated use), along with other data supporting known C. leucas reproductive behaviour. While the necessarily low resolution data cannot answer the full suite of strict nursery criteria nor identify precise nursery locations, they nevertheless collectively provide compelling evidence for a broad area of importance to young and juvenile C. leucas. This area is both highly threatened (e.g. by damming, climate change, fisheries) and of potential major significance, given the apparent absence of similar estuary habitat for thousands of kilometres of arid northwestern Indian Ocean coast. The inexpensive desk-based approach to identifying critical habitat provides another toolkit option for conservationists and could best be applied to distinctive threatened aquatic taxa, especially in the developing world where conservation is often resource-limited.

27

show

abstract

2018-02-25T16:20:20Z

Publication date: April 2018

Source:Biological Conservation, Volume 220

Author(s): Ehsan M. Moqanaki, José Jiménez, Staffan Bensch, José Vicente López-Bao

Lack of reliable information on the status of species often leads managers to exclusively rely on experiential knowledge, opinions or perceptions, usually derived from personnel associated with natural resource management agencies. Yet, the accuracy of these sources of information remains largely untested. We approached this challenge, which is particularly common for wildlife monitoring programs in developing countries, using a population of Asian brown bears (Ursus arctos) in the Iranian Caucasus as case study. We conducted a noninvasive, genetic, spatial capture-recapture (SCR) study to estimate bear density across a core protected area, Arasbaran Biosphere Reserve, and compared our estimate of bear abundance with rangers' perceptions as collated through interviews. The perceived abundance of bears by local rangers was between 3 and 5 times higher than our SCR estimate of 40 bears (2.5–97.5% Bayesian Credible Intervals = 27–70; density: 4.88 bears/100 km2). Our results suggest that basing management of the local bear population on perceptions of population status may result in overestimating the likelihood of population persistence. Our findings offer a scientific baseline for an evidence-based conservation policy for brown bears in Iran, and the broader Caucasus Ecoregion. The majority of threatened terrestrial megafauna occur in developing countries, where collecting and analyzing demographic data remain challenging. Delayed conservation responses due to the lack of, or erroneous knowledge of population status of such imperiled species may have serious consequences.

28

show

abstract

2018-02-25T16:20:20Z

Publication date: April 2018

Source:Biological Conservation, Volume 220

Author(s): Guido J. Parra, Daniele Cagnazzi, Maria Jedensjö, Corinne Ackermann, Celine Frere, Jennifer Seddon, Natacha Nikolic, Michael Krützen

Numerous species of marine megafauna are at risk of extinction and understanding their genetic population structure and demographic history is essential for their conservation. We used mitochondrial DNA and 18 nuclear microsatellite loci, on the largest genetic dataset compiled to date on Australian humpback dolphins (eight sampling sites, 159 samples), to assess their genetic diversity, gene flow and past demographic history along the east coast of Queensland, Australia. Levels of genetic diversity were low (mtDNA: h = 0–0.52, π = 0–0.007; nDNA: Ho = 0.27–0.41; AR = 1.7–2.4). Both mitochondrial (ΦST = 0.49, P = 0.001) and nuclear markers (FST = 0.14, P = 0.001) showed strong genetic structure among sampling sites. Four putative populations were identified, with little contemporary gene flow (m = 0.017 to 0.047) among populations. Genetic divergence follows an isolation-by-distance model (r = 0.38, P = 0.0001), with an apparent restriction in gene flow occurring at scales of 382–509 km. Estimates of contemporary effective population size were low (N e  = 11.5–31.2), with signatures of genetic bottlenecks for all putative populations about 50–150 generations ago. The current low levels of genetic diversity, gene flow, and effective population size in Australian humpback dolphins indicate the effects of historical population bottlenecks and/or founder events during the late Holocene period (~1250–3750 years ago); probably associated with sea level fall and increased intensity of El Niño Southern Oscillation-climatic events. Our results raise important conservation concerns and emphasize the vulnerability of Australian humpback dolphins to stochastic demographic, genetic and environmental processes. Conservation strategies should focus on promoting connectivity among local populations and reducing direct causes of human-related mortality.

29

show

abstract

2018-02-25T16:20:20Z

Publication date: April 2018

Source:Biological Conservation, Volume 220

Author(s): Leandro Macedo, Carlos Henrique Salvador, Nadia Moschen, Adrian Monjeau

We present a novel and simpler way to measure human influence: the cellphone coverage. Besides, we also evaluated its influence in the probability of occurrence of medium and large wild mammals in Brazilian Atlantic Forest, as a study case. As a first step, we have demonstrated the correlation between cellphone coverage and human footprint globally, using a database of >23 million antennas. Then, we have carefully studied the correspondence between the presence of a species and the cellphone coverage for 45 species of medium and large mammals of the Brazilian Atlantic Forest. We recorded 18,211 points of presence of mammals, and their probability of being under cellphone coverage was on average very low (18%). Most of the species showed a clear negative relationship with cellphone coverage, and threatened species presented an even lower probability, of at least 4% when compared with non-threatened ones. The strong positive relationship between cellphone coverage and the Human Footprint gradient at a global scale corroborated our a priori hypothesis that cellphone coverage can act as a surrogate for human presence, even in forested areas were no other footprint evidence is easily detectable.

30

show

abstract

2018-02-25T16:20:20Z

Publication date: April 2018

Source:Biological Conservation, Volume 220

Author(s): Benjamin Tapley, Christopher J. Michaels, Rikki Gumbs, Monika Böhm, Jennifer Luedtke, Paul Pearce-Kelly, Jodi J.L. Rowley

The IUCN Red List of Threatened Species (Red List) details the extinction risk of the world's species and presents an important biodiversity indicator for conservation policy. Its continued utility relies on it containing up-to-date information on the extinction risk of species. This requires both regular reassessments and the timely assessment of newly described species. We provide an overview of the status of amphibian Red List assessments to highlight the difficulties of keeping assessments updated for species groups with high rates of species description. Since the publication of the IUCN's Global Amphibian Assessment in 2004, description rates of new species and assessment rates were initially similar; yet while the former has remained consistent, the latter has recently sharply declined. Currently 61.3% of amphibian species are either Not Evaluated or have out-of-date assessments. The situation is particularly problematic in countries with the richest amphibian diversity, which typically have the highest rates of amphibian species discovery and face the greatest threats. Efforts to keep the Red List up-to-date are primarily limited by funding, we estimate that an annual investment of US $170,478–$319,290 is needed to have an up-to-date Red List for amphibians. We propose suggestions to increase assessment rates by improving the availability of data relevant to the process: authors of species descriptions or taxonomic revisions should publish information relevant to Red List assessments. Taxonomic journals should suggest inclusion of such information in their author guidelines. We suggest that contributors with significant input into assessments should be rewarded with co-authorship of published assessments.

31

show

abstract

2018-02-25T16:20:20Z

Publication date: April 2018

Source:Biological Conservation, Volume 220

Author(s): Mario R. Moura, Henrique C. Costa, Marco A. Peixoto, André L.G. Carvalho, Diego J. Santana, Heraldo L. Vasconcelos

Understanding how we built our knowledge on species descriptions is especially important in biodiversity hotspots, since those regions potentially harbour many undescribed-endemic species that are already threatened by intensification of human activities. We compiled an extensive dataset on anuran, lizard, and snake assemblages in the Atlantic Forest (AF) hotspot, South America, to evaluate the role of geographic and socioeconomic factors on herpetofaunal species discoveries. We applied spatial autoregressive methods under a multimodel inference framework to quantify the extent to which human occupation, economic development, on-ground accessibility, biodiversity appeal (i.e. interest of first researching preserved areas), and expertise availability explain geographical discovery trends of distinct herpetofaunal groups. More populous regions show more recently described species, particularly in southeastern AF where regional expert availability and economic development are greater. The influence of human occupation on geographical discovery trends carries the impact of historical human colonization in the AF, which happened mainly over endemism-rich mountainous regions in its southeastern section. Similarly, the biodiversity appeal effect is linked to the current reserve network in the AF that was only established after the massive human disturbance of lowland forest regions. Overall, our findings indicate that low-populated areas with low on-ground accessibility should be prioritized in future studies in the AF, since these are where the taxonomic impediment is more likely to occur.

32

show

abstract

2018-02-25T16:20:20Z

Publication date: April 2018

Source:Biological Conservation, Volume 220

Author(s): Mathias W. Tobler, Rony Garcia Anleu, Samia E. Carrillo-Percastegui, Gabriela Ponce Santizo, John Polisar, Alfonso Zuñiga Hartley, Isaac Goldstein

Large areas of tropical forest have been designated for timber production but logging practices vary widely. Reduced-impact logging is considered best practice and third-party certification aims to ensure that strict standards are met. This includes minimizing the number of roads constructed, avoiding sensitive areas and strictly regulating hunting. Large scale camera trap grids were utilized in Guatemala and Peru to evaluate the impact of reduced-impact logging in certified concessions upon the large and medium-sized mammal fauna with special emphasis on jaguars (Panthera onca). Spatial capture-recapture models showed that jaguar density in Peru (4.54 ± 0.83 ind. 100 km−2) was significantly higher than in Guatemala (1.52 ± 0.34 ind. 100 km−2) but in both regions, densities were comparable to protected areas. Camera traps detected 22 species of large and medium sized mammals in Guatemala and 27 in Peru and a multi-species occupancy model revealed that logging had no negative impact on any of the species studied and actually had an initial positive impact on several herbivore species. We found no avoidance of logging roads; in fact, many species, especially carnivores, frequently used logging roads as movement corridors. Our results indicate that well-managed logging concessions can maintain important populations of large and medium-sized mammals including large herbivores and large carnivores as long as hunting is controlled and timber volumes extracted are low. Responsible forest management would therefore be an ideal activity in the buffer zones and multiple use zones of protected areas creating much less impact and conflict than alternatives such as agriculture or cattle ranching while still providing economic opportunities. Logging concessions can also play an important role in maintaining landscape connectivity between protected areas.

33

show

abstract

2018-02-25T16:20:20Z

Publication date: April 2018

Source:Biological Conservation, Volume 220

Author(s): Mart Vlam, G. Arjen de Groot, Arnoud Boom, Paul Copini, Ivo Laros, Katrui Veldhuijzen, David Zakamdi, Pieter A. Zuidema

Combatting illegal timber trade requires forensic tools that independently verify claimed geographic origin of timber. Chemical and genetic wood characteristics are potentially suitable tools, but their performance at small spatial scales is unknown. Here we test whether stable isotopes and microsatellites can differentiate Tali timber (Erythrophleum spp.) at the level of forest concessions. We collected 394 wood samples from 134 individuals in five concessions in Cameroon and Congo Republic. The nearest neighbour concessions were 14 km apart and the furthest pair 836 km apart. We constructed genetic profiles using eight nuclear microsatellite markers and measured concentrations of δ18O, δ15N and δ13C. We differentiated provenances using PCA (microsatellites), ANOVA and kernel discriminant analysis (isotopes). Next, we performed assignment tests using blind samples (n = 12, microsatellites) and leave one out cross validation (LOOCV, isotopes). Isotopic composition varied strongly within concessions and only δ13C differed significantly between two concessions. As a result, LOOCV performed only marginally better than random. Genetic differentiation among provenances was also relatively low, but private alleles were commonly found. Bayesian clustering analysis correctly assigned 92% of the blind samples, including those of nearby concessions. Thus, Tali timber can be successfully assigned to the concession of origin using genetic markers, but not using isotopic composition. Isotopic differentiation may be possible at larger spatial scales or with stronger climatic or topographic variation. Our study shows that genetic analyses can differentiate the geographic origin of tropical timber at the scale of forest concessions, demonstrating their potential as forensic tools to enforce timber trade legislation.

34

show

abstract

2018-02-25T16:20:20Z

Publication date: April 2018

Source:Biological Conservation, Volume 220

Author(s): A.U. van der Bij, M.J. Weijters, R. Bobbink, J.A. Harris, M. Pawlett, K. Ritz, P. Benetková, J. Moradi, J. Frouz, R. van Diggelen

Although plant-soil interactions are increasingly recognized as an important factor in ecosystem restoration, their effects on community assembly during de novo ecosystem establishment are largely unknown. In a heathland restoration trial after topsoil removal we introduced either only aboveground heathland species with fresh herbage or both above- and belowground heathland species with sods to facilitate community assembly. Sod inoculation increased resemblance of the microbial community to the reference system, with a higher fungal and lower bacterial proportion to the community structure. Also densities of bacteriophagous and phytophagous nematodes, Acari and Collembola increased after sod inoculation. The cover of heathland plant species increased by 49% after sod inoculation. The introduction of solely aboveground heathland species increased the cover of these species by only 13%, and did not affect soil community assembly. Additionally, the increase in cover of heathland species over time was inversely correlated to the cover of mesotrophic grassland species. Inverse correlations were also observed between changes in fungal and bacterial abundances. Simultaneous introduction of key species of both above- and below-ground communities had a critical effect on the establishment of both communities, providing a potential shortcut for successful restoration of target ecosystems on disturbed soils.

Graphical abstract

35

show

abstract

2018-02-25T16:20:20Z

Publication date: April 2018

Source:Biological Conservation, Volume 220

Author(s): Javier D. Monzón, Nicholas A. Friedenberg

The development of "snapshot" metrics that can serve as reliable diagnostic tools for rapidly assessing population status has great appeal. We used stochastic simulation modeling and recursive partitioning to evaluate the reliability of two proposed snapshot metrics in territorial raptors: the floater/breeder ratio and the rate of nest occupancy by immature subadults. A demographic model, parameterized with field data from an intensively studied population of golden eagle (Aquila chrysaetos), showed that neither metric, alone or together, is a good indicator of population status. However, one snapshot metric, the floater/breeder ratio, can help predict the risk of population decline when considered in combination with other information about the population or environment that may be quickly appraised in the field or literature. Specifically, qualitative knowledge of adult survival and whether the population is limited by prey or habitat availability can help with rapid risk assessment of raptor populations.

Graphical abstract

36

show

abstract

2018-02-25T16:20:20Z

Publication date: March 2018

Source:Biological Conservation, Volume 219

Author(s): Thomas Schaubroeck

37

show

abstract

2018-02-25T16:20:20Z

Publication date: March 2018

Source:Biological Conservation, Volume 219

Author(s): Chelsea Batavia, Michael Paul Nelson

38

show

abstract

2018-02-25T16:20:20Z

Publication date: March 2018

Source:Biological Conservation, Volume 219

Author(s): Benjamin Ghasemi, Gerard T. Kyle

39

show

abstract

2018-02-25T16:20:20Z

Publication date: March 2018

Source:Biological Conservation, Volume 219

Author(s): Mohammad S. Farhadinia, Paul J. Johnson, Luke T.B. Hunter, David W. Macdonald

40

show

abstract

2018-02-25T16:20:20Z

Publication date: March 2018

Source:Biological Conservation, Volume 219

Author(s): Peter Flint

41

show

abstract

2018-02-25T16:20:20Z

Publication date: March 2018

Source:Biological Conservation, Volume 219

Author(s): Reuven Yosef, Piotr Zduniak, Savvas Iezekiel, Dimitrios E. Bakaloudis, Malamati A. Papakosta, Christos G. Vlachos, Andreas Antoniou

42

show

abstract

2018-02-25T16:20:20Z

Publication date: March 2018

Source:Biological Conservation, Volume 219

Author(s): Bradley J. Cardinale, Andrew Gonzalez, Ginger R.H. Allington, Michel Loreau

Recently, a debate has developed over how biodiversity is changing across the planet. While most researchers agree species extinctions are increasing globally due to human activity, some now argue that species richness at local scales is not declining as many biologists have claimed. This argument stems from recent syntheses of time-series data that suggest species richness is decreasing in some locations, increasing in others, but not changing on average. Critics of these syntheses (like us) have argued there are serious limitations of existing time-series datasets and their analyses that preclude meaningful conclusions about local biodiversity change. Specifically, authors of these syntheses have failed to account for several primary drivers of biodiversity change, have relied on data poor time-series that lack baselines needed to detect change, and have unreasonably extrapolated conclusions. Here we summarize the history of this debate, as well as key papers and exchanges that have helped clarify new issues and ideas. To resolve the debate, we suggest future researchers be more clear about the hypotheses of biodiversity change being tested, focus less on amassing large datasets, and more on amassing high-quality datasets that provide unambiguous tests of the hypotheses. Researchers should also keep track of the contributions that native versus non-native species make to biodiversity time trends, as these have different implications for conservation. Lastly, we suggest researchers be aware of pros and cons of using different types of data (e.g., time-series, spatial comparisons), taking care to resolve divergent results among sources to allow broader conclusions about biodiversity change.
Green Open Access
Sherpa/Romeo info
Author can archive pre-print (ie pre-refereeing)
Author can archive post-print (ie final draft post-refereeing)
Author cannot archive publisher's version/PDF
Authors pre-print on any website, including arXiv and RePEC
Author's post-print on author's personal website immediately
Author's post-print on open access repository after an embargo period of between 12 months and 48 months
Permitted deposit due to Funding Body, Institutional and Governmental policy or mandate, may be required to comply with embargo periods of 12 months to 48 months
Author's post-print may be used to update arXiv and RepEC
Publisher's version/PDF cannot be used
Must link to publisher version with DOI
Author's post-print must be released with a Creative Commons Attribution Non-Commercial No Derivatives License
Publisher last reviewed on 03/06/2015
More Sherpa/Romeo information
APC Discount
For this journal
no
deals have been made concerning APC discount
Impact
Journal Citation Reports (2016)
Impact factor:
4.022
Q1
(Biodiversity Conservation (8/54))
Q1
(Ecology (33/153))
Q1
(Environmental Sciences (38/229))
Scopus Journal Metrics (2016)
Cited by WUR staff: 894 times. (2014-2016)