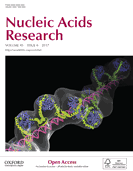 Nucleic Acids Research
Oxford University Press
1974-
ISSN: 0305-1048 (1362-4954, 1362-4962)
Biochemistry & Molecular Biology - Genetics - DNA - biochemistry - computational biology - genomics - molecular biology - RNA
Full APC costs (no discount)
Recent articles
1

show

abstract

0305-1048 * 1362-4962 * 32660971

AbstractCell cycle gene expression occurs in two waves. The G1/S genes encode factors required for DNA synthesis and the G2/M genes contribute to mitosis. The Retinoblastoma protein (RB) and DREAM complex (DP, RB-like, E2F4 and MuvB) cooperate to repress all cell cycle genes during G1 and inhibit entry into the cell cycle. DNA damage activates p53 leading to increased levels of p21 and inhibition of cell cycle progression. Whether the G1/S and G2/M genes are differentially repressed by RB and the RB-like proteins p130 and p107 in response to DNA damage is not known. We performed gene expression profiling of primary human fibroblasts upon DNA damage and assessed the effects on G1/S and G2/M genes. Upon p53 activation, p130 and RB cooperated to repress the G1/S genes. In addition, in the absence of RB and p130, p107 contributed to repression of G1/S genes. In contrast, G2/M genes were repressed by p130 and p107 after p53 activation. Furthermore, repression of G2/M genes by p107 and p130 led to reduced entry into mitosis. Our data demonstrates specific roles for RB, p130-DREAM, and p107-DREAM in p53 and p21 mediated repression of cell cycle genes.

2

show

abstract

0305-1048 * 1362-4962 * 32660972

AbstractSerine integrases are emerging as core tools in synthetic biology and have applications in biotechnology and genome engineering. We have designed a split-intein serine integrase-based system with potential for regulation of site-specific recombination events at the protein level in vivo. The ϕC31 integrase was split into two extein domains, and intein sequences (Npu DnaE

N

and Ssp DnaE

C

) were attached to the two termini to be fused. Expression of these two components followed by post-translational protein trans-splicing in Escherichia coli generated a fully functional ϕC31 integrase. We showed that protein splicing is necessary for recombination activity; deletion of intein domains or mutation of key intein residues inactivated recombination. We used an invertible promoter reporter system to demonstrate a potential application of the split intein-regulated site-specific recombination system in building reversible genetic switches. We used the same split inteins to control the reconstitution of a split Integrase-Recombination Directionality Factor fusion (Integrase-RDF) that efficiently catalysed the reverse attR x attL recombination. This demonstrates the potential for split-intein regulation of the forward and reverse reactions using the integrase and the integrase-RDF fusion, respectively. The split-intein integrase is a potentially versatile, regulatable component for building synthetic genetic circuits and devices.

3

show

abstract

0305-1048 * 1362-4962 * 32660973

AbstractKnowledge of protein–DNA binding specificity has important implications in understanding DNA metabolism, transcriptional regulation and developing therapeutic drugs. Previous studies demonstrated hydrogen bonds between amino acid side chains and DNA bases play major roles in specific protein–DNA interactions. In this paper, we investigated the roles of individual DNA strands and protein secondary structure types in specific protein–DNA recognition based on side chain-base hydrogen bonds. By comparing the contribution of each DNA strand to the overall binding specificity between DNA-binding proteins with different degrees of binding specificity, we found that highly specific DNA-binding proteins show balanced hydrogen bonding with each of the two DNA strands while multi-specific DNA binding proteins are generally biased towards one strand. Protein-base pair hydrogen bonds, in which both bases of a base pair are involved in forming hydrogen bonds with amino acid side chains, are more prevalent in the highly specific protein–DNA complexes than those in the multi-specific group. Amino acids involved in side chain-base hydrogen bonds favor strand and coil secondary structure types in highly specific DNA-binding proteins while multi-specific DNA-binding proteins prefer helices.

4

show

abstract

0305-1048 * 1362-4962 * 32660974

AbstractDNA predominantly contains Watson–Crick (WC) base pairs, but a non-negligible fraction of base pairs are in the Hoogsteen (HG) hydrogen bonding motif at any time. In HG, the purine is rotated ∼180° relative to the WC motif. The transitions between WC and HG may play a role in recognition and replication, but are difficult to investigate experimentally because they occur quickly, but only rarely. To gain insight into the mechanisms for this process, we performed transition path sampling simulations on a model nucleotide sequence in which an AT pair changes from WC to HG. This transition can occur in two ways, both starting with loss of hydrogen bonds in the base pair, followed by rotation around the glycosidic bond. In one route the adenine base converts from WC to HG geometry while remaining entirely within the double helix. The other route involves the adenine leaving the confines of the double helix and interacting with water. Our results indicate that this outside route is more probable. We used transition interface sampling to compute rate constants and relative free energies for the transitions between WC and HG. Our results agree with experiments, and provide highly detailed insights into the mechanisms of this important process.

5

show

abstract

0305-1048 * 1362-4962 * 32660975

AbstractKinetoplastids are protists defined by one of the most complex mitochondrial genomes in nature, the kinetoplast. In the sleeping sickness parasite Trypanosoma brucei, the kinetoplast is a chain mail-like network of two types of interlocked DNA molecules: a few dozen ∼23-kb maxicircles (homologs of the mitochondrial genome of other eukaryotes) and thousands of ∼1-kb minicircles. Maxicircles encode components of respiratory chain complexes and the mitoribosome. Several maxicircle-encoded mRNAs undergo extensive post-transcriptional RNA editing via addition and deletion of uridines. The process is mediated by hundreds of species of minicircle-encoded guide RNAs (gRNAs), but the precise number of minicircle classes and gRNA genes was unknown. Here we present the first essentially complete assembly and annotation of the kinetoplast genome of T. brucei. We have identified 391 minicircles, encoding not only ∼930 predicted 'canonical' gRNA genes that cover nearly all known editing events (accessible via the web at http://hank.bio.ed.ac.uk), but also ∼370 'non-canonical' gRNA genes of unknown function. Small RNA transcriptome data confirmed expression of the majority of both categories of gRNAs. Finally, we have used our data set to refine definitions for minicircle structure and to explore dynamics of minicircle copy numbers.

6

show

abstract

0305-1048 * 1362-4962 * 32660976

AbstractThe CCCTC-binding factor (CTCF) organises the genome in 3D through DNA loops and in 1D by setting boundaries isolating different chromatin states, but these processes are not well understood. Here we investigate chromatin boundaries in mouse embryonic stem cells, defined by the regions with decreased Nucleosome Repeat Length (NRL) for ∼20 nucleosomes near CTCF sites, affecting up to 10% of the genome. We found that the nucleosome-depleted region (NDR) near CTCF is asymmetrically located >40 nucleotides 5′-upstream from the centre of CTCF motif. The strength of CTCF binding to DNA and the presence of cohesin is correlated with the decrease of NRL near CTCF, and anti-correlated with the level of asymmetry of the nucleosome array. Individual chromatin remodellers have different contributions, with Snf2h having the strongest effect on the NRL decrease near CTCF and Chd4 playing a major role in the symmetry breaking. Upon differentiation, a subset of preserved, common CTCF sites maintains asymmetric nucleosome pattern and small NRL. The sites which lost CTCF upon differentiation are characterized by nucleosome rearrangement 3′-downstream, with unchanged NDR 5′-upstream of CTCF motifs. Boundaries of topologically associated chromatin domains frequently contain several inward-oriented CTCF motifs whose effects, described above, add up synergistically.

7

show

abstract

0305-1048 * 1362-4962 * 32660977

AbstractAlthough group II intron ribozymes are intensively studied the question how structural dynamics affects splicing catalysis has remained elusive. We report for the first time that the group II intron domain 6 exists in a secondary structure equilibrium between a single- and a two-nucleotide bulge conformation, which is directly linked to a switch between sugar puckers of the branch site adenosine. Our study determined a functional sugar pucker equilibrium between the transesterification active C2′-endo conformation of the branch site adenosine in the 1nt bulge and an inactive C3′-endo state in the 2nt bulge fold, allowing the group II intron to switch its activity from the branching to the exon ligation step. Our detailed NMR spectroscopic investigation identified magnesium (II) ions and the branching reaction as regulators of the equilibrium populations. The tuneable secondary structure/sugar pucker equilibrium supports a conformational selection mechanism to up- and downregulate catalytically active and inactive states of the branch site adenosine to orchestrate the multi-step splicing process. The conformational dynamics of group II intron domain 6 is also proposed to be a key aspect for the directionality selection in reversible splicing.

8

show

abstract

0305-1048 * 1362-4962 * 32660978

AbstractRing-shaped replicative helicases are hexameric and play a key role in cellular DNA replication. Despite their importance, our understanding of the unwinding mechanism of replicative helicases is far from perfect. Bovine papillomavirus E1 is one of the best-known model systems for replicative helicases. E1 is a multifunctional initiator that senses and melts the viral origin and unwinds DNA. Here, we study the unwinding mechanism of E1 at the single-molecule level using magnetic tweezers. The result reveals that E1 as a single hexamer is a poorly processive helicase with a low unwinding rate. Tension on the DNA strands impedes unwinding, indicating that the helicase interacts strongly with both DNA strands at the junction. While investigating the interaction at a high force (26–30 pN), we discovered that E1 encircles dsDNA. By comparing with the E1 construct without a DNA binding domain, we propose two possible encircling modes of E1 during active unwinding.

9

show

abstract

0305-1048 * 1362-4962 * 32660979

AbstractI-motifs are non-canonical nucleic acids structures characterized by intercalated H-bonds between hemi-protonated cytosines. Evidence on the involvement of i-motif structures in the regulation of cellular processes in human cells has been consistently growing in the recent years. However, i-motifs within non-human genomes have never been investigated. Here, we report the characterization of i-motifs within the long terminal repeat (LTR) promoter of the HIV-1 proviral genome. Biophysical and biochemical analysis revealed formation of a predominant i-motif with an unprecedented loop composition. One-dimensional nuclear magnetic resonance investigation demonstrated formation of three G-C H-bonds in the long loop, which likely improve the structure overall stability. Pull-down experiments combined with mass spectrometry and protein crosslinking analysis showed that the LTR i-motif is recognized by the cellular protein hnRNP K, which induced folding at physiological conditions. In addition, hnRNP K silencing resulted in an increased LTR promoter activity, confirming the ability of the protein to stabilize the i-motif-forming sequence, which in turn regulates the LTR-mediated HIV-1 transcription. These findings provide new insights into the complexity of the HIV-1 virus and lay the basis for innovative antiviral drug design, based on the possibility to selectively recognize and target the HIV-1 LTR i-motif.

10

show

abstract

0305-1048 * 1362-4962 * 32660980

AbstractApplication of CRISPR-based technologies in non-model microorganisms is currently very limited. Here, we reported efficient genome engineering of an important industrial microorganism, Zymomonas mobilis, by repurposing the endogenous Type I-F CRISPR–Cas system upon its functional characterization. This toolkit included a series of genome engineering plasmids, each carrying an artificial self-targeting CRISPR and a donor DNA for the recovery of recombinants. Through this toolkit, various genome engineering purposes were efficiently achieved, including knockout of ZMO0038 (100% efficiency), cas2/3 (100%), and a genomic fragment of >10 kb (50%), replacement of cas2/3 with mCherry gene (100%), in situ nucleotide substitution (100%) and His-tagging of ZMO0038 (100%), and multiplex gene deletion (18.75%) upon optimal donor size determination. Additionally, the Type I-F system was further applied for CRISPRi upon Cas2/3 depletion, which has been demonstrated to successfully silence the chromosomally integrated mCherry gene with its fluorescence intensity reduced by up to 88%. Moreover, we demonstrated that genome engineering efficiency could be improved under a restriction–modification (R–M) deficient background, suggesting the perturbance of genome editing by other co-existing DNA targeting modules such as the R–M system. This study might shed light on exploiting and improving CRISPR–Cas systems in other microorganisms for genome editing and metabolic engineering practices.

11

show

abstract

0305-1048 * 1362-4962 * 32660981

AbstractDNA nanotechnology allows for the design of programmable DNA-built nanodevices which controllably interact with biological membranes and even mimic the function of natural membrane proteins. Hydrophobic modifications, covalently linked to the DNA, are essential for targeted interfacing of DNA nanostructures with lipid membranes. However, these hydrophobic tags typically induce undesired aggregation eliminating structural control, the primary advantage of DNA nanotechnology. Here, we study the aggregation of cholesterol-modified DNA nanostructures using a combined approach of non-denaturing polyacrylamide gel electrophoresis, dynamic light scattering, confocal microscopy and atomistic molecular dynamics simulations. We show that the aggregation of cholesterol-tagged ssDNA is sequence-dependent, while for assembled DNA constructs, the number and position of the cholesterol tags are the dominating factors. Molecular dynamics simulations of cholesterol-modified ssDNA reveal that the nucleotides wrap around the hydrophobic moiety, shielding it from the environment. Utilizing this behavior, we demonstrate experimentally that the aggregation of cholesterol-modified DNA nanostructures can be controlled by the length of ssDNA overhangs positioned adjacent to the cholesterol. Our easy-to-implement method for tuning cholesterol-mediated aggregation allows for increased control and a closer structure–function relationship of membrane-interfacing DNA constructs — a fundamental prerequisite for employing DNA nanodevices in research and biomedicine.

12

show

abstract

0305-1048 * 1362-4962 * 32660982

AbstractRibosome was long considered as a critical yet passive player in protein synthesis. Only recently the role of its basic components, ribosomal RNAs and proteins, in translational control has begun to emerge. Here we examined function of the small ribosomal protein uS3/Rps3, earlier shown to interact with eukaryotic translation initiation factor eIF3, in termination. We identified two residues in consecutive helices occurring in the mRNA entry pore, whose mutations to the opposite charge either reduced (K108E) or increased (R116D) stop codon readthrough. Whereas the latter increased overall levels of eIF3-containing terminating ribosomes in heavy polysomes in vivo indicating slower termination rates, the former specifically reduced eIF3 amounts in termination complexes. Combining these two mutations with the readthrough-reducing mutations at the extreme C-terminus of the a/Tif32 subunit of eIF3 either suppressed (R116D) or exacerbated (K108E) the readthrough phenotypes, and partially corrected or exacerbated the defects in the composition of termination complexes. In addition, we found that K108 affects efficiency of termination in the termination context-specific manner by promoting incorporation of readthrough-inducing tRNAs. Together with the multiple binding sites that we identified between these two proteins, we suggest that Rps3 and eIF3 closely co-operate to control translation termination and stop codon readthrough.

13

show

abstract

0305-1048 * 1362-4962 * 32660983

AbstractWe present a multi-laboratory effort to describe the structural and dynamical properties of duplex B-DNA under physiological conditions. By processing a large amount of atomistic molecular dynamics simulations, we determine the sequence-dependent structural properties of DNA as expressed in the equilibrium distribution of its stochastic dynamics. Our analysis includes a study of first and second moments of the equilibrium distribution, which can be accurately captured by a harmonic model, but with nonlocal sequence-dependence. We characterize the sequence-dependent choreography of backbone and base movements modulating the non-Gaussian or anharmonic effects manifested in the higher moments of the dynamics of the duplex when sampling the equilibrium distribution. Contrary to prior assumptions, such anharmonic deformations are not rare in DNA and can play a significant role in determining DNA conformation within complexes. Polymorphisms in helical geometries are particularly prevalent for certain tetranucleotide sequence contexts and are always coupled to a complex network of coordinated changes in the backbone. The analysis of our simulations, which contain instances of all tetranucleotide sequences, allow us to extend Calladine–Dickerson rules used for decades to interpret the average geometry of DNA, leading to a set of rules with quantitative predictive power that encompass nonlocal sequence-dependence and anharmonic fluctuations.

14

show

abstract

0305-1048 * 1362-4962 * 32660984

Nucleic Acids Research, 2005, 33(15): 4775–4787, https://doi.org/10.1093/nar/gki787

15

show

abstract

0305-1048 * 1362-4962 * 32660985

Nucleic Acids Research,2019, 47(16): 8746–8754, https://doi.org/10.1093/nar/gkz572

16

show

abstract

0305-1048 * 1362-4962 * 32660986

AbstractSomatic DNMT3A mutations at R882 are frequently observed in AML patients including the very abundant R882H, but also R882C, R882P and R882S. Using deep enzymology, we show here that DNMT3A-R882H has more than 70-fold altered flanking sequence preferences when compared with wildtype DNMT3A. The R882H flanking sequence preferences mainly differ on the 3′ side of the CpG site, where they resemble DNMT3B, while 5′ flanking sequence preferences resemble wildtype DNMT3A, indicating that R882H behaves like a DNMT3A/DNMT3B chimera. Investigation of the activity and flanking sequence preferences of other mutations of R882 revealed that they cause similar effects. Bioinformatic analyses of genomic methylation patterns focusing on flanking sequence effects after expression of wildtype DNMT3A and R882H in human cells revealed that genomic methylation patterns reflect the details of the altered flanking sequence preferences of R882H. Concordantly, R882H specific hypermethylation in AML patients was strongly correlated with the R882H flanking sequence preferences. R882H specific DNA hypermethylation events in AML patients were accompanied by R882H specific mis-regulation of several genes with strong cancer connection, which are potential downstream targets of R882H. In conclusion, our data provide novel and detailed mechanistic understanding of the pathogenic mechanism of the DNMT3A R882H somatic cancer mutation.

17

show

abstract

0305-1048 * 1362-4962 * 32660987

AbstractRNA interference represents a potent intervention for cancer treatment but requires a robust delivery agent for transporting gene-modulating molecules, such as small interfering RNAs (siRNAs). Although numerous molecular approaches for siRNA delivery are adequate in vitro, delivery to therapeutic targets in vivo is limited by payload integrity, cell targeting, efficient cell uptake, and membrane penetration. We constructed nonviral biomaterials to transport small nucleic acids to cell targets, including tumor cells, on the basis of the self-assembling and cell-penetrating activities of the adenovirus capsid penton base. Our recombinant penton base chimera contains polypeptide domains designed for noncovalent assembly with anionic molecules and tumor homing. Here, structural modeling, molecular dynamics simulations, and functional assays suggest that it forms pentameric units resembling viral capsomeres that assemble into larger capsid-like structures when combined with siRNA cargo. Pentamerization forms a barrel lined with charged residues mediating pH-responsive dissociation and exposing masked domains, providing insight on the endosomolytic mechanism. The therapeutic impact was examined on tumors expressing high levels of HER3/ErbB3 that are resistant to clinical inhibitors. Our findings suggest that our construct may utilize ligand mimicry to avoid host attack and target the siRNA to HER3+ tumors by forming multivalent capsid-like structures.

18

show

abstract

0305-1048 * 1362-4962 * 32660988

AbstractA human telomere ends in a single-stranded 3′ tail, composed of repeats of T2AG3. G-quadruplexes (GQs) formed from four consecutive repeats have been shown to possess high-structural and mechanical diversity. In principle, a GQ can form from any four repeats that are not necessarily consecutive. To understand the dynamics of GQs with positional multiplicity, we studied five and six repeats human telomeric sequence using a combination of single molecule FRET and optical tweezers. Our results suggest preferential formation of GQs at the 3′ end both in K+ and Na+ solutions, with minor populations of 5′-GQ or long-loop GQs. A vectorial folding assay which mimics the directional nature of telomere extension showed that the 3′ preference holds even when folding is allowed to begin from the 5′ side. In 100 mM K+, the unassociated T2AG3 segment has a streamlining effect in that one or two mechanically distinct species was observed at a single position instead of six or more observed without an unassociated repeat. We did not observe such streamlining effect in 100 mM Na+. Location of GQ and reduction in conformational diversity in the presence of extra repeats have implications in telomerase inhibition, T-loop formation and telomere end protection.

19

show

abstract

0305-1048 * 1362-4962 * 32660989

AbstractEndocytosis is a mechanism by which cells sense their environment and internalize various nutrients, growth factors and signaling molecules. This process initiates at the plasma membrane, converges with autophagy, and terminates at the lysosome. It is well-established that cellular uptake of antisense oligonucleotides (ASOs) proceeds through the endocytic pathway; however, only a small fraction escapes endosomal trafficking while the majority are rendered inactive in the lysosome. Since these pathways converge and share common molecular machinery, it is unclear if autophagy-related trafficking participates in ASO uptake or whether modulation of autophagy affects ASO activity and localization. To address these questions, we investigated the effects of autophagy modulation on ASO activity in cells and mice. We found that enhancing autophagy through small-molecule mTOR inhibition, serum-starvation/fasting, and ketogenic diet, increased ASO-mediated target reduction in vitro and in vivo. Additionally, autophagy activation enhanced the localization of ASOs into autophagosomes without altering intracellular concentrations or trafficking to other compartments. These results support a novel role for autophagy and the autophagosome as a previously unidentified compartment that participates in and contributes to enhanced ASO activity. Further, we demonstrate non-chemical methods to enhance autophagy and subsequent ASO activity using translatable approaches such as fasting or ketogenic diet.

20

show

abstract

0305-1048 * 1362-4962 * 32660990

AbstractTo address the structural and dynamical consequences of amino-acid attachment at 2′- or 3′-hydroxyls of the terminal ribose in oligoribonucleotides, we have performed an extensive set of molecular dynamics simulations of model aminoacylated RNA trinucleotides. Our simulations suggest that 3′-modified trinucleotides exhibit higher solvent exposure of the aminoacylester bond and may be more susceptible to hydrolysis than their 2′ counterparts. Moreover, we observe an invariant adoption of well-defined collapsed and extended conformations for both stereoisomers. We show that the average conformational preferences of aminoacylated trinucleotides are determined by their nucleotide composition and are fine-tuned by amino-acid attachment. Conversely, solvent exposure of the aminoacylester bond depends on the attachment site, the nature of attached amino acid and the strength of its interactions with the bases. Importantly, aminoacylated CCA trinucleotides display a systematically higher solvent exposure of the aminoacylester bond and a weaker dependence of such exposure on sidechain interactions than other trinucleotides. These features could facilitate hydrolytic release of the amino acid, especially for 3′ attachment, and may have contributed to CCA becoming the universal acceptor triplet in tRNAs. Our results provide novel atomistic details about fundamental aspects of biological translation and furnish clues about its primordial origins.

21

show

abstract

0305-1048 * 1362-4962 * 32660991

Nucleic Acids Research (2019) 47: 7294–7305, https://doi.org/10.1093/nar/gkz555

22

show

abstract

0305-1048 * 1362-4962 * 32660992

AbstractThe binding of p53-binding protein 1 (53BP1) to damaged chromatin is a critical event in non-homologous DNA end joining (NHEJ)-mediated DNA damage repair. Although several molecular pathways explaining how 53BP1 binds damaged chromatin have been described, the precise underlying mechanisms are still unclear. Here we report that a newly identified H4K16 monomethylation (H4K16me1) mark is involved in 53BP1 binding activity in the DNA damage response (DDR). During the DDR, H4K16me1 rapidly increases as a result of catalyzation by the histone methyltransferase G9a-like protein (GLP). H4K16me1 shows an increased interaction level with 53BP1, which is important for the timely recruitment of 53BP1 to DNA double-strand breaks. Differing from H4K16 acetylation, H4K16me1 enhances the 53BP1–H4K20me2 interaction at damaged chromatin. Consistently, GLP knockdown markedly attenuates 53BP1 foci formation, leading to impaired NHEJ-mediated repair and decreased cell survival. Together, these data support a novel axis of the DNA damage repair pathway based on H4K16me1 catalysis by GLP, which promotes 53BP1 recruitment to permit NHEJ-mediated DNA damage repair.

23

show

abstract

0305-1048 * 1362-4962 * 32660993

AbstractThe CFP1 CXXC zinc finger protein targets the SET1/COMPASS complex to non-methylated CpG rich promoters to implement tri-methylation of histone H3 Lys4 (H3K4me3). Although H3K4me3 is widely associated with gene expression, the effects of CFP1 loss vary, suggesting additional chromatin factors contribute to context dependent effects. Using a proteomics approach, we identified CFP1 associated proteins and an unexpected direct link between Caenorhabditis elegans CFP-1 and an Rpd3/Sin3 small (SIN3S) histone deacetylase complex. Supporting a functional connection, we find that mutants of COMPASS and SIN3 complex components genetically interact and have similar phenotypic defects including misregulation of common genes. CFP-1 directly binds SIN-3 through a region including the conserved PAH1 domain and recruits SIN-3 and the HDA-1/HDAC subunit to H3K4me3 enriched promoters. Our results reveal a novel role for CFP-1 in mediating interaction between SET1/COMPASS and a Sin3S HDAC complex at promoters.

24

show

abstract

0305-1048 * 1362-4962 * 32660994

AbstractPyruvate is a glycolytic metabolite used for energy production and macromolecule biosynthesis. However, little is known about its functions in tumorigenesis. Here, we report that exogenous pyruvate inhibits the proliferation of different types of cancer cells. This inhibitory effect of pyruvate on cell growth is primarily attributed to its function as a signal molecule to repress histone gene expression, which leads to less compact chromatin and misregulation of genome-wide gene expression. Pyruvate represses histone gene expression by inducing the expression of NAD+ biosynthesis enzyme, nicotinamide phosphoribosyltransferase (NAMPT) via myocyte enhancer factor 2C (MEF2C), which then increases NAD+ levels and activates the histone deacetylase activity of SIRT1. Chromatin immunoprecipitation analysis indicates that pyruvate enhances SIRT1 binding at histone gene promoters where it reduces histone acetylation. Although pyruvate delays cell entry into S phase, pyruvate represses histone gene expression independent of cell cycle progression. Moreover, we find that administration of pyruvate reduces histone expression and retards tumor growth in xenograft mice without significant side effects. Using tissues from cervical and lung cancer patients, we find intracellular pyruvate concentrations inversely correlate with histone protein levels. Together, we uncover a previously unknown function of pyruvate in regulating histone gene expression and cancer cell proliferation.

25

show

abstract

0305-1048 * 1362-4962 * 32660995

Abstract

Staphylococcus aureus ArlRS is a key two-component regulatory system necessary for adhesion, biofilm formation, and virulence. The response regulator ArlR consists of a C-terminal DNA-binding effector domain and an N-terminal receiver domain that is phosphorylated by ArlS, the cognate transmembrane sensor histidine kinase. We demonstrate that the receiver domain of ArlR adopts the canonical α5β5 response regulator assembly, which dimerizes upon activation, using beryllium trifluoride as an aspartate phosphorylation mimic. Activated ArlR recognizes a 20-bp imperfect inverted repeat sequence in the ica operon, which is involved in intercellular adhesion polysaccharide production. Crystal structures of the inactive and activated forms reveal that activation induces a significant conformational change in the β4-α4 and β5-α5-connecting loops, in which the α4 and α5 helices constitute the homodimerization interface. Crystal structures of the DNA-binding ArlR effector domain indicate that it is able to dimerize via a non-canonical β1–β2 hairpin domain swapping, raising the possibility of a new mechanism for signal transduction from the receiver domain to effector domain. Taken together, the current study provides structural insights into the activation of ArlR and its recognition, adding to the diversity of response regulation mechanisms that may inspire novel antimicrobial strategies specifically targeting Staphylococcus.

26

show

abstract

0305-1048 * 1362-4962 * 32660996

AbstractExposure to harmful conditions such as radiation and desiccation induce oxidative stress and DNA damage. In radiation-resistant Deinococcus bacteria, the radiation/desiccation response is controlled by two proteins: the XRE family transcriptional repressor DdrO and the COG2856 metalloprotease IrrE. The latter cleaves and inactivates DdrO. Here, we report the biochemical characterization and crystal structure of DdrO, which is the first structure of a XRE protein targeted by a COG2856 protein. DdrO is composed of two domains that fold independently and are separated by a flexible linker. The N-terminal domain corresponds to the DNA-binding domain. The C-terminal domain, containing three alpha helices arranged in a novel fold, is required for DdrO dimerization. Cleavage by IrrE occurs in the loop between the last two helices of DdrO and abolishes dimerization and DNA binding. The cleavage site is hidden in the DdrO dimer structure, indicating that IrrE cleaves DdrO monomers or that the interaction with IrrE induces a structural change rendering accessible the cleavage site. Predicted COG2856/XRE regulatory protein pairs are found in many bacteria, and available data suggest two different molecular mechanisms for stress-induced gene expression: COG2856 protein-mediated cleavage or inhibition of oligomerization without cleavage of the XRE repressor.

27

show

abstract

0305-1048 * 1362-4962 * 32660997

Abstract

Zar1 was one of the earliest mammalian maternal-effect genes to be identified. Embryos derived from Zar1-null female mice are blocked before zygotic genome activation; however, the underlying mechanism remains unclear. By knocking out Zar1 and its homolog Zar2 in mice, we revealed a novel function of these genes in oocyte meiotic maturation. Zar1/2-deleted oocytes displayed delayed meiotic resumption and polar body-1 emission and a higher incidence of abnormal meiotic spindle formation and chromosome aneuploidy. The grown oocytes of Zar1/2-null mice contained decreased levels of many maternal mRNAs and displayed a reduced level of protein synthesis. Key maturation-associated changes failed to occur in the Zar1/2-null oocytes, including the translational activation of maternal mRNAs encoding the cell-cycle proteins cyclin B1 and WEE2, as well as maternal-to-zygotic transition (MZT) licensing factor BTG4. Consequently, maternal mRNA decay was impaired and MZT was abolished. ZAR1/2 bound mRNAs to regulate the translational activity of their 3′-UTRs and interacted with other oocyte proteins, including mRNA-stabilizing protein MSY2 and cytoplasmic lattice components. These results countered the traditional view that ZAR1 only functions after fertilization and highlight a previously unrecognized role of ZAR1/2 in regulating the maternal transcriptome and translational activation in maturing oocytes.

28

show

abstract

0305-1048 * 1362-4962 * 32660998

AbstractPhosphorylation of the NF-κB transcription factor is an important regulatory mechanism for the control of transcription. Here we identify serine 80 (S80) as a phosphorylation site on the p50 subunit of NF-κB, and IKKβ as a p50 kinase. Transcriptomic analysis of cells expressing a p50 S80A mutant reveals a critical role for S80 in selectively regulating the TNFα inducible expression of a subset of NF-κB target genes including pro-inflammatory cytokines and chemokines. S80 phosphorylation regulates the binding of p50 to NF-κB binding (κB) sites in a sequence specific manner. Specifically, phosphorylation of S80 reduces the binding of p50 at κB sites with an adenine at the −1 position. Our analyses demonstrate that p50 S80 phosphorylation predominantly regulates transcription through the p50:p65 heterodimer, where S80 phosphorylation acts in trans to limit the NF-κB mediated transcription of pro-inflammatory genes. The regulation of a functional class of pro-inflammatory genes by the interaction of S80 phosphorylated p50 with a specific κB sequence describes a novel mechanism for the control of cytokine-induced transcriptional responses.

29

show

abstract

0305-1048 * 1362-4962 * 32660999

AbstractPrecision genome editing technologies have transformed modern biology. These technologies have arisen from the redirection of natural biological machinery, such as bacteriophage lambda proteins for recombineering and CRISPR nucleases for eliciting site-specific double-strand breaks. Less well-known is a widely distributed class of bacterial retroelements, retrons, that employ specialized reverse transcriptases to produce noncoding intracellular DNAs. Retrons' natural function and mechanism of genetic transmission have remained enigmatic. However, recent studies have harnessed their ability to produce DNA in situ for genome editing and evolution. This review describes retron biology and function in both natural and synthetic contexts. We also highlight areas that require further study to advance retron-based precision genome editing platforms.

30

show

abstract

0305-1048 * 1362-4962 * 32661000

AbstractEstablishment and subsequent maintenance of distinct chromatin domains during embryonic stem cell (ESC) differentiation are crucial for lineage specification and cell fate determination. Here we show that the histone chaperone Chromatin Assembly Factor 1 (CAF-1), which is recruited to DNA replication forks through its interaction with proliferating cell nuclear antigen (PCNA) for nucleosome assembly, participates in the establishment of H3K27me3-mediated silencing during differentiation. Deletion of CAF-1 p150 subunit impairs the silencing of many genes including Oct4, Sox2 and Nanog as well as the establishment of H3K27me3 at these gene promoters during ESC differentiation. Mutations of PCNA residues involved in recruiting CAF-1 to the chromatin also result in defects in differentiation in vitro and impair early embryonic development as p150 deletion. Together, these results reveal that the CAF-1-PCNA nucleosome assembly pathway plays an important role in the establishment of H3K27me3-mediated silencing during cell fate determination.

31

show

abstract

0305-1048 * 1362-4962 * 32661001

AbstractIn bacteria, the assembly factors tightly orchestrate the maturation of ribosomes whose competency for protein synthesis is validated by translation machinery at various stages of translation cycle. However, what transpires to the quality control measures when the ribosomes are produced with assembly defects remains enigmatic. In Escherichia coli, we show that 30S ribosomes that harbour assembly defects due to the lack of assembly factors such as RbfA and KsgA display suboptimal initiation codon recognition and bypass the critical codon–anticodon proofreading steps during translation initiation. These premature ribosomes on entering the translation cycle compromise the fidelity of decoding that gives rise to errors during initiation and elongation. We show that the assembly defects compromise the binding of initiation factor 3 (IF3), which in turn appears to license the rapid transition of 30S (pre) initiation complex to 70S initiation complex by tempering the validation of codon–anticodon interaction during translation initiation. This suggests that the premature ribosomes harbouring the assembly defects subvert the IF3 mediated proofreading of cognate initiation codon to enter the translation cycle.

32

show

abstract

0305-1048 * 1362-4962 * 32661002

AbstractAccurate DNA replication is critical for the maintenance of genome integrity and cellular survival. Cancer-associated alterations often involve key players of DNA replication and of the DNA damage-signalling cascade. Post-translational modifications play a fundamental role in coordinating replication and repair and central among them is ubiquitylation. We show that the E3 ligase UBR5 interacts with components of the replication fork, including the translesion synthesis (TLS) polymerase polη. Depletion of UBR5 leads to replication problems, such as slower S-phase progression, resulting in the accumulation of single stranded DNA. The effect of UBR5 knockdown is related to a mis-regulation in the pathway that controls the ubiquitylation of histone H2A (UbiH2A) and blocking this modification is sufficient to rescue the cells from replication problems. We show that the presence of polη is the main cause of replication defects and cell death when UBR5 is silenced. Finally, we unveil a novel interaction between polη and H2A suggesting that UbiH2A could be involved in polη recruitment to the chromatin and the regulation of TLS.

33

show

abstract

0305-1048 * 1362-4962 * 32661003

AbstractThe widespread occurrence of repetitive stretches of DNA in genomes of organisms across the tree of life imposes fundamental challenges for sequencing, genome assembly, and automated annotation of genes and proteins. This multi-level problem can lead to errors in genome and protein databases that are often not recognized or acknowledged. As a consequence, end users working with sequences with repetitive regions are faced with 'ready-to-use' deposited data whose trustworthiness is difficult to determine, let alone to quantify. Here, we provide a review of the problems associated with tandem repeat sequences that originate from different stages during the sequencing-assembly-annotation-deposition workflow, and that may proliferate in public database repositories affecting all downstream analyses. As a case study, we provide examples of the Atlantic cod genome, whose sequencing and assembly were hindered by a particularly high prevalence of tandem repeats. We complement this case study with examples from other species, where mis-annotations and sequencing errors have propagated into protein databases. With this review, we aim to raise the awareness level within the community of database users, and alert scientists working in the underlying workflow of database creation that the data they omit or improperly assemble may well contain important biological information valuable to others.

34

show

abstract

0305-1048 * 1362-4962 * 32661004

AbstractEvaluating the impact of non-synonymous genetic variants is essential for uncovering disease associations and mechanisms of evolution. An in-depth understanding of sequence changes is also fundamental for synthetic protein design and stability assessments. However, the variant effect predictor performance gain observed in recent years has not kept up with the increased complexity of new methods. One likely reason for this might be that most approaches use similar sets of gene and protein features for modeling variant effects, often emphasizing sequence conservation. While high levels of conservation highlight residues essential for protein activity, much of the variation observable in vivo is arguably weaker in its impact, thus requiring evaluation at a higher level of resolution. Here, we describe

fu

nction

N

eutral/

T

oggle/

R

heostat

p

redictor (

funtrp

), a novel computational method that categorizes protein positions based on the position-specific expected range of mutational impacts: Neutral (weak/no effects), Rheostat (function-tuning positions), or Toggle (on/off switches). We show that position types do not correlate strongly with familiar protein features such as conservation or protein disorder. We also find that position type distribution varies across different protein functions. Finally, we demonstrate that position types can improve performance of existing variant effect predictors and suggest a way forward for the development of new ones.

35

show

abstract

0305-1048 * 1362-4962 * 32661005

AbstractThe addition of poly(ADP-ribose) (PAR) chains along the chromatin fiber due to PARP1 activity regulates the recruitment of multiple factors to sites of DNA damage. In this manuscript, we investigated how, besides direct binding to PAR, early chromatin unfolding events controlled by PAR signaling contribute to recruitment to DNA lesions. We observed that different DNA-binding, but not histone-binding, domains accumulate at damaged chromatin in a PAR-dependent manner, and that this recruitment correlates with their affinity for DNA. Our findings indicate that this recruitment is promoted by early PAR-dependent chromatin remodeling rather than direct interaction with PAR. Moreover, recruitment is not the consequence of reduced molecular crowding at unfolded damaged chromatin but instead originates from facilitated binding to more exposed DNA. These findings are further substantiated by the observation that PAR-dependent chromatin remodeling at DNA lesions underlies increased DNAse hypersensitivity. Finally, the relevance of this new mode of PAR-dependent recruitment to DNA lesions is demonstrated by the observation that reducing the affinity for DNA of both CHD4 and HP1α, two proteins shown to be involved in the DNA-damage response, strongly impairs their recruitment to DNA lesions.

36

show

abstract

0305-1048 * 1362-4962 * 32661006

AbstractSae2 functions in the DNA damage response by controlling Mre11-Rad50-Xrs2 (MRX)-catalyzed end resection, an essential step for homology-dependent repair of double-strand breaks (DSBs), and by attenuating DNA damage checkpoint signaling. Phosphorylation of Sae2 by cyclin-dependent kinase (CDK1/Cdc28) activates the Mre11 endonuclease, while the physiological role of Sae2 phosphorylation by Mec1 and Tel1 checkpoint kinases is not fully understood. Here, we compare the phenotype of sae2 mutants lacking the main CDK (sae2-S267A) or Mec1 and Tel1 phosphorylation sites (sae2-5A) with sae2Δ and Mre11 nuclease defective (mre11-nd) mutants. The phosphorylation-site mutations confer DNA damage sensitivity, but not to the same extent as sae2Δ. The sae2-S267A mutation is epistatic to mre11-nd for camptothecin (CPT) sensitivity and synergizes with sgs1Δ, whereas sae2-5A synergizes with mre11-nd and exhibits epistasis with sgs1Δ. We find that attenuation of checkpoint signaling by Sae2 is mostly independent of Mre11 endonuclease activation but requires Mec1 and Tel1-dependent phosphorylation of Sae2. These results support a model whereby CDK-catalyzed phosphorylation of Sae2 activates resection via Mre11 endonuclease, whereas Sae2 phosphorylation by Mec1 and Tel1 promotes resection by the Dna2-Sgs1 and Exo1 pathways indirectly by dampening the DNA damage response.

37

show

abstract

0305-1048 * 1362-4962 * 32661007

AbstractBloom helicase (BLM) and its orthologs are essential for the maintenance of genome integrity. BLM defects represent the underlying cause of Bloom Syndrome, a rare genetic disorder that is marked by strong cancer predisposition. BLM deficient cells accumulate extensive chromosomal aberrations stemming from dysfunctions in homologous recombination (HR). BLM participates in several HR stages and helps dismantle potentially harmful HR intermediates. However, much remains to be learned about the molecular mechanisms of these BLM-mediated regulatory effects. Here, we use DNA curtains to directly visualize the activity of BLM helicase on single molecules of DNA. Our data show that BLM is a robust helicase capable of rapidly (∼70–80 base pairs per second) unwinding extensive tracts (∼8–10 kilobases) of double-stranded DNA (dsDNA). Importantly, we find no evidence for BLM activity on single-stranded DNA (ssDNA) that is bound by replication protein A (RPA). Likewise, our results show that BLM can neither associate with nor translocate on ssDNA that is bound by the recombinase protein RAD51. Moreover, our data reveal that the presence of RAD51 also blocks BLM translocation on dsDNA substrates. We discuss our findings within the context of potential regulator roles for BLM helicase during DNA replication and repair.

38

show

abstract

0305-1048 * 1362-4962 * 32661008

AbstractForward genetic screens have successfully identified many genes and continue to be powerful tools for dissecting biological processes in Arabidopsis and other model species. Next-generation sequencing technologies have revolutionized the time-consuming process of identifying the mutations that cause a phenotype of interest. However, due to the cost of such mapping-by-sequencing experiments, special attention should be paid to experimental design and technical decisions so that the read data allows to map the desired mutation. Here, we simulated different mapping-by-sequencing scenarios. We first evaluated which short-read technology was best suited for analyzing gene-rich genomic regions in Arabidopsis and determined the minimum sequencing depth required to confidently call single nucleotide variants. We also designed ways to discriminate mutagenesis-induced mutations from background Single Nucleotide Polymorphisms in mutants isolated in Arabidopsis non-reference lines. In addition, we simulated bulked segregant mapping populations for identifying point mutations and monitored how the size of the mapping population and the sequencing depth affect mapping precision. Finally, we provide the computational basis of a protocol that we already used to map T-DNA insertions with paired-end Illumina-like reads, using very low sequencing depths and pooling several mutants together; this approach can also be used with single-end reads as well as to map any other insertional mutagen. All these simulations proved useful for designing experiments that allowed us to map several mutations in Arabidopsis.

39

show

abstract

0305-1048 * 1362-4962 * 32661009

AbstractATP-DnaA is temporally increased to initiate replication during the cell cycle. Two chromosomal loci, DARS (DnaA-reactivating sequences) 1 and 2, promote ATP-DnaA production by nucleotide exchange of ADP-DnaA for timely initiation. ADP-DnaA complexes are constructed on DARS1 and DARS2, bearing a cluster of three DnaA-binding sequences (DnaA boxes I−III), promoting ADP dissociation. Although DnaA has an AAA+ domain, which ordinarily directs construction of oligomers in a head-to-tail manner, DnaA boxes I and II are oriented oppositely. In this study, we constructed a structural model of a head-to-head dimer of DnaA AAA+ domains, and analyzed residues residing on the interface of the model dimer. Gln208 was specifically required for DARS-dependent ADP dissociation in vitro, and in vivo analysis yielded consistent results. Additionally, ADP release from DnaA protomers bound to DnaA boxes I and II was dependent on Gln208 of the DnaA protomers, and DnaA box III-bound DnaA did not release ADP nor require Gln208 for ADP dissociation by DARS–DnaA complexes. Based on these and other findings, we propose a model for DARS–DnaA complex dynamics during ADP dissociation, and provide novel insight into the regulatory mechanisms of DnaA and the interaction modes of AAA+ domains.

40

show

abstract

0305-1048 * 1362-4962 * 32661010

AbstractMicrosatellites are polymorphic short tandem repeats of 1–6 nucleotides ubiquitously present in the genome that are extensively used in living organisms as genetic markers and in oncology to detect microsatellite instability (MSI). While the standard analysis method of microsatellites is based on PCR followed by capillary electrophoresis, it generates undesirable frameshift products known as 'stutter peaks' caused by the polymerase slippage that can greatly complicate the analysis and interpretation of the data. Here we present an easy multiplexable approach replacing PCR that is based on low temperature isothermal amplification using recombinase polymerase amplification (LT-RPA) that drastically reduces and sometimes completely abolishes the formation of stutter artifacts, thus greatly simplifying the calling of the alleles. Using HT17, a mononucleotide DNA repeat that was previously proposed as an optimal marker to detect MSI in tumor DNA, we showed that LT-RPA improves the limit of detection of MSI compared to PCR up to four times, notably for small deletions, and simplifies the identification of the mutant alleles. It was successfully applied to clinical colorectal cancer samples and enabled detection of MSI. This easy-to-handle, rapid and cost-effective approach may deeply improve the analysis of microsatellites in several biological and clinical applications.

41

show

abstract

0305-1048 * 1362-4962 * 32661011

AbstractRecognition of composite elements consisting of two transcription factor binding sites gets behind the studies of tissue-, stage- and condition-specific transcription. Genome-wide data on transcription factor binding generated with ChIP-seq method facilitate an identification of composite elements, but the existing bioinformatics tools either require ChIP-seq datasets for both partner transcription factors, or omit composite elements with motifs overlapping. Here we present an universal Motifs Co-Occurrence Tool (MCOT) that retrieves maximum information about overrepresented composite elements from a single ChIP-seq dataset. This includes homo- and heterotypic composite elements of four mutual orientations of motifs, separated with a spacer or overlapping, even if recognition of motifs within composite element requires various stringencies. Analysis of 52 ChIP-seq datasets for 18 human transcription factors confirmed that for over 60% of analyzed datasets and transcription factors predicted co-occurrence of motifs implied experimentally proven protein-protein interaction of respecting transcription factors. Analysis of 164 ChIP-seq datasets for 57 mammalian transcription factors showed that abundance of predicted composite elements with an overlap of motifs compared to those with a spacer more than doubled; and they had 1.5-fold increase of asymmetrical pairs of motifs with one more conservative 'leading' motif and another one 'guided'.

42

show

abstract

0305-1048 * 1362-4962 * 32661012

AbstractNatural organisms have evolved intricate regulatory mechanisms that sense and respond to fluctuating environmental temperatures in a heat- or cold-inducible fashion. Unlike dominant heat-inducible switches, very few cold-inducible genetic switches are available in either natural or engineered systems. Moreover, the available cold-inducible switches still have many shortcomings, including high leaky gene expression, small dynamic range (<10-fold) or broad transition temperature (>10°C). To address these problems, a high-performance cold-inducible switch that can tightly control target gene expression is highly desired. Here, we introduce a tight and fast cold-inducible switch that couples two evolved thermosensitive variants, TFts and TEVts, as well as an additional Mycoplasma florum Lon protease (mf-Lon) to effectively turn-off target gene expression via transcriptional and proteolytic mechanisms. We validated the function of the switch in different culture media and various Escherichia coli strains and demonstrated its tightness by regulating two morphogenetic bacterial genes and expressing three heat-unstable recombinant proteins, respectively. Moreover, the additional protease module enabled the cold-inducible switch to actively remove the pre-existing proteins in slow-growing cells. This work establishes a high-performance cold-inducible system for tight and fast control of gene expression which has great potential for basic research, as well as industrial and biomedical applications.

43

show

abstract

0305-1048 * 1362-4962 * 32661013

AbstractTo understand the molecular pathogenesis of human disease, precision analyses to define alterations within and between disease-associated cell populations are desperately needed. Single-cell genomics represents an ideal platform to enable the identification and comparison of normal and diseased transcriptional cell populations. We created cellHarmony, an integrated solution for the unsupervised analysis, classification, and comparison of cell types from diverse single-cell RNA-Seq datasets. cellHarmony efficiently and accurately matches single-cell transcriptomes using a community-clustering and alignment strategy to compute differences in cell-type specific gene expression over potentially dozens of cell populations. Such transcriptional differences are used to automatically identify distinct and shared gene programs among cell-types and identify impacted pathways and transcriptional regulatory networks to understand the impact of perturbations at a systems level. cellHarmony is implemented as a python package and as an integrated workflow within the software AltAnalyze. We demonstrate that cellHarmony has improved or equivalent performance to alternative label projection methods, is able to identify the likely cellular origins of malignant states, stratify patients into clinical disease subtypes from identified gene programs, resolve discrete disease networks impacting specific cell-types, and illuminate therapeutic mechanisms. Thus, this approach holds tremendous promise in revealing the molecular and cellular origins of complex disease.

44

show

abstract

0305-1048 * 1362-4962 * 32661014

AbstractPredicting the functional or pathogenic regulatory variants in the human non-coding genome facilitates the interpretation of disease causation. While numerous prediction methods are available, their performance is inconsistent or restricted to specific tasks, which raises the demand of developing comprehensive integration for those methods. Here, we compile whole genome base-wise aggregations, regBase, that incorporate largest prediction scores. Building on different assumptions of causality, we train three composite models to score functional, pathogenic and cancer driver non-coding regulatory variants respectively. We demonstrate the superior and stable performance of our models using independent benchmarks and show great success to fine-map causal regulatory variants on specific locus or at base-wise resolution. We believe that regBase database together with three composite models will be useful in different areas of human genetic studies, such as annotation-based casual variant fine-mapping, pathogenic variant discovery as well as cancer driver mutation identification. regBase is freely available at https://github.com/mulinlab/regBase.

45

show

abstract

0305-1048 * 1362-4962 * 32661015

AbstractAs the use of next-generation sequencing (NGS) for the Mendelian diseases diagnosis is expanding, the performance of this method has to be improved in order to achieve higher quality. Typically, performance measures are considered to be designed in the context of each application and, therefore, account for a spectrum of clinically relevant variants. We present EphaGen, a new computational methodology for bioinformatics quality control (QC). Given a single NGS dataset in BAM format and a pre-compiled VCF-file of targeted clinically relevant variants it associates this dataset with a single arbiter parameter. Intrinsically, EphaGen estimates the probability to miss any variant from the defined spectrum within a particular NGS dataset. Such performance measure virtually resembles the diagnostic sensitivity of given NGS dataset. Here we present case studies of the use of EphaGen in context of BRCA1/2 and CFTR sequencing in a series of 14 runs across 43 blood samples and 504 publically available NGS datasets. EphaGen is superior to conventional bioinformatics metrics such as coverage depth and coverage uniformity. We recommend using this software as a QC step in NGS studies in the clinical context. Availability: https://github.com/m4merg/EphaGen or https://hub.docker.com/r/m4merg/ephagen.

46

show

abstract

0305-1048 * 1362-4962 * 32661016

AbstractAnalysis of RNA sequencing (RNA-seq) data from related individuals is widely used in clinical and molecular genetics studies. Prediction of kinship from RNA-seq data would be useful for confirming the expected relationships in family based studies and for highlighting samples from related individuals in case-control or population based studies. Currently, reconstruction of pedigrees is largely based on SNPs or microsatellites, obtained from genotyping arrays, whole genome sequencing and whole exome sequencing. Potential problems with using RNA-seq data for kinship detection are the low proportion of the genome that it covers, the highly skewed coverage of exons of different genes depending on expression level and allele-specific expression. In this study we assess the use of RNA-seq data to detect kinship between individuals, through pairwise identity by descent (IBD) estimates. First, we obtained high quality SNPs after successive filters to minimize the effects due to allelic imbalance as well as errors in sequencing, mapping and genotyping. Then, we used these SNPs to calculate pairwise IBD estimates. By analysing both real and simulated RNA-seq data we show that it is possible to identify up to second degree relationships using RNA-seq data of even low to moderate sequencing depth.

47

show

abstract

0305-1048 * 1362-4962 * 32661017

AbstractThe momentum of scRNA-seq datasets prompts for simple and powerful tools exploring their meaningful signatures. Here we present Single-Cell_Signature_Explorer (https://sites.google.com/site/fredsoftwares/products/single-cell-signature-explorer), the first method for qualitative and high-throughput scoring of any gene set-based signature at the single cell level and its visualization using t-SNE or UMAP. By scanning datasets for single or combined signatures, it rapidly maps any multi-gene feature, exemplified here with signatures of cell lineages, biological hallmarks and metabolic pathways in large scRNAseq datasets of human PBMC, melanoma, lung cancer and adult testis.
Green Open Access
Sherpa/Romeo info
Author can archive pre-print (ie pre-refereeing)
Author can archive post-print (ie final draft post-refereeing)
Author can archive publisher's version/PDF
Creative Commons Attribution License or Creative Commons Attribution Non-Commercial License available
Pre-print on author's personal website, employers website or subject repository
Pre-print can only be posted prior to acceptance
Pre-print must be accompanied by set statement (see link)
Pre-print must not be replaced with post-print, instead a link to published version with amended set statement should be made
Publisher's version/PDF may be used (preferred)
Auhors' Post print and Publisher's version/PDF on institutional repository or centrally organised repositories
Published source must be acknowledged
Must link to publisher version
Set phrase to accompany archived copy (see policy)
Publisher will deposit on behalf of NIH, HHMI, UK MRC, Telethon and Wellcome Trust funded authors to PubMed Central and Europe PMC
All titles are open access journals
More Sherpa/Romeo information
Open Access
Author does not hold copyright without restrictions
Author does not hold publishing right without restrictions
APC Discount
For this journal
no
deals have been made concerning APC discount
Impact
Journal Citation Reports
This information is only available when you log on as a WUR user !
Scopus Journal Metrics (2017)
Cited by WUR staff: 2218 times. (2016-2018)
Publishing
There is an average period of 7 weeks between submission and publication of an article
Similar journals
Proceedings of the national academy of sciences o...
Nature
Science (new york, n.y.)
Bioinformatics
Plos one

More...